The trademark stories to follow in 2019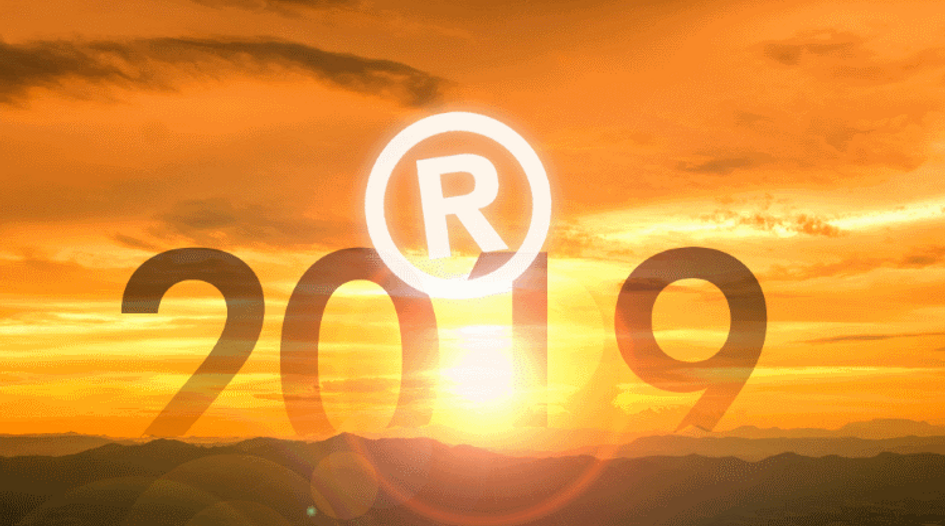 As we enter 2019, it is natural to both look back at the previous year and think about what the coming 12 months will bring. Just prior to Christmas we presented our list of the most read WTR stories across 2018, with Brexit and the IP impact of the General Data Protection Regulation (GDPR) featuring prominently across the top 20. Both will remain on the agenda as we move forward. Below are some of the stories that trademark professionals can expect to make headlines in the coming 12 months.
Brexit blues or boost? – OK, so it's a bit of a no brainer but – as things currently stand – at 11pm (UK time) on 29 March 2019 the United Kingdom will leave the European Union. With the clock ticking, things are getting messier. While a draft EU agreement text has been agreed between negotiators, last month the UK government delayed a vote on the deal in a bid to avoid its rejection by Parliament. Behind the scenes lobbying continues in advance of the rescheduled vote, with warnings that rejection could result in either a 'no deal' exit or no Brexit at all. For trademark practitioners, Brexit has many implications. The positive is that, in terms of the impact on EU trademarks and UK rights, the current system will continue to apply during the transition phase (in the event of a 'deal' Brexit) and longer-term it has been agreed that existing IP rights – including EU trademarks and registered and unregistered Community designs – will continue to be protected in the United Kingdom after the end of the implementation period (as noted in an exclusive piece we published earlier today from the UKIPO). The latter transfer of rights – which will be free-of-charge - has also been verbally committed to in the instance of a no-deal Brexit. Of course, things can change and there are nuances in the planned approach, which means that all rights holders need to keep abreast of the ongoing negotiations and how current, pending and planned trademark applications should be approached. Similarly, as it stands there is no clarity on the future ability of UK trademark attorneys to practice at the EUIPO post-Brexit. In short, we have partial answers but nothing is certain until enacted – and if the Brexit negotiations to date have shown one thing it is that things can quickly change.
Trademark scams peaking or just getting started? – The issue of trademark solicitation scams continue to plague practitioners the world over, with clients regularly receiving bogus invoices or deceiving offers to have their trademarks 'published' in worthless online directories. In November, in a piece exclusively written for WTR, the USPTO commissioner for trademarks, Mary Boney Denison, outlined the educational initiatives the office has launched to avoid users being duped, pointed to a number of victories scored against scammers and revealed that a priority for FY 2019 is "collaborating with other government agencies to address the issue of misleading solicitations". However, there have been calls for the office to "think outside the box" and step up efforts in the face of an escalating problem. And, of course, this is very much a global problem, the EUIPO regularly convening representatives from National IP Offices of the EU Member States, EFTA Countries, EPO, WIPO, Europol and several user associations under the umbrella of its Anti-Scam Network Meeting. However, despite these initiatives, new scams seem to be appearing with increased regularity. And Brexit could create a perfect storm of confusion for fraudsters to further divert trademark budgets. More clearly needs to be done. In the meantime, be on the lookout for (and warn your accounts department about) a likely spike in dodgy invoices in the aftermath of Brexit.
The impact of China's new e-commerce law – A lot has been written about China's new e-commerce law, that came into force yesterday. On the one hand, commentators have welcomed the move to transfer responsibility taking action in instances where it knows, or should have known, that a seller is infringing IP rights, others have argued that it doesn't go far enough and places a burden on rights holders (which, according to initial drafts, will be required to file an official complaint or lawsuit if the alleged infringer supplies a declaration of non-infringement to the platform). While a step forward, the fear is that rights holders will be forced to spend on an increased number of legal actions in a bid to tackle online infringement – or accept that some infringement will just continue. In today's budget-conscious environment, letting some infringement continue may be unpalatable but an economic necessity.
Online platform responsibilities to remain a hot issue – The issue of counterfeits on online platforms is not restricted to Chinese sites, of course, and media outlets frequently latch onto tales of duped buyers and frustration that presumably genuine goods are just the opposite (just this weekend photography site Fstoppers warned about fake SD cards on Amazon.com). A number of Amazon sites recently came under fire from the American Apparel & Footwear Association (AAFA) over alleged inconsistencies in reporting and responding to notices of complained infringement (for its part, the ecommerce giant highlighted its brand registry programme and noted that it takes action on 95% of all worldwide notices of potential infringement received from through the system within eight hours). The AAFA's criticism was part of its submission to the US Trade Representative's (USTR) 2018 Special 301 Out-of-Cycle Review of Notorious Markets comment period – the review frequently used to place pressure on platforms to do more. Whether platforms are or are not listed on notorious markets lists, and no matter the legal situation with respect liability, meaningfully fighting fakes should be a best practice goal, will appease investors, can improve image and provide a potential PR boost. The pressure to do more will no doubt continue, but expect increased communication in the coming year about what different platforms are doing to fight the good fight.
The US-China trade war's impact on brand protection resources – Staying with the USTR, the representative's office is using existing funds to conduct all operations, including trade negotiations and enforcement, despite the current US government shutdown. The USTR is a central player in the ongoing trade war between the US and China, a battle with IP at its centre. While often focused on patents, the knock-on has also given many brand protection professionals pause. Procter & Gamble's president and CEO David Taylor recently expressed concern that the trade war could "destroy consumers' confidence in American brands" in the country and these fears are felt by those working for international brands in China. On a recent visit to the country, a number expressed the worry that the trade war will result in a squeeze on company performance – and the resources available to brand protection teams on the ground (in addition to a more hostile enforcement environment for foreign brands).
Brazil to (finally) adopt Madrid and kick off the domino effect? – Eight years ago, the cover story for WTR issue 23 focused on the likely expansion of Madrid into Latin America, and looked at the likely front-runners to become the first jurisdiction to accede. Amongst their number was Brazil, with commentators arguing that the country could sign up by 2011. That didn't come to pass – and neither did the Brazilian government's announcement in 2016 that mid-2018 would be the big moment. However, progress was made in 2018 and, while the recent general election threw up some uncertainty, at last month's INTA Middle East and Africa Conference, Debbie Roenning, director of the Madrid Legal Division at WIPO, indicated that 2019 could be the year that Brazil steps over the line. Of course, we have heard such predictions before but perhaps this is indeed the year that Brazil finally accedes and opens the door for other countries in the region to follow suit.
WHOIS fragmentation to continue – As with Brexit, the GDPR's impact on access to WHOIs data was a challenge faced by trademark owners though the second half of 2018 and that looks unlikely to change anytime soon. The expedited policy development process (EPDP) team – tasked with deciding whether the Temporary Specification for gTLD Registration Data should become an ICANN consensus policy as is, or with modifications – recently published its initial report. However, while it made a series of recommendations, it also posed a series of questions to the community and noted that in a number of areas "team members did not reach agreement". The EPDP has until 25 May 2019 to makes its decision on the temporary specification and it is unlikely the current blackout will change before that date. It is also possible that the status quo remains for some time afterwards, depending on how future access models are developed. It is a critical issue for those tasked with online enforcement efforts – making it one to keep a close eye on and adapt policing strategies accordingly.
Of course, these are just some of the big picture issues and there will be other developments to keep an eye on. Whatever 2019 brings, WTR will once again present coverage of all the stories that matter to trademark professionals. As we get set to do so, we'd like to thank all our readers for their support throughout the past 12 months and wish you all a Happy New Year!