The strategy behind 3M's aggressive litigation approach against N95 price gougers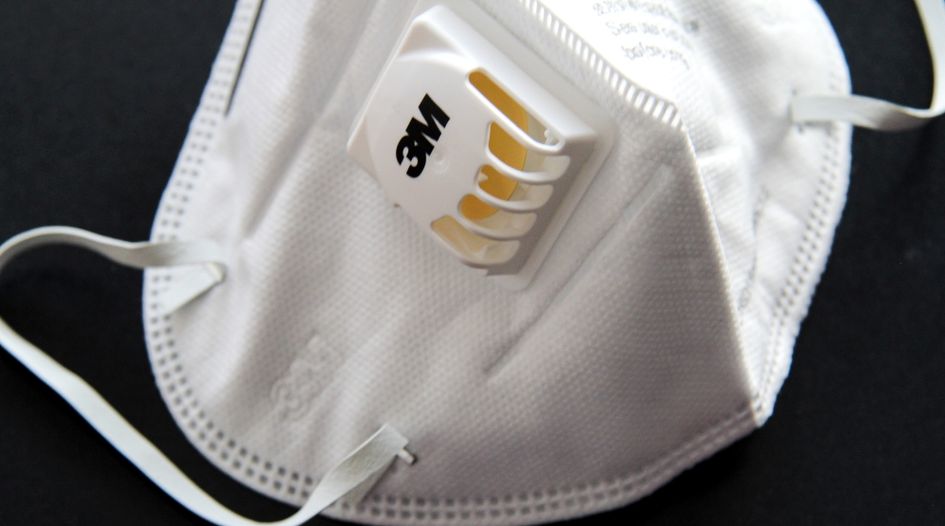 3M filed four suits across the US against price gougers of its N95 respirator mask
The company has also enlisted government bodies to act against the defendants
Legal expert points to likely strategic thinking behind the lawsuits
Multinational conglomerate manufacturer 3M has filed four suits alleging trademark infringement, among other unlawful actions, against distributors of its N95 respirator masks. The suits have attracted press attention due to the importance of the masks in the international effort to combat the coronavirus pandemic. However, the cases may also serve as an interesting example of how brands can leverage an aggressive litigation strategy to send a message to the wider world and generate positive press coverage.
3M first simultaneously filed three lawsuits on 10 April against Performance Supply in New York City, Rx2Live in California, and a John Doe defendant in Dallas County. The company then followed these suits with another, on 14 April, in Florida against Geftico. All four cases allege that the defendants have gouged the prices of N95 respirators by up to 600% while selling to government bodies such as New York City officials and the federal Division of Strategic National Stockpile. In their attempt to sell the N95 respirators, 3M also alleges that the defendants falsely affiliated themselves with 3M as authorised distributors.
Commenting on the New York suit, Denise Rutherford, senior vice president, corporate affairs, said: "3M does not – and will not – tolerate price gouging, fraud, deception, or other activities that unlawfully exploit the demand for critical 3M products during a pandemic." She also went on to detail that 3M was also working with federal, state and international law enforcement authorities in order to "track down those who are illegally taking advantage of this situation for their own gain".
Notably, 3M has also publicly announced that it will donate any damages, including attorneys' fees and costs, to covid-19 charities. This is undoubtedly a generous gesture on 3M's part but it also helps to ensure the message is heard beyond those targeted by the suits. "I hate to be cynical, but this is mostly a PR strategy," says Andrea Anderson, a partner at Holland & Hart, adding: "But it's understandable. They want to educate the public that it's not them behind the price gouging. Kudos to 3M for doing everything in its power to make that stop."
As the cases are about price gouging and not counterfeit masks, 3M has not filed for preliminary injunctions against the defendants. Instead, they have demanded jury trials in all four cases. 3M has also made statements about involving state Attorney Generals. This will heighten the threat for the defendants, levying at them criminal violations and civil statutes that the government can enforce. With all this in mind, it is likely that the defendants will quickly stand down, believes Anderson. "I can't imagine any of them are in a position to litigate against 3M and none of them are going to want to endure the bad press and treatment by the public that they'll receive."
Such a tactic is also canny, because Anderson contends that, although there is a reasonable argument that the defendants have presented themselves as authorised dealers of 3M's products without being part of its distribution network, it could be challenging to prove that these efforts would have successfully confused the purchasers – in this case, government bodies: "Were those purchasers, and we're talking about procurement officials for states buying massive quantities of N95 masks, really going to believe the vendors are charging a price authorised by 3M?" If not, it then leads to the question of whether there is an actionable trademark claim. Anderson continues: "My guess is that they know what 3M's suggested retail price is."
However, 3M is clearly confident it can make that case and its position is still a favourable one. The strategy of combining litigation with state and federal law enforcement will likely be enough to cause the defendants to stand down. If it doesn't, then the actions can proceed. And in the meantime, the message that 3M has not raised the price of its respirators as a result of the covid-19 outbreak is sent to the market, which is a brand reputation win.
At a time when companies are under increased scrutiny and pressure to be positive social actors, 3M has taken the right approach to combat perceived bad actors while signalling to the market and – thanks to press coverage of the actions – wider consumers that it is swift to act and for the right reasons. It is a tactic other brands may wish to consider, Anderson concludes: "Companies should think about how to use IP laws creatively and aggressively as it's not always important whether you would win on the merits, but more if you can achieve your objective."