The rise of competitive advertising: risk and opportunity in domain names using competitors' marks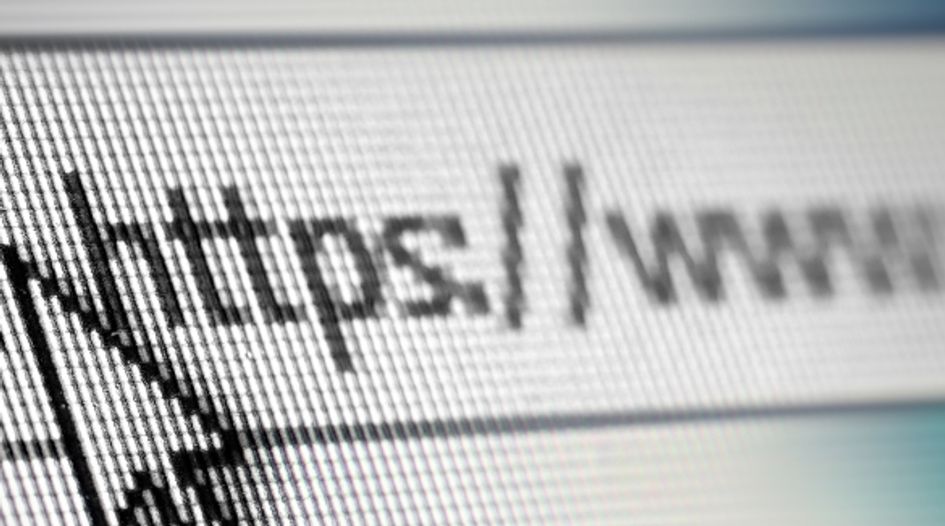 Companies are increasingly using competitor brands in domain names
Brands including Apple, Microsoft and T-Mobile have embraced competitive ads 
Guidelines should be followed to avoid legal jeopardy in such marketing campaigns 
The likes of Apple, Dunkin' Donuts, Microsoft and T-Mobile have all used third party brands in domain names as part of creative marketing campaigns. The tactic raises a number of questions for those on the receiving end of such treatment. In this guest post, Stephen Jadie Coates of Coates IP explores the phenomenon, and the do's and don'ts, of using a competitor's mark in a domain name.
Guest analysis
One question I routinely get asked is whether a brand owner can develop a website that includes a competitor's trademark in the domain name. My immediate response is, 'Yes you can, but the better question is can you keep it?'
A selected history of competitive advertising
Some famous examples of brand owners poking fun at competitors have cropped up in the last few years, and marketing gurus have a name for it - competitive advertising.
Microsoft has provided a few very creative ones. In a 2015 marketing campaign called 'Scroogled' (combining the words 'screwed' and 'Google', and using Google's well-known logo colors), Microsoft made fun of rival Google's business practices through ads, commercials, and even a website. At 'scroogled.com', it criticised Google, and even sold merchandise with the Google logo and wording such as 'Keep Calm While We Steal Your Data'. The domain now redirects to a page on 'microsoft.com' that compares its services with those of Google and other competitors (attorneys have a name for it – comparative advertising).
While there was no public legal dispute between the two companies, most big competitors tend to leave these types of fights to the marketplace (or at least limit legal disputes to the claims within the campaigns). However, Microsoft and Apple have also been trading barbs for years.
Apple's 'Mac guy and PC guy' ads ran from 2006-2009, with Mac guy being portrayed as a small, smart and young (and smug), whereas PC guy was older and a bit out of touch (and a lookalike for Bill Gates).
Microsoft's latest campaign takes aim at Apple products. It hired a guy named Mackenzie Book (ie, Mac Book for short) to describe the superiority of Microsoft's Surface laptop over Apple's Mac Book laptops, even so far as using the slogan 'Mac Book says get a Surface Laptop'.
The trademark nerd in me buzzed with the legalities. What if they developed a site? Say, 'Mackenziebook.com' or 'macbook.sucks'. Dunkin' Donuts essentially did that when it launched 'dunkinbeatstarbucks.com' for its 2008 'Friends Don't Let Friends Drink Starbucks' campaign, which sold t-shirts with the slogan, domain name and a Dunkin' Donuts logo. Pepsi's famous 1970s Pepsi Challenge campaign had consumers test Pepsi and Coke products in blind taste tests. It conservatively called it the 'Pepsi Challenge', avoiding Coke branding in the test name. However, Dunkin' took it one step further by incorporating its competitor's mark right into the campaign title and domain name.
Just this month, T-Mobile launched an ad campaign criticizing Verizon's 5G service on social media and a website at 'VERhIdeZON.com' (emphasis added). The domain fully incorporates the VERIZON mark, and the website features a highly similar logo. It's not immediately apparent from the website that T-Mobile is behind the campaign (the WHOIS ownership lists registrar CSC as the registrant). A more amusing option might have been 'verhidezon.sucks'. Why not let the TLD aid in your marketing campaign?
These examples remind me of the old rivalry between Sega and Nintendo in the 1990s. Sega ran a TV and ad campaign titled 'Genesis does what Nintendon't', pointing out the 16-bit benefits of Sega's gaming console over Nintendo's 8-bit console. Today, that rivalry might be applied online at 'nintendont.com', and so long as the site is used to accurately depict the differences between the two products, it has a chance of withstanding a legal challenge. However, as these examples illustrate, these rivalries are often left to the court of public opinion.
The legal dimension
What about that legal risk? As with anything related to intellectual property and the Internet, the detailed answer is much more complex and fact-specific to each case at hand. There have been some cases where brand owners have successfully defended the use of their competitors' marks in domain names. Some general principles can be outlined based on these examples that brand owners should consider when developing these sites, and managing their defensive domain name registration strategies. This article outlines some of those examples and key areas of law to consider.
The Uniform Domain Name Dispute Resolution Policy (UDRP) provides a legal framework for brand owners to challenge domain names that contain terms that are identical or confusingly similar to their trademarks, but the remedies are limited, and the process streamlined. The only relief is the transfer or cancellation of the registered domain names subject to the dispute. The scope of the UDRP is also limited – it was generally intended to address the more obvious cases of cybersquatting abuse, and so complex evidentiary cases and defenses are not considered in UDRP cases.
The UDRP does allow "legitimate noncommercial or fair use of the domain name, without intent for commercial gain to misleadingly divert consumers or to tarnish the complainant's trademark or service mark". This part is key for brand owners that want to use a competitor's mark in their domain name, but they need to be very careful not to mislead or divert customers in the use of that website.
So what do the cases say? In truth, the vast majority of UDRP cases address domain names that redirect customers to a competitor's site, are purchased with the sole intent to sell to the brand owner, or are warehoused to prevent a competitor from using them, all of which are in violation of the UDRP. There are very few that address situations where the domains were used for actual comparative or competitive marketing campaigns or where the extension itself, like '.sucks' or '.rocks', makes the site's intention clear. The lack of cases supports a hypothesis that brands tend to compete in the marketplace, and not in court (and avoid the perception as being anticompetitive by attacking a competitor's ad campaign, no matter how cheeky).
The Travelex and Plein cases show that a play on words can be sufficient to overcome a UDRP complaint, similar to the 'scroogled.com' and 'verhidezon.com' examples above.
The currency exchange company Travellers, which trades under the TRAVELEX mark, objected to competitor FairFX's use of the domain names 'travelexpensive.com' and 'travelexexpensive.com'. The names, which resolved to a single webpage, featured the term 'travelexpensive', with 'travelex' in blue and 'pensive' in red, along with the wording 'Did you know that Travelex charges you 5.75% to withdraw leftover cash when you get back home? Save money. Choose FairFX.com as your travel money provider this summer'. FairFX claimed that such use was legitimate fair use for the purpose of comparative advertising. The panel agreed in part, denying the transfer of 'travelexpensive.com' (ie, TRAVEL EXPENSIVE) as it did not find it to be confusingly similar with the TRAVELEX mark. However, it did find confusion and bad faith in the 'travelexexpensive.com' name (ie, TRAVELEX EXPENSIVE), and ordered its transfer Travellers Exchange Corporation v FairFX, WIPO Case No. D2010-1056.
The Plein case shows that hiding the mark in a phrase with a different meaning can be permissible, even where the content of the site is a clear infringement of the complainant's marks. In Plein, the complainant could not show that its PHILIPP PLEIN and PLEIN trademarks were confusingly similar to the domain name 'peopleincasinos.com' for a website which still prominently uses the complainant's marks (and no others) and sells its clothing. Plein argued that the name was carefully chosen so as to increase the site's SEO results for searches of 'plein'. The domain name incorporates the PLEIN mark, and is used to sell Plein's clothing items, but as the domain reads 'people in casinos', the panel did not find confusion. However, the panel did note that Plein might have trademark remedies in another forum (Philipp Plein v Kimberly Webb, WIPO Case No. D2014-0778).
Noncommercial criticism sites incorporating the trademarks of others have been found to be legitimate use and not bad faith, but I am not aware of any cases involving competitors. Use of 'wallmartcanadasucks.com' (by a known cybersquatter) as a site to criticize Wal-Mart was found not to be confusing, legitimate and not in bad faith (Wal-Mart Stores v wallmartcanadasucks.com and Kenneth J Harvey, WIPO Case No. D2000-1104).
A disgruntled advertiser used 'tmpworldwide.net' and 'tmpworldwide.org' to criticise the way TMP Worldwide mismanaged her customer account. The WIPO panel didn't even address confusion or bad faith, concluding that the use of the names was noncommercial, and therefore beyond the scope of the policy (TMP Worldwide v Jennifer L Potter, WIPO Case No. D2000-0536), Use of 'gatewayclassiccars.info' by an individual to highlight allegedly bad business practices was found to be legitimate and noncommercial (Chesterfield Valley Investors, L.L.A. dba Gateway Classic Cards of St Louis v Brock Winters, WIPO Case No. D2019-1380).
Lanham Act dimensions
In the US, for purposes of infringement, the Lanham Act is typically not triggered by registration of a domain name alone, as customers cannot be confused by a website that does not exist. However, once that domain name is used for content, as a redirect, or is parked with pay-per-click links, then the Lanham Act comes into play. The venue for claims under the Lanham Act is federal court, so it is neither a cheap or fast option, and while the main purpose of trademark law is to provide injunctive relief, damages and attorney's fees can be obtained.
The Anticybersquatting Consumer Protection Act (ACPA) is a federal expansion of the Lanham Act that essentially provides brand owners a claim against cybersquatters. While the venue is federal court, it differs from traditional Lanham cases in that the likelihood of confusion test is a bit easier than the standard test under the Lanham Act, and it provides in rem actions when the registrant is beyond the personal jurisdiction of the court or cannot be located. For brand owners, it is important to note that the ACPA allows for temporary restraining orders and preliminary injunctions, which could frustrate an existing marketing program, as well as statutory damages up to $100,000 per domain, and attorney's fees. The ACPA does not prevent fair use of trademarks in the domain name, or sites that use names for comments or criticism.
The legislative motives in enacting the ACPA were to clearly carve out lawful uses of others' marks for the purposes of comparative advertising. The Senate and House Reports state that "[u]nder the bill, the use of a domain name for purposes of comparative advertising, comment, criticism, parody, news reporting, etc, even where done for profit, would not alone satisfy the bad-faith intent requirement." (S.Rep No 106-140, at 14 (1999), published at 1999 WL 594571; H R Rep 106-412, at 11 (1999), published at 1999 WL 970519 (emphasis added)).
Like UDRP cases, the vast majority of ACPA cases regarding competitors address typosquatting (misspellings of trademarks), redirects, and warehousing.  As the ACPA is meant to address egregious cybersquatting, there are virtually no cases that are similar to the examples above.
We do know that descriptive marks need not apply. The ACPA requires that the trademark be distinctive. The Eleventh Circuit denied Tropic Ocean Airway's claim against its competitor, Key West Seaplane Services, Inc, over registration (and only registration) of 'tropicoceanairways.com'. The court found the phrase 'Tropic Ocean Airways' merely informed consumers that its planes fly over the tropics, was descriptive, and was not convinced that Tropic Ocean's claims that its mark had acquired secondary meaning to be persuasive (Tropic Ocean Airways v Julie Floyd et al, No. 14-12424 (11th Cir. 2014)).
The vast majority of legal issues involving competitive advertising involve disputes over marketing claims about their own products, or others'. In the US, the FTC regulates the laws around advertising, and provides legal bases for litigation. In an attempt to self-regulate the advertising industry, the Better Business Bureau established the National Advertising Division, which offers a relatively speedy and inexpensive dispute resolution process over factual claims in advertising, including comparative advertising. To avoid disruption of a marketing campaign, it's a good practice to require that claims about products be substantiated and documented.
The FTC supports use of competitors' brands in comparative advertising as long as the claims and disclosures are truthful, non-deceptive, and clear. Those claims must have a "reasonable basis."  Litigation over claims is also a much more PR-sensitive way for brands to publicly object to negative ad campaigns, as the focus is on how the competitor is misleading or deceiving customers, and not an attack on the competitive marketing itself.
Checklist
When your company wants to use a competitor's brand in a domain name for marketing purposes, it's important to understand how long the campaign will be, and provide some guidelines and guardrails for your marketing teams on the do's and don'ts. Partner with and educate your clients on the areas where competitors may have a potential claim, and steer them closer to use cases where courts and forums have found such uses to permissible. If it's an area where you don't have a lot of experience, work with your outside counsel specialist to create those guardrails and implement a robust legal review process with your marketing team.
Avoid redirecting or warehousing domains with competitors' marks;
Names that aren't exact matches of a competitors' mark are more likely to be permissible;
When developing sites, ensure the claims are accurate and can be substantiated;
When using a competitors' brand for comparative advertising, ensure that the use is nominal and accurate;
Build the possibility of competitors registering your brand into your defensive domain name strategy.