The most active filers at the USPTO revealed; Brexit and brands; inside corporate trademark departments: new edition of WTR is now live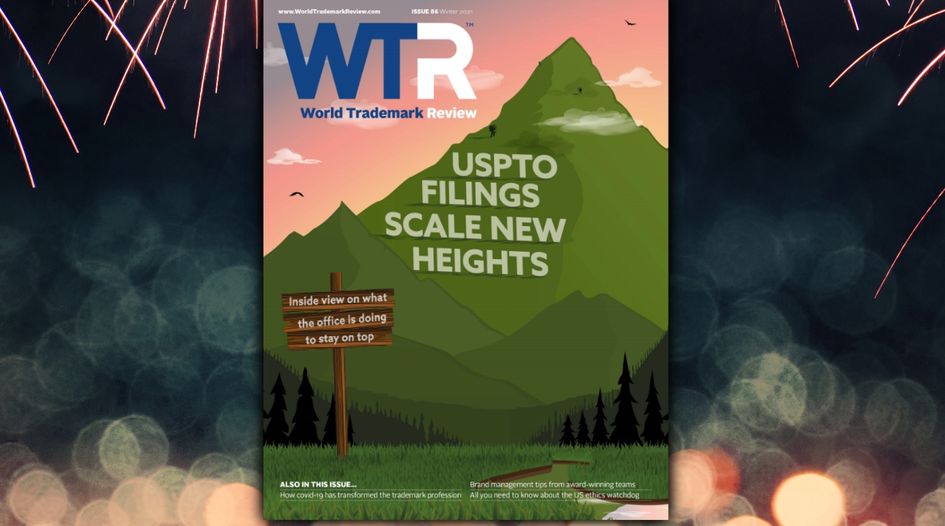 The Winter 2021 edition of WTR is now available online to subscribers, offering exclusive insights from USPTO Commissioner for Trademarks David Gooder, reflections on how trademark practice has been impacted by the covid-19 pandemic, wellbeing considerations, and much more.
2020 will go down in history for being dominated by the global impact of the covid-19 pandemic. While it remains very much an ongoing challenge, for the latest issue of WTR we asked trademark practitioners from around the world to share their highs and lows from the past 12 months, as well as the lessons that they have learned in adapting to the new normal.
As well as pivoting to innovative ways of doing business, trademark work has been constant and, in some respects, 2020 was a record-breaking year, with a number of IP offices dealing with unprecedented filing levels. For our cover story, we turn our attention to the United States, revealing the most active filers at the USPTO, exploring the challenges that the office has faced and speaking to the attorney named as a representative on a staggering 11,000 applications. We also present an annual review from USPTO Commissioner for Trademarks David Gooder, who explains how the office has adapted to change and provides an update on key areas of focus and achievements over the past 12 months.
Staying in the IP office sphere, we spoke to examiners from five major registries to get the inside track on their work, uncover the common mistakes made by applicants and dispel some of the myths surrounding their roles. We also take a deep dive into the corporate trademark world, hearing from, and profiling, the 19 winners of the 2020 WTR Industry Awards.
Further, the issue features key takeaways from the recent WTR Connect virtual event, insight into the post-Brexit rules trademark owners need to bear in mind, an outline of the developments that rights holders need to know about when building their brands in Kenya, an update on the treatment of non-traditional marks in Japan, an exploration of how to secure and wield trademark renown in Central and South America, insight into the complex area of publicity and image rights from WTR's Country Correspondents, and much more.
The full issue is now available online to subscribers here