The global challenge of fighting World Cup counterfeits – exclusive insights from the UKIPO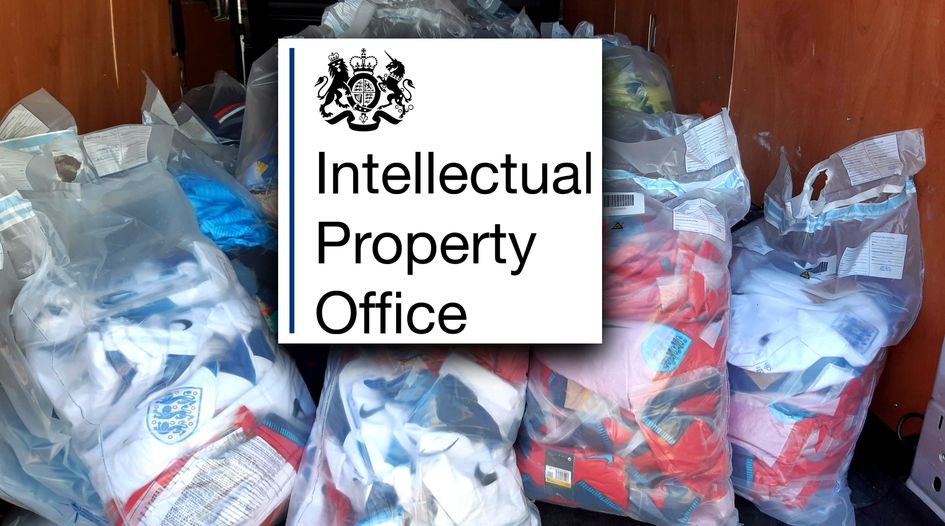 A massive global audience is set to watch the FIFA World Cup Final on Sunday. With Argentina and France preparing to clash on the pitch, another bitter battle is occurring off it between counterfeiters exploiting interest in the event and law enforcement agencies trying to stop them. In an exclusive column, the UK Intellectual Property Office's (UKIPO) deputy director of intelligence and law enforcement, Marcus Evans, expands on the ongoing anti-counterfeiting efforts – and what brand owners can do to help.
Beyond doubt, very few sporting events can match the FIFA World Cup when it comes to pulling in a global audience and capturing the imagination of literally billions of fans around the world. When it comes to mass public attention, few events can come close. Notwithstanding the well-documented concerns around this year's finals, the tournament remains a magnet for sports fans worldwide, with around 5 billion expected to tune into the action at some point.

Sadly, the increased demand for merchandise that comes with this also makes the tournament – and the global brands showcased – a magnet for counterfeiters. This is reflected in the scale of the challenge faced when looking to address this problem.

The United Kingdom's IP enforcement environment is widely regarded as one of the best in the world and where possible, we want to lead by example. We hope that some of our activity geared around the World Cup sets a positive example of best practice and illustrates some lessons that we hope will be helpful for other jurisdictions in working to address this huge global challenge. A problem as massive as IP infringement means we all have a role to play in tackling it.
Catching the criminals off-side
Proactive law enforcement, co-ordinated by the UKIPO, saw a staggering four tonnes of counterfeit football shirts seized by officers from the UK Police Intellectual Property Crime Unit (PIPCU) in a series of recent raids across the United Kingdom. Six people were arrested for offences relating to the distribution and sale of counterfeit goods, and £12,000 in cash was seized. PIPCU was central to these enforcement operations. They worked closely with the UKIPO intelligence team and as part of a coordinated, multi-agency programme of focused enforcement activity, helped tackle the criminal threat head on. The scale of the potential losses to brand owners from counterfeits was evident. At East Midlands Airport, over 18,000 shirts were seized by enforcement bodies since the start of October. These goods alone represented an estimated loss to the industry running into millions of pounds.
Officers from PIPCU, supported by colleagues from the North West Police Intellectual Property Crime Unit (NWPIPCU), also searched four premises in Leeds and seized a large quantity of counterfeit England shirts, FIFA World Cup badges and £2,000 in cash. In Sheffield, officers seized counterfeit football shirts from a storage facility and £10,000 in cash from a residential premises. The merchandise found in Leeds and Sheffield alone is thought to be worth an estimated loss to the industry of £250,000. A further £250,000 worth of counterfeit shirts were seized during raids in Bristol and Northampton.
These successes attracted widespread coverage in the national media, and it is useful that we draw attention to such positive enforcement outcomes. They help demonstrate how a collaborative, evidence-based approach – delivered through effective partnerships – can make a visible impact and disrupt criminal activity on the ground. In short, they are a clear signal of intent.
Like our partners, we are serious about this problem and keen to build awareness of the work that we are involved in to tackle it.
Kicking off with a winning strategy
Earlier this year, we launched our ambitious new counter-infringement strategy, with a collaborative and partnership-driven approach at its core. But this strategy is different to all our past strategies; it is not simply a list of actions to tackle specific issues but is instead intelligence-led, harm-focused and continually improved, so that we can have a coordinated approach to tackling current and emerging issues.
The first phase in this strategy is the mobilisation phase, where we are putting the key structures and processes in place. This includes establishing the new international forum, a cross-Whitehall group and the newly restructured IP Crime Group.
During these early stages, we will continue to build our understanding of the full threat of IP crime and infringement. As part of this, we are working to produce a comprehensive strategic threat assessment, which will give us a clear understanding of the areas of highest harm and where our combined efforts might have the most impact. This will then shape our subsequent work.
Other milestones include embedding a network of IP coordinators and intelligence analysts within UK law enforcement agencies, building the capability and capacity of the UKIPO's intelligence and law enforcement partnerships team. This will all feed into the next phase of the strategy, which is our intelligence and recording phase, as we work to build a more complete picture of the full threat of IP crime and infringement.
Our work to date with PIPCU has really helped inform our actions, allowing us to develop and test new types of intervention. This has previously included the removal of advertising revenue from infringing websites and the removal of domain name registrations from the UK namespace.
Such techniques have been widely welcomed by IP rights holders and inspired similar actions in other territories. As a complement to traditional police investigations, these types of innovative disruptions allow us to make life significantly harder for those criminals wishing to make a living from infringing IP rights in the United Kingdom.
We will continue to make life harder for criminals by increasing our law enforcement capacity. In addition to the continued funding of specialist teams at PIPCU and NWPIPCU, we will continue our work with trading standards, UK Border Force and Regional Organised Crime Units across the United Kingdom, and with our industry partners through the IP Crime Group.
Most importantly, we want to make IP infringement a priority for policing – so we need to raise the profile and positive impact of work in this area. We can do this by providing evidence of the real harm it does to businesses and communities. We also want to demonstrate the links to other types of criminality, such as money laundering and people trafficking, which they rightly care about and which remain at the forefront of public concern.
The wide publicity generated by the activity linked to the World Cup – which has highlighted the connection with organised criminality – is a step in the right direction toward achieving this. Ultimately, it is about awareness, understanding and action.
A pincer movement to close the gap
Our partnership with law enforcement runs in parallel to our campaigning activity, whicht looks to make the purchase of counterfeit goods socially unacceptable. Together, they form a pincer movement that tackles supply and dampens demand.
As part of this approach, we are taking specific action to educate the public and help build awareness. Our ambition is to change public attitudes and ultimately increase respect for IP rights. Our campaigns work towards a long-term goal of making counterfeiting and IP crime socially unacceptable to all.
Where to start? We need to learn what works and how best to reach our audience. We do this by starting small, reviewing our progress and working up from there. Changing public opinion is difficult, but if we can show people the harm being done to things that they care about and can relate to, we will be in a stronger position to change behaviours. Our investment in research and intelligence analysis supports this goal.
#WearReal Campaign
With that in mind, the FIFA World Cup presented us with an opportunity to put some of this thinking into action through a focused consumer awareness campaign. Working in collaboration with brand owners, the UKIPO-led #WearReal campaign looked to deliver a clear message that would resonate with the wider football-loving public (click here for a flyer summarising the campaign's key messages).
The overarching aim of the campaign was to reduce the number of people purchasing counterfeit football shirts online, both knowingly and unknowingly. It looked to contribute to the UKIPO's wider aims of consumer behaviour change, aligned with our counter-infringement strategy. 
The campaign used innovative techniques to identify and map societal trends on the Internet. It identified specific online communities, explored who they comprise and what they say, identified influential content creators and the impact of algorithms, bots and trolls. Supported by the identification of priority audience segments, our research identified – and sought to challenge – arguments being made for and against buying a counterfeit football shirt.
It uncovered the typical 'audience journey' to purchasing a counterfeit football shirt and highlighted interlinking themes such as types of interests associated with counterfeit football shirts (eg, types of music). Equipped with this insight, the campaign team then used relevant channels and influencers to reach specific or relevant target audiences.
A video released on YouTube as part of the #WearReal campaign.
On top of that, machine learning techniques were used to review YouTube videos promoting counterfeit shirts, video tags and titles, and audience profiles. Public surveys were used to fill the 'gaps' in knowledge. Online co-creation sessions with members of the target audience were used to test and further co-create elements of the campaign such as the look and feel, colourways, straplines and a call to action.
As this campaign illustrates, the challenge that we face in changing consumer attitudes is vast and complex, and will require multiple stages of evaluation and refinement. The UKIPO cannot achieve this ambition on its own, nor can the tipping point or success be reached overnight. IP stakeholders need to collaborate to achieve common objectives. Our industry partners are a powerful and persuasive voice, and brand owners have a particularly vital role to play in helping to educate and empower the public.
Brand owners can also help by spreading the message and ensuring that consumers are educated so that they do not knowingly or unknowingly infringe IP rights. This empowers them to make informed decisions. This will help to reduce the number of infringement cases and, in the long-run, help to shift attitudes at a deeper societal level. The #WearReal campaign is just a starting point in this direction of travel – to a destination that will benefit everyone.
Some of the work around the World Cup may have grabbed headlines, but it is still the tiny tip of a gargantuan iceberg. Delivering the ambitious goals of our strategy means that we all have more work to do.
They think it's all over?
By the time the next World Cup is upon us in 2026, the likes of Messi and Ronaldo may well no longer be gracing the pitches – but the criminals will not have gone away. And it will take far longer than four years to change what society considers universally unacceptable. Our counter-infringement strategy is rightly ambitious, but we are rightly realistic about the scale of the challenges.
But the UKIPO is not standing still. We will invest in our IT systems to support our intelligence work and continue to build our capacity and capability in this area. We have also commissioned research to evaluate how AI could be used to combat IP infringement.
We remain committed to continuous improvement, and we will always be keen to engage with all our partners about our strategy and wider enforcement activity. We talk to representative bodies like the Chartered Institute of Trademark Attorneys, the Chartered Insitute of Patent Attorneys and the IP Federation regularly, and will continue this engagement throughout the delivery of our strategy.
We already have a world-leading enforcement framework in the United Kingdom, and we want to build on this. By working together in partnership, I am confident we can do so and make a positive difference for us all.