THE BIG LIE trademark; Gap sells Intermix brand; scammers' preferred TLDs – news digest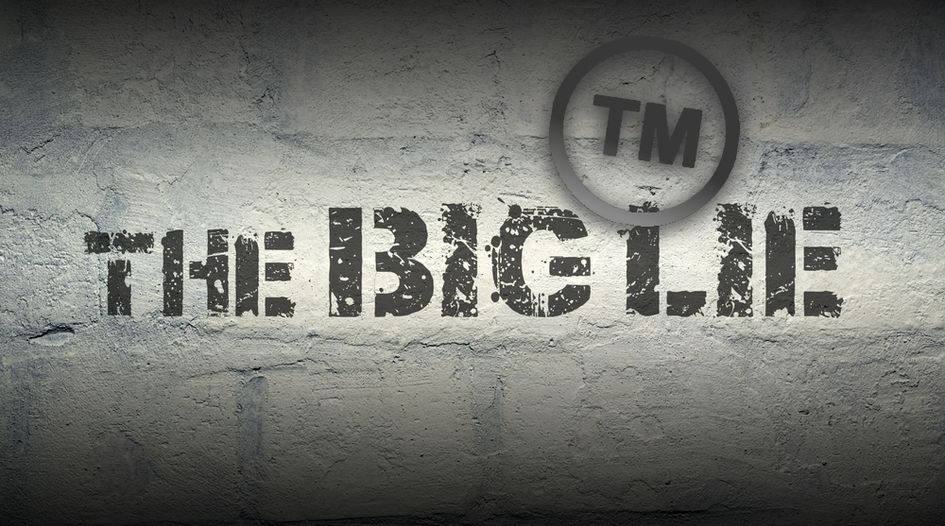 Every Tuesday and Friday, WTR presents a round-up of news, developments and insights from across the trademark sphere. In our latest round-up, we look at disgust over reports of counterfeit covid medicine in India, Verizon divesting its media division, ICANN unveiling new courses, and much more. Coverage this time from Bridget Diakun (BD), Tim Lince (TJL) and Trevor Little (TL).
Market radar:
SAIP signs new MOU – The Saudi Authority for Intellectual Property (SAIP) has signed a memorandum of cooperation with Princess Nourah Bint Abdulrahman University regarding the Academic Alliance Programme for Research and Development. The MOU aims to support the academic alliance between the two parties in order to elevate the IP system and achieve economic and social development in Saudi Arabia. A media notice explains: "This emanates from the important role of intellectual property in empowering universities and scientific research institutions in Saudi Arabia and the important academic stature of Princess Noura bint Abdulrahman University at the local level. This agreement also seeks to conduct studies and research specialised in intellectual property policies, systems and processes, scientific and practical applications of the results of studies and research specialised in the field of intellectual property, in addition to preparing and designing academic and training educational curricula in the fields of intellectual property." (TL)
Disgust at reports of counterfeit covid medicine in India – As India battles a devastating second wave of the covid-19 pandemic, local law firm SS Rana & Co has described how "a corresponding new wave of counterfeiters have emerged side by side". Specifically, criminals have been found to be selling fake versions of life-saving drugs. On 17 April, for example, law enforcement in Bengaluru arrested an individual for selling counterfeit Remdesivir "for an exorbitant sum". "It is heart wrenching to see that counterfeiters are not even sparing those in desperate, life-threatening conditions during this human catastrophe to reap illegal profits," an SS Rana & Co representative said. "The country, as a whole, must be made aware and exercise caution and vigilance against such counterfeiting activities in the mindset of an unprecedented crisis as the present one that we are facing. Besides the law enforcement authorities cracking down against such counterfeiters, it is also the prerogative of brand owners and IP holders – such as vaccine makers and manufacturers – to take proactive action against such counterfeiters, which would not only save countless lives but also safeguard their own valuable reputation and intellectual property." (TJL)
Brand radar:
Authentic Brands Group and Simon Property to acquire Eddie Bauer – Authentic Brands Group (ABG) and SPARC Group are adding another famous brand to their portfolio. The pair have agreed to acquire Eddie Bauer, including its 300 stores and e-commerce business, from a unit of Golden Gate Capital, according to Bloomberg. ABG and Simon previously focused on buying up IP rights, rather than any brick-and-mortar presence, but this has changed with their purchase of Brooks Brothers Group and Forever 21. The deal is expected to close by 1 June 2021. (BD)
Gap to sell luxury fashion boutique chain Intermix – Gap has agreed to sell its luxury fashion boutique chain Intermix to private equity firm Altamont Capital Partners. The move comes after a number of changes on the branding front, with the US retailer announcing the sale of its kids' brand, Janie and Jack, followed by the news that Simone Biles has signed an apparel partnership with Gap-owned Athleta. "The sale of Janie and Jack, and planned transaction of Intermix, demonstrate how we are prioritising our strategic focus and resources behind the growth and potential of Old Navy, Gao, Banana Republic and Athleta," said Sally Gilligan, head of strategy at Gap. (BD)
Verizon divests media division – Verizon is unloading its media division to Apollo Global Management for $5 billion, including well-known online brands AOL and Yahoo!, reports Bloomberg. Verizon's foray into online advertising failed to pay off, despite the companies under its umbrella. In 2015 Verizon picked up AOL for $4.4 billion. Tim Armstrong, head of AOL, said at the time that he wanted to establish a "house of brands" at the company under a division called Oath. In 2017 Verizon acquired Yahoo!'s internet properties for about $4.5 billion. However, the division was not up to scratch, and in 2018 it was renamed Verizon Media Group. The unit consists of more than a dozen online brands, including TechCrunch, Ryot, Built By Girls and Flurry. Verizon has already sold off HuffPost to BuzzFeed and in 2019 let go of blogging platform Tumblr. The unit will be known as Yahoo after the transaction closes. (BD)
Legal radar:
THE BIG LIE trademark application filed – A trademark application has been filed for THE BIG LIE, a phrase that has been used in relation to claims of fraud surrounding the 2020 US presidential election. The application was filed on 12 January 2021 – less than a week after the attack on the US Capitol – by an entity based in New Hampshire called Kona Holdings LLC. It has been filed in Class 45 for "providing information in the field of social justice", suggesting that the application directly relates to the use of the phrase in the political arena. Interestingly, the term has been 'flipped' in recent days by Donald Trump, with a recent online post from the former president saying: "They are right in that the 2020 Presidential Election was a Big Lie, but not in the way they mean." As The Guardian notes, "Trump's characteristically judo-like move – flipping the weight of his opponents against them – was reminiscent of the way he appropriated the phrase 'fake news', once used to describe misinformation widespread on the web, and weaponised it to go after the media". The move suggests that 'Big Lie' could become an attack term for Trump and his supporters. It is unclear, however, how a trademark – if it reaches registration – could affect the term's use in the future. (TJL)
Office radar:
(For more of the latest coronavirus-related updates from national IP offices, please read our dedicated article which is being continuously updated.)
Domain Radar:
Scamadviser reveals the TLDs that scammers prefer – In new research from Scamadviser.com, analysis of 7 million domain names has discovered that some hosting companies, registrars, registries and countries "seem to support scammers much more than others". The analysis is based on trust scores calculated through the use of 40 different data sources and considers the registration of dubious domain names. For instance, GoDaddy is one of the most commonly used registrars worldwide and the data reveals that 3% of websites registered at GoDaddy have a trust score equal to or lower than 20 (on a scale from one to 100) – in line with the overall industry average. By comparison, in the past 90 days, Scamadviser scanned 36,000 websites registered on Alibaba and found that 14.3% were considered dubious. US-based companies such as NameSilo (13.2%) and NameCheap (10.5%) also returned higher than average scores relating to dubious sites. Turning to TLDs, those with the highest percentage of misuse in comparative terms include '.co' (5.4%), '.ru' (4.4%) and '.com' (3.9%). Meanwhile, the Chinese ccTLD, '.cn', returns a low score (0.36%), suggesting that scammers prefer more 'Western-focused' extensions. Finally, the analysis considers which countries seem to host the highest number of scammers. Most websites use servers which are based in the United States, with 3.8% of all websites hosted in the country experiencing a trust score lower than 20 (slightly higher than the total average of 3%). Scamadviser reports: "Countries like Hong Kong (8.2%), Senegal (6.0%), Singapore (5.9%), Canada (5.50%) and Russia (5.0%) are hosting the most scammers of the top 10 countries. Each country seems to have its own specialisations. Where Hong Kong and Singapore are known for online stores selling fakes or not delivering, Senegal offers financial services and Russian scammers are heavily 'investing' in cryptocurrency scams." (TL)
ICANN unveils new courses – In a post on the ICANN blog, Heidi Ullrich, vice president, policy development and at-large relations, has unveiled two new courses centred on the at-large community. 'ICANN At-Large: Welcome to Our World' provides an introduction to the at-large community and the at-large advisory committee (ALAC), how they function within the ICANN ecosystem and how you can become – and continue to be – involved in their work. Meanwhile, 'ICANN Policy Development: A Guide for At-Large Participants' delivers a working knowledge of the ALAC policy advice development process and the various policy development opportunities for the at-large community to join at ICANN. The two courses will be evaluated for translation based on their usage in English and the demand for other standard United Nations languages. Ullrich states: "These new community-led courses will serve as a cornerstone for building skills and knowledge about the at-large community and its policy advice work. We hope the ICANN community enrolls in these courses." (TL)
On the move:
Harbottle & Lewis expands IP litigation team – Harbottle & Lewis has welcomed IP specialist Andrew Terry as a partner in the firm's IP litigation team. With more than two decades of experience handling a broad spectrum of IP, media and brand protection issues, Terry supports clients across all stages of the innovation lifecycle and has worked with household name brands, sporting institutions and high-profile talent in media and entertainment, including major artists in the music industry. He regularly handles complex IP disputes and IP agreements (eg, brand and content licensing, brand extension, merchandising and brand management agreements) and advises clients on a range of matters relating to trademarks, copyright, designs, anti-counterfeiting and passing off. Glen Atchison, managing partner at the firm, said: "With our IP litigation group going from strength to strength, Andrew's hire signals the latest step in our continued growth trajectory and we look forward to working with him." (TL)
Orrick adds partner to IP licensing and tech transactions team – Benedikt Migdal has joined Orrick as a partner in the firm's IP licensing and technology transactions practice. "Benedikt brings deep experience in an area that is critical to our clients and their ability to innovate in their business models and industries. He also has stellar experience in patent and trade secret litigation – a valuable asset in assisting our clients in enforcing their IP. We're thrilled to welcome him to the firm," stated Oliver Duys, co-leader of Orrick's German offices. Migdal joins the firm from Hengeler Mueller and is based in Dusseldorf. (BD)
Neal Gerber Eisenberg strengthens litigation bench with new hire – Emer Simic has been appointed to partner within Neal Gerber Eisenberg's IP practice group. She was previously a partner in Green, Griffith & Borg-Breen's IP litigation team. "We are excited to welcome Emer to the firm and our intellectual property practice," said Scott Fisher, managing partner of Neal Gerber Eisenberg. "As a veteran litigator in the pharmaceutical and biotech fields, Emer will be an invaluable asset for our growing roster of life sciences clients." (BD)
Former Accenture attorney to head Secerna's new Dublin office – IP law firm Secerna is preparing for its next phase of growth by opening a Dublin office headed by former Accenture in-house counsel Dermot Roche. The new office will support the firm's growth across Europe, the United States and Asia, with Roche bringing more than 20 years' experience in the European patent profession. Specialising in computer-implemented inventions and medical technology, he spent 14 years working in private practice in Ireland and the United Kingdom, and was in-house counsel for Dolby Laboratories in the Netherlands. Roche has spent the past six years working as in-house patent counsel at Accenture, based in Dublin. He states: "This is an exciting opportunity to extend the reach of an experienced, established and respected team of intellectual property specialists in a new market. Over the last decade Secerna has earned its reputation for deep sector experience and commercially focused advice, and I'm looking forward to building on these foundations to help the firm continue its impressive growth." (TL)
And finally...
WTR launches major new Special Report series – Whether they are specific individuals or particular jurisdictions, the rise to prominence of mass filers over the past few years has had a significant impact on the trademark landscape. For the first of our new quarterly Special Reports, WTR has taken a deep dive into the data behind the trend, charting the rise of mass filers, analysing their activity, investigating the real-world effect that they are having and, crucially, exploring how rights holders and registries can mitigate their impact on brand development and protection efforts. The report is the first of a new series of quarterly offerings, which will deliver an in-depth exploration of a key theme or topic, with practical takeaways and unique insights. The full report is available exclusively to WTR subscribers here, and in the WTR Report Centre.