The battle for Dunder Mifflin: the global effort to trademark a fictional paper company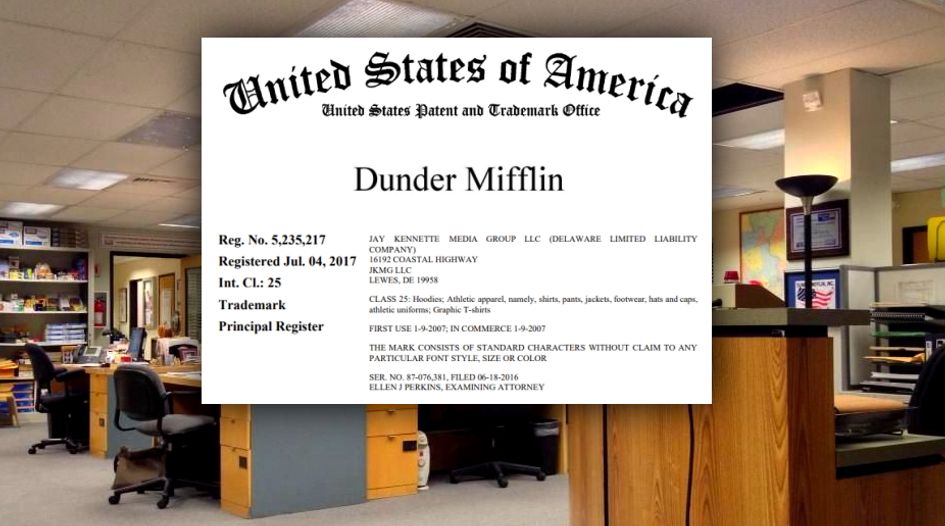 WTR reveals trademarks around the world for The Office paper firm
Lawsuit filed against owner of US DUNDER MIFFLIN mark
Owner claims suit is "disgusting" and plans to fight back
The fictional paper company featured in the hit NBC TV show The Office has been the subject of a flurry of trademark applications around the world, WTR can reveal. Media powerhouse NBCUniversal has challenged at least one US trademark for DUNDER MIFFLIN, with the applicant hitting back at what he contends are "puffed-up claims".
A regional branch of the fictional office supplies company Dunder Mifflin is the location for a large part of the US TV series The Office, which aired for nine seasons on NBC from 2005 to 2013. As the show became more and more popular, NBC began selling Dunder Mifflin branded merchandise on its website. In 2011, a subsidiary of Staples licensed the Dunder Mifflin name to sell a range of products – including paper, sticky notes and notepads – of which NBC kept approximately 6% of the revenue, according to The Wall Street Journal.
The show has remained incredibly popular. In 2020, it was the most-streamed TV show in the United States, its success in the digital age credited to its rewatchability. As a result, numerous individuals and companies around the world have sought to obtain registered trademarks in the Dunder Mifflin name.
The first application outside the United States was filed in China by Shenzhen resident Hu Liang covering various clothing items. It was lodged in December 2017, reached registration in December 2018 and depicts a logo for DUNDER MIFFLIN PAPER COMPANY INC. Another application was filed in China a year-and-a-half later by Zhejiang-based company Yiwu Moyang Trading for DUNDER MIFFLIN, covering paper and other office supplies. That application reached registration in March 2020.
Over in the United Kingdom, a London-based company called Gift Zone Direct Limited filed for DUNDER MIFFLIN PAPER COMPANY INC, covering various apparel items, in February 2019. The trademark reached registration in May 2019. Gift Zone Direct appears to be an internet seller (operating stores on Amazon and eBay), with listings for various Dunder Mifflin branded products (including T-shirts and mugs).
Meanwhile, in Spain, an application for DUNDER MIFFLIN was filed in January 2022 by a firm called Moro Tax & Legal. (It is unclear whether this application was filed on behalf of a client.)
A range of applications have also been filed in Latin America. The first two were applications for DUNDER MIFFLIN filed at the Brazilian IP Office by an individual named Francismar Antônio Soares. These cover items including clothing, jewellery and import-export services. Both applications were filed in May 2021 and have yet to reach registration. Two trademarks have also been filed this year in Chile by a company called Exom Chile and an individual named Jaime Fernando Olivos Núñez.
A bitter dispute for the Dunder Mifflin name
However, it is in the home of Dunder Mifflin – the United States – where the fight for the trademark has been generating headlines. Despite selling merchandise depicting the Dunder Mifflin name, records suggest that NBCUniversal did not file for a trademark for the term until November 2020. The application then hit a stumbling block due to the existence of a registered US trademark for DUNDER MIFFLIN, which had been filed four years earlier. Correspondence from the USPTO last month reveals that NBCUniversal's application was refused due to a likelihood of confusion with the prior mark.
The earlier trademark was filed in July 2016 by Delaware-based company Jay Kennette Media Group LLC and – like most other Dunder Mifflin marks – covers various clothing and apparel items. It reached registration, without opposition, in July 2017. The same applicant subsequently filed two more applications for DUNDER MIFFLIN at the USPTO in October 2021, this time covering office supplies and cups. Those applications have not yet been assigned an examining attorney, but do include specimens of use that reveal Dunder Mifflin branded merchandise (see below).
DUNDER MIFFLIN trademarks: specimens of use
Earlier this month, NBCUniversal filed a lawsuit against Jay Kennette Media Group and its owner, Kenneth Talbert, at the US District Court for the Central District of California. In its complaint, NBCUniversal claims that Jay Kennette Media Group is a "trademark squatter" and that Talbert has "built a business based on registering trademarks belonging to others". The latter claim refers not only to the DUNDER MIFFLIN mark, but also to other marks owned by Jay Kennette Media Group, including DILLON FOOTBALL (a reference from the TV show Friday Night Lights), NOSTOMO (the name of the ship in the movie Alien) and HILLMAN COLLEGE  (the name of a college in the TV show A Different World).
NBCUniversal is looking to end Jay Kennette Media Group's use of the Dunder Mifflin name and destroy any remaining branded merchandise. On top of that, it is seeking unspecified damages and any profits derived from sales of the merchandise.
The dispute is set to be a bitter one. In a conversation with WTR, Talbert inevitably compares the legal fight to the story of David versus Goliath, claiming that NBCUniversal is "using the law, and the risk of financial pain, to intimidate me into giving up what is rightfully mine". For this reason, he confirms his plans to take on the entertainment giant for the rights to the Dunder Mifflin name.
"The tactic of using financial pain to force a small business to give up its rights is disgusting," he opines, "and using the law to harass and intimidate is unethical. Small businesses need to stand up for their rights and I will stand up for mine. Growing up at the astounding height of 5'5, almost every adversary in life had some sort of advantage in any type of physical conflict. I have transferred the resolve (strong will) I honed over many years in the physical realm into a resolve to stay the course when faced with adversity. While the outcome will be up to the judge, the facts and law appear to be on my side, and I think the judge will see what I see. I am more than hopeful about prevailing. Let's not forget that in the story, David was holding the severed head of Goliath at the end of their conflict."
Talbert says that many of the specific claims made by NBCUniversal in the lawsuit are "puffed-up". In response, he argues that NBCUniversal failed to seek registered trademark protection for Dunder Mifflin until 2020 and made no effort to stop the registration of prior marks. "I applied over five years ago and my application was open to the public then," Talbert tells us. "NBCUniversal… would have filed their own application for anything they considered their property. This is one of the questions I intend to pose during this lawsuit: if it was yours, why didn't you claim it or protect it in the years leading up to the lawsuit?"
WTR reached out to NBCUniversal, but a spokesperson declined to comment.
When asked how he has used the trademark since securing registration in July 2017, Talbert claims that he has been "selling products listed in the trademark registration before and during the commencement of the registration". Further, he adds: "[I have been] enforcing my rights" in the DUNDER MIFFLIN mark by "stopping others from using the term all over the Internet", as well as "stopping counterfeit products coming in from China".
There are also the other trademarks referenced by NBCUniversal in the lawsuit that appear to be related (or inspired) by other media properties, which could be used to back up the claim that Talbert is a 'trademark squatter'. When challenged on those, he reiterates his argument that the marks are valid and that, just because a term has been used in a TV show or movie, it does not mean it is a real-world brand.
On the DILLON FOOTBALL trademark, Talbert claims: "It is common knowledge that there is a high school that the [show] Friday Night Lights is based on. In 1990, HG Bissinger published the book Friday Night Lights which has been widely accepted as the inspiration for the [movie and show]. This was a non-fiction work and was adapted by using a name for a so-called 'fictitious' name, Dillon. Therefore, who owns the trademark for clothing for DILLON FOOTBALL? The guys that made a [show] and commandeered their name, or the guy that wanted to print Dillon Football T-shirts and sell merchandise? I would contend that it would be the business that obtained registered trademark rights in the term with the USPTO."
On the NOSTROMO trademark, he claims: "Nostromo was a novel in 1904 by Joseph Conrad. In the lawsuit, [it is stated] that my trademark belongs to 20th Century Fox [because the company] released a movie that used NOSTROMO as some sort of ship. Using NBCUniversal's argument, I would assume that because NOSTROMO was one of the top novels of the 20th century (as stated on Wikipedia), then the movie company should be liable to Joseph Conrad or his estate."
On the HILLMAN COLLEGE mark, he claims: "NBCUniversal state [that] this mark belongs to The Cosby Show. However, Hillman College, as per Wikipedia, was a true college that existed from 1853 to 1942, and was attended by the former Governor of Arkansas. Why would anyone think they gained the rights to a college name that once existed because they used it in a fictional show? If that were the case, every aspect of life would be owned by movie makers or songwriters. Can I just sing the dictionary and claim trademark rights on all words associated with it? Of course not. To have trademark rights, you must use the name, words, etc, as a brand name."
Time will tell whether these arguments will prove convincing to a judge. NBCUniversal will have its counterarguments and would not have entered into the dispute without being aware that it could grab media headlines and evoke the 'David versus Goliath' narrative.
For his part, Talbert says that he plans to use his experience of the IP world to help others in similar predicaments. "After a couple of years of a personal struggle from covid-19, as a company we are working hard to gear up for a better time to come," he concludes. "My best future, then, would include more time for fishing and beach fun with my family and friends. I also plan to write a book dealing with trademarks and copyright for the common man, to help them stand up against companies that use the law to harass and intimidate."
Whether this case provides the desired ending for that book remains to be seen. It does, however, illustrate the challenges facing content creators when their properties go global and spawn new products and services. This is not the only instance of a business being built on merchandise and clothing that reference locations popularised in mainstream entertainment properties. For that reason, it is one to watch.