'The Banksy of trademarks is back': controversial millionaire to exhibit at Vegas licensing expo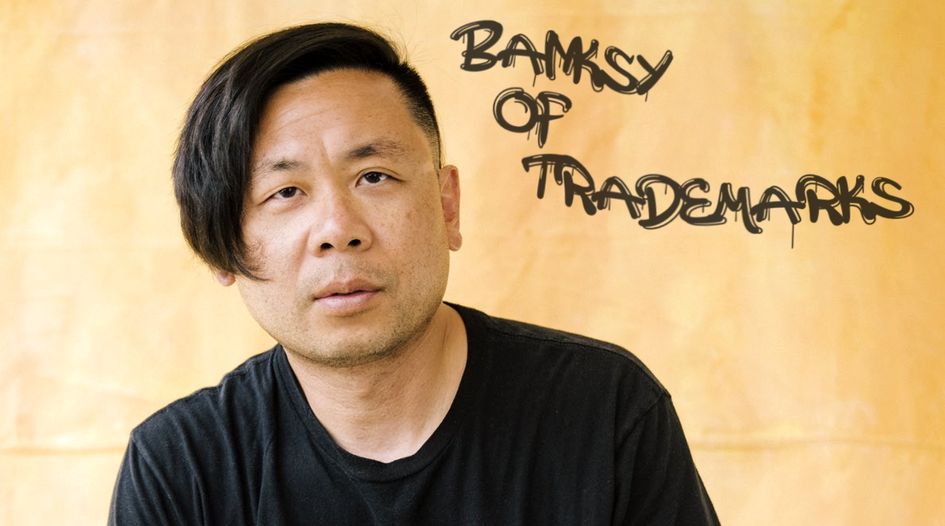 Mike Lin, the 'Banksy of trademarks', confirms he is out of retirement
Tells WTR he will attend the Licensing Expo in Las Vegas next month
Planning competition on which brand owner will send him a cease and desist at the event
In an exclusive interview, entrepreneur Mike Lin, often referred to as the 'Banksy of trademarks', has revealed that his company T-Shirts Matter will be exhibiting at next month's Licensing Expo 2023 in Las Vegas. As part of his preparations to visit Sin City, he is planning a competition for delegates to guess the first brand owner to issue him with a cease and desist letter at the event.
The controversial exploits of US-born Lin – who garnered a multi-million-dollar net worth as an early employee at LinkedIn – were first reported by WTR in 2016 after he filed a slew of politically-charged trademark applications. Over the years, Lin has spent more than $30,000 on trademark filings, and has found himself in the legal crosshairs of various major brands and celebrities (for example, he featured in TMZ after lodging an application for NASTY WOMAN shortly after Donald Trump used the phrase to refer to rival Hillary Clinton during the 2016 US presidential election race).
Many of his trademark registrations are used on merchandise sold by his clothing company T-Shirts Matter, including apparel bearing activist phrases such as COPS SHOOT FIRST and MAKE AMERIKKKA GREAT AGAIN. Common targets of his applications appeared to be Disney (eg, MORTIMER MOUSE, HOUSE OF MOUSE, and LET IT GO) and Pokémon (eg, TEAM MYSTIC and TEAM VALOUR), although he asserted in 2016: "I disavow any knowledge of popular culture, especially around Pokémon or Disney."
In 2021, he confirmed plans to 'retire', but returned last year with plans to launch an NFT collection of well-known Banksy artworks. While boldly declaring at that time he was "hoping for legal troubles", Lin confirms this week that he got "no word from Banksy's legal team" in the months afterwards.
Now, Lin reveals that his T-Shirts Matter company is set to have a major exhibit at the upcoming 2023 Licensing Expo in Las Vegas, which is due to take place from 13 to 15 June. As well as a vendor booth (which he will share with a representative from the Keep A Breast Foundation, a breast cancer awareness non-profit), Lin says his company will take out two full-sized adverts in the event's daily magazine.
Unsurprisingly, the event appearance will feature a 'stunt' from T-Shirts Matter, with Lin claiming it will be "similar" to the MSCHF art collective's Cease & Desist Grand Prix last year. Some of the products that Lin plans to sell include 'Anarchy Barbie' (referencing the popular doll), 'Swiper No Swiping' (from Dora The Explorer), Mortimer Mouse (the original name for Mickey Mouse), and 'New Cake' (a spin on 'New Coke', which Lin owns a mark for). "I want to see who is going to serve me a cease and desist first and have a competition," he tells us. "Will Disney or Pepsi or Coca Cola's attorneys be faster than Nickelodeon or Mattel's attorneys to serve me cease and desist at my booth? In the daily magazine, I will ask people to swing by my booth and vote for who they think will serve me first."
In total, Lin is spending $11,000 to promote T-Shirts Matter at the event. As well as selling products and organising the competition, Lin is looking to hire a licensing agent (to monetise his trademarks and help to arrange brand partnerships) and has arranged meetings with various major companies to discuss commercial opportunities. 
Elsewhere, Lin reveals that he has licensed the rights to 'Tom Swift' (the literary character), which he claims gives him the legal right to use the term 'Swiftie' on merchandise – a term popularly used to describe fans of musician Taylor Swift (who owns marks for the term 'SWIFTIES'). "The word 'Tom' will be dark grey on a black T-Shirt, while 'Swiftie' is white," Lin says, teasing the prospect of a cease and desist from the pop star's attorneys. He has also acquired the US trademarks rights to X.COM, the name that Elon Musk hopes to call his 'everything app' (Twitter recently changed its incorporated name to 'X Corp').
Outside of encouraging legal disputes with Swift and Musk, Lin is also planning to self-publish his memoir "in the next three to six months".
With so much in the pipeline, it will be unsurprising to hear that Lin confirms that he is no longer planning to retire. "Previously, I was coming off six months of severe depression in bed, not showering and shaving, with thoughts of suicide," he explains. "Therefore, during that time trademark filings were on pause. I'm in a much better headspace now. Going forward, I'm going to be focused on trademarking original brands. My goal is to make T-Shirts Matter a billion-dollar company like Supreme, with an eventual IPO. The Banksy of trademarks is back!"