Tesla overtakes Apple in trademark furore; Madrid Protocol passed in Jamaica; GOOD YEAR well known in India – news digest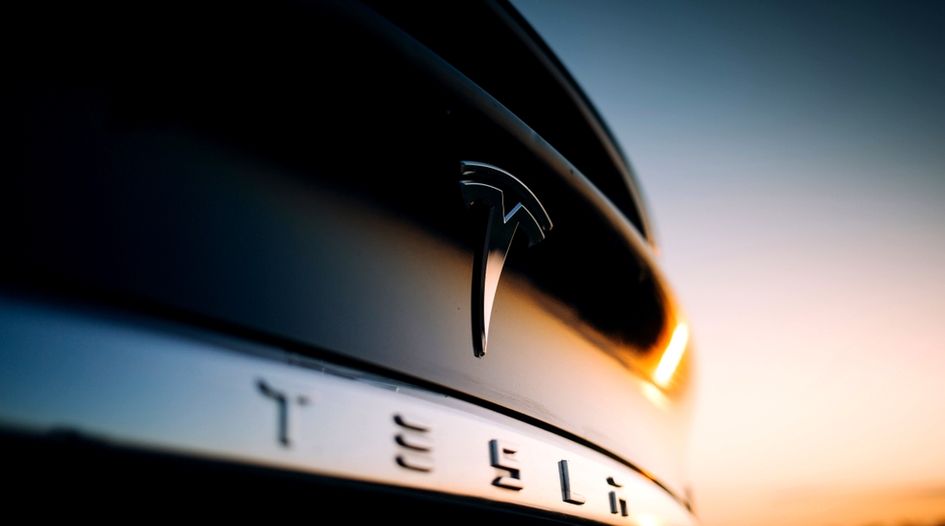 Every Tuesday and Friday, WTR presents a round-up of news, developments and insights from across the trademark sphere. In our latest round-up, we look at the explosive increase in trademark applications in Chile, the appointment of a new president at the Licensing Executives Society International, Heritage acquiring Bloom Brands, and much more. Coverage this time from Victoria Arnold (VA), Bridget Diakun (BD), Trevor Little (TL) and Tim Lince (TJL).
Market radar:
Gavel passed to new LESI president – John Paul, a partner in Finnegan's Washington DC office and leader of the firm's IP management and transactions practice, has become president of the Licensing Executives Society International (LESI). The gavel was officially passed to Paul last week during the LESI 2021 Annual Conference. As president, he will focus on various initiatives, including education and community building that help members to do their day jobs better and engage in public service to promote sustainable innovation and help innovators and businesses of all sizes to successfully protect and commercialise their innovations. "I'm fortunate to be in a long line of LESI presidents from around the world who have helped each other carry LES forward," he reflected. "Relationships with people in our profession develop friendships that can last a lifetime and provide both professional and personal satisfaction. We share stories about what leaders in our profession have done and what we have learned so that we teach and inspire each other. That is what LES is all about and I look forward to continuing that good work. In the coming month, we will announce more details about our plans for the year." (TL)
CBP seizes $4 million worth of Apple and JBL fakes – Customs officers have seized 70,000 counterfeit Apple and JBL electronics in Texas. The shipment, which was seized by US Customs and Border Protection (CBP) at the Houston seaport, originated from China and included fake Apple Watches, Air Pod Pros, Lightning Cables and JBL speakers. Had they been genuine, the manufacturer suggested retail price of the total goods would have been more than $4 million – demonstrating the real-world value of having a strong customs protection policy in place. (VA)
Brand radar:
Heritage to acquire Bloom Brands – Canada's Heritage Cannabis Holdings will purchase California's Bloom Brands in an all-share transaction. Bloom first launched its recreational marijuana brands in California in 2016 when cannabis was legalised in the state. It has since built a strong business with an "award-winning portfolio" of products. Heritage will benefit from Bloom's US presence and experience in the market. It also stands to gain a strong, recognisable house of cannabis brands. (BD)
Legal radar:
Delhi High Court holds GOOD YEAR mark prima facie well known – The Delhi High Court has prohibited an auto oil and grease manufacturer from using the trademark GOOD YEAR and held that the GOOD YEAR mark registered by US tire manufacturer Goodyear Tire and Rubber Company is prima facie well known in India. In an infringement suit filed by Goodyear, the court restricted the defendant from using his mark – which had been registered in India since 2002 – or any other mark that is identical or deceptively similar to GOOD YEAR, which the US multinational first registered in Class 12 in India in 1943. Well-known status could dramatically improve Goodyear's ability to enforce its trademark rights in India, as it would open up protection to goods and services beyond those in Class 12. (VA)
Jamaica moves closer to Madrid – Jamaica has taken a significant step closer to acceding to the Madrid Protocol following the passing of the Act to Amend the Trademarks Act Bill in the country's House of Representatives. During a debate, deputy leader of the house (and minister of culture, gender, entertainment and sport) Olivia Grange went in-depth on why the international trademark system will be beneficial for the Caribbean nation. "The protocol will enable Jamaican trademark owners to protect their trademarks in more than 120 territories (and counting) through a single application filed with the Jamaican IP Office," she explained. "Previously, a trademark holder, let's say in the music business, would have to file separate applications in each country, paying the requisite legal and other fees, including for translation services where necessary. I cannot overstate how important these amendments to the Trademarks Act will be to Jamaica's creative practitioners and their ability to earn from their creations. It will save our creatives time and money while improving protection on their intellectual property." Responding to the passage of the bill, the president of the Jamaica Chamber of Commerce, Lloyd Distant, said that it was "a step in the right direction". (TJL)
Melbourne Orlando airport name change gets rerouted – A long-running dispute over the names of Orlando International Airport and Orlando Melbourne International Airport (MLB) has finally been resolved, with the latter purportedly agreeing to change its name to Melbourne Orlando International Airport. In March 2019 the Greater Orlando Aviation Authority (GOAA) sued the Melbourne Airport Authority for trademark infringement and false advertising, after MLB changed its name from Melbourne International Airport to Orlando Melbourne International Airport in an effort to tap into Orlando's popular tourism industry. According to Florida Today, the new agreement would see not only a change of name, but also a number of prohibitions on MLB airport officials, including preventing them from stating that the airport is in Orlando. The settlement should be a relief for the GOAA and confused tourists alike. (VA)
Office radar:
(For more of the latest coronavirus-related updates from national IP offices, please read our dedicated article which is being continuously updated.)
INAPI reports explosive increase in trademark applications – The Chilean National Institute of
Industrial Property (INAPI) has revealed a 60% increase in trademark applications so far in 2021. By 30 May 2021 the registry had received 27,749 applications. Of those, 22,118 (80%) were from national applicants – an interesting statistic as growth at many other IP offices (eg, the EUIPO and the USPTO) has been driven by applicants from China. Indeed, the finding is a positive one, says INAPI National Director Loreto Bresky: "This increase confirms the enormous interest of local entrepreneurs to go to market with the protection granted by the industrial property system. We are glad to know that the brand has become a priority and a tool that provides greater competitiveness." (TJL)
IPOPHL partners with Ateneo Law to deepen IP talent pipeline – The IP Office of the Philippines (IPOPHL) has partnered with the Ateneo de Manila University School of Law (ALS) with the aim of encouraging more students to become IP professionals through the latter's LLM on intellectual property. A memorandum of understanding states that the two organisations will collaborate in ensuring ALS' LLM-IP programme (and other offerings) maintain an international standard of knowledge and skills relevant to global and local IP laws and trends. As part of this effort, IPOPHL will support ALS in its efforts to have the LLM-IP programme accredited by the WIPO Academy and promote it to its own partners in government, academia and professional communities. In turn, ALS will encourage students to undertake internships at IPOPHL, recommend intellectual property as a major topic for research projects and promote IPOPHL as a major partner in the LLM-IP programme. IPOPHL Director General Rowel S Barba stated: "We all know that ALS not only offers students the tools and opportunity to develop their full potential and broaden their horizons. But more admirably, the institution is effective in challenging the next generation to drive development in society. This is why it is such a privilege to join hands today with ALS and secure its commitment to help IPOPHL in its mandate of promoting IP as a tool for technological progress and economic growth." (TL)
DNPI aligns with CP6 – The EUIPO's EU Intellectual Property Network (EUIPN) has posted an update, titled 'DNPI Uruguay now aligned with CP6', which notes that the Uruguay National Directorate of Industrial Property (DNPI) under the Ministry of Industry, Energy and Mining has published a practice paper concerning the graphic representation of industrial designs. The development means that the DNPI is the first Latin American IP office to analyse and find common ground with the criteria developed under the Common Communication on the Common Practice – Graphic Representation of Designs (CP6). The practice paper explains the principles on which the practice of the DNPI and the IP offices of the EUIPN are based, particularly how to use appropriate disclaimers, types of view and how to represent designs on a neutral background. The paper has been made publicly available in Spanish and English. The EUIPO states: "This achievement has been made possible thanks to the collaborative work carried out by the DNPI and the EUIPO under the framework of the IP KEY LA project, directed by the European Commission and implemented by the EUIPO." (TL)
DPMA vice president retires – The German Patent and Trademark Office (which wrote exclusively for WTR this week on its innovative tools and services) has announced that its vice president, Christine Moosbauer, has retired as of the end of May. Commenting on Moosbauer's three decades at the office, DPMA President Cornelia Rudloff-Schäffer said: "She had a direct hand in shaping the strategy to change the DPMA from a traditional administrative authority to a modern, digital service provider. During 30 years of farsighted work in different positions at the DPMA, she promoted the digitisation of the office and made it a pioneer in e-government. An expert in management and strategic issues, she additionally set important milestones and initiated future measures. We will benefit from the IT strategy she developed and the digital roadmap to implement it in the future too."
The DPMA has also confirmed that Bernd Maile will take on the vice president role going forward. Maile was a technical judge at the German Federal Patent Court from 2008 to 2013, before leading the patent division at the DPMA until 2019, when he was promoted to director general of patents and utility models. (TJL)
USPTO extends window for Law School Clinic Certification submissions – The USPTO has extended the submission deadline for schools looking to join its Law School Clinic Certification Programme to 31 December 2022. Founded in 2008 and administered by the USPTO Office of Enrolment and Discipline, the programme – which offers trademark and patent applicants access to pro bono services – currently includes 60 law school clinics. Submissions from new law school clinical programmes will be accepted on a rolling basis until the end of next year. Details of the programme and application materials can be found on the USPTO website. (VA)
Domain Radar:
ICANN previews enhanced virtual meeting tools –  Ashwin Rangan, ICANN's senior vice president, engineering and chief information officer, has posted a blog update providing details on the ICANN71 virtual meeting, which is due to take place on 14-17 June. According to Rangan, the event will see a continuation of the system enabling registered participants to schedule their own meetings with other registrants through the platform operated by Pathable. All sessions will include an automated real-time transcription, regardless of the language being spoken – with automated captions also available in the personal meetings environment. Rangan also announced that Zoom's Immersive View offering, which includes pre-built scenes that place video participants in seats to promote engagement – will be utilised. He continued: "We've also seen some changes to existing tools, such as annotation: a new vanishing pen tool allows you to highlight text or objects on a shared screen without having to manually undo the annotation. There is also the addition of a full suite of emoji for in-meeting reactions; previously participants were limited to far fewer." (TL)
Media Watch:
Tesla overtakes Apple in trademark furore – Earlier this week, numerous media outlets picked up on a new trademark filed by Tesla that appears to hint at the auto company entering the culinary space. As Fox Business speculates, the 27 May trademark filing suggests that "Tesla CEO Elon Musk is looking to enter the restaurant business". The article refers to a January 2018 tweet in which Musk states that he is "gonna put an old school drive-in, roller skates and rock restaurant at one of the new Tesla Supercharger locations in LA". Further coverage of the trademark was published by media outlets including The Independent, HypeBeast, Yahoo and the New York Post. A few years ago, any trademark application filed by Apple was often covered by the mainstream media, with speculation on what future products the legal activity could be hinting at. While such articles still appear, it is with less furore than previous years. It appears, then, that Tesla has replaced Apple as the hot company whose every legal move observers are carefully monitoring. (TJL)
On the move:
Skadden announces counsel promotions – Skadden has announced the names of a number of attorneys that have become counsel at the firm. One member of the IP litigation department received a promotion: New York's Rachel R Blitzer. (BD)
Michael Melfi joins Taylor English – Taylor English has expanded its presence in Michigan with the hire of corporate partner Michael S Melfi. He represents clients in a wide array of IP and corporate matters. (BD)
Venable strengthens litigation bench in New York – Benjamin C Hsing has joined Venable as a partner in the IP litigation, life sciences group, in the firm's New York office. Scott K Reed, co-chair of the group, said: "Many of us who joined Venable during its combination with Fitzpatrick, Cella, Harper & Scinto worked alongside Ben at the beginning of his legal career. He was then and remains today a highly regarded attorney with a great talent for helping clients maximise their intellectual property, both in and outside of a courtroom. We are thrilled to have him rejoin our team." (BD)
McKool Smith welcomes IP trial veteran – McKool Smith has announced that Blair M Jacobs has joined the firm as a principal in its Washington DC office. Jacobs has more than three decades of experience representing clients in complex IP and trade secret disputes. "Blair has represented a 'who's who' list of industry leaders in complex IP disputes in district court, the ITC, and in various appellate forums across the country," said David Sochia, McKool Smith managing principal. "He is a true trial lawyer and a real force in the patent bar. Our clients will benefit significantly from his deep courtroom and industry experience. We are all very excited to welcome him to the firm." (TL)
Patent litigator boosts Hogan Lovells' Northern California practice – Nitin Gambhir has left Polsinelli to join Hogan Lovells, where he has been appointed to partner within the IP, media and technology (IPMT) practice based in the San Francisco and Silicon Valley offices. "One of our strategic priorities has long been to add technology-focused IP litigators in Northern California," said Celine Jimenez Crowson, IPMT practice leader for the Americas. "Adding a partner like Nitin to our market-leading IP litigation team allows us to strengthen our position even further." Gambhir's appointment follows a number of hires within the IPMT group, with Patrick Michael and Krista Schwartz joining the firm in Northern California, and trademark and copyright IP litigation partner Joel Smith joining the team in London. (BD)
SIPS celebrates new senior associate – Asian IP firm SIPS has announced the appointment of Mai Lin as a senior associate. Lin has over 14 years' experience advising multinationals on a range of IP issues in China, including trademark portfolio management, IP enforcement and commercial IP matters such as licensing. She has previously worked at major international law firms in Shanghai and Hong Kong. (VA)
And finally...
Latest edition of the WTR 300 now available – WTR is pleased to announce the publication of the fifth edition of WTR 300: The World's Leading Corporate Trademark Professionals. The publication identifies the individuals deemed to be the leading lights of the corporate trademark world. The full methodology for the publication is available here but, in summary, we ran a three-month campaign to elicit nominations from the trademark community. Individuals who received multiple nominations from outside their own organisation were long-listed and the editorial team then engaged in additional research and outreach before deciding on the final list. As a result, many nominees did not receive the requisite number of nominations or make it through the rigorous vetting process. Of those that did, Amazon, Apple and Facebook each have seven team members included this year, with Netflix's bench of expertise represented by six IP professionals. Close behind are 3M, L'Oréal, Louis Vuitton, Mars, Nike, Philip Morris and Red Bull. The full list is now available to view here.