Taylor Swift takes on Evermore Park; Pakistan joins Madrid System; LVMH buys Jay-Z brand – news digest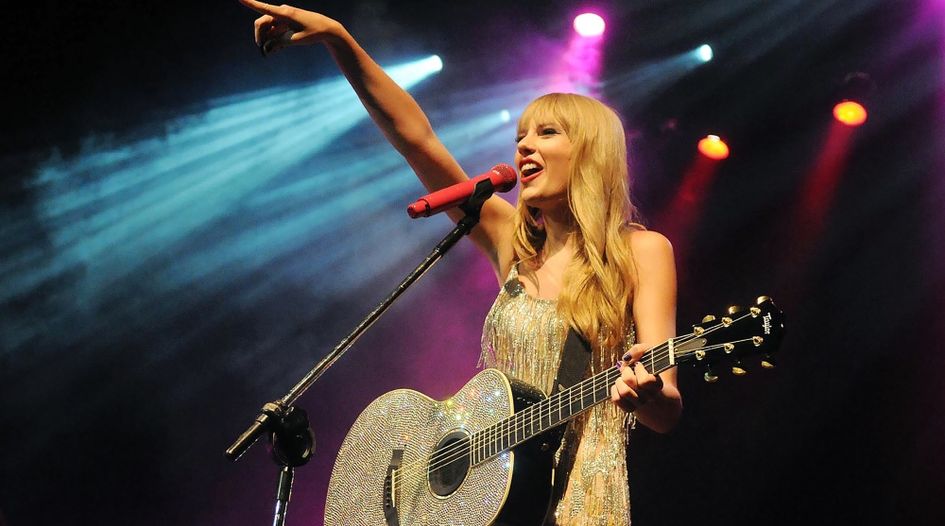 Every Tuesday and Friday, WTR presents a round-up of news, developments and insights from across the trademark sphere. In our latest round-up, we look at Danone expanding its plant-based brand portfolio, USPTO seeking public feedback on the Trademark Modernisation Act, an Olympics trademark battle escalating, and much more. Coverage this time from Trevor Little (TL), Bridget Diakun (BD), Jonathan Walfisz (JW) and Tim Lince (TJL).
Market radar:
LVMH buys 50% stake in Jay-Z's champagne brand – LVMH has acquired a 50% stake in Armand de Brignac, a Champagne producer owned by Jay-Z, reports Bloomberg. The artist started investing in the brand in 2006, and in 2014 he bought out Sovereign Brands's stake in the business. "Armand de Brignac breaks barriers and reflects contemporary luxury, while preserving the tradition of the Champagne terroirs," Philippe Schaus, chief executive officer of LVMH's Moet Hennessy drinks unit, said in a statement. Jay-Z's brand is set to benefit from the luxury-marketing expertise and distribution network of LVMH, something that will be especially welcome considering the hit the Champagne market took during the pandemic. (BD)
Covectra unveils next generation authentication tool – Serialisation, track & trace, and authentication tech company Covectra  has announced the next generation of StellaGuard, a smart label and mobile authentication solution designed to enable brand managers and to more accurately identify, authenticate, and track genuine products and combat counterfeiting. The next generation of the cloud-based mobile authentication solution includes a number of enhancements, including the combination of two methods of authentication simultaneously – serialisation and the use of random numbers and holographic star patterns to provide a virtually impossible label to counterfeit. "Today's global brands are scrambling to step up their efforts in cracking down on the number of counterfeited products streaming into the supply chain every day," says Covectra CEO Steve Wood. "Our StellaGuard smart label and mobile authentication solution provides a new weapon for enhanced counterfeit detection and prevention and, when combined with our AuthentiTrack solution, will provide a comprehensive track and trace program which can be scaled to any operation." (TL)
Estee Lauder ups its stake in Deciem – Estee Lauder has agreed to pay $1 billion to raise its stake in Deciem from 29% to 76%, with a view of a full takeover. The move gives the Canadian skin-care company an enterprise value of $2.2 billion. Deciem is the owner of The Ordinary, a line of skincare products which have cultivated a cult-like following. The brand is unique in that it rejected attention-seeking logos, names and packaging in favour of a plain approach. The Economist even wrote an article titled "How The Ordinary perfected the art of medical minimalism" which discusses the art of "unselling". (BD)
TransferWise announces rebrand – TransferWise has alerted its customers that it will be changing its name in a few weeks to Wise. "It feels right, because we're so much more than transfers now - we're the international account used by over 10 million people to live, work, and travel around the world," the company said in an email to users. (BD)
Danone expands plant-based brand portfolio – Danone is set to acquire Earth Island, the maker of Follow Your Heart brands and "a pioneering leader in plant-based foods". In joining Danone, Earth Island will be able to accelerate the growth of its namesake brand both nationally and internationally. "Our mission has always been to produce the best plant-based food products and to make them available to as many people as possible," said Bob Goldberg, co-founder and CEO of Earth Island. "We're very pleased to be joining the Danone family of plant-based companies in a collective effort to bring positive change in the world through the creation of sustainably and responsibly-made foods." Follow Your Heart will join Danone's roster of plant-based brands including Alpro, Silk and So Delicious Dairy Free. The US food giant is betting that this partnership will contribute to its goal of increasing plant-based sales worldwide from more than 2 billion euros in 2020 to 5 billion euros by 2025. (BD)
Legal radar:
Olympics trademark battle escalates – Team USA and the US Olympic and Paralympic Committee (USPOC) have filed a complaint against Puma in the Colorado federal district court, reports Yahoo! Sports. The filing alleges that Puma is infringing and ambushing on its marks and causing confusion among consumers, specifically on its TOKYO 2020, BEIJING 2022 and PARIS 2024 marks. Puma, which USOPC describes as "declaring war" on its marks, filed for PUMA TOKYO 2021 on the same day the International Olympic Committee announced the delay of the Olympics, later seeking the PUMA BEIJING 2022 and PUMA PARIS 2024 marks. The report notes that Puma has itself initiated cancellation actions at the TTAB against USOPC marks. As Yahoo! Sports notes, this is a high stakes battle: "The ability to use marks associated with specific Olympic Games is a valuable right that commands top dollar from global corporations. Part of that value is in the scarcity of the right." (TL)
Taylor Swift hits back at theme park – After the Evermore Theme Park filed a lawsuit against Taylor Swift over the name of her recent album 'Evermore', the musician's legal team has hit back with a countersuit against the park for copyright infringement. Swift's suit – from TAS Rights Management – alleges that the park has been playing at least three of her songs among many other copyrighted compositions without obtaining licenses to do so. The three songs mentioned – Love Story, You Belong With Me, and Bad Blood – are all previous releases to her Evermore album. The suit argues that the park owner Ken Bretschneider has flouted the royalty regime by playing songs upon request since 2019, despite multiple warnings from Broadcast Music Inc. TAS's filing states that when their imminent action became known to the defendants, there was an attempt to cover the wilful infringement by seeking a retroactive license. (JW)
Office radar:
(For more of the latest coronavirus-related updates from national IP offices, please read our dedicated article which is being continuously updated)
USPTO to get public feedback on Trademark Modernisation Act – On March 1, beginning at 1pm ET, the USPTO is to hear public input on issues relating to the implementation of the Trademark Modernisation Act (TMA) during a special online roundtable. Speaking slots are limited and comments must relate specifically to TMA implementation and not exceed five minutes in length. The USPTO will also accept written comments at any time relating to TMA implementation, or any other trademark topic, submitted to [email protected]. (TL)
WIPO released Green year in review – WIPO has released an overview of WIPO GREEN's work in the green technology space over the past year. WIPO GREEN is the organisation's initiative to create a global marketplace for sustainable technology to support efforts to counteract climate change. These include the WIPO GREEN Database of Innovative Technologies and Needs which catalogues sustainable solutions. The database saw an increase in users to 1,731 in 2020, up 22% from the previous year. The top 10 countries represented by users were: Japan, United States, Switzerland, India, France, China, Kenya, Spain, United Kingdom, and Germany. The report also focused on the successes of an acceleration project in Latin America from a request by Brazil's IP office. Collaborations were set up between 17 technology seekers, 31 needs and 65 solutions identified across Argentina, Brazil and Chile. The review also highlighted female innovators in green industries who were featured in the interview series 'Women in Green'. (JW)
Pakistan joins the Madrid System – WIPO announced that the Government of the Islamic Republic of Pakistan has deposited its instrument of accession to the Madrid Protocol with Daren Tang, WIPO director general. Deposited on 24 February 2021, the protocol will enter into force on 24 May, making Pakistan the 108th member of the Madrid System which has coverage across 124 countries. (JW)
Media Watch:
OREO tweets out support for trans rights – This week, US politician Marjorie Taylor Greene sparked outcry after posting an anti-transgender sign outside her office, which is located across the hall from fellow political Marie Newman, who's daughter is transgender. The controversy extended to social media, with both lawmakers posting Twitter messages and sparking a trending topic on the platform. During that time, the Twitter account for OREO Cookies tweeted the three-word message: "Trans people exist". It garnered more than 60,000 retweets and 325,000 likes in less than 24 hours – and unsurprisingly led to debate on brands weighing in on social issues. While broadly positive, some questioned whether stating that trans people 'exist' is the most supportive message that a brand can send – with one user explaining the issues they've been having getting transition surgery and adding "but glad I exist, at least". One user, who admitted they "typically try to call out hypocrisy" of brands tweeting support for LGBT rights while not taking tangible action to help LGBT employees, said that OREO Cookie's parent company Nabisco actually offers trans-inclusive healthcare. "Colour me surprised in all colours of the rainbow," they added. "Thank you for being my favorite cookie." Indeed, this is not the first time that OREO Cookies has extended its support for inclusivity of all gender identities and expressions. In 2019, it gave away Oreo-branded "Pronoun Packs" at World Pride in New York. It's a reminder that using social media to voice support for a social movement or cause is positive, but there must be something tangible behind the words. (TJL)
On the move:
K&L Gates launches a Chinese trademark agency – K&L Gates has announced the launch of a Chinese trademark agency, called the K&L Gates IP Agency, which allows the firm to file and prosecute trademark applications directly with the China National Intellectual Property Administration. The decision to open a local agency was taken in response to client need, the press release states. Chris Round, one of K&L Gates' IP procurement and portfolio management practice group coordinators, said "Registration of trademarks in China is critical to the success of our clients' global operations. The creation of the K&L Gates IP Agency allows us to streamline our engagements with clients to remove a level of administrative process so that we can offer a fully integrated trademark solution in China with the cost benefits of this efficiency." A team of IP lawyers led by Beijing counsel Edward Yao supports the integrated K&L Gates IP Agency. (BD)
And finally...
WTR Connect returns next month with five days of strategic content – The second WTR Connect series of digital events will take place the week commencing 15 March 2021. The event will offer more than 20 interactive digital sessions, each designed to facilitate discussion, benchmarking and the sharing of best practice around key topic areas and challenges facing trademark and brand leaders. The theme for the event is 'exchanging cost-effective and resource-efficient best practices' and each day will start with a keynote address from a major industry figure, which is followed by live breakout discussions lasting for a maximum of 60 minutes. Registration is free for WTR subscribers and participants can register for as many sessions as they like across the week, building their own schedule. For event timings, and to sign up to attend, please click here.