Taylor Swift settles Evermore dispute; Facebook partners with UKIPO; All Gas No Brakes brand ownership – news digest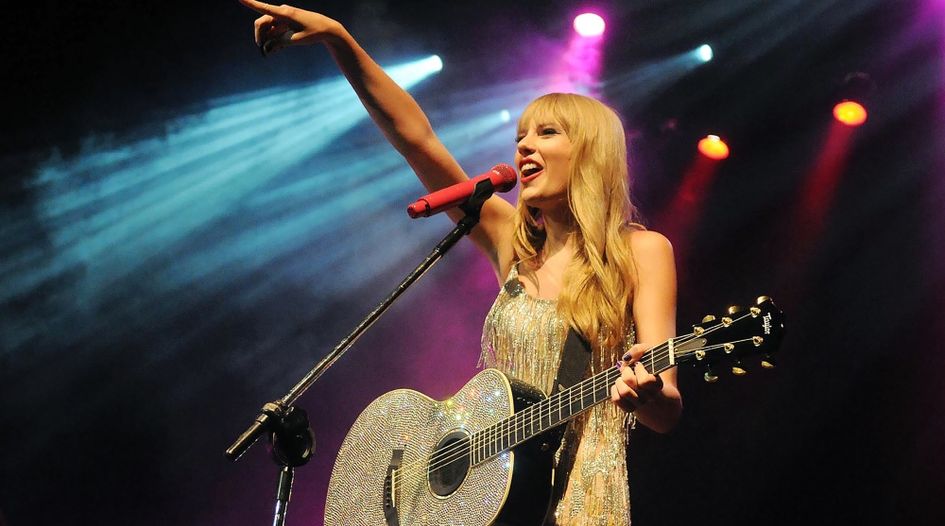 Every Tuesday and Friday, WTR presents a round-up of news, developments and insights from across the trademark sphere. In our latest round-up, we look at Burberry partnering with a Chinese video game developer, the EUIPO winning an award, the Peruvian IP Office auctioning off property owned by IP infringers, and much more. Coverage this time from Trevor Little (TL), Bridget Diakun (BD), and Tim Lince (TJL).
Market radar:
Online brand protection providers team up – Brand protection tech firm Appdetex and LexisNexis, a provider of IP risk management protection, have formed a strategic alliance aimed at tackling systemic abuse within digital channels. "With the accelerated adoption of digital channels amidst the COVID-19 pandemic, bad actors are relying on fake websites, mobile apps, ads, and social profiles to prey upon internet and mobile users with the intent to interrupt the interaction between customers and the brands they trust," said Faisal Shah, CEO of Appdetex. "Our international expansion with LexisNexis marks a milestone moment in the growth of Appdetex as we introduce our world-class product to new audiences." Joe Froehlich, managing director of LexisNexis Intellectual Property Solutions, added: "By teaming up with Appdetex, brands across Europe and the Middle East will now be able to add another layer of protection to their intellectual property, mitigating digital channel risks on the internet, across domains, websites, advertising, social media, mobile apps and eCommerce marketplaces as well as within other emerging digital channels." (TL)
Merchant & Gould announces scholarships for diverse IP students at nine law schools – IP firm Merchant & Gould has announced the sponsorship of scholarships for law students from diverse backgrounds seeking a career in IP law. A cash gift of $5,000 merit aid will be awarded annually to selected students from each of the schools in which the programme has been established, the chosen nine institutions being located near Merchant & Gould offices. "As the legal industry continues to grow, Merchant & Gould is thrilled to enable these law schools to recruit and support more students typically underrepresented in intellectual property law," said Andrew L Jagenow, partner and diversity committee chair, Merchant & Gould. "Through the scholarships, we are pleased to give resources to students and, by extension, help make our legal communities more diverse, inclusive, and innovative." Details of the schools and selection process are available here. (TL)
Facebook partners with UKIPO and ACG to combat fakes – The Anti-counterfeiting Group (ACG) and the UK Intellectual Property Office's Intelligence Hub are joining forces with Facebook to conduct an anti-counterfeiting campaign called Operation CLOVER. The campaign will aim to take down online traders of counterfeit products, specifically those that are impacting ACG member brands and misleading consumers. "Traders in counterfeit goods are using prestigious brand names to sell illicit and potentially dangerous products online," said ACG director general Phil Lewis. "Despite the easing of restrictions, covid-19 continues to have a profound effect on the retail sector. With many shops still closed, shoppers have instead gone online to buy their gifts, and sellers have jumped in to meet that demand. Disreputable sellers are trading from their homes and garages, selling fake items bearing well-established global brand names, including potentially unsafe electrical goods, toys, cosmetics, perfume, clothing, trainers and handbags." The new campaign follows a similar initiative, Operation Carol, established in November 2020. (TJL)
Brand radar:
Burberry partners with Chinese video game maker – Fashion giant Burberry has collaborated with video game developer TiMi Studios, owned by Tencent, to design outfits for one of China's most popular video games. From this week, various new so-called 'skins' featuring well-known Burberry patterns have been made available for players of the game Honor of Kings in China. Talking to the BBC, Burberry's China president Josie Zhang said the collaboration is an important one to reach a new audience: "By allowing our Chinese customers to explore virtual products through the medium of online games, we can connect with our communities in a way that really resonates with them. We want to empower our community to explore their surroundings, whether it is online or offline." Indeed, the partnership is an unusual one – with a luxury brand entering the virtual video game space. However, according to analyst Louise Shorthouse, such moves are proving popular in Asia, where "European brands are particularly desirable". Other examples include Louis Vuitton and Parada designing outfits for characters in Final Fantasy XIII and Louis Vuitton partnering with League of Legends. "Building long-term relationships with future consumers of Burberry is clever in terms of maintaining relevance for a heritage brand," the BBC article notes. Could more fashion brands enter the virtual realm in the future? Watch this space. (TJL)
Bel Brands launches plant-based brand – French cheesemaker Bel Group has announced that it will launch its first 100% plant-based cheese brand, Nurishh, next month. It is the latest food heavyweight to capitalise on vegetarian and vegan movements. Nestlé, for example, recently revealed a vegan KitKat bar is in the works. Nurishh is the first new brand that Bel has developed since it committed to adding plant-based options to all of its signature cheeses last autumn. The French cheesemaker has tapped into the knowledge of All in Foods, a start-up that specialises in developing plant-based foods, which it acquired in March 2020 to develop the product. According to Food Dive, no other company that has origins in dairy cheese has launched its own plant-based brand. Bel is no doubt hoping that Nurishh will allow it to expand into this high-growth market while continuing to appeal to cheese lovers with brand staples such as Boursin. (BD)
Legal radar:
Taylor Swift and Utah theme park end trademark disputes – Following months of legal back-and-forths, pop star Taylor Swift and a Utah theme park have dropped their Evermore-related lawsuits. It is understood that the disputes ended without a financial settlement. According to Fox13, a Taylor Swift spokesperson said: "As a resolution of both lawsuits, the parties will drop and dismiss their respective suits without monetary settlement." The CEO of Evermore Parks, the theme park that initially lodged legal action related to Swift's Evermore album, said the venue is "looking forward to moving forward in a positive direction". (TJL)
Do you have a few minutes to share insights about your trademark practice? WTR would really appreciate your help to build a picture of the trademark sector. 
Office radar:
(For more of the latest coronavirus-related updates from national IP offices, please read our dedicated article which is being continuously updated.)
EUIPO wins awareness campaign award – The EUIPO has been named a winner at the European Content Awards, with its 'IPdentical' campaign – which imagines a world without creativity – picking up an award in the well-executed branded entertainment film category. The award ceremony took place on 18 March 2021 and is dedicated to celebrating content marketing agencies and in-house marketing teams. The IPdentical short film features the plight of Anna and her quest to find inspiration in a "dystopian future where innovation and creativity have disappeared". (TJL)
Indecopi holds property auction of IP infringers – The Peruvian IP Office (Indecopi) has held an auction of apartments, offices and other real estate properties belonging to individuals and companies that have failed to comply with the payment of sanctions imposed for violating IP rights. The auction involved 26 real estate properties that were seized in areas in the Lima districts of Miraflores, Santiago de Surco, San Isidro, Cercado de Lima, Jesús María and Rímac. (TJL)
Indecopi launches service in indegenous languages – Elsewhere at the Peruvian IP Office, the registry has announced the launch of an IP advice service in Quechua and Aymara native languages. The move, which will be implemented in the 38 branches operated by Indecopi, is part of the office's aim "to reach all citizens in their own languages" and to serve customers "without any type of discrimination or stereotypes, be they racial, language or culture". The office had previously launched awareness services with a translation in Quechua and Aymara, but this is the first time that services will be offered in those languages. (TJL)
Media Watch:
All Gas No Brakes contract dispute has a brand element – It was revealed on Wednesday that the cult YouTube series All Gas No Brakes has potentially ended with the departure of popular host Andrew Callaghan. In a New York Times feature, Callaghan admitted that he left the show – which he created in 2019 and has since amassed 1.7 million YouTube followers – because he did not read an employment contract. Specifically, early into the channel's life, Callaghan signed with internet content company Doing Things Media to help fund production costs (including the purchasing of an RV and a $45,000 salary). However, Callaghan claims that, over time, he lost creative content of the show – including being asked to focus on humour and "party content" rather than politics or news. "Andrew wanted to prioritise the things he cared about and was inspired by – the conditions of the pandemic, the end of the election cycle – rather than just crank out content for the purpose of being monetised by Doing Things Media," said one channel collaborator. The relationship between Callaghan and Doing Things was strained by the end of 2020, not helped by Callaghan feeling that his image had become "commodified as merchandise". After failing to produce content requested by Doing Things, Callaghan was fired on 4 March 2021 – despite All Gas No Brakes ostensibly being popular due to the host's offbeat presenting style. The New York Times article also revealed that the original contract meant that Callaghan "signed over the rights to the brand's intellectual property and the All Gas No Brakes name" to Doing Things Media. Time will tell whether the company will continue to use the All Gas No Brakes brand, or if the departure of its host will spell its demise. For Callaghan, it will no doubt be a difficult blow to lose the connection to a brand that he started and that has made him a public figure. In response to the news, one columnist said that all content creators should seek to retain brand ownership: "If adults take an interest in you, it's because they see the potential to make money off you. There is power in that, but also risk. The magical words these days are 'IP.' Your intellectual property is your DNA, your equity in yourself, and you should do everything you can to try to retain as much of it as you can." However, that is easier said than done, claimed one expert, especially if a fledgling content creator lacks any funds: "As an IP lawyer, it is important to have your contracts reviewed. But, often, the bargaining positions are such that you can't do much to change it in your favour." (TJL)
On the move:
Greenberg Traurig strengthens LA life sciences team with new hire – David Gay has joined Greenbergy Traurig in Los Angeles as a shareholder and member of the firm's IP and technology and life sciences and medical technology practices. Greenberg Traurig is making a major push into intellectual property, with Gay being the latest of 10 attorneys and patent agents to join the firm's IP and technology practice since December 2020. Gay counsels biotechnology and pharmaceutical companies on the acquisition and management of IP rights, and validity and infringement analyses. Additionally, he conducts due diligence investigations during financing transactions and mergers and acquisitions. Gay was previously a partner at Jones Day. (BD)
Akin Gump adds to litigation bench – Akin Gump has appointed Paul D Tripodi II, formerly of Wilson Sonsini, to partner within its IP team. Tripodi will practise primarily in Orange County and the firm's Irvine office, although he will maintain strong ties to his existing practice in Los Angeles. "Paul will be an integral member of our firmwide intellectual property practice, adding significant depth to our presence and client offerings on the West Coast," said Akin Gump chairperson Kim Koopersmith. "Our clients will benefit greatly from Paul's deep and expansive experience litigating all manner of IP disputes, and I am excited to have him join us at Akin Gump." (BD)
Kia Motors America creates director, brand experience role – Kia Motors America (KMA) has hired Michael McHale to fill the newly created role of director, brand experience. He will report to KMA's vice president of marketing and will take the lead on all aspects of public relations and external communications including events, experiential, auto shows and strategic partnerships. McHale recently held the title of head of communications at Rivian Automotive, where he was responsible for overseeing the brand's introduction in the US market in 2018. Overall he brings more than 25 years of automotive industry experience to the table. "As the industry shifts to electrification, Michael's experience will be instrumental to our communications efforts as we continue to propel Kia forward and further differentiate the brand in the quickly evolving automotive landscape," said Sean Yoon, president and CEO of Kia Motors North America and KMA. (BD)
And finally...
Tracking critical industry trends and challenges: WTR needs your views – WTR is inviting trademark professionals across the globe to participate in the latest benchmarking survey, which focuses on operational management to track the latest trends and identify how practice is evolving. There is no cost associated with taking part in the community project, which is designed to give brand experts – both in-house and in law firms – a benchmark for practice management. As well as revealing key trends in the organisation of the trademark function, including finance, structure and headcount, this year we will explore the impact of the covid-19 pandemic on trademark operations. Responses will be treated with full confidentiality. Only anonymised and aggregated information will be used for publication of the survey results by WTR, and your details will not be used for any commercial purpose, nor be shared with third parties.Completion of the survey should take around 15 minutes. The results will be presented on the WTR platform and respondents will receive key findings. The survey form is available here.