Sussex Royal trademark challenged: Prince Harry and Meghan Markle face legal battle after receiving threat of opposition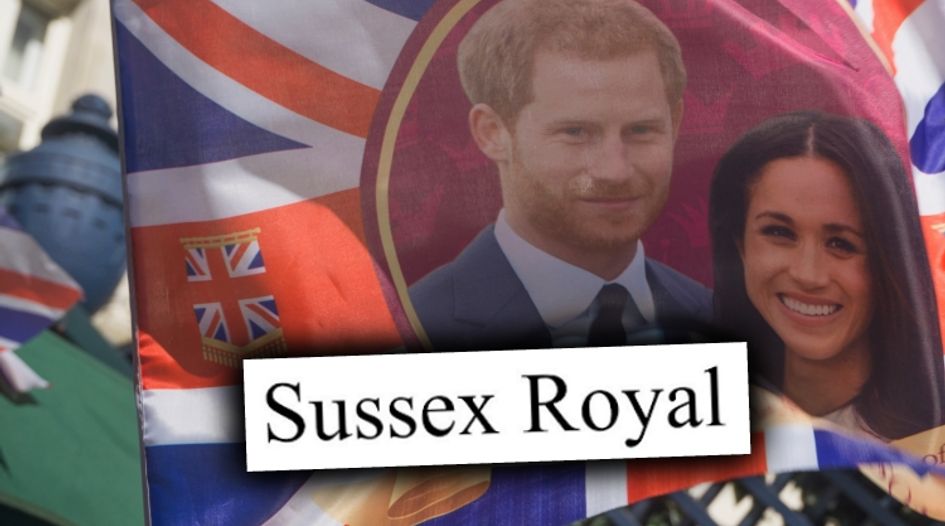 UK trademark filed by Duke and Duchess of Sussex receives opposition threat
Filing made on 21 January, meaning opposition period has been extended
WTR can reveal the notice was filed by a doctor located in Victoria, Australia
A trademark application filed by The Foundation of the Duke and Duchess of Sussex for the brand name Sussex Royal has this week received a notice of threatened opposition, WTR can reveal. The move indicates a third-party is planning to lodge a formal opposition, which would add significant time and cost to the couple's efforts to obtain registered trademark protection for their new brand.
As has been reported by WTR over the past couple of weeks, interest in Prince Harry and Meghan Markle's brand plans was sparked after they voiced their intention to step back from Royal Family duties. The move followed the couple's announcement last year of the launch of their Sussex Royal brand (with the first use of the name being the opening of an Instagram account in April 2019). In the days prior to that announcement, The Foundation Of The Duke And Duchess Of Sussex applied for the protection of the term SUSSEX ROYAL through a UK trademark application in June 2019.
Since the application was filed, it has subsequently been examined at the UK Intellectual Property Office (UKIPO) and is currently in the opposition period. That period was due to end on 20 February 2020. However, on Tuesday (21 January), a notice of threatened opposition was filed to the UKIPO, which automatically extends the opposition period by one month. While not a formal opposition, the notice is an indication that a third-party is preparing a full opposition (although they are not required to file one).
WTR has seen the notice of threatened opposition (form TM7A), and it was filed by Dr Benjamin Worcester with an address in the state of Victoria, Australia. Worcester is a self-employer doctor in Melbourne who, prior to 2014, worked as a doctor for the NHS in London. Before that, he studied medicine at University College London. After being contacted by WTR, Worcester confirmed that he filed the notice.
What could this mean for Prince Harry and Meghan Markle's brand plans? According to Lee Curtis, chartered trademark attorney and partner at HGF, there could be some significant implications. "Filing a notice of threatened opposition is relatively easy and can be done online for free. The filing of a formal notice of opposition is much more involved. Right now, the threatened opposition delays the progress of the SUSSEX ROYAL application by at least one month, but if a formal opposition is ultimately mounted, this will involve the payment of an opposition fee, the drafting of formal grounds of opposition and the filing of evidence and legal submissions in support of the opposition. The whole opposition could take at least a year to get to a decision and is thus not an action entered into lightly with a possible costs award against the losing party."
As we noted earlier this week, some commentators have questioned whether Prince Harry and Meghan should be able to own a SUSSEX ROYAL trademark following their decision to step back from royal duties. That stance could be grounds for the opposition, Curtis notes. However, he adds (and as we reported on earlier this week), such a grounds of opposition is likely to fail "principally because Harry and Meghan are still members of the royal family, had royal patronage at the time of filing the application concerned, will have such patronage until April, and will have had it post April 2020".
It is also worth noting that more oppositions or threats of opposition could be filed by the 20 February deadline. For now, it appears that Meghan and Harry's brand plans are entering a more challenging stage, and this notice indicates a formal opposition could be looming on the horizon. On the other hand, Worcester (and other parties) may back down when it comes to lodging the more complicated, expensive notice of opposition. Time will tell.