Supreme most searched fake brand, 'tm.com' for sale, and more unauthorised Greta Thunberg marks: news digest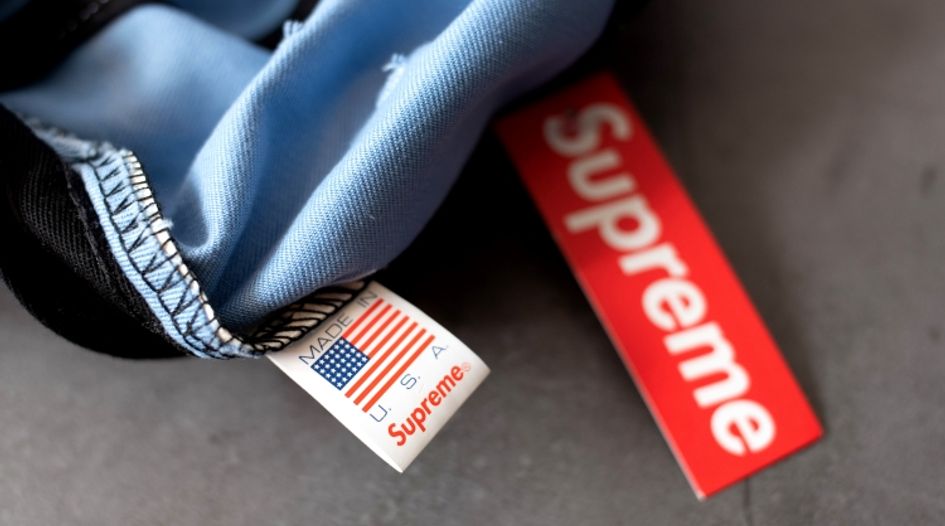 Every Tuesday and Friday, WTR presents a round-up of news, developments and insights from across the trademark sphere. In our latest edition, we look at a new study finding few marketers are confident in consistent brand values, new Chinese IP protections being hailed as a victory for the White House, brands being warned of being too political, Diesel engaging in a trademark battle with a reality star, and much more. Coverage this time from Trevor Little (TL), Bridget Diakun (BD), Jonathan Walfisz (JW)  and Tim Lince (TJL). 
Market radar:
Few marketers are confident in consistent brand values – A new study has found that only 19% of marketing leaders "are confident that their brand values and actions are consistent". According to The Drum, the study from Gartner finds that most marketers claim there is a "moderate alignment" between brand values and brand actions. "With consumer scepticism at an all-time high and disconnects between brand promises and realities triggering negative associations, marketing leaders cannot afford to have their brand values out of step with their actions," commented Gartner vice president analyst Chris Ross, who further recommended that brands establish new insights to ensure brand actions more effectively align with brand values. Indeed, such insights will need to originate from those who know the brand best – and that will surely come from those looking after the legal protection of the brand. (TJL)
Brands warned of being too political – We've written previously about research that finds brands should consider taking political stances, with a consumer appetite for brands to be politically engaged. However, new research suggests that this appetite has died down. A study from DNA Seattle, and covered in AdWeek, has found that over half of consumers "at least somewhat agree that too many brands use societal issues as a marketing ploy to sell their product or services". Furthermore, a significant percentage of consumers – 35% – say they are "sick of hearing about politics". However, a slim majority of respondents state that they agree that brands "should help build common ground and avoid taking sides". The message, at least from this survey, appears to be clear – that many consumers are exhausted by political and social issues taking the forefront, even in brand marketing messages (as Saturday Night Live brilliantly parodied). With the 2020 election kicking into full gear, people will find it difficult to escape politics in the next 12 months – brands will need to decide whether to join the conversation or to give consumers a break. (TJL)
CPA integrates systems in bid to allow deeper reporting – CPA Global has announced the release of its IP decision support suite, integrating its Memotech and FoundationIP intellectual property management systems (IPMS) with the Innography IP Intelligence software. The company states that the move makes it possible for corporate IP teams to provide insights on their portfolio above and beyond the operationally focused reporting of the IPMS, stating: "By bringing the IP management system and IP intelligence software together, business stakeholders can easily access internal information from the IPMS with the highest quality public IP data in various ways to uncover unique insights and trends." Venu Venugopal, chief product officer at CPA Global, added: "There is no place in what we call the world of New IP for disjointed systems and siloed data. While the specific needs of businesses will always vary, the decision support suite we are launching today is a quantum leap forward in terms of the opportunities available to our users to derive insight, strategise, and generate value." (TL)
Coca-Cola named most polluting brand – For the second year in a row, Coca-Cola has been found to be the most polluting brand in the world. According to The Intercept, the determination was measured through 72,000 volunteers picking up rubbish on beaches, along waterways and along streets across the world. In all, 8,000 brands were discovered when the garbage was analysed – with Coka responsible for 11,732 pieces of little in 37 countries. The next biggest contributors were Nestle, PepsiCo, Mondelez International and Unilever. Unsurprisingly, Coca-Cola responded to the survey – which has been widely covered in the media – by saying "any time our packaging ends up in our oceans, or anywhere that it doesn't belong, is unacceptable to us", adding: "In partnership with others, we are working to address this critical global issue, both to help turn off the tap in terms of plastic waste entering our oceans and to help clean up the existing pollution." Sustainability and the environment are becoming increasingly important for all brands to address – although part of the problem is encouraging consumers not to drop their packaging too (as one Reddit user mentioned, "I can't really blame coke for people not caring"). (TJL)
More unauthorised Greta Thunberg trademarks discovered – A few weeks ago, WTR reported on a series of unauthorised trademark applications related to Greta Thunberg and Extinction Rebellion. It appears that more applications related to the climate change campaigner have been filed since. At the EUIPO, a GRETA THUNBERG logo trademark application was filed on September 25. In Germany, two trademark applications for a GRETA logo and FRIDAY(S) FOR FUTURE BY GRETA were filed in August and October respectively. In the United States, a MAKE AMERICA GRETA AGAIN application was filed on September 29. A spokesperson for Thunberg has confirmed to WTR that "none of these applications are authorised by Greta or anyone associated with her". For now, it appears public figures like Greta Thunberg need to be mindful about unauthorised trademark applications around the world. (TJL)
Binge registering: increase in spirits registered at the UKIPO – In the past, trademark registrations for alcoholic spirits has increased by 12%, rising from 2,210 to 2,482. The Morning Advertiser, reporting on findings by RPC note the influx of flavoured gins opening up a market for more flavoured spirits such as rum, whisky and tequila. Distilleries also increased by 21% from 170 to 2015 across the country. RPC IP partner, Ben Mark commenting: "The importance of establishing a distinctive brand identity in today's highly competitive spirits market cannot be overstated." (JW)
New Chinese IP protections hailed as victory for White House – In the latest chapter of the ongoing trade war between China and the US, White House officials have claimed new IP protections in China as a victory for Trump's administration. Ning Jizhe, the vice chairman of China's National Development and Reform Commission, announced a new punitive system of damages for IP infringement, set to come into force 1 January 2020, reports the South China Morning Post. A senior Trump administration official said to the Washington Examiner: "China's intellectual property theft is real, damaging, and ending thanks to President Trump's strong trade actions and his Office of Science and Technology Policy director's focus on ending abuses in our open society's education and research systems". (JW)
Supreme most searched fake brand – New research from SEMrush has found that fashion brand Supreme is the most searched for brand in terms of users looking for counterfeit goods. According to WWD, there are 13,911 monthly searched online for the term 'fake Supreme', followed by searches for fake Ray Ban, Vans, Oakley, and Patek Philippe. Interestingly, the research also looked at searches for 'original' brands, with 'Vans original' the most searched for term, followed by original Ray Ban, Nike, Converse and Gucci. "From shoes to accessories, be it casual brands or luxury labels – there is a hunger for fakes," said Jana Garanko, a spokeswoman for SEMrush. "Eight out of the 15 most searched-for fake brands were designer items, three of which were watches. This clearly shows a demand for luxurious names minus the price." (TJL)
Legal radar:
Diesel goes after reality show stars over its signature name – Diesel has been engaged in a trademark battle with reality show stars Dave Sparks and Dave Kiley, from the Discovery Channel, over the use of the word 'Diesel', reports The Fashion Law. Earlier in the month the Italian fashion retailer filed a complaint with the New York federal court alleging that Diesel Power Gear (DPG), owned by Sparks and Kiley, was infringing its trademark as well as diluting the name. Diesel claims that by selling Diesel-branded products DPG is confusing consumers, making it seem that Diesel is affiliated with these products or is even affiliated or endorsing such things. The lawsuit further claims that DPG has bid on a number of Google keywords using the term 'Diesel' along with products it also sells, such as clothing and apparel. As such, Diesel says that when a Google search is conducted DPG shows up alongside the Italian retailer's website. Diesel is asking for injunctive relief as well as monetary damages. Further, it has requested that the court sort out another issue with DPG that has been ongoing since 2015. The matter at hand is over the application DPG filed for DIESEL POWER GEAR at the USPTO for a number of clothing items and accessories. The application was opposed by Diesel and it found success as DPG did not respond to the opposition. This was not the end of the dispute, as DPG again applied for the mark, as well as DIESELSELLERZ  with the USPTO in December 2017. Diesel opposed both of these applications and sent DPG a cease and desist letter. The Italian clothing company is now also asking for the court to order the USPTO to deny the application for DIESELSELLERZ. As the author notes, Diesel has not request the court take additional action on the pending application for DIESEL POWER GEAR. (BD)
Prison sentence for fake iPhone trafficker – This week Quan Jiang, a Chinese national, was sentenced to 37 months in federal prison and three years' supervised release for trafficking fake and altered Apple iPhones. According to court documents, between 1 January  2016 and 1 February 2018, Jiang would regularly receive packages containing between 20 and 30 counterfeit iPhones from associates in Hong Kong. Using various assumed names, Jiang would submit each iPhone to Apple in person or online for a warranty replacement; he would then ship the genuine replacement devices he received back to China for resale. In exchange for his service, Jiang's associate would pay Jiang's mother, also residing in China, who would in turn deposit the money into Jiang's bank account. In just over two years, Jiang imported more than 2,000 inoperable counterfeit iPhones. He ultimately obtained approximately 1,500 genuine replacement iPhones, each with an approximate resale value of $600. This case was investigated by US Immigration and Customs Enforcement, Homeland Security Investigations and prosecuted by Ryan W Bounds, assistant US attorney for the District of Oregon. (TL)
Office radar:
WIPO's Gurry meets with latest Nobel laureate at Frankfurt Book Fair – Francis Gurry, the WIPO director general, presented a speech on the importance of IP rights at the opening of the Frankfurt Book Fair. He shared a stage with Olga Tokarczuk, the Polish winner of the Nobel Prize in Literature, and took the opportunity to congratulate her on the honour: "The Nobel Prize in Literature recognises the critically important role that literature plays in our lives and I am pleased that the work of the World Intellectual Property Organisation supports artists' livelihoods and ability to fund their own work by ensuring a balanced and effective system of copyright and related rights." Gurry also addressed the International Publishers Association Executive Committee during his visit. (JW)
Media watch:
Amazon highlights investment in bid to fight fakes and dangerous items – Amazon is prepared to invest billions of dollars to keep business customers from selling fake or dangerous products on its platform, reports Fox Business. While the outlet notes that Amazon has policies banning the sale of counterfeit goods and setting guidelines for potentially dangerous items, it points to a recent Wall Street Journal analysis which found that more than 4,000 items for sale that were mislabeled or declared unsafe under federal guidelines. Now, Amazon's worldwide consumer CEO Jeff Wilke has pledged: "We have to be vigilant and willing to spend hundreds of millions and eventually billions of dollars to protect our customers." He also noted that the company has invested $400 million in technology to block counterfeit and dangerous goods. (TL)
Ridgway pens criticism of food plain packaging – A couple of weeks ago, the UK's outgoing chief medical officer, Dame Sally Davies, called on the UK government to push for 'cigarette style' plain packaging for sweets and chocolate. There have also been recent pushes to ban cartoon mascots in marketing unhealthy food products. This week, Mike Ridgeway from the Consumer Packaging Manufacturers Alliance (CPMA) wrote a strongly-worded column on why such restrictions would not be effective. "It's not unrealistic to suggest the restrictions on trademarks could also follow the banning of brand names. Is the red star on Heineken lager a trademark that will disproportionately attract the consumer? Will this feature extend outside of food to plain packaging restrictions for financial services or gambling, or even social media?" he asked. "We need a debate around responsible consumption and the role of the parent within this restriction of marketing of products directed at children, but banning items or censorship seldom works." (TJL)
Domain radar:
WHOIS on the way out? – Domain Incite's Kevin Murphy reports that ICANN is soon to enter talks with accredited registrars and contracted gTLD registries with the aim of naming a date to "sunset" the WHOIS protocol. Specifically, he notes, ICANN is seeking to negotiate amendments to the Registrar Accreditation Agreement and Registry Agreement with a view to replacing obligations to publish WHOIS with obligations to publish Registration Data Access Protocol data. The move was inevitable as the RDAP, which enables users to access current registration data, was created as an eventual replacement for the WHOIS protocol. This latest development therefore brings that transition a step closer. (TL)
WIPO's cybersquatting caseload on the up – Over on Domain Name Wire, Andrew Allemann has delved into WIPO's UDRP caseload, revealing that 2,723 cases were filed during the first three quarters of 2019, up on the 2,592 filed during the equivalent period last year. In total, he notes, 3,430 '.com' domains have been the subject of a UDRP action this year. (TL)
Happy birthday to the UDRP – Staying in the world of the UDRP, this week WIPO celebrated its 20th anniversary with a conference in Geneva. To date, over 45,000 cases have been filed with WIPO's Arbitration and Mediation Center and, opening this week's event, WIPO director general Francis Gurry thanked WIPO Panelists for their service and dedication to the cause of combating online abuse. The mechanism is scheduled to undergo a formal review by ICANN, likely commencing in 2020. One of the sessions asked for the audience's views on potential changes to the UDRP, with the unanimous vote being that more harm than good could come from making changes and that ICANN should not take the future success and stability of the UDRP lightly. The message was backed up by Gurry, who stressed that the UDRP is worth preserving. (TL)
'tm.com' up for sale –  The domain name 'tm.com', previously used by a company called TM Advertising, is up for sale. A representative for the current domain owner told WTR that the domain could be a valuable asset for anyone in the IP space. "I can't think of a better opportunity for a trademark law firm to have the most obvious trademark related domain name there is," he said. "We are looking to sell the domain quickly." The domain brokerage is being handled by VIP Brokerage, with interested buyers needing to stump up a minimum offer of $1 million. (TJL)
On the move:
Axinn expands IP team – Paul Zeineddin has joined Axinn's IP team as a partner within the Washington, DC office. Zeineddin previously practiced as a principal at his self-named firm. He focuses on patent litigation, representing clients before district courts and the International Trademark Commission relating to Section 337 investigations. Zeineddin is also experienced in licensing especially when it comes to global wireless communications. (BD)
And finally...
Managing Trademark Assets returns to London – WTR is pleased to announce that, following the success of this year's event, Managing Trademark Assets Europe will be returning to London on 28 January 2020. The event provides an opportunity for attendees to hear best practice and insight from leading in-house counsel from the world's biggest brands as they discuss their approaches to critical areas, as well as share their own insights with peers and colleagues. For the upcoming event we are also increasing the interactive nature of the programme, introducing informal, small-group discussions on dispute resolution scenarios - allowing participants to workshop possible responses with their peers and colleagues. Among the other areas to be explored are budget management, dispute negotiation tactics, best practices around diversity and team building, and how to fight counterfeits on a finite budget. The current registration rate for the event is £395 (excluding VAT). To sign up to attend Managing Trademark Assets Europe, click here. (TL)