Supreme brand sold; Oatly trademark rejected; Panasonic launches anti-counterfeiting campaign – news digest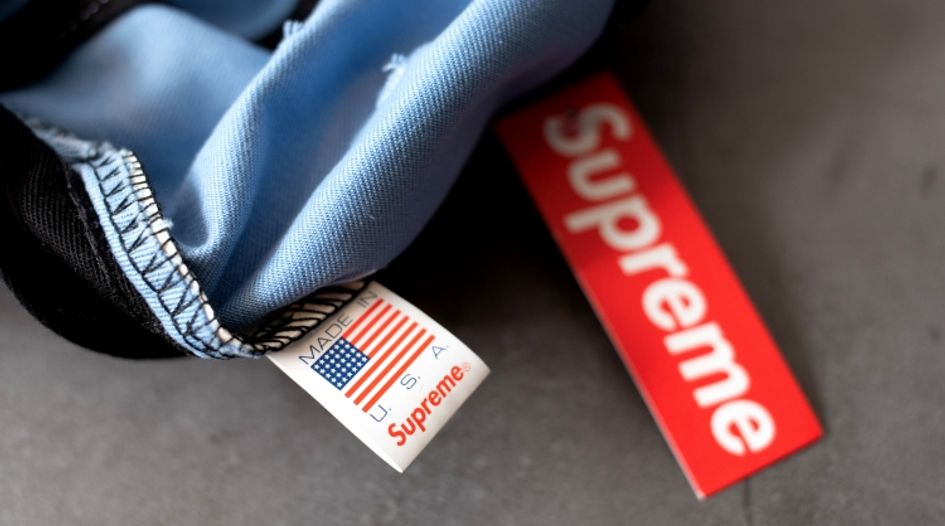 Every Tuesday and Friday, WTR presents a round-up of news, developments and insights from across the trademark sphere. In our latest round-up, we look at Saturday Night Live riffing on the retirement of brand mascots, the American Retirement Association prevailing in an acronym dispute, the USPTO seeking views on state issues, and much more. Coverage this time from Trevor Little (TL), Bridget Diakun (BD), Jonathan Walfisz (JW) and Tim Lince (TJL).
Market radar:
Anaqua's AQX platform tops IP management solution ranking – Anaqua's AQX platform has been rated the top IP management solution in the newly published Hyperion MarketView Report on the IP management market, according to a release from the service provider. The ranking means Anaqua has retained the number one platform spot it achieved in Hyperion's 2016 report. Specifically, the report recognises Anaqua's AQX platform as a leader in the areas of IP Business Management (IPBM) and Decision Support Analytics, saying that AQX sets a standard for IP business management and delivers class-leading analytic capabilities for IP management, integrating content and technology (HyperView and AcclaimIP) to provide contextual framework that supports IP decision making. Hyperion also awarded Anaqua the 'Highly Innovative' designation for its customer driven roadmap and persona driven user interface. Eyal Iffergan, president of Hyperion Global Partners, commented: "Anaqua has embraced the IP business management operational model and catalyzed it for transformation, delivering a solution suite that drives the strategic value of IP for businesses while supporting core business operations. Anaqua's AQX platform establishes itself as a vanguard solution for today's IP business managers, setting bold new standards for how leading organizations align IP management with their broader business strategies." (TL)
TreeHouse makes pasta brand purchases – TreeHouse, a multinational food processing company that specialises in producing private label packaged foods, has acquired a significant chunk of the US branded pasta portfolio of Riviana Foods, a subsidiary of Ebro, for $242.5 million in cash. Key brands included in the purchase are Prince, Creamette and Americana Beauty. (BD)
VF picks up Supreme in $2.1 billion deal – VF Corp, the parent company of Vans and Timberland, is buying streetwear brand Supreme in a deal that values the company at $2.1 billion, reports The Wall Street Journal. In 2017 Supreme sold a roughly 50% stake to private-equity firm Carlyle Group for about $500 million, giving it a valuation of nearly $1 billion. VF could end up paying more for the brand over time based on revenue growth and gross margin performance. Supreme's founder, James Jebbia, and Supreme's senior leadership team will continue to manage the brand. The deal is expected to close by the year's end. (BD)
Legal radar:
ARA prevails in acronym dispute – The American Retirement Association (ARA) is a non-profit professional organisation which, in 2016, launched a credential targeted at retirement plan advisors under the name Certified Plan Fiduciary Advisor (CPFA). The CFA Institute brought a lawsuit against the organisation, alleging the acronym CPFA infringed on its CFA trademark, related to its Chartered Financial Analyst programme. After the close of discovery, ARA filed a motion for summary judgment on liability and, in the alternative, summary judgment on compensatory damages. The court granted ARA summary judgment, finding no liability, and cancelling the scheduled trial. In a press release, Finnegan – which represented the ARA – argued that the case illustrates the importance of viewing the marks at issue within the contextual framework of the real world, stating; "Despite the plaintiff having valid and protectable trademarks, the court found that the plaintiff's CFA trademarks "lack the distinctiveness that would heighten the likelihood of confusion with a superficially similar acronym". Indeed, the court remarked that, from a conceptual standpoint, the CFA trademark "is quite generic" given its underlying meaning of "Chartered Financial Analyst." The court also took into account the practical reality that no actual confusion had arisen despite the two credentials co-existing in the marketplace for four years… The court's ruling underscores that evaluating trademark infringement claims involves much more than a white-room examination of marks that may contain similar letters. Especially with acronyms, the underlying meaning of the acronyms must be taken into account. The court's decision is also an important reminder that the Fourth Circuit in particular gives significant weight to the lack of actual confusion evidence, and that plaintiffs iringing trademark infringement claims in this circuit who fail to offer such evidence do so at their peril." (TL)
Oatly has trademark rejected after EU law change – Last month, the EU voted to stop all plant-based dairy alternatives from using dairy names – such as yoghurt and cheese – in their branding. This added to legislation that limited the use of the word 'milk' for plant-based alternatives. Oatly, an oat-based alternative food company, has now been denied a trademark application at the EUIPO for the logline: 'It's like milk but made for humans'. The EUIPO's reasoning being that "people know cow's milk is for calves". The office added that "there is a belief in society today that milk is not good for the human body". This prompted the Vegan Food and Living magazine to question whether this decision contradicts the justification for the EU's ban of plant-based products using dairy names: "How can consumers be aware that milk is intended for calves but simultaneously be 'deceived' by a packet of vegan cheese? And how can the EUIPO claim to know milk is not good for the human body yet make it more difficult for plant-based alternatives to promote themselves?" (JW)
Office radar:
(For more of the latest coronavirus-related updates from national IP offices, please read our dedicated article which is being continuously updated)
USPTO seeks views on infringement by state entities – The USPTO published a notice seeking public comments concerning "the extent to which patent or trademark rights holders are experiencing infringement by state entities without adequate remedies under state law, and the extent to which such infringements appear to be based on intentional or reckless conduct". A study on the issue is being undertaken at the behest of Senators Thom Tillis and Patrick Leahy, with the deadline for comments set to 5pm (ET) on 21 December 2020. (TL)
Media Watch:
SNL riffs on brand character retirements – On WTR we have written at length about the decision, against the backdrop of the Black Lives Matter (BLM) movement,  to retire brand characters that are problematic racial stereotypes – including PepsiCo announcing that it will change the logo and name of its Aunt Jemima brand, and Mars rebranding its Uncle Ben's brand as 'Ben's Original' from 2021. While largely focused on the presidential election result, this week Saturday Night Live placed the issue under the satirical spotlight with a sketch (which can be viewed below) that involved three white company executives breaking the news to Aunt Jemima and Uncle Ben that they were being let go – Alec Baldwin explaining: "It's not what you did – it's how you make us feel about what we did." The sketch escalates with Uncle Ben asking why "the Allstate guy gets to work", with episode host Dave Chapelle playing Denis Haysbert – who hits back "But I'm a real person, these are mere characters – if anything, you should fire Count Chocula". As the characters leave, Baldwin asks for the Land O' Lakes lady to be sent in (referencing the company's decision to remove the Native American image that has featured on its product packaging for almost a century). (TL)
Panasonic launches anti-counterfeiting campaign – Technology brand Panasonic has launched a haunting new anti-counterfeiting campaign aimed at warning consumers on the dangers of fake goods. In the advert, which can be viewed below, a consumer is seen using a fake Panasonic hair trimmer – and, at the end of the video, the consumer's head is bandaged due to the injury sustained. "Panasonic products are precision designed," the narrator explains. "Looking at this fake, you can see the moving blades stick out too far, and also the blades are not safe as they are rusted, deformed and have sharp edges. Fakes are a threat to safety or your wellbeing." The video ends by urging customers to check products for authenticity on the Panasonic website, and includes links to Panasonic's work tackling fakes and a report on why 'eliminating counterfeit goods around the world' will 'create a healthy society'. (TJL)
On the move:
Foley Hoag strengthens litigation bench – Foley Hoag has appointed Jenny Shum to counsel in the firm's intellectual property department. She is a member of the intellectual property litigation practice and is based in Foley Hoag's New York office. Shum specialises in pharmaceutical, biotechnology, medical device, biometrics and data privacy, and high technology matters. She previously served as senior counsel at Norton Rose Fulbright. (BD)
Venner Shipley expands trademark and patent practice with acquisition of Brookes IP – Trademark and patent attorney firm Brookes IP has joined Venner Shipley. This means that Brookes IP partners Clare Turnbull, Jane Martin, Rosemary Eve and Jonathan Hancox are now members of Venner Shipley, effectively raising the firm's partner count to 30. "We have been looking to expand our trademark offering for some time and have found a perfect fit with Brookes IP," says Jan Walaski, managing partner at Venner Shipley. "As a firm, we are continually exploring ways to adapt and enhance our service in-line with the changing needs of our clients. This merger not only boosts our trademark practice but also adds further strength and depth to our market-leading electronics patent team." Turnbull, a trademark attorney at Brookes IP, will become the head of trademarks at Venner Shipley. (BD)
Spencer Fane adds patent attorney to its roster – Chad Henson has joined Spencer Fane's intellectual property practice group in the firm's Plano office. Henson handles all legal matters relating to patents. "Chad brings valuable insights not only as a seasoned attorney in private practice, but also in the financial realities of the businesses looking to protect IP and trade secrets," said Paul Sander, office managing partner for Spencer Fane in Plano. (BD)
Sidley boosts its Dallas team with double hire – Patent trial partners Aimee Fagan and Phillip Aurentz have left McKool Smith for Sidley. The pair will be members of the global intellectual property litigation practice and are resident in Dallas. Commenting on the appointments, Yvette Ostolaza, managing partner of Sidley's Dallas office and a member of the firm's management committee said, "They are among a small handful of IP litigators with deep knowledge and experience in patent litigation issues facing those in the energy sector. Aimee and Phillip are excellent trial lawyers and will be able to immediately step in and add value for our clients." (BD)
And finally...
New research project to track industry trends and outlook launches – WTR is pleased to announce the launch of a new research project that will track trademark trends and outlooks on a quarterly basis, providing brand professionals with unique insight direct from a panel of industry leaders. Every three months we will survey a panel of more than 50 trademark industry leaders from both the law firm and corporate environments on trademark industry trends and forecasts, using the results to create a quarterly report that provides a regular update on the health of the sector and what the future is expected to look like. The full  inaugural report is available to subscribers in the WTR Reports Store. Non-subscribers can access the executive summary and some of the findings here.