Super Bowl fakes crackdown, Burger King trolls McDonald's trademark loss, and Monaco joins TMview: news digest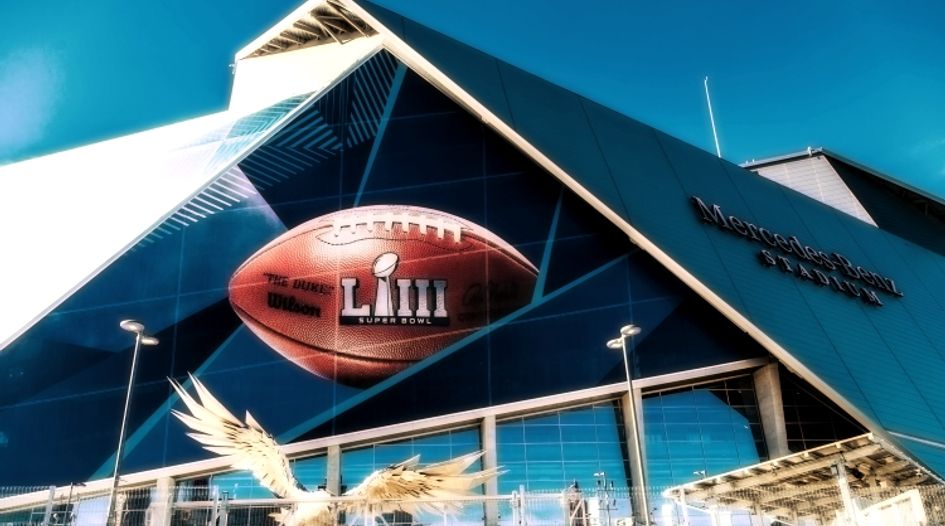 Every Tuesday and Friday, WTR presents a round-up of news, developments and insights from across the trademark sphere. In our latest edition, we look at how Africa lacks anti-counterfeiting tools, UK doctors warning that they need more time to comply with the Falsified Medicines Directive, a growing proportion of companies are affected by infringement, and much more. Coverage this time from Trevor Little (TL), Adam Houldsworth (AH), Bridget Diakun (BD) and Tim Lince (TJL).
Market radar:
Super Bowl cracks down on counterfeiters leading up to the big game – ICE has seized $24.2 million worth of counterfeit NFL merchandise and tickets ahead of this Sunday's Super Bowl LIII.  In this year's operation, called 'Team Player', nearly 285,000 fake sports items were confiscated. In last year's crackdown $20 million of counterfeits were seized, much less than the estimated $39 million which was taken off the market in 2016. In addition to the seizure of imitate products, 28 people were arrested in connection to the smuggling ring, with 21 persons convicted. The operation is not yet over, and ICE will be on the watch to seize counterfeit items as they appear over the coming days, including tickets. (BD)
Burger King "trolls" McDonald's EU trademark loss – Two weeks ago, we reported on Irish fast food chain Supermac's prevailing in an EU trademark dispute with McDonald's over the use of the BIG MAC mark. This week, Burger King's Swedish restaurants have rebranded their menu items to, as described by The Guardian, "poke fun at McDonald's loss". Some of the items on the menu include the "Burger Big Mac Wished It Was", "Like a Big Mac, But Actually Big" and "Big Mac-ish But Flame-Grilled of Course". Describing why Burger King decided to launch such a marketing campaign, Iwo Zakowski, CEO of Burger King's Swedish operation, commented: "McDonald's just lost its trademark for the Big Mac for suing a much smaller player … it's too much fun for us to stay away." Indeed, this is not the first time that Burger King has taken a direct jab at McDonald's as part of its marketing effort. In December, for example, it offered customers a Whopper burger for $0.01 "if they went near a McDonald's location". For McDonald's, it adds to the embarrassment of the trademark dispute loss, although the fast food giant will no doubt be hoping to recover in the appeal. (TJL)
UK doctors warn they need more time to comply with Falsified Medicines Directive – The UK General Practitioners Committee has suggested that implementation of the EU Falsified Medicines Directive could take "at least 12 months", it has been reported. This comes just the week before the directive, which is aimed at introducing safeguards to mitigate the sale of illicit medicines in Europe, comes into force. The legislation requires manufacturers to place additional safety features (a unique identifier barcode and an anti-tamper device) on medical packaging and to fund IT verification systems. Healthcare institutions, including GP surgeries, are required to scan new medical packs at the point of dispensation to the public. With the prospect of a no-deal Brexit resulting in the inability of UK doctors to access the EU medicine verification database, Local Medical Committees in three British counties have advised GP surgeries not to purchase the expensive equipment mandated by the directive until there is more clarity on the future of the country's relationship with EU institutions. (AH)
Company uses sound science to name brands – Lexicon, the company responsible for naming Sonos and Swiffer, is a small branding entity which uses 'sound symbolism' to name some of the world's biggest brands. The company has named almost 4,000 brands across 19 countries, using its research in sound science to come up with its names. Lexicon argues that memorable brands are crucial in a competitive market, and understanding how people interpret sounds is part of this. An example of their research is that, across the world, the 'v' sound will always evoke feelings of vitality. According to the company's LinkedIn, over $350 billion worth of products have been sold with their brand names. (BD)
African lacks anti-counterfeiting tools of other regions, report finds – A report produced by ENACT Africa argues that the continent has fallen behind other regions in terms of safeguards against fake medicines. African nations have become soft targets for drug counterfeiters, because they have underdeveloped "supply chain regulation, track-and-trace technology and enforcement regimes", it states. As pointed out by Securing Industry, the report calls for all African states to criminalise the manufacture of fake drugs, and make it clear which authorities are responsible for tackling counterfeiting. 42% of all detected counterfeits drugs were in Africa, says the World Health Organisation. (AH)
Growing proportion of companies affected by infringement, study shows – Research commissioned by Compumark has indicated that 80% of companies suffered trademark infringement in 2018, an increase on the 74% that experienced it in 2017. These findings were obtained by surveying 352 private practice and corporate trademark professionals in USA, UK, Germany, France, Italy. Three-quarters of in-house respondents said they had taken legal action against infringing marks, while 30% reported that they had been forced to change a brand name as the result of infringement. The research, entitled The Trademark Ecosystem: Global perspectives on filing, infringement and common challenges, also revealed that one-third of of professionals had witnessed an increase in the filing of non-traditional marks.  (AH)
Office radar:
JPO bans registration of era names beginning in May – According to The Japan Times, the Japan Patent Office (JPO) has decided that in May individuals will no longer be able to register era names as trademarks. The current era name will be changed following the abdication of Emperor Akihito on 30 April, with the new name announced on 1 April. The Japan Patent Office's previous criteria allowed era names, except Heisi, to be registered, but after a revision of these guidelines no trademarks will be approved. Those already in possession of trademark using old era names will be allowed to keep their names, and will be treated as an exception going forward. (BD)
Monaco joins TMview – Just a week after Brunei joined the EU Intellectual Property Office's TMview search platform, the registry has announced another addition – Monaco. According to an announcement, the Industrial Property Office of Monaco (MCIPO) made its trademark data available to the TMview search tool from January 28. With the addition of this office, TMview now contains data from 69 participating offices, with almost 52.6 million marks in total that can be searched. (TJL)
Bulgaria bolsters digital offering – The  Patent Office of the Republic of Bulgaria has announced that, as of 23 January 2019, users on its digital services portal will have access to the text of opposition and refusal decisions on trademark applications issued in 2017 and 2018. According to the press release, the published decisions "are aligned with the requirements of the General Data Protection Regulation (GDPR)" and "other historical decisions" will be published "soon". (TJL)
Taiwan sees application rise in 2018 – The Taiwan Intellectual Property Office has confirmed it received over 84,000 trademark applications in 2018, the most in 18 years, according to a local media outlet. When it comes to Taiwanese citizens, a total of 59,840 applications were received – which is 2% down on the 2017 figure. However, 24,976 applications were filed by international applicants, an 11% annual rise. According to registry director general Hong Shu-min, this increase could be attributed to "a large number of applicants from China, as the Chinese government offers subsidies to companies or people who want to apply for patents or register trademarks overseas". Indeed, other offices have similarly attributed trademark application rises to an influx from Chinese applicants – a trend that we expect will continue into the future. (TJL)
On the move:
Donaldson + Callif snatches up former Warner Bros. VP and senior IP Counsel – Donaldson + Callif has announced the appointment of Dale Nelson to partner in a recent press release. Nelson was previously the VP and senior IP counsel at Warner Bros, bringing nearly two decades of experience in copyright and trademark to the Los Angeles-based firm. (BD)
Friday catch-up:
Every Friday in our news round-up we will provide a quick rundown of the latest news, analysis and intelligence posted on World Trademark Review. Over the past week we:
Published another exclusive trademark data analysis, this time looking at how the toy industry is showing positive brand growth;
Shared takeaways from our Managing Trademark Assets Europe event, wherein senior brand professionals shared insights on budget management, fighting counterfeits with limited resources, and more;
Our Tuesday digest looked at how a prosecco GI dispute is stalling a major free trade deal, more Brexit counterfeit fears, and a new director general at the Benelux IP office, and more;
Posted a major investigation revealing that entrepreneur and serial trademark filer Michael Gleissner has stepped up his IP activity in recent months, with over 100 applications filed so far this year – accounting, by our count, to over 50% of all applications filed at one national IP office so far this year;
Recognised law firm excellence by announcing the winners of our inaugural Global IP Awards;
Looked at how pharmaceutical giant Novartis is building a consistent brand strategy across four business divisions in an exclusive interview;
Revealed how L'Oreal is the top filer of EU trademarks in 2018 and looked at some of the key trends from the registry in the past 12 months;
And the 2019 edition of the WTR 1000 is now online and free to view.
And finally…
Obtain high-level trademark management and brand protection insights – WTR is hosting two events, on consecutive days, in Chicago in March. The Brand Protection Online: Strategies for Ethical Enforcement and Managing Trademark Assets USA events will deliver high-level insight and practical takeaways for those tasked with managing, protecting and monetising brands. On 5 March 2019, Brand Protection Online event will take a deep dive into practical strategies for fighting infringement on ecommerce sites, navigating the changing domain landscape and managing reputation online. Taking place at the same venue the next day, the fourth annual Managing Trademark Assets USA will again focus on the cost-effective management of international portfolios, and comes at a time when it is more important than ever for brand owners to ensure they are integrating innovative and disruptive strategies into their trademark operations. To register for Brand Protection Online (or both events) click here. To register for Managing Trademark Assets USA (or both events) click here. (TL)