Super Bowl anti-counterfeiting efforts; Taylor Swift's lawyers respond to infringement claims; EUIPO on record year – news digest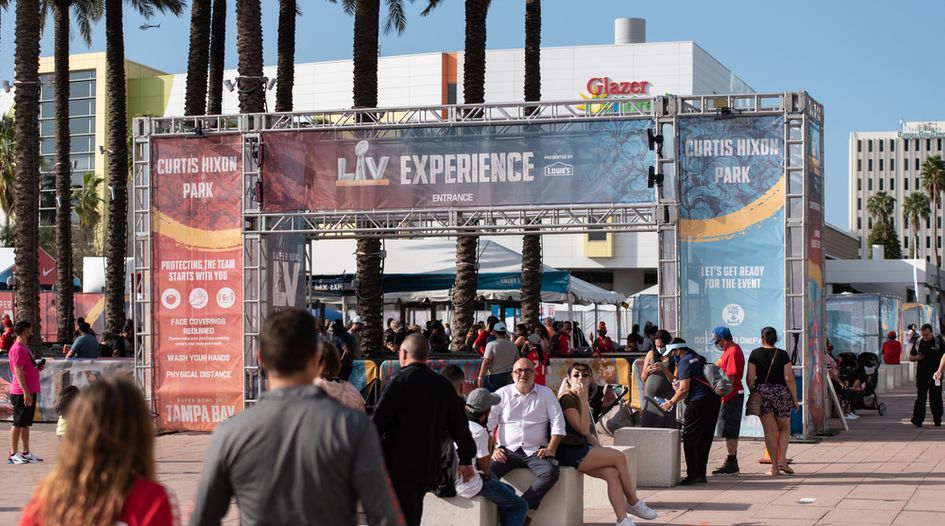 In our latest news round-up, we look at Homeland Security Investigations' success fighting sports merchandise counterfeiters, changes to the UKIPO's online trademark application form, the latest law firm hires, and much more. Coverage this time from Trevor Little (TL), Bridget Diakun (BD), Jonathan Walfisz (JW) and Tim Lince (TJL).
Market radar:
Authorities provide update on Super Bowl anti-counterfeiting efforts – Homeland Security Investigations (HSI) has announced the seizure of more than 169,000 counterfeit sports-related items over the past year, worth an estimated $45 million. This announcement was made during a press conference in Tampa, Florida, in the run up to this year's Super Bowl and reflected on the Operation Team Player initiative. The programme (run by the HSI-led National Intellectual Property Rights Coordination Center, in collaboration with Customs and Border Protection, the NFL and other major sports leagues), is an ongoing annual operation that begins after every Super Bowl and runs through the next one, targeting international shipments of counterfeit sports merchandise into the United States.  Since September HSI agents have also teamed with industry, CBP, Tampa police officers, and other partner agencies to identify flea markets, retail outlets and street vendors selling counterfeit goods during the week leading up to Super Bowl LV. "Operation Team Player is the most successful and long-standing collaborative effort to protect US consumers from the sale of counterfeit sports merchandise and tickets," said NFL Vice President of Legal Affairs, Dolores DiBella. "The NFL is grateful for the diligent and tireless work of agents and officers from the IPR Center, HSI, CBP, and Tampa area law enforcement who have undertaken anti-counterfeiting measures that protect fans not only at Super Bowl LV, but all season long." (TL)
Nestle in discussions to sell US bottled water unit – Nestle is in talks to sell its US bottled-water business, which includes the Pure Life, Poland Spring and Deer Park brands, to PE firm One Rock Capital Partners, reports Bloomberg. The deal could be valued at more than $4 billion and be announced as soon as this month. Importantly, the talks are ongoing and there is no certainty of an agreement. (BD)
Crayola and Kellogg collaborate on cereal – Kellogg and Crayola have joined forces to introduce Kellogg's Crayola Jazzberry Cereal, reports License Global. "For generations, Crayola has sparked imagination through colour - now we're bringing that imagination to the breakfast table," says Erin Storm, senior marketing director, Kellogg All Family Cereal. "Whether it's colouring the cereal box designs or unlocking more fun in Crayola's Scribble Scrubbie Pets App, our new Kellogg's Crayola Jazzberry Cereal inspires creative wonder at breakfast and beyond." The partnership will allow both companies to draw on the other's brand equity. (BD) 
World IP Day to focus on SMEs –  MARQUES' Class 46 blog has noted that WIPO's theme for World Intellectual Property Day, which takes place on 26 April, is "IP and SMEs: Taking your ideas to market" – the association to unveil its own activities to mark the day shortly. WIPO expands: "SMEs make up around 90% of the world's businesses, employ around 50% of the global workforce and generate up to 40% of national income in many emerging economies, more, if you count informal businesses. Each of these business ventures has taken an idea and married it with ingenuity to create a product or a service that consumers want. And each of them can use IP rights to safeguard and create value from their business assets. Yet many are unaware that they hold IP or that it has value…. If you are new to the world of IP, World Intellectual Property Day 2021 is an opportunity to find out how the tools of the IP system – trademarks, design rights, copyright, patents, trade secrets, geographical indications, and more – can support you when taking your ideas to market." (TL)
Kraft Heinz looks to offload Planters brand – Kraft Heinz is close to selling its Planters snack business to Hormel Foods, reports The Wall Street Journal. A deal, valuing the brand at around $3 billion, could be finalised as soon as next week. Planters is a century-old brand with labels that feature Mr Peanut, a top hat-wearing monocled mascot. The business unit primarily sells nuts and snack mixes, and would work well in Hormel's portfolio which includes Skippy peanut butter. Hormel has been heavy on acquisitions in recent years as it diversifies its business and should this deal go through it would be its largest to date. (BD)
Legal radar:
Taylor Swift shakes off trademark infringement claim – US musician Taylor Swift has rebuffed trademark infringement claims from the owners of the US theme park Evermore, reports the BBC. Swift's second album of 2020 shares a title with the theme park and the owners claim her album had caused confusion and led to a "dramatic departure" of traffic from its website. The park filed a suit with the US District Court in Utah and are seeking millions of dollars in damages and claimed that the trademark was violated when Swift started selling album-related merchandise. However, Swift's lawyers have responded that claims of trademark infringement have "no basis", writing in their court letter that: "Moreover, your client has suffered no damages whatsoever and, in fact, has openly stated that Ms Swift's album release creates a 'marketing opportunity' for your client's troubled theme park." (JW)
Office radar:
(For more of the latest coronavirus-related updates from national IP offices, please read our dedicated article which is being continuously updated)
UKIPO changes trademark application form – The UK IP Office has announced changes to its online trademark application form, which became active from 28 January 2021. Key improvements include an "enhanced classification picker" which helps customers select the most relevant goods and services for a proposed mark. Another change includes text from logos and images being recognised automatically (previously users had to type it in manually). "We are making these changes to enhance everyone's experience, and ensure consistency between the new pre-application service and the trademark application form," a UKIPO spokesperson said. "We know these are areas which can sometimes cause confusion or error in applications, so these changes will make the process of applying for a trademark easier and more efficient." One note, however, is that any online trademark applications that were 'saved for later' but not submitted between 4 January and 27 January 2021 will have been lost. (TJL)
EUIPO reports on record year – The EUIPO has published its 2020 Volumes & Service Charter highlights, reporting that the office finished 2020 with a record 176,987 overall  EU trademark filings, a 10.24% v 2019. EUTM class filings also reached an historic high, with more than 438,500 individual Nice Classification goods and services classes accompanying EUTM applications. The overall growth was mainly driven by direct filings, which saw a clear upward trend during the second semester of 2020 (contrasting with international registrations, which experienced a 4.60% year-on-year drop). In terms of the overall trend, a sharp covid-19 related drop in demand early in the year was followed by a robust recovery from June 2020, primarily led by a significant increase in Chinese demand. The office adds that there was a general upsurge in the demand for EUTMs covering medical, personal and public hygiene, entertainment and household-related goods, most likely driven by concerted global efforts to adequately meet the changing needs of consumers and health authorities during the COVID-19 pandemic. (TL)
In memoriam: 
Kamen Veselinov – The former head of the Bulgarian Patent Office (BPO), Kamen Veselinov, passed away recently. According to the BPO, he was a "remarkable scientist and public figure". He was chairman of the BPO from 2011 and 2014 and then again between 2015 and 2016. "During his tenure the Office achieved stability and authority internationally," a BPO spokesperson added. "His leadership contributed significantly to the development of the intellectual property system in Bulgaria." 
On the move: 
Alison Baldwin joins Faegre Drinker – Alison Baldwin, formerly of McDonnell Boehnen Hulbert & Berghoff, has joined Faegre Drinker's intellectual property practice as a partner. "Alison's sophisticated capabilities adds to the strengths our national team already brings to clients in the life sciences and agriculture sectors," said James Steffen, leader of the firm's intellectual property practice. "Her trial experience and technical skills will immediately and significantly expand the value our team provides to pharmaceutical and other clients." Baldwin will be based in the firm's Chicago office. (BD)
Foley & Lardner elevates attorneys – Foley & Lardner has announced the election and elevation of three intellectual property attorneys to partner status as of 1 February 2021. Each were elevated from senior counsel. Rebecca L Hays, in Madison, is a member of the chemical, biotechnology & pharmaceutical practice, while Boston-based Ruben J. Rodrigues is a member of the IP litigation and electronics practices, as well as the technology industry team. Also in Boston is Daniel Rose, a member of Foley's electronics practice group and the technology industry team. The announcement came as the firm  elected 19 lawyers to partnership. "We are pleased to announce the promotion to partnership of this exceptional and diverse group of lawyers," said Jay Rothman, Foley chairman and CEO. "Each of our new partners has demonstrated excellence in his or her legal practice, leadership within the firm and a commitment to superior client service." (TL)
Ojam Bullrich Flanzbaum unveils new partner – Argentinian firm Ojam Bullrich Flanzbaum has strengthened its practice with the incorporation of Mariano Peruzzotti as partner. Peruzzotti specialises in IT and privacy as well as intellectual property, consumer protection and fair trade. He advises clients on a wide range of matters, including privacy compliance and cybersecurity, healthcare privacy, internal investigations, artificial intelligence, cloud computing, big data, blockchain and internet of things. (TL)
Lathrop GPM names the new leader of its IP practice group – Kate Tompkins will be heading up Lathrop GPM's intellectual property practice group from now on. According to the announcement, it is the first time a business professional has been tapped for the top leadership role of a practice group at the firm. Lathrop GPM's intellectual property team has nearly 100 attorneys, patent agents, technical specialists, and other professionals. Managing partner Cameron Garrison said: "Kate's expansive knowledge of our firm's IP clients, partners, and processes makes her ideally situated to lead our intellectual property practice group. She understands that, at Lathrop GPM, we consider our IP practice a boutique within a full-service law firm. Kate brings a client-first focus to the many and varied skills necessary to run an IP group. In addition to supporting the group's strategic business and professional development initiatives, Kate has implemented scalable systems, processes, and technology for docketing and billing, and directs internal and client teams, all of which strengthen our client relationships and our IP group." (BD)
And finally... 
WTR Connect returns next month with five days of strategic content – The second WTR Connect series of digital events will take place the week commencing 15 March 2021. The event will offer more than 20 interactive digital sessions, each designed to facilitate discussion, benchmarking and the sharing of best practice around key topic areas and challenges facing trademark and brand leaders. The theme for the event is 'exchanging cost-effective and resource-efficient best practices' and each day will start with a keynote address from a major industry figure, which is followed by live breakout discussions lasting for a maximum of 60 minutes. Registration is free for WTR subscribers and participants can register for as many sessions as they like across the week, building their own schedule. For event timings, and to sign up to attend, please click here.