Stranger things: how trademarks helped turn a DVD exchange company into an international brand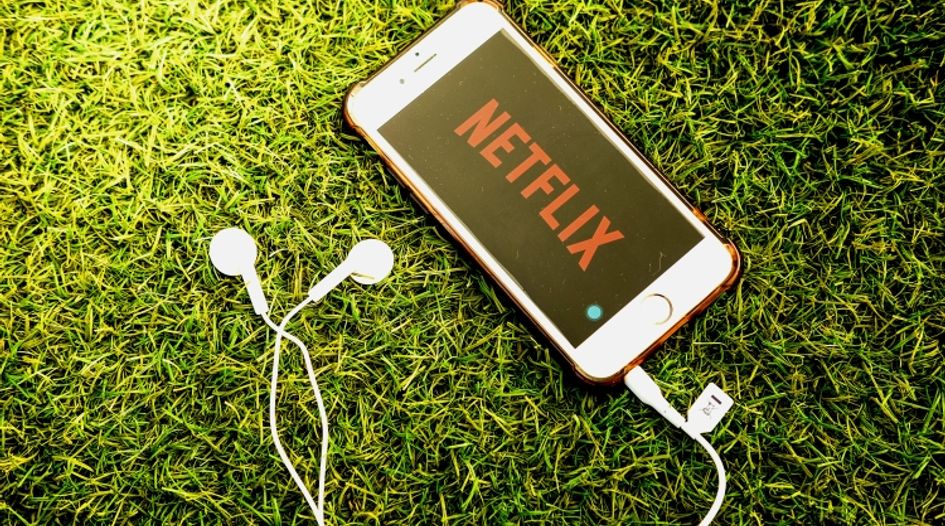 Bad actors, pirates, and pop-up bars: the legal team protecting Netflix's most valuable properties discuss the last few years and the company's surprisingly gentle but effective approach to dealing with trademark infringements.
In 2010 Netflix operated as a DVD rental and video streaming service in the United States only. Today it is available in almost every country across the globe. This rapid expansion is a remarkable achievement, and such growth has required canny brand management from the Netflix trademark team.
Unsurprisingly, as the size of Netflix balloons, so too does its IP department. "As our production slate becomes more global, so does our team," explains Ali Buttars, who leads Netflix's trademark practice, and Jeremy Kaufman, senior IP counsel. "While most of our team is based in Los Angeles, we also have team members in New York, London, Brazil, Mumbai, Tokyo and soon Amsterdam."
One of the unique challenges that the team faces is that of protecting the master Netflix brand as well as the rights to the streaming service's hundreds of movies and TV series. Buttars and Kaufman explain that the team oversees these from start to finish, including the trademarks, copyrights, defamations and right of publicity of every asset. With such a workload, the team is divided into three specialist areas:
the trademark team – which handles global title clearance, registration, enforcement and brand protection issues;
the rights analysts team – which advises copyright and rights acquisition deals; and
the production clearance team – which addresses the use of third-party intellectual property and real events in its shows.
"This structure is a bit unique because often at other studios these would be separate groups," they add. "However, we have found that these IP issues are interrelated, and that by having softer lines, we end up with excellent holistic outcomes – it also spurs tons of fun collaboration."
Along with a close-knit work approach, Buttars and Kaufman identified another standout aspect of the team. "Another way that increases our effectiveness is upstream in the content creation process," they explain. "That means that we have a seat at the table with our business and creative execs, and even talent, when we are contemplating how we can make a new show. Having upstream impact for an IP team is very important and efficient because it reduces downstream problems. Instead of cleaning up the mess, we prevent the spill in a way that achieves our business and creative goals. [This means that] the IP team is viewed by business and legal colleagues as strategic partners rather than the dreaded 'legal team' that only secure IP rights and dispenses information about them."
It is not just the executive suite with which the Netflix trademark team works closely. In addition to collaborating with the content team, it also supports the company's public policy department, litigation team, anti-piracy team and the marketing legal department, among others. "This collaboration is fuelled by Netflix's unique culture, which values information sharing, curiosity and broad alignment on our company's major strategies," Buttars and Kaufman note.
When it comes to Netflix's approach to its prosecution practice, Buttars and Kaufman reveal the unique approach taken by the streaming giant. "Being aligned with your business objectives globally is the starting point for any prosecution strategy – so we spend a lot of time not focusing on being heard, it's about listening," they explain. "We all have limited resources – whether that is time, people or money – and trying to protect everything, everywhere is inefficient. Therefore, to better align our prosecution strategy with our business goals, we infuse our thinking with data and other business factors. Incorporating data into our decision making allows us to take risks and be flexible."
They continue: "Since we distribute our content globally in 190 countries and 27 languages as we grow our registration practice we have to do it thoughtfully so we don't end up with a bloated portfolio. That means we do not have the luxury of getting in the weeds and agonizing over the small stuff. We may not get every decision correct, but that is okay as long as we are learning from our experiences. Most importantly, our business counterparts are aware of this, and understand that we make trade-offs for nimbleness that sometimes play out in unanticipated ways."
Of course, with a large trademark portfolio comes a responsibility to enforce and protect. However, Buttars and Kaufman reveal that the team tackles the most significant incidents only. "Some brand owners believe that they need to police and control every use of their mark. We take a different and more pragmatic approach," they explain. "We do not get distracted by or waste resources on enforcement matters that do not materially impact our business. Indeed, when people are talking about your brand, it can sometimes deepen the connection between our members and our great content. But we do enforce against high volume targets, bad actors, and products that can be harmful to our brands, consumers, or business relationships."
One of the most publicised enforcement actions from the trademark team was the "super classy cease-and-desist letter" it sent to an unauthorised Strange Things bar in Chicago. Not only was this approach successful, it led to positive PR for the brand. Unsurprisingly, the team has continued to enforce its IP rights in a similar manner. "When popular brand owners speak, people notice", Buttars and Kaufman say. "That's often a great thing, but when taking legal action to enforce IP it can create negative press and create the perception that the brand owner is antagonising its consumers. To help mitigate that, when we decide to enforce, we speak in the Netflix voice whenever we can. Some infringements require a more serious tone, especially against really bad actors. But whenever practical, we try to speak in Netflix's playful voice, not as robotic lawyers."
There are countless more examples of how the Netflix trademark team is worthy of praise. However, for Buttars and Kaufman, time will tell whether such acclaim is warranted. "The Netflix IP team is new and we have a lot to do before we consider ourselves 'successful'," they state. "We are still learning, developing our strategies, building internal systems, and looking to hire stunning colleagues who can thrive in the Netflix culture. Being new, however, affords us the opportunity to do things differently, and test what works. Sentences like 'that's how it's always been done' carry little weight in our hallways. Some of our innovations work, and some fail miserably. But each time we learn. One cannot innovate effectively if you are only exploring options that have certain outcomes."
Other nominees:
Comcast
RR Donnelley
Sky International
Verizon Communications