Starbucks mermaid most recognised brand mascot, India counterfeit loss, and Ugg litigation wave: news digest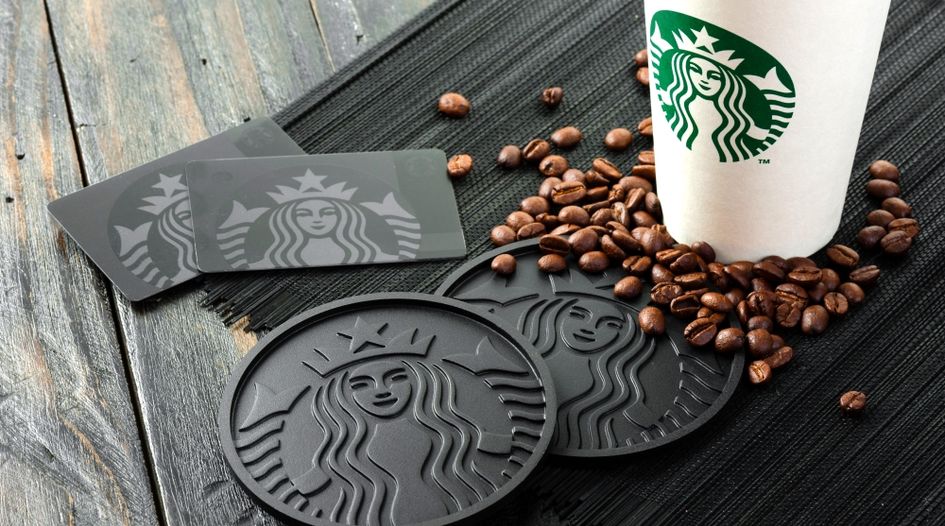 Every Tuesday and Friday, WTR presents a round-up of news, developments and insights from across the trademark sphere. In our latest edition, we look at the ICC publishing a guidance on IP valuation, Heinz rebranding a sauce to avoid trademark troubles, Authentic Brands Group getting a boost, the EUIPO revealing its top online users, the French IP Office closing for a couple of days, and much more. Coverage this time from Trevor Little (TL), Bridget Diakun (BD), Jonathan Walfisz (JW)  and Tim Lince (TJL).
Market radar:
Starbucks mermaid most recognised brand mascot – In a new survey from Crestline Custom Promotional Products, the Starbucks mermaid was found to be the most recognised brand mascot in the United States. The survey, made up of responses from 1,630 US residents, saw Colonel Sanders (KFC), GEICO gecko, the M&M characters, and Ronald McDonald (McDonald's) make up the rest of the awareness top five. The least recognised mascots, of the 82 studied, were Coco the monkey (Coco Pops) and the Duracell bunny. Elsewhere in the survey (the full results of which can be found here), Planters nuts had the dubious honour of being the brand that most consumers knew the mascot over the actual brand. In terms of most liked mascot, Poppin' Fresh the Pillsbury Doughboy came top (rated an average of 8.66 likeable by respondents), with Mr Mucus from Mucinex rated the least likeable (rated 2.94 out of 10). Indeed, Mr Mucus didn't fare well in the survey – he was also rated most annoying, most creepy, least trustworthy and lead persuasive. For trademark practitioners, the protection of brand mascots is often a key part of a trademark portfolio (for example, McDonald's has over 300 registered or filed trademarks featuring the term 'Ronald McDonald'). Therefore, attitudes towards these mascots is a good indicator of brand strength. (TJL)
ICC publishes IP valuation guidance – The International Chamber of Commerce (ICC) has published guidance on IP valuation to provide business with a common knowledge base for valuing IP assets. The ICC Handbook on Valuation of Intellectual Property Assets addresses various aspects of the IP valuation process, including: the challenges of valuing IP assets compared to other categories of assets; the variables which may influence the value of IP assets; the main valuation approaches; steps to follow; and valuation in international taxation. Dominika Boehm, strategy and business manager, Siemens UAA and co-chair of the ICC Task Force on Valuation and Monetisation of IP Assets, said: "IP valuation is becoming an important driver of business decisions across the global economy. By defining the approaches and challenges related to IP valuation, the ICC handbook provides business with the necessary framework to value their assets." (TL)
Authentic Brands Group gets a boost – Global investment management company BlackRock Inc has announced that entities affiliated with its Long Term Private Capital (LTPC) fund have made a strategic investment in Authentic Brands Group (ABG), owner of a portfolio of iconic and world-renowned brands. LTPC will become the largest investor in ABG, which was founded in 2010 and now boasts a portfolio of over 50 brands, which generate close to $10 billion in annual worldwide revenue in more than 70 countries. The ABG portfolio includes brands such as Marilyn Monroe, Elvis Presley, Muhammad Ali, Shaquille O'Neal, Greg Norman, Thalia Sodi, Nine West and Juicy Couture. Earlier this year it also acquired Sports Illustrated. Colm Lanigan, senior member of the LTPC team, comments: "ABG is an innovator in the licensing and branding industry. We have built a close relationship with.. [the management team] over the past ten years as they've established this company as a leader in the licensing industry by successfully capitalizing on trends and continuing to innovate in the evolving consumer space. They have built a best-in-class business model and grown it with flawless execution. We believe there is substantial growth still ahead for ABG." Late last year we interviewed Jay Dubiner, general counsel of ABG, to get insight into brand management at the company and the challenges when acquiring and commercialising these unique assets. As it gears for future expansion, it is safe to say that Dubiner will have plenty to work on over the coming months. (TL)
Counterfeits cause losses of $14 billion to India every year – Industry group the Authentication Solutions Providers' Association (ASPA) has claimed that counterfeits cost the Indian market almost US$14 billion a year. Counterfeiting was deemed most prevalent in the pharmaceutical industry, where the inherent dangers to consumers are the highest. It is estimated that curbing counterfeiting by 50% could save the country at least US$7 billion a year. Trade of fake products equals roughly 3.3% of all global trade. (JW)
Palm Oil Free Certification Trademark celebrates second birthday by going global – The Palm Oil Free Certification Trademark Programme (POFCAP) launched their Palm Oil Free certification two years ago on 19 August 2017 to coincide with International Orangutan Day. The certification trademark has grown to be used by 1,088 products across 10 countries in four continents. The certification allows consumers to reliably avoid palm oil products due to dietary or environmental ethical reasons. Among the products displaying the certification include vegetable oil manufacturer MSM Milling, vitamin brand Viridian Nutrition, skincare brand Amaranthine, and many more. POFCAP distributes 100% of its profits to partner NGOs working to protect rainforests. (JW)
Heinz rebrands sauce in UK to avoid trademark troubles – Heinz has rebranded its ketchup and mayonnaise hybrid sauce ahead of its launch in the UK. The name "Mayochup" – which Heinz uses in the United States – is already registered at the EUIPO by Finnish food company Herkkumaa Oy. Instead, the brands new signature condiment will be marketed in the UK as… "Saucy Sauce". (JW)
Legal radar:
Ugg puts the boot in against retail chains – We have written previously about Deckers Outdoor Corporation's efforts to protect its Ugg boot designs in the US – one previous spat resulting in an Australian senator protests at the company HQ with a herd of sheep in bid to drum up publicity (in the latest development in that dispute, in May, a jury in the US has found that a Sydney based business, Australian Leather, wilfully infringed a trademark registered to California company Deckers Outdoor Corporation by selling Ugg boots online to customers based in the US). In May we reported on the company launching litigation against Wal-Mart Stores and Kmart Corp, alleging that the retailers used the California-founded brand's sheepskin shoe design without permission. This week, the litigation wave continued, with Yahoo Lifestyles reporting that the company has filed suit, in the United States District Court for the Central District of California, against Target Corp and Iconix Brand Group for alleged trade dress infringement and unfair competition as well as patent infringement over the design of its Bailey Button boots. As we noted previously, such disputes will follow their legal course but the filings illustrate the importance of the company's designs – and how proactive it will be when enforcing them. (TL)
Office radar:
EUIPO reveals top online users – The EUIPO has published its ranking of its top online users in the European Union for the second quarter of 2019. The top 25 ranking includes users registered as representatives, or groups of representatives, comprising of associations, lawyers, EUIPO professionals and employee representatives. The list is headed up by Bertaux, with the top ten rounded up by Metida Law Firm Zaboliene & Partners, Al & Partners, Gevers, Barzano & Zanardo, Boehmert & Boehmert, Arpe Patentes Y Marcas, Cleanthous, Bugnion and De Arpe Tejero. (TL)
French IP office announces two-day closure – The National Institute of Industrial Property in France (INPI) has announced it will be closed later this week, on August 15 and 16. For rights holders with impending deadlines on those dates, the INPI confirmed that – in accordance with the Code of Intellectual Property – deadlines are postponed until the following Monday, August 19. (TJL)
Australian IPO seeks GI submissions – Following the Australian government launching negotiations for a comprehensive trade agreement with the European Union, IP Australia has launched a campaign seeking submissions in relation to geographical indications. Specifically, as part of the negotiations, the EU is asking for Australia to protect a list of its EU GIs. Therefore, Australia's Department of Foreign Affairs and Trade is looking for feedback from Australian industry stakeholders on any objections they have in regards to the EU GIs being protected in Australia. According to IP Australia, concerned parties have until November 13 to file an objection. (TJL)
Rospatent breaks six-month barrier – The Intellectual Property Office of Russia (Rospatent) has crossed "beyond the psychologically important border" of trademark applications reaching registration in an average of less than six months. According to a press release, the average time for considering a trademark application under the national procedure in the past seven months was 5.78 months. Head of Rospatent Grigory Ivliev heralded the achievement, saying: "The joint work of the department, federal executive bodies, the legislative branch, the regional administration and local business led to a real breakthrough. I would like for other IP objects, primarily for inventions, to work as efficiently as possible to stimulate active filing of applications. I am sure that in this case the result will be no less significant. This will strengthen Russia's position among the countries - technological leaders, ensure the introduction of innovations, and also become the basis for an increase in the quality of life." (TJL)
Media watch:
Shane 'not Justin' Bieber files for NOT JUSTIN trademark – Shane Bieber, a pitcher for the Cleveland Indians baseball team has filed a trademark registration for the term NOT JUSTIN. The move comes off the back of being mistaken for the Canadian singer with the latest release of the Topps baseball cards. (JW)
On the move:
Stanek moves to private practice – Debra J. Stanek has joined boutique law firm Fairchild Morgan Law as senior counsel. Before that, she was assistant general counsel and data protection officer for Wilton Brands, overseeing IP, marketing, and matters related to GDPR and data privacy. She has also  served as a Domain Name Panelist for the World Intellectual Property Organisation (WIPO). (TJL)
Baker Botts gets new IP chair – Robert Scheinfeld, former partner-in-charge of Baker Botts' New York office and head of the firm's New York IP section for more than 15 years, has been named co-chair of the firm's intellectual property department. He joins Dallas IP partner Bart Showalter as department co-chair, and will assume the role of sole chair on 1 January 2020. Scheinfeld was a member of the firm's executive committee from 2008 to 2014, the firm's New York IP department chair from 2003 to 2018, and the New York partner-in-charge from 2014 to 2019. His litigation and trial representations have received numerous favorable published and unpublished district court, International Trade Commission (ITC) and Federal Circuit decisions. (TL)
David Bloch joins Greenberg Traurig as shareholder – Intellectual property litigator David S. Bloch has joined Greenberg Traurig as a shareholder in its San Francisco office. Bloch comes from Winston & Strawn where he has spent 13 years as a partner in its IP practice. (JW)
And finally…
Get the inside track on brand protection online – WTR is pleased to announce that, following a sold-out debut in Chicago, its Brand Protection Online event is heading to London on 14 October. A unique forum for brand professionals to discuss solutions to the challenges that arise when protecting trademarks online and share insight on how to prioritise enforcement efforts, the event programme will cover:
Developing a state-of-the-art online brand protection strategy
 Fighting infringement on e-commerce sites
Brand protection strategies for social networks and apps
Managing the changing domain name landscape
Data privacy and GDPR: working within the rules
Delegate places at the event cost £495 (excluding VAT) but – until 6 September – a saving of £100 is available when using the following code: BPO100. To register for Brand Protection Online Europe, click here.