Star Wars hashtag controversy; Puma and Nike spar over FOOTWARE; EU geographical indications denounced – news digest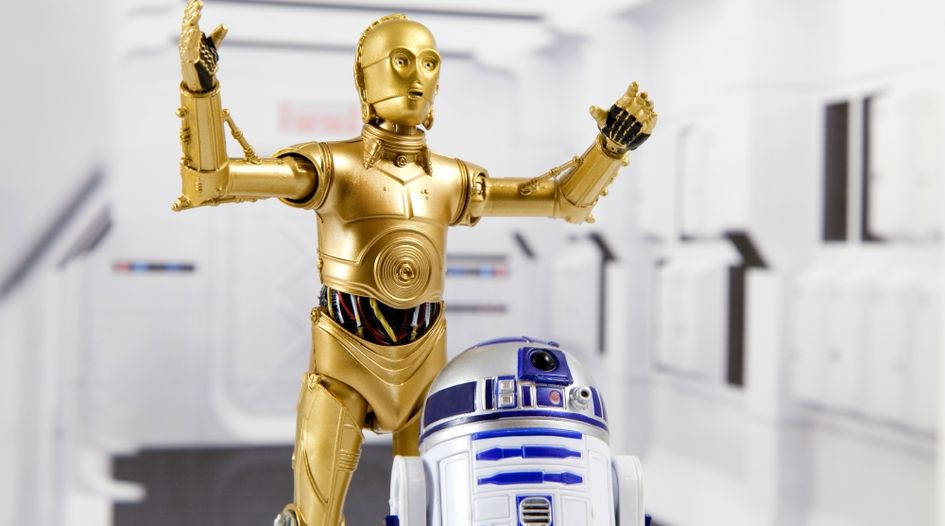 Every Tuesday and Friday, WTR presents a round-up of news, developments and insights from across the trademark sphere. In our latest edition, we look at Amazon verifying sellers using online video, fashion brands taking a community angle, exhausting the covid-19 price gougers, a joint message from the USPTO and EPO, and much more. Coverage this time from Trevor Little (TL), Bridget Diakun (BD), Jonathan Walfisz (JW) and Tim Lince (TJL).
Market radar:
Fashion brands take community angle to connect with consumers – Apparel companies have switched gears with their digital marketing strategies to better engage with consumers during the lockdown period, reports Vogue Business. Two trends have emerged which have driven these changes, the first is the jump in media consumption, and the second is a decrease in advertising spending. Major players are now focusing on ways to make consumers feel like part of a community, whether it be through online conversations, cooking tutorials, etc, with the aim of keeping followers connected to their favourite brands. Luxury brands, for example, have become very creative with how they reach their followers. Chanel, Marc Jacobs and Alexander McQueen have focused on entertainment, hosting musical performances, offering online drawing opportunities and even launching Spotify playlists. Paloma Wool went a step further and hosted a Zoom dance party for its followers, which the article states lasted until 4am with 100 guests. There has also been an uptick in viral challenges, where brands invite followers to participate, sometimes with a prize involved. While nonessential businesses have been shuttered because of the lockdowns, this situation has given fashion brands the opportunity to explore new ways to connect with consumers through social networks that were previously not seen as necessary. (BD)
Amazon verifying sellers over video chat – According to the New York Post, new merchants on Amazon will need to verify their identity by video call. The move is part of Amazon's anti-fraud programme to counter counterfeit goods on its platforms. The process, which started earlier this year, initially included in-person meetings, but that has been postponed due to the ongoing coronavirus outbreak. So far, more than 1,000 merchant applicants have taken part from countries including China, Japan, UK and the US. Whether this move is enough to get Amazon's international platforms from the USTR's notorious markets list in 2021 – following their addition in this year's report (released earlier this week) – remains to be seen. (TJL)
Disney deals with a disturbance in the Twittersphere – This week Disney, home of the Star Wars properties, suffered a short_lived Twitter backlash, being accused of trying to claim ownership of the 'MayThe4th' hashtag.  The date, a play on 'May the force (be with you)' has established itself as a cause for celebration of all things Star Wars. Earlier this week the Disney Plus streaming service asked fans to share Star Wars memories – but added that those using the hashtag were agreeing to Disney's terms and agreeing to the company using the content. This led to a rebellion amongst Twitter users, with the company later clarifying that the legal language applied ONLY to replies to this tweet using #MayThe4th and mentioning @DisneyPlus. These replies may appear in something special on May the 4th!" Speaking to the BBC, Keystone Law's Aaron Wood, noted that due to the popularity of the hashtag, it was unlikely Disney's tweet would have been seen by everyone who used it, stating: "It is a little risky and presumptuous that all tweets copying them in with the hashtag will have read their terms, or know about them." The outrage has subsided and there is balance in the force, but the incident serves as a reminder of how quickly a brand's tweet can result in uproar. (TL).
CCFN applauds US denouncing of EU GI protections – The Consortium for Common Food Names (CCFN) has praised the denouncement of the EU's geographical indication (GI) protections in an annual report. The US Trade Representative's (USTR) office and the US Department of Agriculture criticised GIs in its Special 301 Report claiming they "adversely impact access for US and other producers in the EU market and other markets". CCFN submitted testimony to the USTR to support its agenda for common food names. Commenting on the report, CCFN executive director Jaime Castaneda said: "The EU's GI campaign is as deliberate as it is destructive. By abusing GI and IP systems established  in many countries, the EU's illegitimate approach to GIs has caused immense harm to agricultural producers and manufacturers alike and undermined global intellectual property productions in its singular drive to eliminate competition from accurately labelled products from around the world." He continued: "With its denunciation of the EU's GI barriers, the USTR has sent a firm message that it is a new day in the fight against the unfair trade practices of the European Commission and the US government has a clear understanding of what's at stake for the farmers, manufacturers and consumers who produce and enjoy these well-loved common food name products." GIs have long been a source of tension between the US and the EU, with the States using its anti-GI stance as a bargaining chip in negotiations with the UK over Brexit. (JW)
Legal radar:
Time is running out for Puma to oppose Nike's 'footware' mark – In March 2019 Nike filed a trademark application with the USPTO seeking to register the term 'footware' for use in connection to sneaker-specific software, services and hardware. It would likely be applied to offerings for Nike's smart shoes, which include features like self-lacing sneakers. At the time of filing Nike had not used the mark, and still has not, but stated its intention to do so in the near future. The Oregon-based company had issues registering the mark from the outset, reports The Fashion Law. An examining attorney issued a preliminary response seeking clarity over whether 'footware' has "any significance in the software, hardware, or telecommunications trade or industry as applied to [Nike's] goods and/or services, or if such wording is a "term of art" within [Nike's] industry". Nike responded that there was no significance, nor was it a term of art, and the application went forward to the pre-registration process. In July it came to light that a third-party, Puma, had sent a letter of protest to the USPTO Commissioner taking issue with Nike's attempt to claim exclusive rights to 'footware'. Puma had provided evidence to back its challenge, alleging that the term is descriptive of technology-driven footwear designs. It further drew attention to the fact that both Nike and itself were introducing tech-enabled designs. The USPTO's examining attorney reviewed the evidence, but ultimately published the application for opposition. In February of this year Puma filed a 90-day extension request with the TTAB for additional time to investigate the claim. The company now has until May 20 to make a decision on whether it will seek a further extension, file an opposition or let the opposition period expire. (BD)
Exhausting the covid-19 price gougers –  On WTR we recently reported on lawsuits filed by 3m alleging trademark infringement, among other unlawful actions, against distributors of its N95 respirator masks. The actions focus on allegations of pric gouging and, in a client update from Kilpatrick Townsend Theodore H Davis Jr, Jennifer Fairbairn Deal and Allison Berman have warned over the use of trademark law to fight price gouging, noting that "potential plaintiffs inclined to follow 3M's lead should keep in mind that the relief it has received so far is relatively unusual in cases in which trademark owners seek to regulate downstream sales of their own goods. In particular, if a plaintiff has authorised the release of goods bearing its mark into commerce, it will have to contend with the 'exhaustion', or 'first sale', doctrine if it seeks to use trademark law as a mechanism to challenge the circumstances under which those goods are resold." As it stands, then, those seeking to use trademark law to block sales of its own goods at pandemic-related inflated prices face a serious obstacle in the form of the exhaustion doctrine. Thus, they conclude, "a mark owner wishing to follow 3M's lead therefore should give careful consideration as to how to phrase its claims so they qualify for one or more of the exceptions. A failure to do so could lead to the summary disposal of its case, whether at the pleadings stage, or on summary judgment." (TL)
Office radar:
(For more of the latest coronavirus-related updates from national IP offices, please read our dedicated article which is being continuously updated)
Joint message of support from USPTO and EPO – USPTO director Andrei Iancu and European Patent Office (EPO) president António Campinos have jointly penned a message of support to the IP community in the face of the coronavirus pandemic. The message notes the economic downturn felt worldwide but highlights the importance of innovation in the recovery of economies. It notes that the USPTO and EPO are offering assistance through time extensions and delayed deadlines, as well as flexibility on hearings. It writes: "Our Offices will spare no effort to give users the support they need. We will develop our capacity to respond to the difficult circumstances that applicants face. At a time when dissemination of knowledge is crucial, we will persevere in developing the tools that can help scientists all over the world." (JW)
In memoriam:
Dr. Michael Factor – WTR is saddened to learn of the news that Dr. Michael Factor passed away earlier this week. UK-born Factor practiced IP in Israel, where he contributed regularly to his blog 'THE IP FA©TOR'. Through his writing, he brought the Hebrew speaking world of Israeli IP to a wider audience. Over on the IPKat, bloggers Neil Wilkof and Jeremy Phillips have written touching obituaries. (JW)
Samuel L Fox – A named partner from Sterne, Kessler, Goldstein & Fox passed away on 2 April 2020, according to a post on the firm's website. Samuel L. Fox joined the firm in 1984 and became a named partner in 1990. He served as managing director of the firm for a decade before retiring in2002. According to the firm's managing director Michael B Ray: "Sam was more than a law partner—he was a mentor and a dear friend to so many of us. He was a warm, compassionate man, and he will be dearly missed. His passing leaves a hole in my heart and in the hearts of all who were lucky enough to have known him." (TJL)
Alverto de Elzaburu – The president of IP law firm Elzaburu, Alberto de Elzaburu, passed away on 10 April 2020. He led the Elzaburu law firm for 50 years, and made various significant contributions to the modernisation of Spanish trademark, design and patent law. He was also a Member of Honour of AIPPI International. Elzaburu has set up a book of condolences, adding: "All members of the Elzaburu Firm, of whom he was so proud, will remain faithful to his legacy, and we pay him a symbolic tribute in these difficult times, asking you to pray for his eternal rest." (TJL)
David Clark – Renowned Canadian IP attorney David Clark passed away on 12 April 2020. Clark was an association and then subsequently a partner at Gowling & Henderson (now Gowling WLG) for nearly 30 years. In an obituary, he is described as "a leader in the trademark profession in Canada and around the world", and served on the Board of INTA (and many of its committees). On top of that, he was described as "a true renaissance man: a chef and connoisseur of food and wine, a lover of fine art, and a flamboyant dresser", and will be "lovingly and respectfully by so many of the lawyers, agents and in-house counsel whom he mentored, many of whom have followed in his footsteps to become leaders in the trademark profession". (TJL)
John Schenk – IP law firm founder John Schenk passed away earlier this month. According to an obituary, Schenk practiced intellectual law in Cleveland and Cincinnati, before partnering with Warren Kinney to found the firm Kinney & Schenk, specialising in trademark and patent law. Over a career spanning 40 years, he served clients in industries including pharmaceutical and children's toys – one of his most memorable accomplishments being securing a patent for Play-Doh. (TJL)
On the move:
Sáenz de Santa María Abogados hires IP partner – Chilean law firm, Sáenz de Santa María Abogados, has announced the hire of Alexandra Howard who joins the firm as a partner. Howard's practice focuses on the prosecution and protection of IP rights. (BD)
Buchalter strengthens Seattle team – Buchalter has announced the hire of four attorneys to its Seattle office, two of which are members of the firm's IP group. John B Crosetto is part of the IP and litigation practice groups. He advises clients on matters relating to trademarks, trade secrets, trade dress, false advertising and unfair competition. Scott G Warner also joins the IP practice group. He handles a range of issues pertaining to IP, providing guidance on copyright, trademark, trade secret, licensing and distribution, joint ventures, employment and non-competition, publishing, e-commerce, privacy and data security, web hosting, content development and clearance, and domain disputes. This four person team formerly practiced at Foster Garvey PC. (BD)
And finally...
Have your say on coronavirus impact on trademark practice – WTR is inviting trademark professionals to share their perspective on how the ongoing covid-19 pandemic is impacting brand protection efforts. The aim of this new project is to understand the issues that have arisen in recent weeks, explore how industry is adapting and pass the findings along to help the wider trademark community. Any views that you supply will be used only to build up a general picture of the state of the market (your responses may therefore be used anonymously in editorial, but will not be attributed to you, and your information will not be used for any commercial purpose). Completion of the survey should take no more than 5 minutes. The results will be presented on the WTR platform in the next couple of weeks. The survey form is available here or can be accessed below. (TJL)