St Andrews Links Trust lands in trademark bunker; new Benelux online tools; Gleissner covid-19 donation – news digest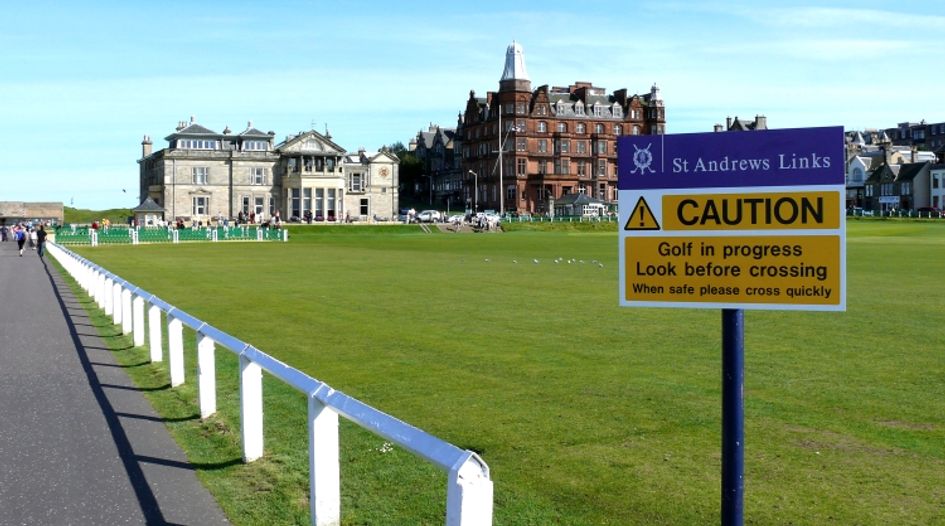 Every Tuesday and Friday, WTR presents a round-up of news, developments and insights from across the trademark sphere. In our latest edition, we look at Hard Rock International acquiring the rights to Hard Rock Hotel & Casino, the Finnish IP Office pledging shorter trademark processing times, Rospatent reporting on covid-19 applications, the KIPO president getting dunked with flowers, and much more. Coverage this time from Trevor Little (TL), Bridget Diakun (BD), Jonathan Walfisz (JW) and Tim Lince (TJL).
Market radar:
Hard Rock International acquires rights to Hard Rock Hotel & Casino – Hard Rock International (HRI) has purchased, for an undisclosed amount, all IP rights to the Hard Rock brand and related trademarks in Las Vegas from private equity firm Juniper Capital. The latter had purchased the trademarks pertaining to Hard Rock Hotel & Casino Las Vegas in 2018 from Brookfield Asset Management. This will allow HRI and its affiliates to develop, own, license, manage or operate any Hard Rock-brand casino within Clark Country, Nevada. (BD)
Consumers seek "deeper brand connections" – New data from AspireIQ claims that consumers are seeking a deeper connection with brands – with most feeling that brands don't "engage with them in a personalised way". The research found that 52% of consumers are "interested in joining the loyalty programs of their favourite brands", while 42% "want to 'give back' to brands in the form of feedback about products or services". Interestingly, though, a lower percentage (35%) state that they'd like to give that feedback on social media platforms. How can brands connect better then? One solution, according to AspireIQ founder and CEO Anand Kishore, could be the creation of active communities on their own platforms. "We've officially entered the participation economy, where consumers want to have a say in shaping the brands and products they love. Brands that recognise this, and welcome consumer voices and values into their communities, are more likely to drive loyalty and sales," concluded Kishore. (TJL)
St Andrews Links Trust hits a bogey on rights to place name – Golf course owners St Andrews Links Trust has lost the rights to the name St Andrews, the town in Scotland, reports The National. The European Union Intellectual Property Office (EUIPO) has refused a trademark application to the trust for goods including: golf equipment, jewellery, clothes and kitchen utensils, and travel, accommodation and catering services. The EUIPO said: "It is not excluded that the town St Andrews will be visited by persons who do not have the intention to play golf but want to explore the town, its landmarks and surroundings." St Andrews Links Trust have come under fire previously in WTR for their trademark practices when alcohol company Old St Andrews accused them of "weaponising" trademarks. (JW)
Legal radar:
Mattress companies lose sleep over trademark infringement case – An eighth circuit panel has heard arguments over presale confusion between mattress companies Sleep Number and Personal Comfort. Sleep Number claims that Personal Comfort's advertising through Google Search creates confusion among customers at the presale stage of mattress purchases. The district judge, however, concluded that the law was not whether consumers might be confused at the 'initial click' on the internet following a Google search and that Sleep Number needed to "establish a likelihood of actual confusion at the time of purchase". Although the case is yet to head to trial at the Eighth Circuit, Michael Risch, vice deal and professor of law at Villanova University's Charles Widger School of Law, told Court House News that: "This case follows the latest law, which primarily says that it's not enough to just say 'people went to a different website,' but instead must show that in the totality of the circumstances consumers were likely to be confused." (JW)
Office radar:
(For more of the latest coronavirus-related updates from national IP offices, please read our dedicated article which is being continuously updated)
BOIP launches improved online trademark tools – The Benelux IP Office (BOIP) has released four additional online tools that will help users with various procedures related to trademark and designs. The new digital services, which were launched on 12 May, allow both trademark and design applicants to change the representative on applications and transfer the rights of their IP. The new tools are a result of the EUIPO's European Cooperation Projects, wherein the EUIPO implements software it has developed with other national and regional IP offices of the EU. (TJL)
Finnish IPO pledges shorter trademark processing – The Finnish Patent and Registration Office (PRH) has this week pledged "much shorter processing times for trademarks" – with most applications in Finland now taking less than a month, and sometimes even a couple of weeks if there are no obstacles to registration found during examination. According to the PRH, processing times in 2017 were an average of 2.6 months. The shorter processing time was made possible, the registry added, through the streamlining of its activities and the improvement of its processing systems. (TJL)
Indecopi hosts trademark virtual workshop – The Peruvian IP Office (Indecopi) has carried out virtual training with more than 2,400 entrepreneurs and businesspeople on the benefits of trademark registration. The workshop was carried out virtually to ensure it is compliant with Peru's current social isolation and state of emergency measures related to the covid-19 outbreak. The event looked at the digital tools available for applicants on Indecopi's website as well as information on how trademarks should be taken into account when marketing and exporting products. For those interested, the workshop can be viewed in full on Facebook. (TJL)
Rospatent received dozens of covid-19 trademark applications – The Russian IP Office (Rospatent) has confirmed it has received 26 applications (to date) that directly mention terms related to the coronavirus. In a blog post, Rospatent detailed each of the applications that reference the pandemic, with a registry representative explaining that – which not addressing specific applications – many of them "have a dubious registration prospect", adding: "It is doubtful that such designations can fulfill the key function of a trademark in individualizing a product or service. For a number of products, such designations can mislead consumers about the product, its purpose and properties. And, of course, the compliance of such designations with moral standards raises questions using them as a trademark." (TJL)
KIPO president gets dunked with flowers – The president of the Korean IP Office (KIPO), Park Won-Ju, has participated in the registry's 'Flower Bucket Challenge' in an effort to help the country's flower farmers that are struggling due to the economic effects of coronavirus. The KIPO launched the Flower Bucket Challenge in February to try and assist farmers who were not able to sell flowers to students and families after graduations and entrance ceremonies, which were cancelled as part of covid-19 restrictions. The challenge involves each person nominating someone else to dunk themselves with a basket full of flowers – in Park's case, he was nominated by Korea's commissioner of cultural heritage, Chung Jae-sook, and then nominated head of the military service Jong-Hwa Moo as the next target. As part of the initiative, Park sent Chung a flower basket to dunk himself with. The campaign is a reminder of the community efforts currently being conducted by various IP registries around the world. (TJL)
Domain Radar:
'.dealer' reveals brand registrations – A release from the operators of the '.dealer' TLD, which sees its sunrise run until 1 June, has revealed that  some of the world's most recognized brands have registered domains over the past week. Amongst the latest to reserve names are Amazon, Apple, Beyoncé, Patagonia, JP Morgan Chase and BMW. "We are thrilled with the early response to '.dealer' domains among trademarks; brands like Rolex, Google, and Mercedes Benz clearly understand the value in protecting not just their own assets, but protecting their online customers as well," says Andy Macleay, co-founder of '.dealer' Domains. "As more businesses are forced to operate online, it creates more competition – legitimate and otherwise - which could lead to lost customers, missed revenue opportunities, and brand dilution. When consumers are looking for a brand or business online, they will easily find them and know it's legitimate with the '.dealer' domain." (TL)
Media Watch:
Gleissner donates big for coronavirus response in Philippines – It has been reported that entrepreneur and notorious trademark filer Michael Gleissner has donated a significant sum to two cities in the Philippines. According to MyCebu.ph, Gleissner has donated P2 million ($40,000) each to the cities of Cebu and Lapu-Lapu to help in their response to the covid-19 outbreak. On top of that, Gleissner has given his approval for a Bigfoot Entertainment property to be used as a quarantine facility in Cebu. As many readers will be aware, multi-millionaire Gleissner – who was born in Germany but has resided in the Philippines for a number of years – has filed more than 2,500 trademark applications and 5,300 domain names through the use of more than 1,100 shell companies. This has led to hundreds of trademark cases around the world, including oppositions and revocation actions – such as approximately 850 requests for revocation for non-use with the EUIPO, which lawyers at Bird & Bird recently described as "putting trademark owners in the unnecessary defendant state of having to submit costly and time-consuming proofs of use". Despite that, though, this week's donation will no doubt provide a positive boost for two cities in the Philippines in a time when collective action and community spirit are particularly important. (TJL)
On the move:
IP litigator joins Holland & Knight in Miami office – Patent attorney Daniel Barsky has left Shutts & Bowen LLP to join Holland & Knight as a partner. Barsky has broad IP experience and represents clients in transactional and litigation matters. His work on the former includes handling multinational trademark portfolios, and advising clients in joint ventures, technology development agreements, partnerships and mergers and acquisitions. Barsky can be found at the firm's Miami office. (BD)
Dominique Hussey becomes Bennett Jones' new vice chair and Toronto managing partner – Dominique Hussey leads Bennett Jones' IP litigation practice group and is co-head of the firm's innovation, technology and branding group. She has now also been appointed to the position of vice chair and Toronto managing partner. Hussey is an experienced litigator and advisor. She has particular expertise in litigation involving pharmaceutical and biotech patents, and trademarks. Hussey further counsels clients on matters pertaining to trademarks, patents, copyright, trade secrets, advertising and regulatory issues. Bennett Jones' former Toronto managing partner, Stephen Bowman, will now act as the firm's vice chair and managing partner, people and talent. (BD)
Sonia Ong returns to Wong & Partners – Sonia Ong rejoins Baker McKenzie's Malaysia member firm Wong & Partners as a partner. Her practice focuses on technology, media and telecommunications. Ong has a strong background in IP, data privacy, technology, outsourcing, advertising and media, and commercial negotiations. (BD)
McDermott strengthens its Southeastern US presence with new Atlanta office – McDermott Will & Emery has launched an office in Atlanta, kicking things off with the hire of a cybersecurity & privacy partner, three corporate partners, an IP partner and two IP counsel. Frank Layson, a new corporate partner, will serve as Atlanta managing partner. This office launch is the third location that the firm has opened in recent years, with the San Francisco office opening in 2018 and the Wilmington office in 2019. Jeffrey Toney has joined as a partner within the IP division. His practice focuses on technology litigation, with an emphasis on patent infringement, trade secret, cybersecurity and antitrust/unfair competition cases. Ralph Gaskins and Jackie Toney have been appointed to IP counsel. Gaskins is highly experienced in handling IP and commercial litigation matters involving pharmaceuticals, medical and surgical devices, biotechnology, digital imaging, communications-enabled transportation systems, electronics and internet technologies. Jackie Toney represents clients in IP litigation with a specialty in patent litigation within the biotechnology industry. (BD)
Alston & Bird announces partnership promotions – Alston & Bird has elevated 17 of its lawyers to partner, effective 1 January 2020. Hidetada James Abe and Gregory Carbo are two such attorneys to receive promotion, and both are members of the firm's IP litigation group. Abe advises clients on all aspects of IP law, focusing on patent, trade secret, trademark, and copyright disputes. He also handles patent and trademark procurement. Abe is further fluent in Japanese, and thus regularly represents Japanese companies in their IP disputes. Carbo is highly experienced in all stages of litigation, and advises companies from a variety of sectors such as automation and financial services. Abe is based in the firm's Los Angeles office, and Carbo in the New York office. (BD)
And finally...
Free-to-view anti-counterfeiting intelligence now available – WTR has published the 12th edition of Anti-counterfeiting: A Global Guide, which provides comprehensive guidance on anti-counterfeiting laws, procedures and strategies in key jurisdictions around the world. Presented in a simple, easy-to-use format, this indispensable publication analyses the anti-counterfeiting frameworks in place in 18 jurisdictions, with a regional chapter identifying wider trends and best practices in the Western Balkans. In addition, an industry insight section offers guidance on protecting brands in the digital world, as well as industry-focused pieces offering insight into anti-counterfeiting strategies and best practice in the electronics and consumables, and luxury goods sectors. To access the new edition, click here.