Squid Game streamer dilemma; Meta PCs changes name to Facebook; Walmart and Gap reunite – news digest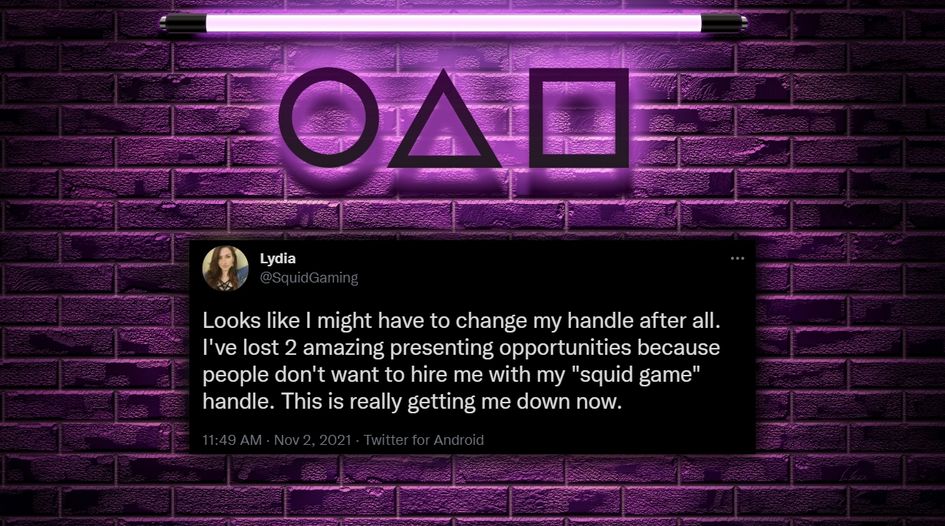 Every Tuesday and Friday, WTR presents a round-up of news, developments and insights from across the trademark sphere. In our latest round-up, we look at counterfeiting increasing by 56% in the Philippines, the Chamber of Commerce welcoming President Biden's USPTO director nomination, WIPO launching a young experts programme, and much more. Coverage this time from Victoria Arnold (VA), Bridget Diakun (BD), Tim Lince (TJL) and Trevor Little (TL).
Market radar:
Chamber of Commerce welcomes USPTO director nominee announcement – Kathu Vidal was announced as President Biden's pick for the next permanent director of the USPTO last week. The US Chamber of Commerce has welcomed the move, with executive vice president and chief policy officer Neil Bradley stating: "The US Chamber of Commerce congratulates Kathi Vidal on her nomination to serve as the next director of the United States Patent and Trademark Office. Vidal's distinguished legal expertise in patent litigation, including her work with the Patent Trial and Appeal Board, provides her with the experience and perspective to serve as USPTO Director. The USPTO plays a critically important role in supporting America's inventors, enabling innovation and creativity, and stimulating economic growth. The pandemic has shown that now, more than ever, strong leadership is needed to protect American ingenuity, and the business community looks forward to working with Vidal should her nomination be approved." (TL)
Counterfeiting and piracy reports increase 56% at IPOPHL – The IP Office of the Philippines (IPOPHL) received 134 counterfeiting and piracy complaints from rights holders and the public in the first nine months of the year, with citizens the most active IP violation reporters, the office has revealed. This is a 56% increase from the 86 recorded complaints in the same period in 2020. Counterfeiting accounted for 103 complaints and reports (77% of the total) this year. Apparel topped the list of specific products involved (75.7% of counterfeit-related complaints), followed by perfume and beauty products (7.5%), gadgets (2.8%), cigarettes (2.8%), food (2.8%), pharmaceuticals and medical products (2.8%), and home items (0.9%). Drilling down, 61% of IPOPHL reports and complaints (counterfeiting and piracy) related to suspected infringement on Facebook. Meanwhile, 14.8% related to Shopee, 6.6% to Lazada and 4.9% to Instagram. With concerned netizens accounting for 74% of all reporting activities, deputy director general Teodoro C Pascua reflected: "It's very energising to see that the general public is stepping up to prevent piracy from getting in our way toward recovery." (TL)
Counterfeit Nestlé coffee finding sparks commendation – A counterfeit version of Nestlé branded coffee which may contain foreign objects has been found on sale in Germany, reports Food Safety News (FSN). The outlet states that Nestlé Deutschland has confirmed that the counterfeit product was packaged in a glass jar that looked like an old version of Nescafé Gold and had been sold at weekly markets and smaller shops. Nestlé has contacted the authorities and told FSN: "We are shocked by this criminal activity and deeply condemn the fact that our brand has been illegally counterfeited and marketed. The quality and safety of our products is our top priority." (TL)
Squid Game streamer complains of lost deals due to Netflix show – Popular Twitch streamer Lydia Ellery, who uses the handle 'SquidGame', has complained of abuse and pressure due to the similarly named Netflix show. The streamer, who has over 42,000 followers on Twitch and is a verified content creator, posted today on Twitter: "Looks like I might have to change my handle after all. I've lost two amazing presenting opportunities because people don't want to hire me with my 'squid game' handle. This is really getting me down now. First I get sent abuse, then I get banned, now I'm losing out on work." Last month, Ellery revealed that she had been temporarily suspended on Instagram (which also uses the @squidgame handle) after the account was mass-reported by fans of the Netflix show. This is despite using the Instagram account since 2012. Obviously disappointed by losing commercial deals due to her long-used handle, the streamer added on Twitter that she would like to discuss the situation with Netflix but had "no idea" who to contact. (TJL)
Brand radar:
Walmart and Gap reunite for new furniture line – Gap Home and Walmart are strengthening their partnership with the launch of Gap Home Furniture on Walmart.com. They are also introducing the Gap Home brand to in-store shoppers for the first time through a capsule collection of bedding styles at select Walmart stores, reports License Global. Gap Home Furniture will carry more than 150 furniture items, including couches, ottomans, TV stands, headboards and rugs. The pair first collaborated on an exclusive home collection in June. (BD)
Office radar:
(For the latest coronavirus-related updates from national IP offices, please read our dedicated article, which is being continuously updated.)
WIPO launches young experts programme – WIPO has unveiled a new initiative – the Young Experts Program (YEP) – aimed at forging the next generation of IP leaders. The two-year programme is designed to expose young people with high potential, particularly from developing and least developed countries, as well as countries in transition, to the technical and policy aspects of intellectual property. The programme aims to gear them up for leadership positions within the innovation and creative ecosystems of their home countries and regions. "WIPO has pioneered the YEP to groom the next generation of IP leaders, in all member states, especially those from developing countries and least-developed countries," said WIPO Director General Daren Tang. "We are investing in young, talented persons from diverse backgrounds, giving them the exposure needed to understand IP at both a technical and strategic level, as well as nurture them in leadership and administrative skills. In this way, we are not only providing a pathway to an enriching career, but also allowing them to contribute to the future economic growth of their countries and regions." Eleven young professionals will be selected to join the two-year programme starting in January 2022. (TL)
UKIPO's first AI-powered tool sees notable improvement in application quality – The UKIPO is receiving higher quality trademark applications as a result of a new AI-powered service. The average number of trademark applications rejected due to unsuitable Nice classification terms has dropped by 14% since the pre-apply service was launched a year ago. The length of goods and services lists has also dropped by 70%, meaning that applicants are less at risk of challenge. The pre-apply tool uses AI to perform relative and some absolute grounds checks, provides guidance on choosing the right classifications of goods and services, offers an improved classification picker containing a pre-approved list of terms and provides an estimate of application costs. The service has been used over 15,000 times in the past three months, equating to around two-thirds of all applications submitted by customers who are not represented by an attorney. "It's great to see the positive impact our first AI powered tool is making. More importantly, it's a statement of intent for our future digital services," said David Holdsworth, deputy CEO and director of operations at the UKIPO. "Through our One IPO Transformation Programme, we're looking to bring the same innovative thinking to all of our customer interactions. We want to bring our digital services up to a level of quality that matches our reputation for world leading customer service." The UKIPO is calling for customers to take part in its transformation user research by contacting [email protected]. Last week the office also launched a consultation on how the copyright and patent system should deal with AI. The consultation is seeking opinions on the extent to which patents and copyright should protect inventions and creative works made by AI, as well as possible measures to make it easier to use copyright protected material in AI development. (VA)
Media Watch:
Meta PCs changes name to Facebook – Arizona-based IT company Meta PCs has reacted to Facebook's rebrand to Meta by announcing that it will be changing its name to Facebook. In a parody video of last week's Mark Zuckerberg announcement, Meta PCs founder Zack Schutt said: "To reflect who we are and what we want to build, I am proud to announce that we are now 'Facebook'." The video has been retweeted over 130 times. The company also posted a modified photo of Zuckerberg holding one of its IT products. While both posts are not designed to be taken seriously, there is one element that may be of concern to Facebook: Meta PCs' trademark filed in August 2021. Talking to The Guardian, Shutt says that the company was registered in November 2020 and was unaware of Facebook's plans to use the Meta brand name until last week. Meta PCs co-founder Joe Darger further revealed to TMZ that he would be willing to sell the trademark for $20 million. However, one academic told The Guardian that "there are loopholes that may allow Facebook to acquire the name" even if Meta PCs had filed an application. Loopholes could include Facebook filing an application in another country or through proving earlier use. An earlier report suggests that Zuckerberg's wife, Priscilla Chan, has owned the domain 'meta.com' since 2015 and the couple filed for a META trademark in the same year. It would be surprising if Facebook announced the Meta rebrand without near-100% confidence that it had the IP rights to do so. Nonetheless, the Arizona-based IT company clearly feels that a legal (or at least PR) battle may be warranted. (TJL)
Law firm radar:
Murgitroyd acquires UDL Intellectual Property – Murgitroyd is continuing its international expansion strategy with the purchase of UDL Intellectual Property. The move comes hot on the heels of acquiring one of Ireland's leading patent and trademark attorney firms, Hanna Moore + Curley. UDL is headquartered in Leeds, with offices across the United Kingdom in Bristol, Cardiff, London, Milton Keynes and Newcastle. The firm specialises in the preparation, filing and prosecution of patents and trademarks, and represents clients before the UKIPO, EUIPO and international IP offices. The deal creates one of the largest IP practices in the United Kingdom and Europe. Murgitroyd's headcount will now grow to 440. "This is a significant step forward in enhancing the scale and reach of Murgitroyd in the UK and strengthens our overall presence in Europe," said CEO Gordon Stark. "UDL has an excellent reputation for advising innovative companies and its focus on legal excellence, deep sector knowledge and strategically focused, pragmatic advice will complement Murgitroyd's client-centred approach… This advances our strategic ambitions, as we continue to grow Murgitroyd through a blend of organic development and carefully selected additions, to create the European leader in IP professional and support services. This growth will enhance our client capabilities and the associated scale enables us to support the IP needs of even the largest of businesses." (BD)
Potter Clarkson moves to larger London office – Potter Clarkson has moved to larger premises in London, citing year-on-year revenue growth of 33%, new hires and an increase in "big-ticket" client work as the reasons for the move. The London office has an IP team of 14 people, with litigation and licensing partner Mark Kramer and senior associate Mark Nichols joining this year. "Despite the ongoing challenges of the pandemic, our London operation has continued to thrive and see strong client demand across a range of disciplines," said Steve Smith, managing partner of the Potter Clarkson Group. "Since opening our doors in the capital in 2018, we have focussed on developing our full range of IP services beyond an established trademark practice. We are proud of the partner-led patent offering we now have in place, with three highly experienced attorneys in Fiona Law, Peter Finnie and Darren Mitchell, along with our growing litigation and licensing practice, led by partner Mark Kramer. Going forward we have ambitious plans to develop our UK and Nordic teams further through select hires and we expect buoyant demand for our services to continue thanks to our growing reputation as a top-tier IP firm focussed on delivering best in class advice to clients." (BD)
O'Melveny welcomes entertainment dealmaker – O'Melveny's entertainment, sports and media group has welcomed industry dealmaker and adviser Lindsay Conner as a partner in its Century City CA office. Previously head of the Manatt Phelps & Phillips entertainment group, Conner counsels rights holders and content owners, film and TV studios, and digital media and telecoms companies, as well as banks, investors and private equity sponsors. "Our Hollywood roots run deep – and so do Lindsay's," said Amy Siegel, co-head of O'Melveny's entertainment, sports and media practice. "He is a proven advisor and a respected figure in the entertainment industry. Lindsay will be an immediate and invaluable resource for our clients, who increasingly rely on us to help navigate fundamental shifts involving everything from strategic partnerships and content distribution to the emergence of new technologies and new global players." (VA)
Latham & Watkins announces elevations – Latham & Watkins has elected 44 associates to partnership and promoted another 39 to the role of counsel, effective 1 January 2022. Rebecca (Reba) L Rabenstein is among those elected to partnership. Based in Washington DC, Rabenstein is a member of the IP litigation practice in the litigation and trial department and focuses on IP dispute litigation and strategic counselling in the pharmaceutical, biotechnology and life sciences areas. Chicago-based Dale Chang and Bay Area-based Amit Makker are among those promoted to counsel. The pair are both members of the IP litigation practice. (TL)
And finally...
WTR's latest Special Report explores how to manage the brand balance sheet – The ability to measure and record brand value is crucial for a host of business reasons: to gain a 360-degree insight into an enterprise's worth; to measure a company's health or product offerings; to calculate licensing royalties; to determine potential reputational hits and damages in dispute scenarios; to underpin M&A decision making. The list goes on. WTR's latest Special Report takes a deep dive into brand valuation, the reporting of intangibles and strategic best practice for brand leaders. As well as tracking recent developments in the industry and presenting a guide to the fundamentals of valuation practice, we focus in on key trends, the companies that own the most valuable brands and their financial performance. In addition, we present a rundown of the most valuable brand acquisitions since 2000. WTR subscribers can access "Managing the brand balance sheet" here.