Spongebob trademark lawsuit; 50 Cent mocks Rémy Martin infringement claims; Sony buys Crunchyroll – news digest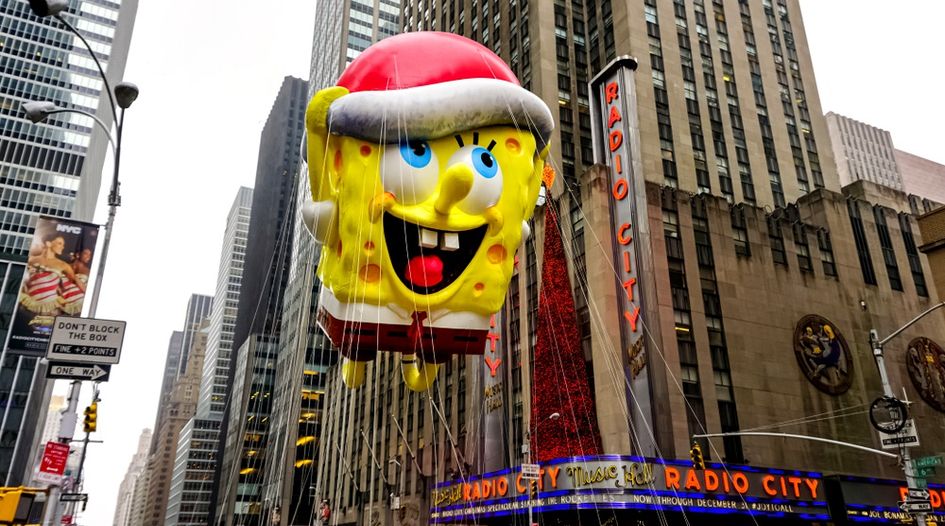 Every Tuesday and Friday, WTR presents a round-up of news, developments and insights from across the trademark sphere. In our latest round-up, we look at Clubhouse settling a dispute with a sports networking site, how chatbots can "boost brands", Ford pushing back against General Motors, and much more. Coverage this time from Victoria Arnold (VA), Bridget Diakun (BD) and Tim Lince (TJL).
Market radar:
Chatbots can "boost brands", research finds – A new study from tech company Tidio has found that consumers can become more attached to a brand if it has an effective chatbot. The study delved into how consumers interact with chatbots – a tool used by countless brands (big and small) on their websites – and found that 22% of respondents were "put off by too robotic chatbots", while 16% did not like bots that were "too human-like". Nearly half closed a chat window or tab when a chatbot gave them two repetitive answers. However, 53% of consumers "build positive associations around brands whose bots use quick-witted comebacks" for both relevant and unrelated questions. "To design a brand mascot you need to choose its personality, think of its appearance, poses, reactions, and so on," a Tidio representative explained. "If a brand mascot can be brought to life through a chatbot, it can equally help increase brand recall. Nowadays, there's more than the technology to consider when creating a chatbot. If your bot's personality has a consistent tone of voice as your brand, it can produce the best results for your company." (TJL)
Brand radar:
Sony closes Crunchyroll deal – Sony's Funimation Global Group (a partnership between Sony Pictures Entertainment and Sony Music Entertainment Japan) has completed its acquisition of Crunchyroll from AT&T, reports License Global. Crunchyroll is an anime direct-to-consumer service, which also offers mobile games, manga, events merchandise and distribution to users. "We are very excited to welcome Crunchyroll to the Sony Group," said Kenichiro Yoshida, chair, president and CEO of Sony Group Corporation. "Anime is a rapidly growing medium that enthralls and inspires emotion among audiences around the globe. The alignment of Crunchyroll and Funimation will enable us to get even closer to the creators and fans who are the heart of the anime community. We look forward to delivering even more outstanding entertainment that fills the world with emotion through anime." The deal was originally announced in December 2020 and closed at $1.175 billion. (BD)
MGM to cash in on Legally Blonde anniversary – MGM is looking to celebrate the 21stanniversary of Legally Blonde with a number of licensing deals. The company is seeking out licensees in the United States, Europe, Brazil, Mexico and Chile, reports License Global. "Legally Blonde continues to inspire fans around the world with its positive messages and confident characters and has led to some incredible pop culture partnerships and products over the years," said Robert Marick, executive vice president, global consumer products and experience at MGM. "We are thrilled to celebrate the 21st anniversary of the iconic film in 2022 and bring our dedicated fans new and exciting merchandise to honour the milestone." Partnerships have been established with Jerry Leigh of California, Park Agencies, Petic BRands, Sport Zone SA and GNCO Global Company Limited for apparel lines, while Olympia Le Tan and Solent Brands Limited will be developing accessories. Collectibles and live events are currently being covered by Funko, PlaySide Studio and TCG Entertainment. (BD)
Legal radar:
Spongebob trademark lawsuit brews in Houston – Nickelodeon parent company Viacom has filed a lawsuit against a Houston pop-up bar accused of trademark infringement over its alleged Spongebob Squarepants theme. The Rusty Krab pop-up opened earlier in 2021 and claims on its website to be for "true SpongeBob fans". However, the bar appears to be attempting to "circumvent copyright laws" with "sideways references" to the popular cartoon show, according to Houston Eater. "Rusty Krab is of course a reference to 'Krusty Krab', the fictional fast food restaurant on the show," it notes. "Instead of 'Squidward', the Rusty Krab's dour cashier is named 'Octoword', 'Patrick Star' is referred to as 'Pinky', and 'Spongebob' himself is known instead as 'The Big Sponge'." But such changes are "not enough" to distinguish the bar as a "separate entity" from the TV show, argues Viacom, accusing it of both trademark infringement and cybersquatting due to the use of 'rusty crab' in its domain name. The lawsuit was filed on 11 August after a cease and desist letter was sent to the bar's owner, Pixi Universal, on 25 May. (TJL)
Ford counterattack takes GM "cruise" dispute up a gear – Ford has pushed back in its dispute with General Motors (GM) over its use of the term "Blue Cruise" for an automated driving system by requesting that the USPTO rescind GM's CRUISE and SUPER CRUISE trademarks. Last month, GM filed suit against Ford in a California district court claiming that Ford's use of the name Blue Cruise constituted trademark infringement and unfair competition. Last week Ford responded: "Any number of companies use the word 'cruise' in connection with driver assist technology… To defend itself, Ford has no choice but to ask the US Patent and Trademark Office to rescind both of GM's 'Cruise' and 'Super Cruise' trademark registrations that should have never been registered in the first place." The legal battle now turns on whether 'cruise' is a generic term for technology that enables hands-free driving. Among the examples cited, Ford pinpointed Mack Trucks' PREDICTIVE CRUISE, Hyundai's SMART CRUISE CONTROL and ZF Friedrichshafen's AUTOCRUISE. (VA)
50 Cent laughs off cognac trade dress infringement claims – French distiller Rémy Martin is suing rapper Curtis Jackson (aka, "50 Cent")'s company Sire Spirits on the grounds that its Branson cognac infringes Rémy Martin's trade dress and design patent rights in a jewel-shaped glass cognac bottle, reports Reuters. The complaint describes the Branson bottle as "nearly indistinguishable" from Rémy Martin's own XO cognac bottle design and a "blatant attempt" to trade off the goodwill associated with its popular product. In response, 50 Cent has taken to social media to poke fun at the cognac company by posting on Instagram: "They are afraid of me already… Branson Cognac is the new wave. REMY is #2 Behind Henny and worried about Branson Smh i'm just getting started." The suit is the latest action from Rémy Martin, whose subsidiary Cointreau Corp brought infringement claims against Canadian cannabis company Canopy Growth over its use of QUATREAU for cannabidiol-infused sparkling water in the same court last month. (VA)
Clubhouse settles dispute with sports networking site – In May we reported that invitation-only social media app Clubhouse was being sued by Arizona sports networking site SBS Consulting Group for infringement of its trademark THECLUBHOUSE. The two companies have now settled the dispute, filing a joint notice in the US District Court for the District of Arizona last week, according to Insider. The settlement terms are undisclosed, but SBS Consulting stated that it was an amicable resolution, under which the parties have agreed to bear their own costs. (VA)
Office radar:
(For the latest coronavirus-related updates from national IP offices, please read our dedicated article, which is being continuously updated.)
Law firm radar:
Eight partners depart White & Case for Allen & Overy – A team of eight partners has left White & Case's technology practice to join Allen & Overy. The team comprises Noah Brumfield, Adam Chernichaw, Shamita Etienne-Cummings, Eric Lancaster, Daren Orzechowski, David Tennant, Alex Toum and Bijal Vakil. Vakil and Orzechowski will become global co-heads of the Allen & Overy technology practice. Senior partner Wim Dejonghe commented: "All businesses are technology businesses now. Our clients have been asking us when we will have a presence in Silicon Valley and now we are adding an offering that will grow to serve as the firm's center of excellence in a range of technology areas. This is truly a top team and integrating them into our existing practice will be game-changing for us, not just in the US, but in our capabilities to serve clients in the key markets of Europe and Asia as well." The team focuses on technology disputes and transactions, and advises clients on patent litigation, IP matters and antitrust and tech-focused transactions. All partners will continue to practise from their current locations in Silicon Valley, San Francisco, New York and Washington DC. Allen & Overy is due to open two new offices in Silicon Valley and San Francisco to support the expanded team and offerings. (BD)
Tiang & Partners appoints new IP team lead – Chiang Ling Li has joined Tiang & Partners to lead the firm's IP practice. Li has over 25 years' experience advising clients on litigation and transaction matters involving patents, trade secrets, copyright, unfair competition, 3D marks and trademarks. She previously practised at Jones Day. Commenting on the appointment, Michelle Taylor, partner at Tiang & Partners and a member of PwC's global legal leadership team, said: "We are thrilled to have Chiang to join us to build our IP practice. Her deep IP experience, market reputation and unparalleled expertise in the life sciences and healthcare sectors will significantly boost our legal capabilities and support our strategic growth in Greater China." (BD)
And finally...
WTR events announced for Europe and the United States – WTR is pleased to announce that it will be hosting a series of one-day events in London, San Francisco, Chicago and New York this December. WTR Live: The Future of Trademark Management and Brand Protection will facilitate discussion, benchmarking and the sharing of best practice around key topic areas and challenges facing brand leaders. Crucially, it will offer a glimpse into what industry leaders expect the future of trademark practice to look like. Registration is free to in-house brand professionals. Spaces are limited and should we be unable to host the event, registration fees will be fully refundable. While on site, we will be adopting the All Secure Standard to ensure that all attendees can continue to do business effectively and network with their peers safely. For full details, and to reserve a place, see the official event page.