Spider-Man comic trademark battle; UKIPO denies New Zealand manuka honey GI; CIPO backlog appears to stabilise – news digest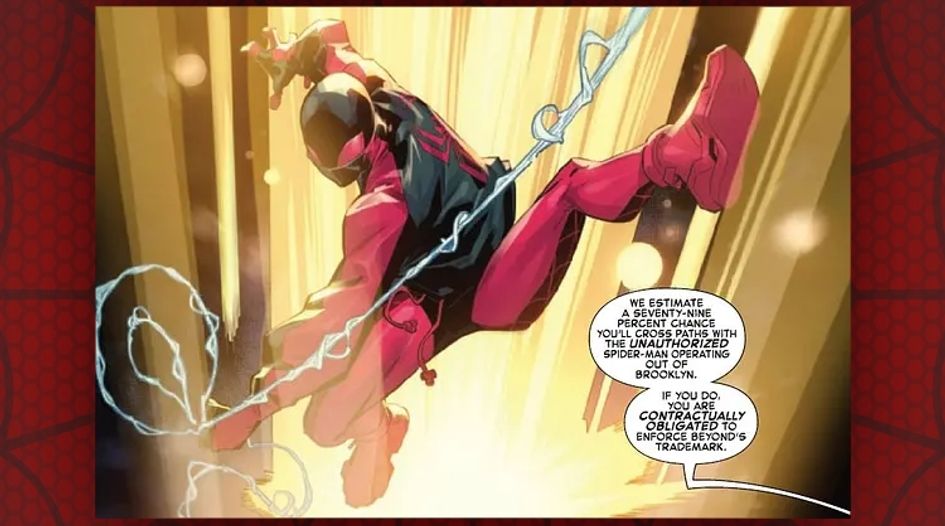 Every Tuesday and Friday, WTR presents a round-up of news, developments and insights from across the trademark sphere. In our latest round-up, we look at WIPO launching a new global awards programme, Cincinnati Customs and Border Protection officers seizing fake jewellery and scarves, the Anti-phishing Working Group and EBRAND teaming up, and much more. Coverage this time from Victoria Arnold (VA), Bridget Diakun (BD), Tim Lince (TJL) and Trevor Little (TL). 
Market radar: 
Cincinnati CBP officers seize fake jewellery and scarves – On 30 November US Customs and Border Protection (CBP) officers in Cincinnati seized a shipment containing counterfeit designer jewellery and scarves. The authorities state that the fake goods would have been worth a total of $3.09 million had they been genuine. The haul came after CBP officers inspected a shipment from China en route to a private residence in Flushing, New York and found 1,830 scarves, bracelets, rings and earrings from brands including Louis Vuitton, Gucci, Cartier, Hermes, Versace and Chanel. Officers suspected that the items were fake based on the packaging and the poor quality of the material. All the items were determined to be counterfeit by CBP's Centers for Excellence and Expertise. "As the holiday is approaching, I urge consumers to purchase their gifts from legitimate retailers and websites," said Cincinnati port director Richard Gillespie. "Counterfeit goods impact our economic success in a negative way, and purchasing these items fund criminal networks. Our officers in Cincinnati work around the clock to intercept and stop illegal shipments like this one daily." (TL)
Willis Towers Watson welcomes back IP leader – Global advisory, broking and solutions company Willis Towers Watson has announced the appointment of Kim Cauthorn as head of the IP practice within its risk and broking segment. Cauthorn will be responsible for overseeing intellectual property's consulting and brokerage capabilities, including the overall growth strategy for the practice. WTR spoke to Cauthorn in April 2020, when she reflected on trademark insurance and the assessment of risk and exposure. Three months later she left Willis Towers Watson to become chief operating officer at PIUS Limited. She now returns to Willis, where she will report to Sara Benolken, who stated: "Kim has in-depth knowledge of our business, resources and talent, and we're pleased to welcome her back to our team. We're confident that she will help us deliver best-in-class risk management and broking solutions to clients across our business." (TL)
APWG and EBRAND team up – Online brand protection company EBRAND has joined industry coalition the Anti-phishing Working Group (APWG), enabling it to leverage APWG's cybercrime data resources in the development of counter-cybercrime technologies. "We believe that cyber threats like phishing can only be fought together as an industry. APWG is the right partner for this with the eCrime eXchange (eCX) platform," said Lutz Berneke, CEO of EBRAND. "With the APWG eCX feed completing our diverse intelligence sources, we will improve our products' detection, analysis, and takedown of malicious actors and scams." APWG Secretary General Peter Cassidy added: "We look forward to EBRAND's success, using APWG's data for protecting brands that customers trust. APWG's service to industry is an honour – but there is extra pleasure in witnessing new ideas and approaches being deployed against the scourge of cybercrime." (TL)
Brand radar:
Spread Group expands Warner Bros relationship – Spread Group and Warner Bros consumer products have announced a new Game of Thrones-inspired print-on-demand collection. The collection will include apparel, accessories and homeware, among other things. "We are very excited to expand our strategic partnership with Warner Bros consumer products," said Sven Burscher, head of licensing at Spread Group. "We can now offer Game of Thrones fans an appealing product range with a level of customisation, which increases their affinity with the series, whilst retaining control of the brand image. As no product is printed until it's ordered, Spread Group can offer a greater range meaning fans can always find the size they need, unlike in store." This is the second major announcement that Spread Group has made this month, having also entered a worldwide licensing deal with ZAG for Miraculous Tales of Ladybug and Cat Noir. (BD)
Legal radar:
UKIPO denies New Zealand manuka honey GI – The UK Intellectual Property Office (UKIPO) has rejected New Zealand's bid to register 'manuka honey' as a geographical indication (GI) in a decision that has been warmly welcomed by Australian producers. The UKIPO found that, despite being a Mãori word, 'manuka' had entered the English language as a descriptive term and did not reflect an understanding that manuka honey originates exclusively from New Zealand. "There is evidence from dictionaries, the FSA (Food Standards Agency) project and from press articles that all suggest that the public understanding of the term in the UK is that manuka describes honey from New Zealand and other geographical locations, in particular, Australia," the office stated. The Mānuka Charitable Trust said that it was "disappointed" by the decision. "This is an Indigenous rights issue and is out of step with existing Indigenous IP frameworks. Manuka is our Māori reo [language] and a precious taonga [treasure] that we must honour and protect," said Pita Tipene, chair of the trust. "All countries have their own unique honeys and the use of names that are specific to indigenous honeys is respectful and should be encouraged. This is key to maintaining value for consumers and producers across the world… We remain strongly of the view that it is misleading to consumers for honey producers outside Aotearoa New Zealand to claim the name manuka honey when the plant the nectar came from did not grow in Aotearoa." The Australian Manuka Honey Association was however "delighted" by the decision. "The term manuka has been used in Australia since the 1800s and the Australian industry has invested significantly for decades in manuka honey science, research and marketing… It would be deeply unfair – and financially devastating – to deny that reality," said association chair Paul Callander. Manuka honey is one of New Zealand's biggest exports and is worth hundreds of millions of dollars a year. However, globally, the market is forecast to be worth $1.27 billion by 2027. New Zealand manufacturers will be considering their next step as Australian producers in particular breathe a sigh of relief that this lucrative market remains open to them. (VA)
Office radar:
(For the latest coronavirus-related updates from national IP offices, please read our dedicated article, which is being continuously updated.)
WIPO launches new global awards programme – WIPO has unveiled a new global awards programme designed to recognise enterprises and individuals using intellectual property to make a positive impact at home and beyond their own borders. The first WIPO Global Awards will be granted in July 2022 to five SMEs. In future years the category of awardees will be followed by other groups, such as women and youth. "WIPO will continue to find ways to bring the benefits of intellectual property to the grassroots level, and for enterprises and entrepreneurs to tap on the power of intellectual property to help their ideas become reality," explained WIPO Director General Daren Tang. "More broadly, support for such enterprises will also help job creation, business growth and economic development." Reflecting on the 2022 category, he expanded: "SMEs are the largest business sector in many countries, and a vibrant and innovative SME sector is critical to future economic growth. At the same time, many SMEs that innovate are unaware how intellectual property can help them take their ideas to market. Through the WIPO Global Awards, we aim to recognise SMEs that are using intellectual property to make a difference in the world, and can serve as a role model and inspiration to other entrepreneurs and SMEs." Any SME from any of WIPO's 193 member states may self-nominate for the award. The deadline to nominate is 4 March 2022. The winners will receive a personalised mentorship programme to help them use their intellectual property for business growth, as well as other forms of support and sponsorship that will facilitate their access to funding and business growth. (TL)
CIPO backlog shows signs of stabilisation – The backlog of unexamined trademarks applications at the Canadian Intellectual Property Office (CIPO) appears to have stabilised. The number of unexamined applications has hovered around the 180,000 mark for the past seven weeks – although it is still creeping up, according to data analysis by Blake R Wiggs at Canadian Trademark Intelligence. Whether this will last or could even mark a turning point remains to be seen. But the data suggests that efforts by the office to reduce examination time is paying off. In May CIPO introduced a series of measures to improve timeliness in issuing trademark rights, including triaging applications where goods and services have been selected from a pre-approved list and expanding the number of pre-approved goods and services in the Goods and Services Manual. Since then, the office has seen a 120% increase in first office actions issued and a 40% increase in approvals (over 21,000 in the year to date). As of 26 November, 15,601 entries have been added to the Goods and Services Manual. CIPO has also launched a new hiring campaign, through which 79 trademark examiners have been hired with a plan to hire additional staff over the next two years. "In the coming months, CIPO will implement further measures with the aim of significantly reducing the backlog of applications requiring an assessment from the Office," a spokesperson told WTR. There is still some way to go though. As of 13 December, the backlog includes applications filed up to 40 months ago (ie, August 2018). What is more, applications are on the rise – filings for the 2020-2021 fiscal year are estimated to have increased 20% on 2019-2020 levels. But CIPO seems to be doing all that it can to address this. (VA)
Domain Radar:
Call for ICANN leadership position applications – The ICANN nominating committee is inviting applications for key leadership positions within its supporting organisations and advisory committees, the ICANN board of directors and the public technical identifiers board of directors. "Selected individuals will have a unique opportunity to work with accomplished colleagues from around the globe to help shape the Internet's technical coordination and policy development," the committee states. The deadline to submit applications is 11 March 2022. (TL)
Media Watch:
Miles Morales denied use of Spider-Man monicker in Marvel universe – A major plot line in the latest issue of Marvel comic series Amazing Spider-Man focuses on Peter Parker's Spider-Man replacement, Ben Reilly, being forced to enforce the SPIDER-MAN trademark and setting up battle with 'unauthorised Spider-Man' Miles Morales. According to ScreenRant, which recaps the latest issue, Reilly is able to take on the Spider-Man role because he is financed by the Beyond Corporation. However, due to the money involved, the company sees Spider-Man as a valuable "brand" as well as a superhero, and tells Reilly that "he's contractually obligated to enforce the Spider-Man trademark" (click for a screenshot), meaning that he needs to "tell other heroes to stop using the moniker". In what is almost definitely an unprecedented plot occurrence in a Marvel comic book, Morales is sent a trademark cease and desist letter (screenshot) and asked to consider "a rebrand" (with suggested names including 'Striker' or 'Stinger'). The issue ends with the ultimate cliffhanger for trademark nerds – Morales refusing to drop the name. "Readers will soon find out how far the corporation is really willing to go to enforce the trademark after Reilly likely struggles to convince Miles in their upcoming confrontation," ScreenRant notes. "Spider-Man will do his best to make sure Miles Morales drops his heroic name when Amazing Spider-Man #81 comes to comic book stores on Wednesday." With the festive holidays fast approaching, WTR readers who enjoy comic books should check out the latest Spider-Man series – or perhaps it is a perfect gift to teach the importance of trademark enforcement. (TJL)
Law firm radar: 
Entertainment IP veteran joins Moses & Singer – Moses & Singer has announced the arrival of Kenneth M Kaufman as senior counsel in its IP, internet and technology, and entertainment and media practices. Kaufman brings more than 40 years' experience as outside counsel and in-house general counsel in the entertainment and communications industries, and has taught copyright and music law at Yale and George Washington University law schools. "Ken's extensive experience in copyright, entertainment and technology law is an ideal complement to our IP, tech and entertainment groups," said Dean Swagert, managing partner of the firm. "Our clients will benefit from his impressive ability to negotiate complex transactions and analyze and resolve cutting-edge issues." (TL)
Locke Lord appoints new chief D&I officer – Kimberly Hulsey has joined Locke Lord as chief diversity and inclusion (D&I) officer, succeeding retired senior partner Paulette Brown. Hulsey – who joins from Major, Lindsey & Africa – will work closely with Locke Lord's executive and D&I committees, leveraging her talent acquisition, HR management, external affairs and in-house legal experience to further the firm's commitment to recruit, retain, develop and promote diverse talent at all levels. (TL)
And finally... 
WTR Special Report explores how to manage the brand balance sheet – The ability to measure and record brand value is crucial for a host of business reasons: to gain a 360-degree insight into an enterprise's worth; to measure a company's health or product offerings; to calculate licensing royalties; to determine potential reputational hits and damages in dispute scenarios; to underpin M&A decision making. The list goes on. WTR's most recent Special Report takes a deep dive into brand valuation, the reporting of intangibles and strategic best practice for brand leaders. As well as tracking recent developments in the industry and presenting a guide to the fundamentals of valuation practice, we focus in on key trends, the companies that own the most valuable brands and their financial performance. In addition, we present a rundown of the most valuable brand acquisitions since 2000. WTR subscribers can access "Managing the brand balance sheet" here.