Seven things we learnt from new USPTO director Kathi Vidal's INTA keynote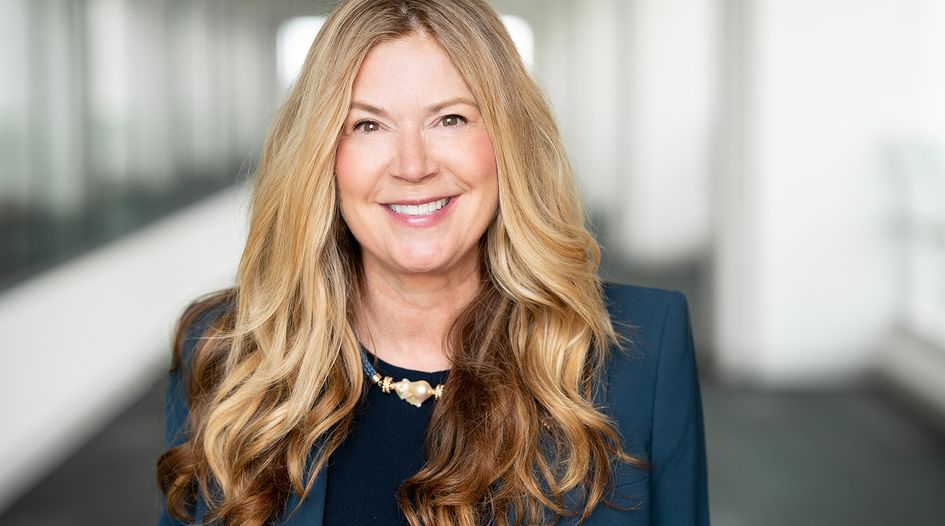 USPTO director Kathi Vidal delivers keynote at INTA Annual Meeting
Expands on effort to tackle pendency and ongoing trademark scams
States administration believes in strong IP, advocates for harmonisation
Three weeks into her role as USPTO director, Kathi Vidal made an appearance at the INTA Annual Meeting+ this week to provide an update on trademark operations. Accompanied by commissioner for trademarks David Gooder, her capsule keynote and the subsequent Q&A covered a lot of ground, including efforts to tackle pendency, anti-scam activities and a review of operations.
Taking to the podium, she revealed that – while she has engaged in some trademark-related work in the past – this was her first time at the INTA Annual Meeting. With the association in DC for the week, she had connected with its leadership on a range of issues. Below we present seven key learnings:
Increasing access to the IP system is a key priority – Vidal started her keynote by thanking INTA for running its TTAB Pro Bono Clearinghouse initiative. Such programmes are critically important, she noted: "We need to make sure that everybody has access to our IP system. And this is something that as an administration we're focused on. We want to incentivise more innovation, for more people, and for under-served communities. And we want to bring that innovation to impact." To achieve this, efforts need to be scaled, she said. The USPTO has a series of programmes and in her first week Vidal wrote to them to engage in discussions about the current barriers to the IP system and how to provide more people with access to the innovation system.
You need to combat counterfeits by meeting people where they are – Access to the IP system is important, but the resulting innovation also needs protection.  This includes tackling the scourge of counterfeits – both supply and demand – Vidal noted. One audience member, an in-house professional from Chanel, raised a recent article in Thecut.com, which focused on rich women participating in a Reddit group and enthusing over Repos (reproductions). She asked whether efforts could be made to direct the IP messages to specialist channels. Vidal responded: "I love the idea of meeting people where they are. That's another thing that you're going to see us persistently pursuing. So I love the idea of thinking about, say, Harper's Bazaar. I love the idea of thinking about how we can get an ally in this - somebody who can speak up that has notoriety and fame. I've not read the article, but the fact that rich women are saying that this is cool [is a concern]. I would love to change the dialogue around that. So I will absolutely work with you on that."
Getting the 'buy authentic' message to the young is a team effort – As well as collaboration with rights holders to push the anti-counterfeiting message, the USPTO and the National Crime Prevention Council are running a proactive public service announcement (PSA) campaign aimed at the young. The central message is 'You're Smart. Buy Smart. Don't fall for fake products. Buy the brand and keep it real'. The campaign is being run across multiple channels, including social media, online advertising, interactive web content, radio ads and posters, Vidal explained. She stated: "I think we need to do more on that, and changing some of the conversation around intellectual property. We need to find ways to team with our allies – with Hollywood, with governors, with other agencies  – to make sure that we're changing the dialogue around all of this."
The administration believes in strong IP, but needs your help – Vidal sung the praises of USPTO staff, and then sought to address criticisms of the current administration. As IAM recently reported, views on the Biden administration's impact on patent holders started off overwhelmingly neutral. But negative perceptions built as the president laid out his views on issues such as the covid-19 TRIPS waiver and antitrust enforcement. However, Vidal delivered an important message: "I know there's been a lot of speculation out there but as an administration we do believe in strong IP rights. I just want to make that very clear. There are things we need to accomplish, for example, on the patent side we need to get drugs into the hands of people who need them. There's a lot of things we need to do. But the bottom line is, we want even stronger IP rights, whether it's trademarks, or it's designs, etc." Importantly, she said that the approach to strengthening intellectual property would be inclusive, with listening sessions to be facilitated: "We want any good idea. And I don't care whether you're the New York Times, whether you write a letter and have 42 people sign it, or whether you just send an [individual] email. To me, a good idea is a good idea. And we're going to listen to all of them because we want to make the system better."
Tackling the trademark surge and managing pendency is a multi-pronged effort – The USPTO received record levels of trademark filings in 2021. But so far this year, the numbers are 13% down on the same period, Vidal revealed. That said, they are up 11% on the same period in 2020 and "the enormous growth in filings has created a backlog of 544,000 unexamined classes". This has inevitably affected pendency levels, and the agency is looking at ways to tackle this, Vidal stated. For example, it recently onboarded 32 examiners, the second class to go through the office's new trademark academy. Vidal reflected: "I would say, in general, that I think hiring is important for two reasons. Not only because of pendency, but because we have really great people at the PTO, and I don't want them to feel overworked. I think they're doing great work. And I want to make sure that they're supported, and that they're producing the best quality." Technology is also being utilised, she added: "We are making progress not only through hiring more people. We've deployed new technologies to get inventory and pendency down. And we're always again, looking for good ideas, whether it's for technological solutions that can help us serve people better, or to say we need more people. Any ideas you have, and we'd love to hear them." Gooder concluded: "There is no silver bullet, and we can't just hire our way out of it. We want to find solutions that help us in the long run."
Scams need to be tackled before they even start – WTR has reported at length about scams targeting trademark applicants, and in her keynote, Vidal revealed that she had been engaged in dialogue with industry leaders about how to tackle them and ensure the integrity of the register. She expanded: "We are continually expanding the resources being deployed. For example, our special task force for inappropriate actions and activities continues to develop policies, procedures and technologies to identify and mitigate scams and unauthorised submissions. What's more, we have additional attorney investigators and other staff on board to address these issues. On the technology side, our IT staff has implemented an automated validation process to identify unacceptable domicile addresses. And on that we're actually comparing the addresses with addresses from the Postal Service's coding accuracy system. The system then automatically notifies the examining attorneys to issue a refusal if the address is deemed improper. So again, we're trying to use technology to get these mechanisms in place." The office has been particularly focused on bad actors and those seeking to circumvent the representation rules for foreign applicants, Vidal added. "We have developed an administrative process for finding and sanctioning bad actors who are submitting improper and illegal filings. I could not be more thrilled that we're doing that because every time we have rules and laws, there are always people who are going to look for opportunistic behaviour to benefit themselves." Perhaps the most significant example of this was the effort by the office to shut down Pakistan-based IT company Abtach after it targeted a swathe of possible applicants. In January the USPTO terminated over 5,000 pending trademark applications and precluded the company from submitting trademark-related documents to the trademark office. Vidal expanded: "They were violating our rules in so many ways, even sending out emails and disguising themselves as our trademark examiners – actually using the names of our examiners, I find that shocking. So I'm glad that we're on top of it. And we're going to keep trying to ferret out this type of behaviour. And actually, even after they were sanctioned, and I found this astonishing, they went out and told the victims that the reason that things were not going forward was because they need to pay more money. So we're trying to get out there to stop this action in the first place, in addition to sanctioning it."
Everything is up for review, even the approach to designs – One recurring theme in Vidal's keynote was the desire to question existing ways of doing things, in a bid to ensure that the current way really is the right way. To that end, she has been meeting with other trademark offices, stating: "It's really important that we learn from each other. I think, number one, we need to work together on the great ideas that are going to help the people in all of our countries. Number two, I believe very strongly that harmonisation is important. And consistency is important, as it helps with access. So to the extent that we can have systems that crop up across borders, it's easier for people to register or check on their IP." Tellingly, she suggested that changes could be made to the US system if the policies and processes in other countries are deemed more effective. That could have big implications for the profession. For instance, Vidal stated: "If other countries are doing something in a different way, I want to hear from them. So just as an example, I think other countries treat designs so differently. I'm not saying that if I'm looking at something, that means we're going to change it, but because so many countries are doing it differently, we need to think about what we can learn from how they're doing it. Is what we're doing the right way? Do designs belong in patents? Do they belong by themselves, or with trademarks? And what does that look like? I'm looking forward to working with other countries, learning from them and making sure that whatever we're advancing is good for the country. And that's going to be good for other countries too."