Session line-ups for WTR Connect revealed, fireside chat with WIPO director general kicks off event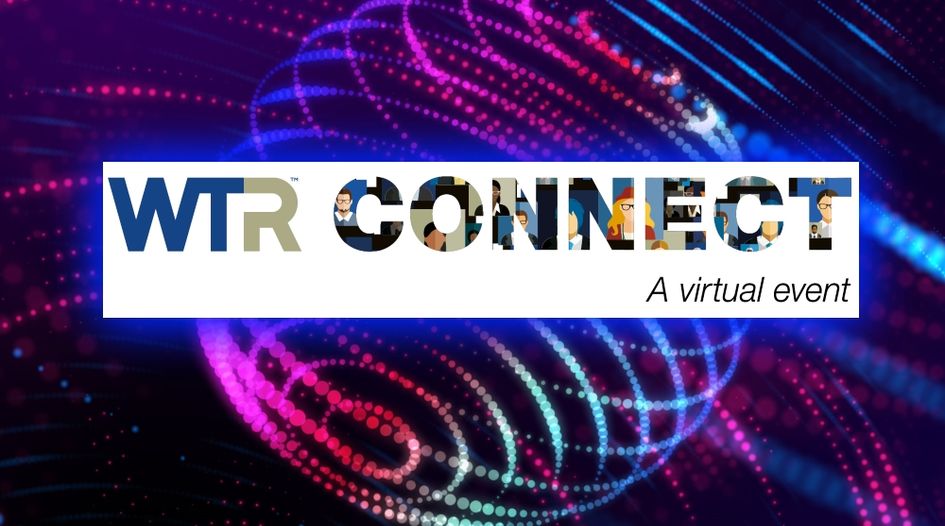 In just three weeks' time, a fireside chat with WIPO Director General Daren Tang will kick off five days of WTR Connect content. Registration is free for WTR subscribers and in-house trademark professionals, and participants can register for as many sessions as they like across the week, building their own schedule.
From 15 March, WTR Connect will present five days of strategic content for trademark and brand professionals, with a series of open discussion forums, masterclass explorations, solution rooms and closed-door boardrooms. The event will offer more than 30 interactive digital sessions, each designed to facilitate discussion, benchmarking and the sharing of best practice around key topic areas and challenges facing trademark and brand leaders.
The current keynote line-up is as follows:
Daren Tang, director general, WIPO (15 March)
Steve Francis, director, National IP Rights Coordination Centre, US Homeland Security (16 March)
Tim Moss, chief executive, comptroller general, UK Intellectual Property Office (17 March)
Svetlana Korzhin, senior IP paralegal, legal brand protection, and David Lossignol, global head, trademarks, domain names and copyright, Novartis (19 March)
We will be adding participants to the various sessions but the current session-by-session line-up (excluding closed-door boardrooms) is as follows:
Monday 15 March
The future of trademarks: lessons learned from 2020
Jennifer Chung, general counsel, Accuweather
Colette Durst, assistant chief IP counsel, chief trademark counsel, 3M
David Llewellyn, head, trademarks, Arm
Gretchen Stroud, senior associate general counsel, intellectual property, Gilead Sciences
Using AI and new technologies to cost-effectively tackle counterfeiting and illicit trade
Tiki Dare, assistant general counsel, Oracle
Helen Saunders, chief product officer, Incopro
Brian Scarpelli, senior counsel, global policy, ACT Online
Sarah Staff, programme manager, Microsoft
Marlou van de Braak, legal director, global IP and commerce, Heineken
Tuesday 16 March
Breaking out of silos
Stuart Bradshaw, global counsel, intellectual property, Nufarm
Abigail Tan, regional legal counsel, Zalora
Becky Wang, senior manager, brand protection, Asia-Pacific, SC Johnson
Giving it back: mentoring the next generation of trademark talent
Deborah Hampton, senior programme manager, trademark and copyright, The Chemours Company
Allison Leader, director, legal counsel, American Red Cross
Scott Piering, vice president, chief IP counsel, Spectrum Brands
Mike Yaghmai, director, associate general counsel and head, brands, marketing legal, Facebook
Daniel Zohny, head, intellectual property, FIFA
A global view: the 'need to know' low-down from the United States, Europe and China
Laurence Rickles, chief trademark counsel, Teva Pharmaceuticals
Chris Smith, partner, SIPS
Niall Trainor, senior director, brand protection, Entertainment One
Monique Joe, senior vice president and head, brands, content, intellectual property, NBC Universal
Wednesday 17 March
Open discussion: making the platform relationship 'win-win'
Arindom Hazarika, counsel, trademark and brand protection, Western Digital
Mick Ryan, director, brand protection cooperation, Alibaba
James Yip, manager, brand protection, Asia-Pacific, PVH
Trademark education
Christy Chen, senior counsel, intellectual property, AkzoNobel
Franklin Galman, corporate counsel, IP rights, LEGO
Maria Fe Lazarte, group trademark counsel, The Weir Group
Jitendra Sharma, unit manager, legal IP rights, MetLife
Harshitha Vasanth, manager, legal, intellectual property, OLA
Marina Yastreboff, national convenor president (NSW), AUSCL
Demonstrating trademark value within the business
Cam Gatta, head, trademarks, Microsoft
Gautam Godse, senior vice president, product, Brainbase
Frank Schöne-de la Nuez, lead counsel, trademarks, CSL Behring
Natasza Shilling, senior counsel, legal, Vodafone
Confronting misuse in domains on a finite budget
Leslie Nettleford, associate general counsel, AARP
Marc H Trachtenberg, shareholder, Greenberg Traurig
Diane Hamer, head, business, legal affairs, brand protection, BBC
Thursday 18 March
Money-making moves for Asia-Pacific
AL Mary, head, IP rights and brand protection, Aditya Birla Fashion and Retail
Lawrence Wong, director, IP enforcement, Eastman Chemical Company
This is a grey area
Dan Plane, partner, SIPS
Lily Tsen, general counsel, Amcor Flexibles Asia-Pacific
Cost-effectively protecting and enforcing brands in the global environment
Adraea Brown, assistant general counsel, trademarks, Harley-Davidson
Charlie Everitt, head, brand protection, RB
Howard Michael, shareholder and co-chair, trademark practice group, Brinks, Gilson & Lione
George Sevier, category head, IP enforcement, Dyson
Monetisation in the 'new normal': licensing and commercialisation opportunities
Christa Cole, head, brand development, enforcement, licensing, Nestlé
Joseph Conklin, senior vice president, global deputy general counsel, Coty
Greg Holtzman, director, partnership marketing and communications, Brainbase
Friday 19 March
Riding the wave: aligning brands with social and political movements
David Modzeleski, senior vice president, intellectual property and litigation, Discovery
Gloria Montaron, director, legal and intellectual property, Bioceres
Michel Rorai, lead IP counsel, Unilever
Following the money: when and how to forego takedowns and instead think big picture
Karla Aspiras, director and senior counsel, Tapestry
Fred Felman, chief marketing officer, Appdetex
LaNelle Owens, senior associate counsel, intellectual property, Walmart
Scott Minden, associate general counsel, Facebook
Lara Miller, counsel and vice president, corporate strategy, International Anti-counterfeiting Coalition
Staying ahead of online infringers despite budgetary constraints
Maral Behnam-Garcia, director, brand protection, intellectual property, Wish
Chloe Long, director, global brand protection, Capri Holdings
Måns Sjöstrand, global head, IP and brand protection, Daniel Wellington
Marc H Trachtenberg, shareholder, Greenberg Traurig
For event timings and topics, and to sign up to attend, please click here.