Scams and spam: USPTO users face epidemic of spurious communications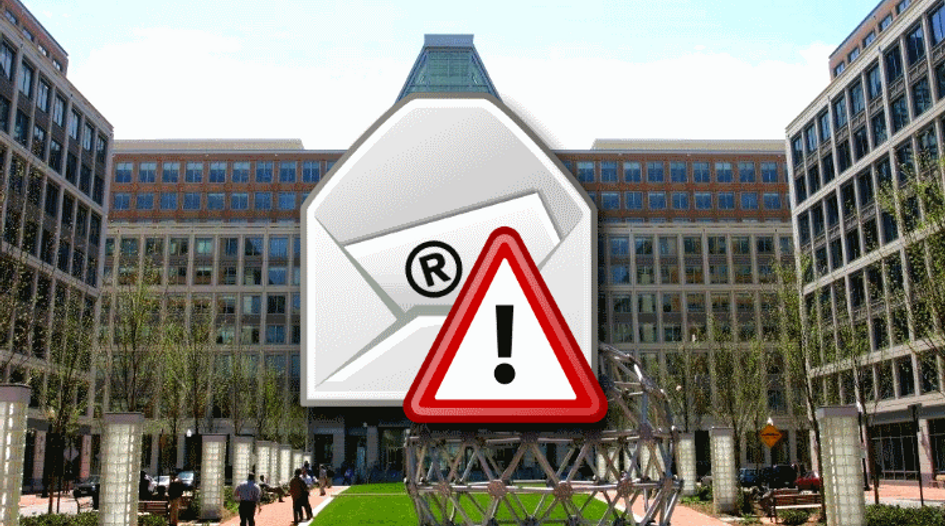 Reports of a rise in scams and spam messages to US trademark applicants
One victim claims to have lost over $30,000 from a fraudulent ad on UpWork
Legal expert holds the USPTO responsible for not taking more action
Suspicious advertising and fraudulent invoice campaigns targeting US trademark owners again appear to be a growing problem, with one victim claiming to have lost more than $30,000 after allegedly being scammed on freelance platform UpWork.
Since May 2020, WTR has reported extensively on "new kinds of solicitations" involving communications sent to US brand owners via email and text messages. At that time, there were worrying reports of users receiving emails and texts claiming to be a "USPTO Trademark Alert" from an organisation called 'Liberty Legal Firm', offering "free consultations" to help with trademark office actions. These texts were signed off by 'Cecilia Ann', with a domain (hidden using a link shortening service) directing to an online calendar. A WTR investigation found numerous questionable aspects of Liberty Legal Firm, including copied attorney information and the spurious claim that the firm "gets exclusive concessions from the government".
A month later, we reported on another campaign, this time from a firm called 'Don IP Law'. In this case, emails were sent to US trademark applications from a 'Holly Mariella' claiming to offer trademark services with a "95% success rate" and for "the lowest fees" due to "a disability" and her not having "a bricks-and-mortar office". The alarm was actually raised by Holly C Mariella, who works for the California Department of Justice and penned a letter to the USPTO to report that her details had been used improperly on a trademark application. However, evidence suggested this was not a one-person campaign, with WTR discovering an archived Don IP Law website with three names on the 'Our Team' page: 'Donna Rose', 'Matthew Kelly' and 'Holly Mariella'.
Over the past couple of weeks, WTR has received numerous reports of new marketing efforts from Don IP Law, but this time involving 'Donna Rose' and, rather than through email marketing, utilising the freelance platform UpWork. In one case, a customer claims to have recently lost "over $30,000 and no [trademark] work was executed", while another claims to have "lost a huge amount of resources and time".
At the same time, evidence suggests that text messages from Liberty Legal Firm purporting to be 'USPTO alerts' continue to be sent to trademark owners across the United States. In two messages seen by WTR, the communication claims to be a "USPTO Notification" and states that the respondent "is required to submit a trademark office action within 7 days". Once again, the message is signed off by Cecilia Ann, with a link to arrange a "free call with a lawyer".
One recent recipient of this campaign is Pamela Chestek from Chestek Legal, who tells WTR that the claims in the text messages are usually misleading – in this case, no office action was due. "I don't know whether 'Cecilia Ann' is actually doing anything wrong, other than a bit of very poor ambulance chasing," she says. "She mines publicly available information and solicits clients using that information. I don't know that she doesn't offer competent legal advice. I have my doubts. [However], I have also received paper solicitations from lawyers about my own trademark applications and I have no reason to believe that the senders aren't competent, just doing some marketing."
However, more despondent about the text campaign is Chelsie Spencer, attorney at Ritter Spencer, who confirms to WTR that she has reported the communications to the USPTO and the US Federal Trade Commission (FTC). So far, both enquiries have not received a response – although she hopes both entities will take the issue seriously. "When the text begins with the words 'USPTO Notification', it is abundantly clear the sender is attempting to fraudulently convey to the recipient that it is an official communication from the USPTO," Spencer tells us. "Unrepresented applicants can easily be duped. Additionally, contacting applicants who have an attorney of record listed is an ethics violation in numerous states."
Interestingly, Spencer claims that of another form of text message spam that appears to originate from trademark application. "I receive hundreds of spam advertisements for ghost book writers that countless trademark practitioners are receiving as well," she tells WTR. "While not directly linked to an application, they tend to come around the same time as USPTO notifications. We believe that, like with Liberty Law Firm, they are pulling our phone numbers from the USPTO records. I received 11 in one day alone and all are some form of offer for 'ghost-writing', such as 'Do you want to be a NYT's Best Seller? Click here to connect with a ghost writer' style of message."
Reports of an increase in text and email spam is not a surprise. Back in February, the USPTO was criticised for requiring all trademark applicants to provide an email address that will be publicly viewable – with concerns primarily revolving around "privacy and a potential rise in scams". At that time,  Stacy J Grossman from the Law Office of Stacy J Grossman PLLC predicted an increase in "purposefully misleading notices to trademark applicants and owners, fooling them into paying unnecessary fees".
It isn't just email addresses and phone numbers causing problems, with further reports of scam solicitation campaigns being sent by post to trademark applicants around the US. In March, attorney Erik Pelton reported on a bogus invoice from "IPS Intellectual Property Services". Recently, Chestek received a letter from the "Patent and Trademark Office" marked as "important – open immediately" in red lettering. Inside the envelope, however, is the false claim that a trademark is "pending cancellation" on 1 October 2020 – when the actual renewal date is 1 October 2022.
Such fake, misleading invoices posing as official correspondence are a common sight for rights holders – and Chestek has seen no improvement of in recent years. "I hold the USPTO responsible for these flagrant, and presumably lucrative, scams," she tells us. "I do not understand how the force of the government is not brought to bear on clear false impersonation of a government agency that undoubtedly fleeces substantial amounts of money from taxpayers. The PTO asks that we report them, which I've been doing for about 10 years, and nothing has ever been done except to list them on a webpage."
With the USPTO currently dealing with the fallout from the coronavirus pandemic, it is perhaps little surprise that scammers and spammers have seen an opportunity to pounce. However, for Chestek, the USPTO has been consistently warned that "scammers gonna scam", yet the problem persists unabated. "The USPTO is responsible for contributing to the scam solicitation and impersonation problems because of its tone deafness on privacy information, both in the rulemaking that required residential addresses that were unmasked in the database for a substantial period of time and for requiring the email addresses of clients."
For now, the USPTO urges anyone receiving suspicious or misleading communications to report them to the FTC – clarifying on its website that the agency "cannot sue or prosecute entities that defraud or attempt to defraud our applicants and registrants". For the victims that have been defrauded by misleading trademark-related communications in recent months, such a position will not be welcomed.