A royal brand bid, Bruce Lee infringement fight and a cheesy trademark decision: news digest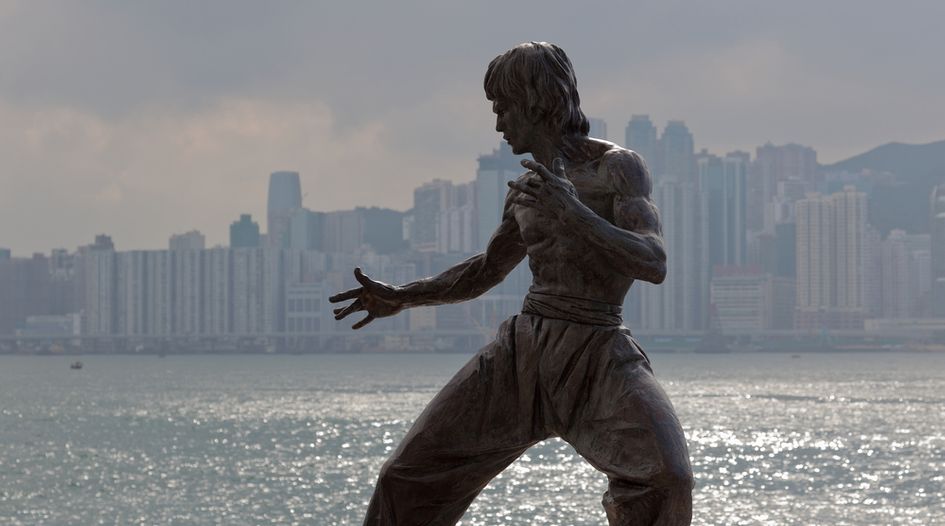 For our first news round-up of 2020 we look at a notable acquisition in the CBD industry, the uncovering of an international counterfeiting ring, an IP licensing agreement between Imagination Technologies and Apple, Israel joining the Hague system and much more. Coverage this time from Trevor Little (TL) and Jonathan Walfisz (JW).
Market radar: 
US investigation uncovers international counterfeit ring – A US Homeland Security special agent has reported on a massive international counterfeiting operation in a complaint filed in New York. The agent accuses Qing Fu Zeng, also known as 'Ray', of shipping fake Nike and Louis Vuitton footwear worth more than $472 million to the US, reports Quartz. Zeng allegedly used altered versions of real company names to get shipping paperwork past US customs agents, with the cargo then being transported to self-storage facilities in Brooklyn, Queens and Long Island, instead of their written destinations. US Customs were first alerted in 2012 when they seized a container of counterfeit sneakers in New York. Some 16 more seizures were made after this initial one before a major breakthrough came in October 2018, when an unidentified defendant pleaded guilty to federal counterfeiting charges and provided information on Ray, who was later identified as Zeng. Homeland Security then monitored Zeng's communications to intercept a 40-foot shipping container from China that claimed to contain napkins – but was actually filled with counterfeit Nike products. This led to further seizures, each following the same pattern. On 27 December, federal agents arrested Zeng as he stepped off a flight at Dulles Airport, close to Washington DC. (JW)
Dubai police reveal 2019 seizure levels – The Dubai police recorded 297 cases of counterfeiting and forgery, with a market value of approximately Dh2.5 billion in 2019, reports The Khaleej Times. The stats were obtained from the country's general department of criminal investigations, with brigadier Jamal Salem Al Jalaf, director of the criminal investigation department, stating: "More than eight specialised companies from international brands have praised the efforts of the Dubai police in combating counterfeit products and preserve their intellectual property. These companies included Apple, Louis Vuitton, Richemont, Toyota, and Reckitt Benckiser." (TL)
Imagination Technologies and Apple reach IP licensing agreement – Imagination Technologies will once again be licensing its IP to Apple after they reached a new multi-year license agreement, reports the Irish Times. Apple had used Imagination Technologies' GPUs up until 2017, but then Apple announced it would start using its own chip designs and stop licensing the IP over the following two years. At the time, this caused heavy losses to Imagination Technologies' stock, just after it had been sold to Chinese firm Canyon bridge Capital Partners for £500 million. (JW)
CBD brand acquisition announced – HeavenlyRx, a hemp-based cannabidiol (CBD) wellness company, has acquired a majority share in one of the largest US CBD companies, PureKana. "This is a hugely meaningful day for both HeavenlyRx and PureKana," stated HeavenlyRx CEO Paul Norman. "With PureKana, we have a flagship brand to accelerate the growth of our company." PureKana is a rapidly growing CBD brand with a consumer base that leans toward a young and active demographic. Its line of CBD products are derived from organically grown hemp and can be used in foods and nutritional additives. PureKana's founders Cody Alt and Jeff Yault have led the company's profitable revenue growth year after year across online and e-commerce channels. In 2020, the company anticipates a strong year of growth as the brand benefits from HeavenlyRx's strategic selling capabilities in mainstream brick and mortar retail environments. The deal is a reminder of the value deemed to reside in CBD-focused businesses. Expect more such activity in the coming 12 months. (TL)
Legal radar:
That's nacho trademark: Babybel appeal dismissed – Fromageries Bel SA's 'Babybel Cheese' 3D mark has been declared invalid again after an appeal to the UK High Court. First registered in the UK in 1997, supermarket chain Sainsbury's filed an invalidation application in October 2017. The UKIPO sided with the invalidation claim in February 2019 - ruling that the red colour of the mark had not been sufficiently graphically presented. However, it stated that the rounded sides of the cheese depicted in the mark were not the result from a generic moulding process, and ordered Babybel to pay just £200 to Sainsbury's. Babybel then appealed on the grounds that the UKIPO had erred in applying the Sieckmann criteria to a mark that is not a colour mark per se. As discussed on the IPKat, the Sieckmann judgement saw the CJEU state that a mark's representation must be 'clear, precise, self-contained, easily accessible, intelligible, durable and objective'. Babybel argued because it was not a colour mark, red was not the only essential characteristic and didn't need to be defined with greater precision. The High Court dismissed the appeal on all counts noting that the mark should still be limited to a single hue of red, consistent with the depictions in the application. (JW)
Bruce Lee's estate sues fast-food chain for infringement – Shannon Lee, Bruce Lee's daughter, is suing fast-food chain Real Kungfu, also known as Zhen Gongfu, for trademark infringement, reports the BBC. The chain, which has around 600 outlets across China, has been using an image of the actor as a trademark for 15 years, with a successful international registration in 2007 designating China, the EU and Turkey. Unfortunately for the Lee family, Chinese law only allows applications for invalidity to be filed within five years of the registration. Nevertheless, the family are suing the chain for $30 million. They will likely rely on the Law Against Unfair Competition of the People's Republic of China, explains the IPKat, which forbids the use of marks which mislead consumers into a brand having a connection with a person of 'certain influence'. (JW)
Office radar:
Israel can now be designated with the Hague System – Israel can now be designated in international design registrations using the World Intellectual Property Organisation's (WIPO) Hague System. The Israeli government deposited its instrument of accession to the Hague Agreement on 3 October 2019, which entered into force on 3 January 2020. (JW)
Cambodia experiences a modest jump in registrations – Trademark registrations in Cambodia rose slightly across the first 11 months of 2019 (compared to the previous year), reports The Phnom Penh Post. The outlet, drawing on statistics from the Ministry of Commerce's Results Review and Implementation Plan for 2020 document, notes that registrations rose by 2.13% to 3,841, up from 3,761. Drilling down into the data, 1,445 local companies and 2,396 international firms registered rights, with the ministry's IP rights director Op Rady telling the media that, while the rise in registrations was modest, the increase signals that local investors are becoming increasingly aware of intellectual property law. (TL)
Media watch:
Trademark publication indicates royal schism – The UK Intellectual Property Office (UKIPO) has published a trademark application from Meghan Markle and Prince Harry. The mark, SUSSEX ROYAL THE FOUNDATION OF THE DUKE AND DUCHESS OF SUSSEX, was originally filed on 21 June 2019, a day after the royal couple officially separated from the joint charity they shared with Prince William and Kate Middleton, reports People. The Royal Foundation was founded by William and Harry in 2009 before the name was changed to 'The Royal Foundation of The Duke and Duchess of Cambridge and The Duke and Duchess of Sussex' after the princes' respective marriages. The Royal Foundation has since dropped 'The Duke and Duchess of Sussex' from its name. On WTR we recently took an in-depth look at the Royal Family's brand - and it is clear that the need to protect this important asset is front of mind.  (JW)
Domain Radar: 
The domain name universe expansion continues – Released in December, Verisign's global domain report has revealed that the third quarter of 2019 closed with 359.8 million domain name registrations across all top-level domains (TLDs), an increase of 5.1 million domain name registrations (+1.4%) compared to the second quarter of 2019. As such, domain name registrations have grown by 17.4 million, or 5.1%, year on year. Unsurprisingly, '.com' ruled the roost, with 144 million reported domain names – with '.tk' (25.1m), '.cn' (23m), '.de' (13.4m) and '.uk' (13.3m) rounding out the top five.  Total country-code TLD (ccTLD) domain name registrations were 161.8 million at the end of the third quarter of 2019, an increase of 3.1 million domain name registrations (2%) on the second quarter and up by 12.5 million registrations (8.4%) year on year. As to popular keywords, in '.com' the top ten trending terms were, in order: Christmas, Jumbo, Diabetes, Halloween, Braces, Dorian, Orthodontics, Hurricane, Volume and Vaping. (TL)
On the move:
IPOS International announces appointment of new managing director – The Intellectual Property Office of Singapore (IPOS) has announced the appointment of Dr Ming Tan as the managing director of its new subsidiary, IPOS International, according to an IPOS press release. IPOS International was launched in August 2019 as an enterprise engagement arm of the Singapore office to help enterprises utilise IP assets. Ming will oversee all IPOS International operations and manage more than 100 IP experts. Prior to this, Ming was at the COMO Group, where she was head of stewardship. (JW)
Snell & Wilmer expand its IP practice – Denver-based firm Snell & Wilmer has welcomed four new attorneys into its Intellectual Property and Technology practice group. James L Johnson, Kent Lembke, Russell T Manning and Ross E Breyfogle have joined as counsel for the firm with a focus on patent prosecution. (JW)
Barnes & Thornburg bolsters IP practice – Barnes & Thornburg has added Patrick Gallagher as a partner in its IP department in Minneapolis. Gallagher joins the firm's expanded IP practice after the December hiring of 10 lawyers in the firm's Life Sciences practice. Gallagher boasts an array of experience in trademark and copyright issues, including trademark clearance, investigation, prosecution, client counselling, and management of client's domestic and international trademark portfolios. (TL)
Ryan Black moves to DLA Piper – Tech and IP lawyer Ryan Black has joined DLA Piper (Canada) as a partner in its Vancouver office. Previously at McMillan, Black specialises in internet technologies, ecommerce, video games and esports. (JW)
And finally... 
Managing Trademark Assets returns to London – Following the success of last year's event, WTR's  Managing Trademark Assets Europe is back in London on 28 January 2020. The event provides an opportunity for attendees to hear best practice and insight from leading in-house counsel from the world's biggest brands as they discuss their approaches to critical areas, as well as share their own insights with peers and colleagues. For the upcoming event we are also increasing the interactive nature of the programme, introducing informal, small-group discussions on dispute resolution scenarios - allowing participants to workshop possible responses with their peers and colleagues. Among the other areas to be explored are budget management, dispute negotiation tactics, best practices around diversity and team building, and how to fight counterfeits on a finite budget. To sign up to attend Managing Trademark Assets Europe, click here. (TL)