Romag v Fossil: no intent required in trademark disputes to secure profits awards, US Supreme Court rules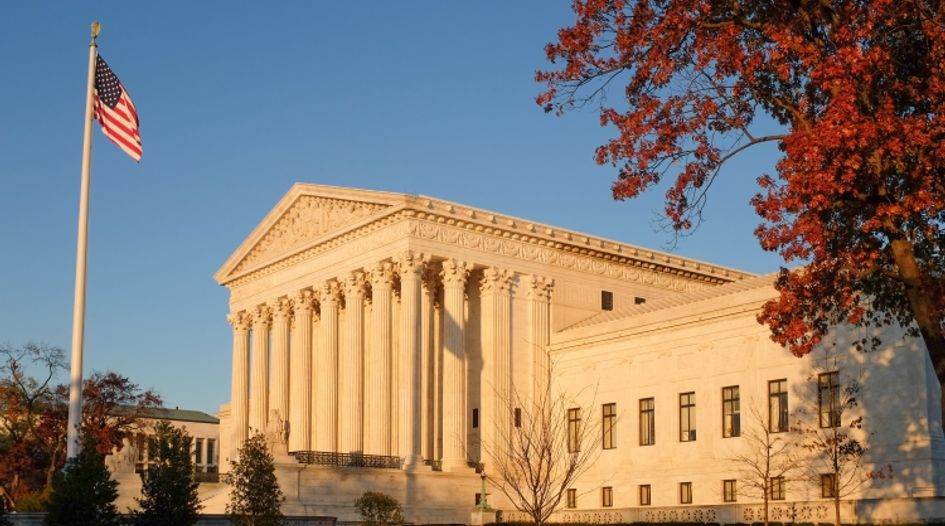 US Supreme Court rules on subject of profits awards in Romag Fasteners v Fossil
In unanimous decision, Supreme Court decides intent not required for profits awards
Ruling is positive for plaintiffs in trademark disputes, increases risks for defendants
The US Supreme Court has issued a unanimous decision in Romag Fasteners v Fossil, concluding that plaintiffs in trademark lawsuits can secure an award of lost profits without having shown wilful intent – a factor described by the court as an "inflexible precondition" for such awards.
Trademark owners have been eagerly awaiting the ruling in Romag Fasteners v Fossil as it focuses on the standard for awarding an important form of monetary relief often sought in trademark infringement cases. As a reminder, the case hinges on water fastener supplier Romag Fasteners seeking to restore a $6.7 million jury award of profits from Fossil after it was found that the fashion brand was manufacturing and selling handbags containing counterfeit snap fasteners.
Previous decisions have held that Romag was not entitled to profits because Fossil's infringement was not wilful. However, during oral arguments at the Supreme Court in January, Romag argued that Section 35 of the Lanham Act only requires a "violation" and not a "willful violation".  As Troy Sanders at Fenwick & West explained earlier this month, the US Court of Appeals "has long been divided on this issue", and today's decision looks to clarify when it is appropriate for the profits made by trademark infringers to be awarded to a trademark owner.
Tackling this issue, the Supreme Court was unanimous in its decision, with Justice Gorsuch delivering the opinion of the court, which was joined by Roberts, Thomas, Ginsburg, Breyer, Alito and Kagan (with Sotomayor delivering a concurring opinion in the judgment). Much of the decision was based on wording in the Lanham Act, with Gorsuch stating: "Fossil's contention that the term 'principles of equity' includes a willfulness requirement would not directly contradict the statute's other, express mens rea provisions or render them wholly superfluous. But it would require us to assume that Congress intended to incorporate a willfulness requirement here obliquely while it prescribed mens rea conditions expressly elsewhere throughout the Lanham Act.... It seems a little unlikely Congress meant 'principles of equity' to direct us to a narrow rule about a profits remedy within trademark law."
Gorsuch goes on to state that it is "far from clear whether trademark law historically required a showing of willfulness before allowing a profits remedy", citing various cases that demonstrate both sides of that argument, and at one point saying that "each side has a point" – concluding: "Given these traditional principles, we do not doubt that a trademark defendant's mental state is a highly important consideration in determining whether an award of profits is appropriate. But acknowledging that much is a far cry from insisting on the inflexible precondition to recovery Fossil advances."
For that reason, the Court of Appeals judgment was vacated, meaning that US courts can now award profits from infringers to rights holders even if the law had not been wilfully violated.
On the surface, this is positive news for plaintiffs – with trademark litigation cases potentially increasing in financial value for rights holders and the law firms representing them. However, it is not so good news for defendants, with one claim – argued by Fossil in January – that no intent requirement for profits awards could lead to "baseless trademark suits". Time will tell whether such a prediction will come true.
Analysis and reaction from industry experts below:
"As a matter of policy, the result is unfortunate"
"On the law, I agree completely - the Lanham Act simply does not include a provision that requires a finding of wilfulness as a prerequisite to an award of profits in a trademark infringement action. As a matter of policy, though, the result is unfortunate.  Experience has shown that, when a plaintiff can seek disgorgement of the defendant's profits, it has the potential to weaponise the Lanham Act and complicate efforts to settle even routine trademark cases.  Under the Lanham Act, if a plaintiff has been harmed by infringement, it is entitled to compensatory damages.  The Lanham Act, though, generally prohibits windfalls and punitive damages.  Disgorgement of profits is inconsistent with that principle – it allows a plaintiff who may have suffered little or no harm to seek disgorgement of all of the defendant's profits.  For example, in last year's Variety Stores v. Wal-Mart case, the plaintiff was awarded $95 million as disgorgement of Walmart's profits notwithstanding the very modest economic harm that the plaintiff suffered."
David Bernstein is a partner at Debevoise & Plimpton.
"The real impact here is on judicial discretion"
"Unless and until we see the number and amount of disgorgements dramatically increase, I do not foresee much of a practical impact beyond trademark owners rattling their sabres a little louder.  Romag will not meaningfully impact the decision to litigate (or not) and wilfulness will continue to be a hotly contested issue due to its persuasive effect.  The real impact here is on judicial discretion, which continues to expand."
Lauren Emerson is a partner at Leason Ellis.
"A defendant's intent is still an important factor"
"Romag eliminates a bright line requirement of showing wilful conduct in order for a trademark plaintiff to be entitled to disgorgement of an infringer's profits. It is important to note, however, that the Supreme Court emphasised that a defendant's intent is still an important factor in determining entitlement to disgorgement of profits. Romag falls far short of indicating that a prevailing plaintiff will easily, let alone automatically, be entitled to the disgorgement remedy.
J. Bennett Clark is an intellectual property partner at Bryan Cave Leighton Pasiner.
"Courts will likely continue to require wilfulness as a matter of equity"
"Fossil's argument that an award of the defendant's profits are "subject to the principles of equity" according to the Lanham Act was not enough to persuade the Court that wilfulness is required for such an award. However, the holding is not likely to have a detrimental effect on innocent infringers. As the Court noted, a defendant's mental state is a highly important consideration in determining whether an award of profits is appropriate—the opinion merely makes clear that wilfulness is not an absolute precondition. In the Second Circuit and elsewhere, however, courts will likely continue to require wilfulness as a matter of equity in most cases."
Danielle Johnson is a member of the IP group at Goldberg Kohn.
"The Romag holding is no surprise"
"The number of cases in which Romag will change the ultimate result seems fairly small. In Romag itself, for example, the jury found that Fossil acted with "callous disregard" for Romag's trademark rights, albeit not with "wilfulness." Under the Supreme Court's standard, the district court now has the discretion to consider an award of profits under these circumstances.  However, the lack of wilfulness would still be a "highly important" consideration in determining whether to authorize such an award."
"Furthermore, while Romag was a trademark case, it's important to note that the Lanham Act also addresses false advertising and other forms of unfair competition besides trademark infringement.  Although Romag doesn't expressly mention these other types of Lanham Act suits, nothing in its analysis suggests that its holding is limited to trademark suits alone. To the extent the Court's opinion relies on statutory text, the text that the Court analyses governs damage awards under the Lanham Act generally, regardless of the type of claim. And to the extent the Court's opinion (and Alito concurrence) rely on pre-Lanham Act case law, those cases do not appear to distinguish between passing off (trademark infringement) and other varieties of unfair competition. Thus, I think it's almost certain that the lower courts will extend Romag's holding to false advertising and other types of non-trademark Lanham Act litigation."
"[Therefore], the Romag holding is no surprise: the current Supreme Court consistently opposes rigid or categorical rules regarding the availability of relief in IP cases, even where lower courts have long hewed to such rules. This decision merely continues that trend."
Jonah Knobler is a partner at Patterson Belknap Webb & Tyler.
"Doubt we will see little impact in the award of profits under this ruling"
"While injunctive relief is often the primary remedy sought in trademark disputes, monetary relief has increasingly come to play an important role in parties' motivations to bring such actions. Riding along the patent troll wave of lawsuits designed to force companies to risk paying huge awards of profits as an incentive to settle for a licensing fee, some have feared that without a high bar for awarding profits from a trademark infringer we would see a proliferation of such questionable cases. That concern is overblown, and the Supreme Court's ruling should not usher in a wave of new questionable trademark suits.  Sticking as it has in Lanham Act cases primarily to statutory interpretation, the Court held that a finding of wilfulness is not necessary for an award of profits.  But at the same time, the infringer's state of mind remains relevant to whether to award profits.  In the end, I doubt we will see little impact in the award of profits under this ruling."
Douglas N. Masters is an IP partner and head of Loeb & Loeb's Chicago office.
"The decision may make trademark owners more bullish in litigation"
"One obvious way that this decision impacts the work of trademark professionals is that it removes one factor to consider when selecting a forum for a trademark lawsuit. Now that there is a uniform rule with respect to the availability of disgorgement of profits, trademark owners will no longer have to consider this issue in deciding where to file an infringement lawsuit. In addition, the Romag decision may make trademark owners more bullish in litigation if they develop evidence that the defendant acted recklessly or with callous disregard for the trademark owner's rights, especially if the defendant's infringement resulted in substantial profits."
Kevin Fee is a partner at Morgan Lewis.
"The litigation funding industry is likely to be affected"
"While much of the focus will be on brand owners, the litigation funding industry is likely to be affected by this decision. Large litigation funders often will not fund a case absent the possibility a fairly substantial economic return. The removal of a willfulness barrier to access the defendant's profits greatly increases the universe of cases that are appropriate for funding.  Additionally, because a defendant's profits are generally more certain and ascertainable than a theory of actual damages (which is often based on expert analysis and/or royalty projections), the risk and range of possible awards will be narrowed. The lessening of that risk will also make trademark infringement suits a more attractive investment."
Joseph Lawlor is an associate at Haynes & Boone.
"This is consistent with the Lanham Act"
"This decision brings clarity to an important issue in trademark law. Because the principles of equity will still govern whether an infringer's profits can be recovered, the infringer's intent will remain relevant, but a showing of wilfulness will no longer be a separate requirement. This is consistent with the plain language of the Lanham Act."
Jennifer Lee Taylor is a partner at Morrison Foerster.
"I'm not sure the impact will be quite as dramatic as it sounds"
"Clearly it makes it easier for trademark plaintiffs to get profits as it removes an obstacle. You don't have to show wilfulness as some courts have required. In that sense, it's obviously a positive for plaintiffs. I'm not sure the impact will be quite as dramatic as it sounds. The court makes a point of saying a defendant's intent is still an important point of consideration, it's just not an absolute requirement. Justice Sotomayer suggested that people acting in good faith or innocent could now be liable for profits and that has never been the case and should continue not to be the case. I'm not sure it's going to move it quite that much in cases as the inclination is still to pay attention to the defendant's state of mind and if they acted innocently, i think it's unlikely that you're gonna collect profits."
Richard Mandel is a partner at Cowen, Liebowits & Latman.