Rocketeer prepares for take-off: exclusive first look at Simmons & Simmons' AI-driven conflict prediction tool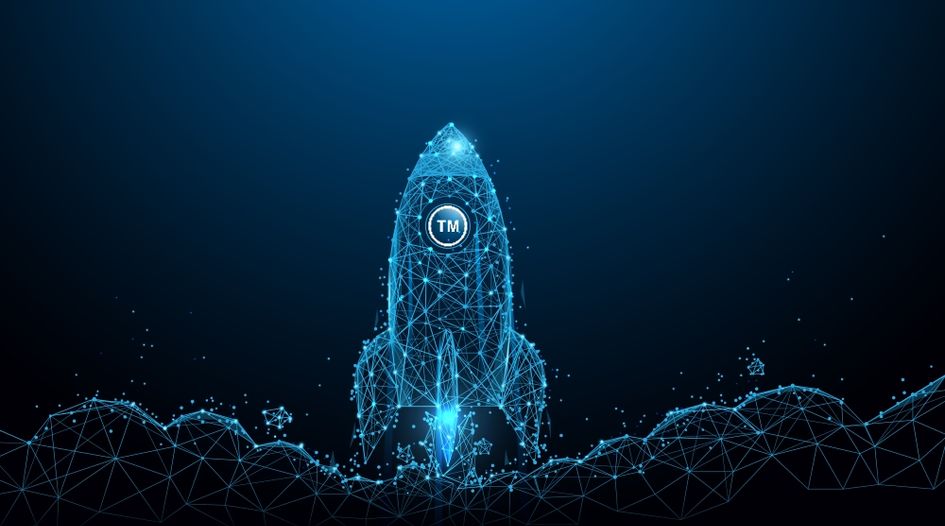 Firm to unveil AI tool that predicts outcome of EUTM conflicts to above 90% accuracy
"We are not trying to build 'robolawyers": tool intended to assist not replace lawyers
Currently focused on EUTMS but tech could be applied to other offices, if data allows
International law firm Simmons & Simmons has developed a cutting-edge AI-driven tool which predicts the outcome of EU trademark conflicts to 93% accuracy. While still in feedback stage, WTR sat down with partner and project lead Darren Meale to give the service a test drive and get the scoop on its development and planned rollout, and discuss how AI could change trademark practice.
Called 'Rocketeer', the tool predicts the outcome of conflicts between two EU trademarks by considering a range of measures comparable to legal rules (like visual and aural similarity) – and thus has potential to be used for watching and clearance, opposition decision-making and dispute resolution. A user can input the two terms they wish to run a likelihood of confusion analysis on, hit a button and within seconds they receive a prediction on whether the EUIPO would find a conflict or not, to what Meale claims is above 90% accuracy.
As well as giving you the predicted finding, it provides an 'accuracy level' – indicating the degree of confidence the AI has in its prediction. It also tells you why it made the prediction and provides 'close' cases that offer detailed insight into why the AI is predicting a certain outcome. Also listed are similar cases that, within a certain threshold, had the opposite outcome – allowing the user to make a judgement call on whether to follow the AI-generated prediction based on cases that both support and contradict its prediction.
The tool is not designed to tell you what you should do. Instead, it provides a data-driven prediction and the surrounding cases that can be used as part of the decision-making legal process. Crucially it can do in a short timeframe what a human realistically cannot – wade through thousands of cases every time two marks are being compared: "In the EUIPO opposition system we have had thousands of cases. In an ideal world we would have time to read those decisions and identify the ones most relevant to the case," Meale explains. "In reality, you have a sense of what the history of cases tells you and you may remember some specific cases only. Therefore, the question we asked is 'what if someone could read those cases for you instantly and tell you what they think is relevant to what you are doing now?'."
"We are not trying to build 'robolawyers'
Once the engine was in place, the team compiled and filtered a near twenty-year dataset of opposition decisions (for instance, to identity decisions only based on word marks, which is the focus of the project). This created a dataset of 7,400 cases, which were fed into the AI – along with some of the fundamental rules of trademark law and direction on what to look for (for instance, whether to place more emphasis on similarity towards the start of the mark or the end).
Combining machine learning and human direction, the aim was to identify the combination of rules that would achieve the highest accuracy rate. Over time, and dozens of iterations, the result was a system that could correctly predict the outcome in 93% of conflict decisions. Meale notes that "you will never get 100% accuracy as there will always be borderline cases", characterising 93% as "pretty damn good".
The harder part was to have the system explain its decisions – for instance, the legal rules applied, the similar cases it considered, etc. Meale explains: "Unlike most 'AI' seen in trademarks so far, we have built our system around explainability. It helps users understand its decisions by providing reasoning for its conclusions. I'm not the first person to try to teach a computer to predict disputes; you already have systems that order lists by similarity. But they don't always explain what that actually means or why one hit is more similar to other hits on the list. And when I speak to lawyers about that, they are uneasy as it is opaque. From a lawyer's perspective, if you can't explain it, you don't know if you can trust it. That lack of 'explanability' is a barrier to acceptance."
The need to engender trust strikes at the heart of the fundamental question being asked about the role of AI in the legal IP world – specifically, whether it is a threat or an opportunity. For Meale it is the latter, and a means to help the human user make a more informed decision: "We are not trying to build 'robolawyers'. We want to make lawyers more efficient and assist them with data they would not otherwise be humanly able to process."
With that in mind, the offering is not designed for the lay person. Instead it is for those steeped in trademark law and able to consider and analyse the results by drawing on their own experience, knowledge and judgement: "This isn't a product for consumers or non-lawyers. It is a tool for trademark lawyers, to help them make better decisions."  
Limitations and opportunities
At present, it is important to know what the offering cannot do, as well as what it can. Specifically, it focuses only on word marks and has a particular gaze: EUIPO likelihood of confusion conflicts. Thus it doesn't, for instance, offer a prediction on how the UKIPO may find in a dispute with the same marks. Theoretically the technology could be adapted to other jurisdictions, but it would ultimately all come down to the availability of data (both in terms of volume and its integrity) and the business case for doing so.
For now, though, the technology performs its intended function and – in addition to being used by the firm's own lawyers – it is to be road-tested with select clients and contacts. It will then be ready for formal launch, and Meale envisions it being taken to a wider market, rather than being kept in-house. Ultimately, it is a tool that he believes would quickly become part of the daily toolkit of an attorney, stating: "There is rarely a situation I can see where there is a reason not to use it. If it adds a minute and accuracy levels go up, why would you not use it and be a bit better than you otherwise would have been?"
AI and law firms: speculate to accumulate?
Last week we reported on Novagraaf and PAVIS joining forces to create a new IP service provider, NovumIP, and reflected on the likelihood of new tech offerings emerging from the law firm sector. One barrier to innovation we pointed to is cost, and Meale concedes that this is a challenge in the trademark space more generally: "There are a bunch of amazing things you could do if you had a million pounds but you wouldn't make the money you invest back for decades. At the moment, money is going into Fintech as that industry is in the business of money. The trademark world is not on that same scale so there is less of a commercial case for investing."
In the law firm environment, getting the green light to invest funds, resources and time that could be spent on billable work in the development of technology tools can be harder still, with Meale observing: "You have law firms that are not yet in a position to spend money on this kind of thing – they would rather spend on, say, business trips. There are a lot of barriers to getting to this stage. Law firms are not like software companies: we are not built to invest millions in a project to see return years down the line."
In this instance, two factors came together to make the tool possible. First was Meale's own understanding of technology and what may (and may not) be possible – in 2017 he was named by The Financial Times as a young innovator of the year for his development of Simmons & Simmons Translator (which streamlines and improves the process for assessment of EU trademark portfolios). In another life he may have pursued a career in the tech sector. Meale observes: "That [the FT award] established internally that my ideas are not completely crazy."
The second factor was a firm that encourages and invests in innovation, Meale explaining: "We have an Innovation Group here with dedicated people to oversee projects, to evaluate and fund them. It takes vision from the firm, and Simmons & Simmons is open to this. [And in this instance] There isn't a competitor product – it's a new product for a new service."
The success of any investment will be ROI, either in terms of revenues or perceived efficiencies and value-adds. Meale acknowledges that "the hardest stage is the next one - getting it to market… [For instance] part of the potential market is the corporate clients we already work for or would like to work for, but there's also a big part of that market which is comprised of our peer and competitor firms – I'm not sure how they'll react if I turn up to pitch to them".
However, should the model of a law firm building a tool that the wider community embraces pay off, it could lead to more firms eying tools that can be developed and rolled out. It may also ease some of the fears that exist over the perceived threat of AI to the day-to-day work of the IP lawyer. After all, if the lawyer is the developer, he/she is unlikely to be in the business of damaging their own USP.