FC Barcelona and Man Utd are brand champions – the football clubs and players with the largest trademark portfolios revealed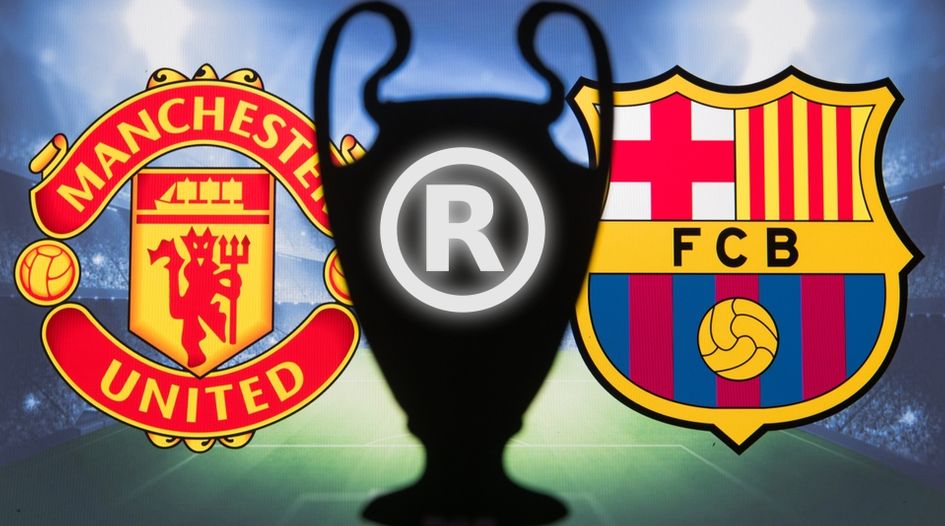 Exclusive data from WTR reveal trademark portfolios of football clubs
Of English Premier League clubs, Man Utd and Chelsea have most marks
Lionel Messi has most registered brands of any global football player
Exclusive research from WTR can reveal that Manchester United and FC Barcelona have the largest football brand portfolios in the world, with superstar Lionel Messi boasting the most significant number of registrations for a single player.
It has undoubtedly been the most challenging, drama-filled year for professional football since the sport was founded in the mid-1800s. The global pandemic led to the postponement or delay of football tournaments and leagues (including Euro 2020),and caused matches to be played in empty stadiums for the past 12 months. On top of that, 12 leading football clubs announced their intention to break from their respective national leagues and form a 'European Super League' – news that was met with furious outrage from fans, politicians and industry commentators alike. Days later, plans for the ESL were in tatters after most of the clubs pulling out.
Unsurprisingly, those two major developments have had a significant impact on the brand value and brand strength of many of the leading football clubs. In research released this week by Brand Finance, it is estimated that the failed ESL project "knocked over €600 million off the total brand value" of the 12 founding clubs (equating to a 6% year on year decrease), and "visibly damaged the brand strength of the 12 clubs involved". Furthermore, falling revenue and fan engagement directly led to brand values falling by 11.2% overall for the world's 50 biggest clubs. Overall, the report revealed the world's most valuable football brand is Real Madrid (valued at €1.28 billion), followed by FC Barcelona (€1.27bn), Manchester United (€1.13bn), Manchester City (€1.12bn) and Bayern Munich (€1.01bn).
Another notable impact of the ill-fated ESL plan was how, in some cases, brand partners put their money where their mouth is and pulled out of commercial deals. Examples include Liverpool losing a sponsorship with Tribus Watches and Manchester United missing out on a £200 million deal with The Hut Group. Nonetheless, football clubs and major brands continue to partner in big-money deals. More new research from this week revealed that Real Madrid has the most lucrative sponsorship deal in professional football, with its $82.5 million per year deal with Emirates. It is followed by Tottenham Hotspur (and its $50 million per year deal with AIA Group) and Manchester United (and its $325M sponsorship with TeamViewer).
With multi-million dollar commercial deals and brand values often in the billions of dollars, professional football is big business. With brand interests to protect, it is unsurprising that many clubs – and even top players – have trademark portfolios that rival the size of those by major companies.
The Premier League of trademarks
For the sixth in a row, WTR has compiled data on the trademark activity of all 20 English Premier League clubs, as well as the most valuable non-UK clubs and a range of the leading football players. The research includes filed and registered trademarks recorded through the TMview search engine (therefore excluding some jurisdictions, including China) using their primary applicant name. Last year's research saw Manchester United pull even further ahead of league rival Chelsea (in our first edition of the research in 2016, both clubs had near-identically sized trademark portfolios).
This year's results (Table 1 below) sees that trend continue, with Manchester United now boasting a trademark portfolio of nearly 600 marks – representing a three-fold growth since 2016. In fact, it has the same number of trademarks as the bottom 15 clubs put together (a list of clubs that includes current champions Manchester City, which has a nearly-identical brand value according to Brand Finance's new report).
In Table 2 (below), which tracks the portfolio size of the 20 Premier League clubs over the past few years, we see that Chelsea – which boasts the second largest trademark count of EPL clubs – bolstered its portfolio by nearly 20% (with 68 new filings) over the past 12 months. Over major growth was seen at Liverpool (with 25 new filings) and Crystal Palace (with 13 new filings, representing a one-third growth of its portfolio). Positively, despite the hardships caused by the pandemic, nearly all clubs grew their trademark portfolio over the past year.
Outside of England (Table 4 below), football clubs are also revealed as growing their brand portfolios. Leading the way is FC Barcelona, which grew its portfolio by 10% to over 440 trademarks in total. Just behind is arch-rival Real Madrid, with 368 filings, followed by Italian club Juventus (213) and French club Paris Saint-Germain (201). Also notable are the portfolios of Atletico Madrid and Borussia Dortmund, which in 2016 had 29 marks each. Today, they have 115 and 93 marks respectively, representing the growing brand ambitions of both clubs. Further, and again, all the clubs that we looked at saw trademark filing growth in the past 12 months, despite the challenging market conditions.
Turning to the world's leading footballers (Table 6 below), Barcelona's Lionel Messi is a step ahead of any other player. With his 115 trademarks, he has nearly double the number of marks than player rivals Neymar Jr, Cristiano Ronaldo, and Paul Pogba (the latter of which went on a widely reported trademark spree last year). Interestingly, we found that some of the most expensive players in the world – Kevin de Bruyne, Mohammed Salah, Jadon Sancho, Erling Haaland, and Bruno Fernandes (worth a combined half-a-billion euros) – appear to have no brand registrations.
This year's results represent broadly minor, not significant, growth in trademark growth at football clubs – at a time of major challenges and brand value loss. Stability appears to be the name of the game right now, with legal spend being used to renew existing marks and fill in jurisdictional gaps when necessary. As stadiums open up again, and normality hopefully resumes, time will tell whether football clubs take bolder steps to increase their brand footprints.
In the meantime, the results (published in full below) reveal the significant trademark portfolios of the world's football clubs and players, and the importance of those assets for each of them.
Table 1: English Premier League: ranked by filed or registered trademarks

Table 2: English Premier League: trademark portfolio by year and annual change
Table 3: English Championship promotion contenders: registered and filed trademark portfolios
Table 4: Leading non-UK clubs: ranked by filed or registered trademarks
Table 5: Leading non-UK clubs: trademark portfolio by year
Table 6: Leading football players: ranked by filed or registered trademarks