Redskins become Washington Football Team; Coca-Cola drops brands; Trump rally trademark – news digest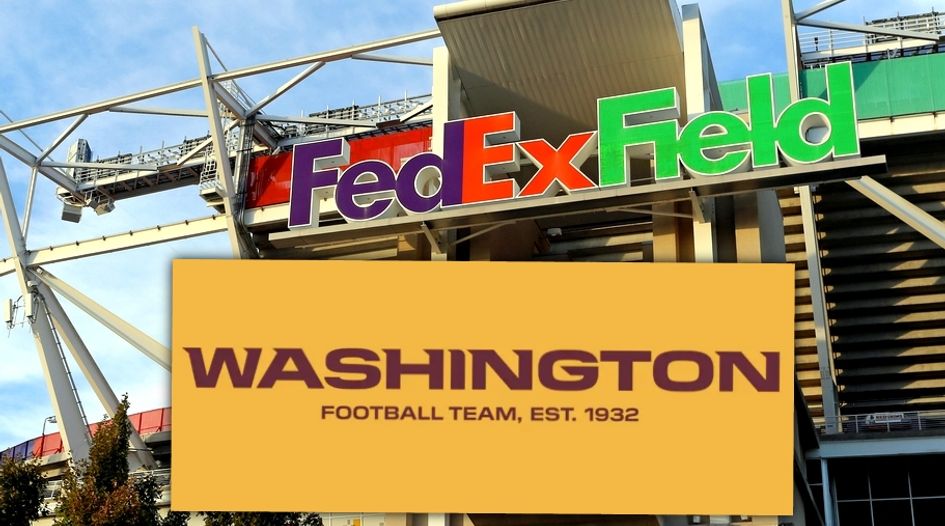 Every Tuesday and Friday, WTR presents a round-up of news, developments and insights from across the trademark sphere. In our latest round-up, we look at Nestle streamlining its portfolio, the Indian government asking e-commerce platforms to display country of origin, Seattle NHL team name, and much more. Coverage this time from Trevor Little (TL), Bridget Diakun (BD), Joyce Ng (JN), Jonathan Walfisz (JW) and Tim Lince (TJL).
Market radar:
The Washington football team becomes, well, the Washington Football Team – Early last week we reported that the Washington NFL team had announced that it is to retire the 'redskins' name and logo, which has long been the subject of controversy (and numerous legal challenges). We subsequently considered the branding takeaways from the decision, as well as speculation over the new name. At that point the team was 'on the clock', effectively racing to decide on an identity before the new season commences in September. Now, the team has announced that it will call itself the Washington Football Team pending adoption of our new name – rolling out a new aesthetic to hold it over until a permanent new name and design scheme. Crucially, the press release announcing the temporary identity references the intention to use Washington Football Team for this season, a move that "allows the franchise the ability to undertake an in-depth branding process to properly include player, alumni, fan, community, and sponsor input". Equally crucially, new merchandise is imminent. As well as buying more time for the rebrand process, this move potentially creates a double merchandise bonanza – with fans likely to buy merchandise related to this temporary name (which could have curiosity value over time) before reupping when the permanent name is announced. In the meantime, the organisation has 50 days to retire all Redskins branding from team properties, both physical and digital – a move that will please the sponsors who demanded the change. (TL).
Nestle continues to streamline its portfolio with possible Chinese water brand sale – Nestle is considering a number of options for one of its bottled water businesses in China including a sale, reports Bloomberg. The unit includes a locally sourced version of Nestle Pure Life as well as Da Shan Yunnan and is estimated to sell at about $53 million. Nestle has been in the process of eliminating underperforming brands for quite some time with parts of the China and bottled water portfolios on the chopping block. It is currently narrowing the list of bidders for Yinlu Foods Group, which could go for over $400 million. More than 50 deals have been transacted since CEO Mark Schneider took to the helm in 2017. Schneider said that he thought the portfolio management in 2019 was quite biased to disposals and a little light on acquisitions, which may indicate that the company will be making some savvy brand purchases this year. (BD)
Coke to drop more underperforming brands – Coca-Cola is on a mission to eliminate deadweight in its portfolio, after announcing the discontinuation of smoothie brand Odwalla. The beverage behemoth has suffered at the hand of the pandemic, with sales in the second quarter dropping 28% to $7.2 billion. As part of its response it is streamlining its product offerings to cut costs while focusing more on its best-selling brands.Coke's CEO James Quincey said: "We are shifting to prioritising fewer but bigger and stronger brands across various consumer needs. At the same time, we need to do a better job nurturing and growing smaller, more enduring propositions and exiting some zombie brands." According to Quincey, over half of Coca-Cola's 400 brands have "little to no scale" and their sales only represent 2% of total revenue. This is not the first time that the company has looked to cull its portfolio, having spent the past two years looking for products, flavours and packaging to eliminate. The company dropped over 275 products in the first half of 2019 alone. The ongoing pandemic is highlighting the need for large businesses to streamlines their portfolios, and in other instances it has been accelerating this process. (BD)
Anaqua expands IP legal offerings with new law firm business unit – Innovation and intellectual property management solutions provider Anaqua has announced the launch of a new business unit to cater to the law firm market. The business unit will be led by Domenic Leo, who joins the company as vice president and general manager, law firms. He will be responsible for the global law firm offering and will also oversee the newly acquired IP management software and practice automation business, O P solutions. "With over 30 years' experience in the IP management industry, Domenic will deepen Anaqua's law firm DNA and focus on how we can better serve and deliver solutions that help the law firm community," said Bob Romeo, CEO of Anaqua. In addition to Leo, two other senior hires were made to lead the new business: Jayne Durden as vice president of law firm strategy and Joe Bichanich as client director of global law firms. Durden will be working closely with the Anaqua law firm client community to understand their needs and will collaborate with the company's product team to translate those needs into IP platform enhancements. Bichanich will be developing and implementing creative strategies to enhance the long-term success of Anaqua's clients. He will also advise IP practices in how to develop and apply Anaqua's technology to transform their businesses. (BD)
Print-on-demand businesses place themselves at risk – New research from Visual-AI company VISUA has revealed that 70% of online custom print-on-demand businesses in the UK and EU are not taking steps to protect intellectual property. The study researched the top custom print-on-demand companies in the UK and across the EU and found that over two-thirds were not monitoring uploaded imagery for intellectual property infringements. It contends that the lack of vigilance for trademark and copyright infringement exposes these companies to liability risks if left unattended and has already led to multi-million pound lawsuits against companies in this sector. (TL)
Indian government asks e-commerce platforms to display country of origin – Last month, WTR reported that the China-India border row has led Indian consumers to reject 'Made in China' for 'Made in India'. Now, India's Department for Promotion of Industry and Internal Trade (DPIIT) is asking e-commerce companies, such as Amazon and Flipkart, to display the 'country of origin' on goods sold online. Although the government wants this to happen by 1 August and 1 October for new listings and old items respectively, no deadline was decided yet, pending packaging issues to be resolved by the consumer affairs ministry. The current law does not stipulate a requirement to display country of origin on non-packaged goods, writes The Economic Times. (JN)
Holographic labels counteract pharma counterfeiters – Two Romanian pharmaceutical companies – Biotehnos and Rompham – have used holographic labels to tackle increasing counterfeit markets for their products. The brands Alflutop and Rumalon were experiencing significant declines in sales, owing to counterfeiters selling counterfeit versions of the drugs. An investigation suggested that almost half of the branded drugs in the Russian market were fake. Upon implementing holographic labels, sales have risen, and medical professionals have been more confident prescribing the medicines. The labels were designed by Eltronis, who manufactured a security label with a hot-stamp hologram that affixes to the ampoule and packaging. (JW)
Seattle's NHL team's new nickname is the Kraken – From the depths of the nicknameless abyss, the Seattle Kraken have breached the surface of the NHL's waters. The NHL expansion team was without a nickname due to difficulties in trademark registration. Although a poll of 140,000 voters saw the 'Sockeyes' beat out the Totems, Metropolitans, Steelheads and Kraken, the final choice was made to dedicate the team to the city's maritime history. The Kraken will play primarily donned in deep sea blue with secondary colours ice blue, shadow blue, boundless blue and red alert. Shiver me timbers! (JW)
Legal radar:
Milka and Ritter's square chocolate mark dispute melts – Milka has been dealt a blow by Germany's Federal Court of Justice. The chocolate brand's complaint against Ritter Sport's square chocolate bar trademark was thrown out. Ritter Sport has sold square bars of chocolate since 1932 and the mark at the German Patent and Trademark office in 1993. When Milka started marketing their own square bar in 2010, the matter went to the courts, reports the BBC. In 2016, Milka initially had the trademark deleted, however this week's decision overturns that. The German court noted that consumers considered Ritter Sport's square shape to be indicative of the product's origin and quality. (JW)
Office radar:
(For more of the latest coronavirus-related updates from national IP offices, please read our dedicated article which is being continuously updated)
Media Watch:
Questions over Trump TELERALLY application – Trademark attorney Josh Gerben has released a video on a trademark application for the term TELERALLY, filed by a holding company for Donald Trump's businesses. The application was filed on 14 July 2020 by DTTM Operations LLC, and is for classes covering 'organising events in the field of politics and political campaigning'. While the mark hints at something to do with Trump's presidential campaign, the application was not filed by the entity usually used for campaign-related trademarks ('Donald J Trump for President Inc'). As Gerben says: "It is odd that the TELERALLY trademark was filed under the business-related entity, rather than the campaign-related entity. If this trademark is ultimately granted, it would allow the Trump campaign to be the only campaign to use TELERALLY. This would prevent Joe Biden from using the term in association with any virtual rallies. However, from a legal standpoint, the trademark will likely be considered too descriptive or generic to be approved by the USPTO." This latest filing reflects the Trump family's awareness of trademark protection, with a recent WTR investigation compiling the 'America first' president's truly global IP portfolio. (TJL)
And finally...
How WTR is connecting trademark leaders this October – WTR is delighted to unveil WTR Connect, a series of high-level online events taking place across two weeks in October, with in-depth sessions timed to accommodate participation from around the world. The ground-breaking digital concept offers a series of individual interactive digital sessions organised around major themes. Comprised of a series of hubs, each session is designed to facilitate discussion, benchmarking and the sharing of best practice around key topic areas and challenges facing trademark and brand leaders. Each day will start with a keynote address from a major industry figure. This will be followed by live breakout discussions lasting for a maximum of 60 minutes. These will be in a variety of formats including masterclasses, open discussion forums, solution rooms and closed-door, invite-only boardrooms. To find out more and to secure your place at WTR Connect, click here.