Reaction to Peloton genericism lawsuit; counterfeits seized in Louisville; Daimler trademark issue – news digest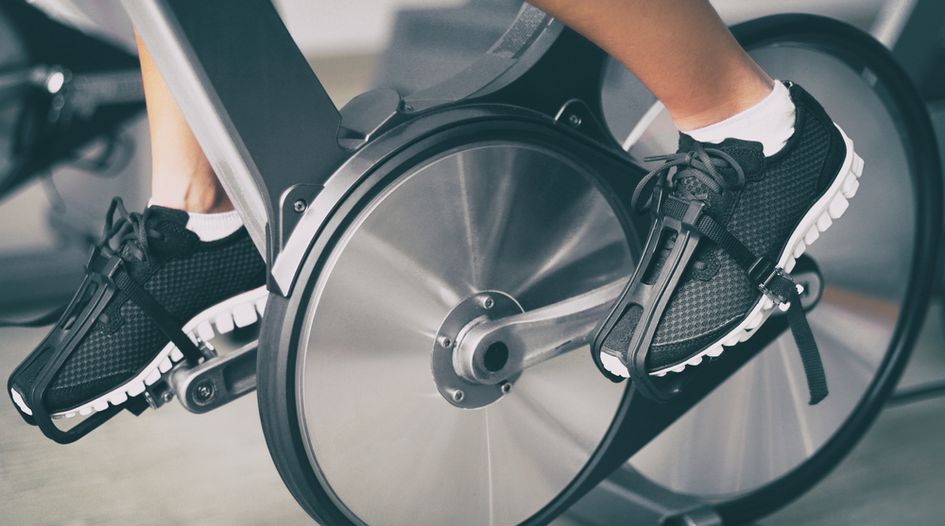 Every Tuesday and Friday, WTR presents a round-up of news, developments and insights from across the trademark sphere. In our latest round-up, we look at ACG lobbying for increased UK consumers protection against counterfeits, Dr. Martens teaming up with the owner of Hello Kitty again, and much more. Coverage this time from Trevor Little (TL), Bridget Diakun (BD), Jonathan Walfisz (JW) and Tim Lince (TJL).
Market radar:
Daimler to address trademark issue in truck spinoff – Daimler's plan to break away from its truck unit has created a trademark problem: how will the rights to Mercedes-Benz be used after the spin-off? Chief executive officer Ola Kallenius said, "It has to be absolutely clear who can use the brand". According to Bloomberg, Kallenius plans to change the carmaking entity's name to Mercedes-Benz from Daimler. The need for a legal framework to settle the problem is obvious, Mercedes is a highly valuable and recognisable brand with serious brand equity. In the past Daimler pushed to keep the Mercedes brand under one roof when investors argued for the company to separate the truck business. Management has since had to rethink its position given the growing technological divide between the car and commercial-vehicle industries. The trademark issue is meant to be addressed before the company distributes a majority of the Daimler Truck unit to shareholders later this year. (BD)
CBP seize significant counterfeits shipment – US Customs and Border Protection (CBP) officers in Louisville have seized a large shipment containing 1,569 counterfeit items, destined to an address in Plymouth, Minnesota. Had the items been real, CBP states that they would have had a Manufacturer's Suggested Retail Price (MSRP) of $821,495. When CBP officers detained the shipment to determine the admissibility of its contents in accordance with CBP regulations, they discovered various high end items, a press release describing the haul as "everything from hair clips, to necklaces, to bracelets, to masks…  and all of them displayed the protected trademark emblems of designers like Gucci, Dior, Chanel, Louis Vuitton, Calvin Klein, and even Mickey Mouse".  "Finding a parcel containing almost 1,600 items of counterfeit apparel is shocking, as criminals continue to push their agenda," said Thomas Mahn, port director-Louisville. "Our officers did an outstanding job finding these counterfeit items before they flooded the market. Items like these weaken our economy and prey on American consumers." (TL)
ACG lobbies for increased UK consumers protection against counterfeits – Over the past ten years, e-commerce fraud has risen 49.6%, and for that reason the ACG (Anti-Counterfeiting Group) contends that the UK government is still failing to protect the public from scammers and counterfeiters, and is lobbying to ensure the UK public is protected to the same standard as in the US and EU. In particular, it is seeking recognition of the dangers of counterfeiting through the Digital Harms Bill. Phil Lewis, from the ACG, says: "The development of an online harms regime is the perfect opportunity to put measures in place to protect members of the public from counterfeiters and the dangerous goods they sell, that can put consumers out of pocket but also damage their health. [However] We are being left behind when it comes to legislation. The US and EU are forging ahead with important steps to protect consumers and businesses from the growing dangers of counterfeiting and illicit trade. While the European Commission's draft Digital Services Act sets it sights on giving e-commerce platforms greater responsibility to proactively screen and prevent the sale of counterfeit goods from appearing on their sites, the US INFORM Act also aims to build greater transparency by improving processes to check the validity of third-party sellers." Thus, the organisation states, The Digital Harms Bill should do likewise. (TL)
Dr. Martens teams up with Hello Kitty again – Last year Sanrio, the owner of Hello Kitty, collaborated with Dr. Martens to mark its 60th anniversary. The pair are again teaming up this year to offer a new collection that will include more characters from Sanrio's portfolio, including Bad Badtz-Maru and My Melody, reports License Global. The products of this brand mash-up are due to be launched in March. (BD)
Product recalls (and brand risk) are on the up – Companies across all product categories will face increased regulatory enforcement, legal action, and reputational damage in 2021 and the post-pandemic world, warns the Sedgwick Brand Protection 2021 State of the Nation Recall Index warns. The index aggregates and tracks recall data to help manufacturers and other industry stakeholders navigate the regulatory environment and identify trends. Among the findings of the latest annual report are that consumer product recalls increased 7% year-over-year from 2019 to 2020, with software issues the top reason. Meanwhile, 344 pharmaceutical recalls were announced in 2020 (a 2.4% increase). Elsewhere, despite the decrease in recall events, automotive recalls still impacted more than 50.3 million units in 2020, just shy of the 50.7 million recalled units in 2019 and significantly higher than the 30 million recalled units in 2018. This is expected to result in increased impact and oversight, Chris Harvey, senior vice president of client services at Sedgwick, reflecting: ""Companies up and down the supply chain need to better manage regulatory, legal, and reputational risks before, during, and after business and product crises in order to minimize operational impacts and protect ongoing value." (TL)
Differio and Corsearch team up to fight scammers – Online fashion platform Differio has signed with Corsearch in a bid to combat fraudsters and scammers. The multi-brand fashion retailer reported double-digit growth last year and states: "For such in-demand brands, it becomes even more problematic when millions of customers search elsewhere for sold-out items while disregarding price and website legitimacy. Differio is fighting a relentless cycle of releasing original designs that get stolen and circulated within hours by fake sellers. It's virtually impossible for any ecommerce company to tackle this issue alone, even with an in-house IT team." Thus, in order to maximize its protection against counterfeits and brand infringement, it has signed with Corsearch in a bid to tackle such activities. A press release issued by the platform says that the move "provides Differio with access to a proprietary software system that scans millions of data points with industry-leading speed. Corsearch is also uniquely able to connect online monitoring and enforcement with offline Intelligence and investigations, which is why it has become a trusted partner for some of the world's best known brands". (TL)
Disney+ introduces new brand, Star – Walt Disney is launching a new brand, Star, on its European Disney+ platform. Nearly a year after its debut on the continent it is introducing a feature with more content options for adults. Included are shows like "Grey's Anatomy" and "Sons of Anarchy" as well as R-rated movies like "Deadpool 2". The price for the streaming platform will increase accordingly to 8.99 euros a month to 6.99 euros. The new brand will also be made available in Canada, Australia and Singapore. The purpose of the Star brand is to attract a broader range of consumers in Europe, a market where Disney+ trails behind its rivals Netflix and Amazon. The introduction of the new brand reflects Disney's flexible approach to different markets. For example, in India a Disney+ Hotstar product that includes programs for adults and live sports is already available. The company intends to add over 1,000 titles to Star during its first year operating in Europe. (BD)
Legal radar:
Peloton files petition claiming 'Spinning' as generic – Home exercise bike company, Peloton has filed a petition to the USPTO that rival Mad Dogg's trademarks SPIN and SPINNING are generic terms for the stationary exercise bike industry. In the petition, the company details how Mad Dogg has aggressively enforced against uses of the words, even requiring journalists to not refer to exercise bike classes as 'Spin classes'. Peloton's outside counsel, Latham & Watkins partner Steven Feldman said: "These terms are unquestionably generic, and they should be able to be used by Peloton and anyone else without fear of litigation. For years, Mad Dogg has threatened competitors and even journalists for any unauthorised use of the terms 'spin' or 'spinning'. It is time for Peloton, and anyone else, to be able to use these generic terms as they see fit." Commenting on the likelihood of Mad Dogg continued enforcement of the terms, Finnegan partner, Mark Sommers said: "Assuming that trademark rights in SPIN and SPINNING are upheld for the products and services at issue, those rights will nevertheless be inadequate to prevent continued industry use of the words "spin" and "spinning" in their ordinary dictionary sense (and in a non-misleading manner) under the fair use laws. Given that the repetitive rotation of a rider's legs when pedalling a bicycle's drive train is often referred to as "spinning," as in to engage or "spin" the bicycle's crank arms, that use will continue to remain freely available to the industry. Clearly, the more interesting issue will be how the evidentiary record is exercised, the facts are spun, and the arguments peddled." (JW)
Office radar:
(For more of the latest coronavirus-related updates from national IP offices, please read our dedicated article which is being continuously updated)
In memoriam:
Ian Murgitroyd – IP firm Murgitroyd has announced the passing of Ian Murgitroyd, the founder of Murgitroyd & Company. The firm notes that he started Murgitroyd & Company with a conviction to bring something new to the IP industry and that led to him building a patent and trademark attorney practice which he led for over 40 years with an unstinting determination and ambition. It adds: "Ian was widely admired and respected throughout the IP industry and wider business community. Our condolences are with Ian's family and in particular his daughter, Liz and son, Ed at this hugely difficult time." (TL)
On the move:
Squire Patton Boggs announces global promotions – Squire Patton Boggs has announced 23 promotions to partner and five to principal – including two partner promotions in the Intellectual property and technology team. Christopher Adams in Washington combines more than 10 years of information technology industry work with more than 12 years of intellectual property (IP) experience and guides clients in the creation and protection of patents and other forms of IP. Frankfurt-based Sandra Müller focuses on litigation in trademark, design and unfair competition disputes. She has represented clients from the luxury brand and consumer goods industries in various infringement proceedings before the German courts and in cancellation and opposition proceedings before the German Patent and Trademark Office, the German Federal Patent Court and the EUIPO. (TL)
And finally...
WTR Connect returns next month with five days of strategic content – The second WTR Connect series of digital events will take place the week commencing 15 March 2021. The event will offer more than 20 interactive digital sessions, each designed to facilitate discussion, benchmarking and the sharing of best practice around key topic areas and challenges facing trademark and brand leaders. The theme for the event is 'exchanging cost-effective and resource-efficient best practices' and each day will start with a keynote address from a major industry figure, which is followed by live breakout discussions lasting for a maximum of 60 minutes. Registration is free for WTR subscribers and participants can register for as many sessions as they like across the week, building their own schedule. For event timings, and to sign up to attend, please click here.