Raise a glass to Treasury Wine Estates: WTR's 2021 Asia-Pacific Team of the Year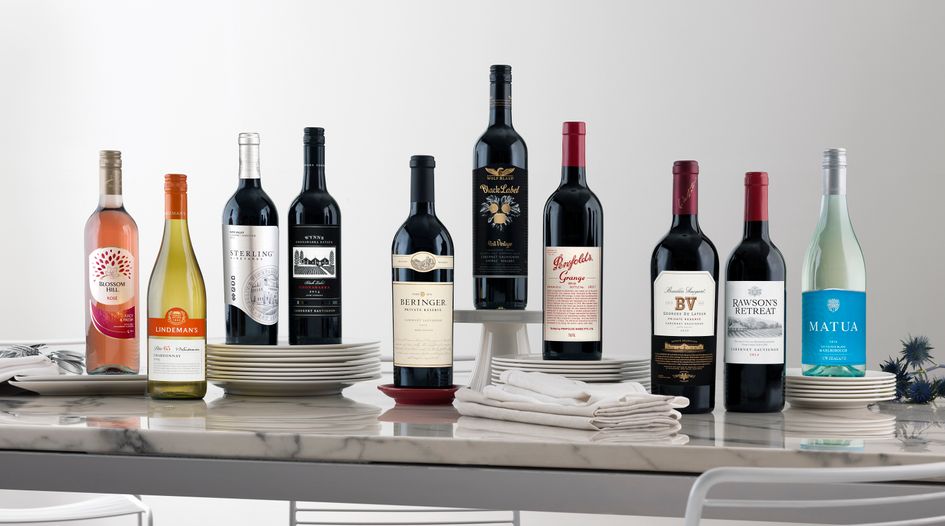 This week we are announcing the winners of the 2021 WTR Industry Awards. First up is the Asia-Pacific Team of the Year Award, which we are pleased to say goes to Treasury Wine Estates. Speaking to WTR, Anna Olsen, global director – intellectual property, looks back on a momentous year of brand protection wins.
In April 2020 Treasury Wine Estates (TWE) announced that it had successfully registered its BEN FU (奔富) trademark in China. This significant milestone followed an almost decade-long effort to secure protection for the Chinese transliteration for its Penfolds wine brand.
TWE fought back with numerous enforcement actions and longstanding litigation through the Chinese courts and authorities after a third party registered the mark in China in 2009. After a series of trademark actions and administrative lawsuits, the squatted mark was cancelled on the grounds of non-use and bad faith. TWE then successfully progressed its own application. Attaining registration was "a monumental milestone for the company and has added even further value to the iconic Penfolds brand and its enforcement capabilities," Anna Olsen, TWE global director – intellectual property, stated at the time.
Looking back at 2020, though, this was not the only highlight. "Despite the challenges presented by covid-19, the team has continued to deliver a market-leading brand protection and anti-counterfeiting programme, with a focus on Asia, and was the winner of the top civil and criminal IP cases in China as awarded by the Quality Brands Protection Committee," Olsen tells WTR. "It was also the recipient of the top IP case award from various Chinese courts, including the Supreme People's Court. These wins continue to send a strong message to the market that TWE takes a 'zero tolerance' approach to infringement and will make every effort to protect its brands."
Led by Olsen, the TWE global IP team has members located across Australia, New Zealand, China and the United States. It is responsible for the development and implementation of TWE's IP policies and procedures, as well as the protection and enforcement of its IP assets – including the wine brands Penfolds, Wolf Blass, 19 Crimes, Lindemans, Matua and Beringer – in more than 100 countries worldwide. In fact, the portfolio that the group manages includes more than 4,000 trademarks, as well as patents, designs, trade secrets and copyright registrations.
Reflecting on her team's achievements, Olsen points to the delivery of "TWE's first in-house portfolio management structure, which has led to a dramatic reduction in the cost of outside counsel spend and has been noted by the industry as a 'best in class' internal management framework".
She also draws attention to the clearance and protection of a range of company innovations, including packaging formats and enhanced customer experiences such as the augmented reality Living Wine Labels app. On top of these, she highlights "assisting the business to negotiate and deliver on some truly exciting celebrity endorsements such as the 19 Crimes-Snoop Dogg and Penfolds-Ben Simmons collaborations".
All of this was achieved against the backdrop of the pandemic. Given the broad geographic reach of the team, its interactions continued as before, with Microsoft Teams playing a key part. The group also used the same tools to make a concerted effort to strengthen its relationships with foreign agents and authorities.
"As to our brand protection and anti-counterfeiting work, and given the increasing focus on online retail as a result of covid, we have upweighted our online brand protection programme, and we now monitor over 100 marketplaces and social media websites around the world to minimise the level of online infringements through consistent and proactive target identification and enforcement," Olsen adds.
When asked what key qualities corporate brand professionals should possess, it is perhaps unsurprising that she points to technical excellence. This is an "absolute must" in everything from IP asset clearance and prosecution to litigation, internal IP policy management and contract execution, she states. "Importantly and outside of that, you need to have a very commercial mindset that is aligned to, and focused on achieving, the business' strategic goals in a responsive, cost effective and pragmatic manner," she adds. "It is also important to be authentic, positive and agile, and, of course, to have a great sense of humour!"
Shortlisted:
Havells
Hindustan Unilever
Nike
Spalding Sporting Goods
Other 2021 winners: