Raiding the raiders, Philippines filings soar and USPTO fees proposal: news digest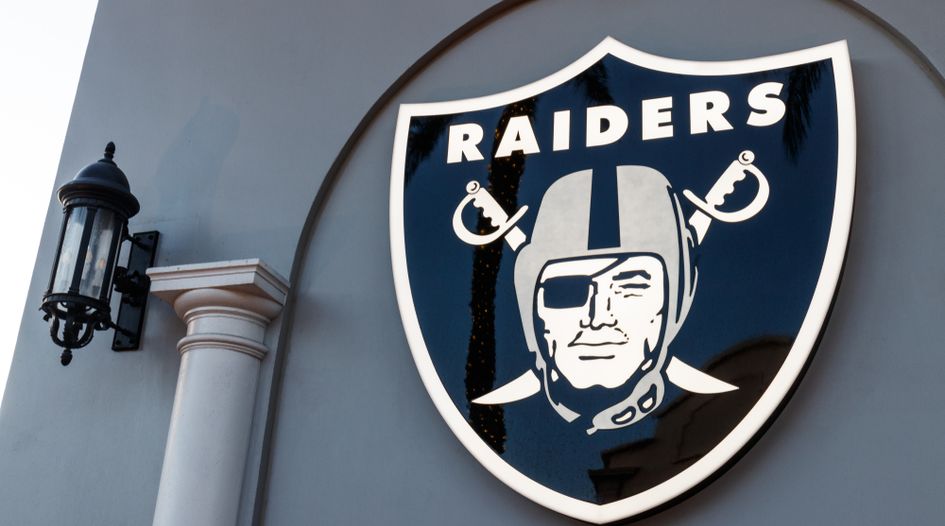 In our first news digest of the week, we look at the rising demand for Chinese trademarks, a swoop on fake Oakland Raiders merchandise, efforts to tackle counterfeit vaping products, the Swiss Parliament's move to endorse new anti-piracy legislation, and much more. Coverage this time from Trevor Little (TL) and Bridget Diakun (BD).
Market radar: 
Foreign aspirants continue to clamour for trademarks in China – The number of trademark and patent applications by foreign applicants have continued to grow in the first half of the year, the deputy director of the China National Intellectual Property Administration has revealed. China Daily, reporting on a speech given by Gan Shaoning, states that, in the first seven months of 2019, foreign applicants have filed 92,000 patent applications (up 8.3% year-on-year) and 149,000 trademark applications (an increase of 13.1%). Gan stated that the levels of demand "represents that China's active efforts in building a good environment for intellectual property rights protection has been recognised". The figures were revealed at a meeting at one of the administration's patent examination centers in Beijing – the first time that an office of the administration has been opened to domestic and foreign press. (TL)
USMCA moves closer to approval – Politico reports that US President Donald Trump is making progress in his efforts to win approval of the United States-Mexico-Canada Agreement (USMCA). We reported almost a year ago on the announcement of the major new trade deal, with industry experts mostly positive on the IP provisions, INTA labelling it a "major enhancement" over the previous NAFTA agreement. However, subsequent progress has been slow, the deal yet to be ratified. This week, though, Politico reported that a counterproposal made by US Trade Representative Robert Lighthizer showed "significant flexibility" in addressing concerns raised by Democrats in four areas of the pact: enforcement, labor, environment and pharmaceuticals. "This is more than a step in the right direction," one source told the media outlet, adding: "We're marching down the path to USMCA implementation here." Of course, in the world of politics nothing can be taken for granted. However, it is clear that the US administration is intent on gaining approval, meaning that the new regime could be in place sooner rather than later. (TL)
Murgitroyd announces revenue and profits increase – Murgitroyd Group, the holding company of European patent and trademark attorney firm Murgitroyd, has announced its audited results for the year ended 31 May 2019 (a period which saw the acquisition of Chapman IP, a European patent and trademark attorney practice based in Southampton, UK). For the financial year, the group's revenue increased 7.5% to £48 million, while profit before tax was up 16.4% to £4.16 million. A net debt, at period end, of £3.71m reflected the initial £5 million consideration paid for the acquisition of Chapman IP in February 2019. Ian Murgitroyd, non-executive chairman, stated: "The year under review has been one of change and developments for the group including the restructuring of the board and the acquisition of Chapman IP, which I am pleased to report has been integrated successfully. Both revenue and profit before tax have increased, which has allowed us again to propose an increased final dividend. Despite continuing macro-economic and political uncertainties, the group's European and international presence, with eighteen offices in ten countries, puts us in a strong position to balance out any weaknesses in individual markets and to support our clients worldwide." (TL)
Raiding the raiders – Last week, while the Oakland Raiders were beating out bitter rival Denver Broncos in the first Monday Night Football game of the 2019 NFL season, the US Immigration and Customs Enforcement's (ICE) Homeland Security Investigations (HSI) San Francisco unit was doing some plundering of its own – swooping to confiscate almost $11,000 in fake merchandise. "HSI San Francisco is committed to conducting intellectual property theft investigations throughout the year and preventing the sale of counterfeit goods during the home opener of the Oakland Raiders is just one example of HSI working to ensure that the public is purchasing legitimate products," stated Tatum King, special agent in charge, HSI San Francisco and Northern California. King also used the action to highlight to consumers the dangers that can be associated with counterfeits, adding: "Oakland Raiders fans attending the first game of the season deserve genuine products and the proceeds of counterfeit merchandise ends up in the hands of transnational criminal organizations engaged in varying types of illegal activities." (TL)
Two charged for counterfeit THC vaping cartridge operation – Two brothers have been arrested in Wisconsin for running a counterfeit THC vaping cartridge operation. The charges come at a time when the US is reacting to a large uptick in lung diseases allegedly linked to vaping or e-cigarettes (with even US President Donald Trump taking to Twitter to declare war on dangerous counterfeit vaping products). Tyler T Huffhines (20) and his brother Jacob D Huffhines (23) face numerous charges and are being held on $500,000 bail each. T Huffhines initially was selling THC vape cartridges which he had purchased in California. Then, to boost profits, he began to buy empty vape cartridges and fill them with THC liquid. The counterfeit vaping cartridges were sold in packaged boxes and labelled in a way to suggest low THC content. In actuality the cartridges had more than 150 times what was on the label. His counterfeit operation produced 3,000 to 5,000 counterfeit products a day. Police say this THC vaping cartridge operation may be the largest of its kind in the US. Worryingly, the counterfeits have been discovered in high schools. (BD)
Legal radar:
First impressions matter as court issues designs ruling – In a case of first impression, the US Court of Appeals for the Federal Circuit has affirmed a New Jersey federal judge's decision that a basket featuring an overlapping 'Y' pattern, sold by Home Expressions Inc, did not infringe on a design patent of household products company Curver Luxembourg. In a decision issued late last week, the Federal Circuit ruled that the scope of Curver's patent on an ornamental design for a chair is strictly limited by its claim language and title 'Pattern for a Chair'. A release from Square Patton Boggs, which represented Home Expressions, noted that the ruling's emphasis that design patents are not granted "for a surface ornamentation in the abstract" – stressing the importance of the USPTO's  rules requiring design patent claims to be limited to an ornamental design applied to a particular article of manufacture. (TL)
Swiss Parliament paves way for piracy crackdown – The providers of pirated content over the internet will face new penalties in Switzerland after Parliament amended the current copyright law, reports Swissinfo.ch. Earlier this week the country's House of Representatives gave the green light to reforms that would crack down on Swiss-based hosting providers and also bolster protection for creative artists, including photographers, musicians and film producers. (TL)
Office radar:
IPOPHL reports 11% YOY increase in IP filings – 22,952 applications for the registration of IP rights were received between January and June 2019 at the Intellectual Property Office of the Philippines (IPOPHL). This amounts to an 11% increase compared to the previous period. Drilling down, trademark applications totalled 18,964, similarly up by 11% year-on-year. Resident filers showed an increased interest in trademarks, accounting for 10,970 applications, a growth of 6%. Non-resident direct filings rose more modestly by 2% to 3,894. Foreign applicants show a remarkable interest in the country, however, with Madrid filings skyrocketing 42% to 4,100 applications filed. According to the press release, a majority of filings were in agricultural products and services; pharmaceuticals, health, cosmetics; and scientific research, information and communication technology sectors. The office further reported positive outcomes for its Joint Examination Track Procedure, which was implemented on 21 January 2019, with a 38% reduction in the amount of time it takes for a filing to be assigned to a trademark examiner. Josephine R Santiago, director-general at the IPOPHL, says that it is the office's ongoing programs and efforts that have led to this increase. Indeed, IPOPHL has education and awareness campaigns as well as involvement with intellectual property satellite offices (IPSOs), among other initiatives. While these numbers show promising growth, only the year-end figures will determine if there have been any trends or significant changes. (BD)
TPAC session to focus on USPTO fee adjustment proposals – On Monday (23 September) the USPTO's Trademark Public Advisory Committee (TPAC) is holding a public hearing on the proposed trademark fee schedule. Last month the TPAC was notified of the office's intent to set or adjust trademark related fees, with more information available here. Next week USPTO director Andrei Iancu will open the session, before the deputy commissioner for trademark administration, Greg Dodson, and chief administrative trademark judge Gerard F Rogers provide an overview of the fee adjustment proposals. The session will be livestreamed, with full details available here. (TL)
On the move: 
Former P&G counsel joins Keating Muething & Klekamp – Megan Hymore has jumped ship from P&G to become a partner at Keating Muething & Klekamp. She served as in-house counsel for the multinational consumer goods corporation for over 12 years and worked a number of positions during this time -  including feminine care innovation counsel, cosmetics and skin care innovation counsel and global privacy, and cybersecurity and IT law senior counsel. In her new role she will advise start-ups and large international companies (and everything in between) on IP and privacy matters. Her practice focuses on copyrights, trademarks, design patents, utility patents and trade secrets. Hymore further is able to provide advice on issues relating to marketing, advertising, charitable donations, and contests, among other things. (BD)
Sonder IP unveils new director – Rachel Nicholls, former head of trademarks at national law firm Shoosmiths, has joined SONDER IP as a director. The firm was founded in December 2018 and provides solution for the protection and management of intellectual property, focusing on trademarks, designs and copyright. Reflecting on its approach, Nicholls notes: "We're talking with our clients, and we're listening to what they're saying.  A quality conversation can go a long way, but not when the clock is constantly ticking, and when the meter is already running. So, we're stopping the clock. We're working closely with our clients to create a bespoke package of service provision - whether it's a regular on-site provision, a deep dive into their business, someone responsive talking commercial sense at the end of the phone, or all of the above, we've got it covered. We're [also] giving our clients complete transparency on fees and costs, using billing methods tailored to their individual needs - whether it's fixed fees, a retainer, a bulk buy, or a simple pay as you go arrangement". (TL)  
Greensfelder promotes IP attorney to officer – Susan Meyer, the head of the trademark, copyright, media, and advertising group, has been promoted to officer, according to an announcement on Greensfelder's website. Meyer joined the firm's IP and franchising and distribution groups in 2017. She represents both local and international companies, handling IP prosecution, licensing, and dispute resolution. Meyer also represents clients before the TTAB and federal courts. She practices out of the firm's Chicago office. (BD) 
Stites & Harbison welcomes patent attorney – Nick Stewart has joined Stites & Harbison's IP & technology service group in the Louisville office, according to a press release. Stewart is a registered patent attorney and the focus of his practice is on patent preparation and prosecution. He specialises in the mechanical, medical and software sectors. (BD)
Nadya Davis returns to Holland & Hart – Nadya Davis has rejoined Holland & Hart's IP practice as a partner after spending several years in-house. She began her career at the firm in 2008 managing policing efforts both domestically and worldwide, before moving on to a corporate role. Davis reflects on this time saying the experience "has added a rich texture to my ability to efficiently and effectively serve my trademark clients". She handles the prosecution, use and enforcement matters and has specialised expertise in the food and beverage, pet food and product, and software and service industries. (BD)
And finally…
Tips from the trademark industry elite – WTR is pleased to announce the publication of the inaugural edition of WTR Global Leaders. This ground-breaking new supplement presents insights from the elite of the global trademark industry, offering guidance into career development, practice management and trademark industry trends. WTR Global Leaders is available online, and free to view, here.