"A quantum leap forward for Fiji brand protection" – praise for first new Trademarks Act in 90 years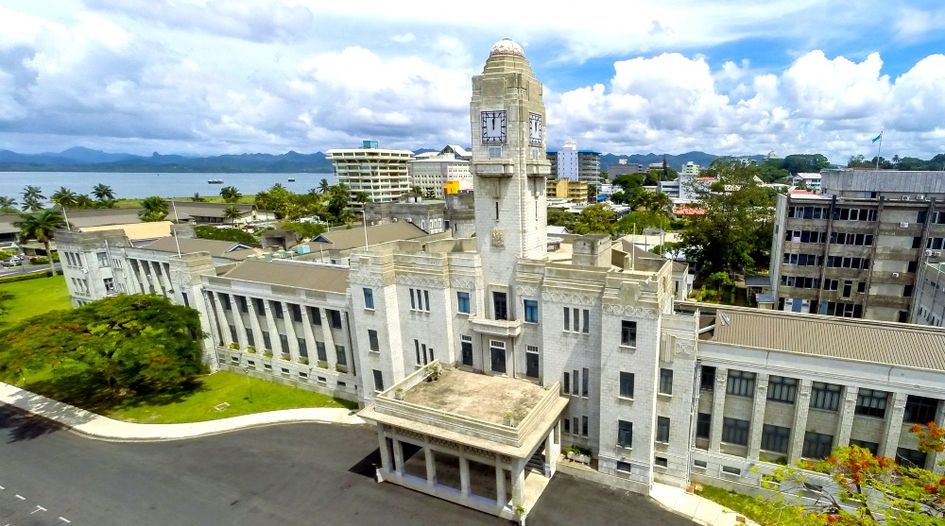 South Pacific country Fiji announced new Trademarks Act, first since 1933
Current law uses old class system, with no services and antiquated classification
New Trademarks Act "will provide much greater certainty and reliability"
The Pacific nation of Fiji has gazetted a new Fijian Trademarks Act, with hope that it will come into force in "the very near future". Talking to WTR, one legal expert says the new law, which will replace its nearly century-old trademarks act, "has the potential to be amongst the best in the world for a country of its size".
At present, the Fiji Trademarks Act was implemented in 1933 and was based on the UK Trademarks Act of 1905. It has broadly remained unchanged ever since. The biggest issue for modern practitioners is Fiji not being a member of the Nice Agreement, meaning it does not use the International Classification of Goods and Services. Instead, it uses a version of the 1938 British Classification system – a system that is particularly dated in 2021 (it has only 50 different goods classes and 10 subclasses, no service classes, and some archaic categorisations, such as Fijian class 22 being for 'carriages' and Fijian class 8 being for 'philosophical instruments').
That is now set to change. At the end of August 2021, the new Fijian Trademarks Act 2021 was gazetted, with a commencement date set to be announced soon. It is understood the new law is similar to the New Zealand Trademarks Act 2002 (which itself is similar to the Singapore Trademarks Act 1998 and the United Kingdom Trademarks Act 1994), although differences are expected when the full act is published in due course.
The move – arguably the biggest development of IP law in Fiji for nearly a century – couldn't have come soon enough, says Nick Holmes, principal and trademark attorney at Davies Collison Cave. "Fiji's previous Trademarks Act could not adequately recognise or address modern commercial and legal requirements," he tells WTR. "The new act represents a very significant and quantum leap forward for Fijian trademark law. Of course, the Fijian Intellectual Property Office (FIPO), Fijian Courts, the offices of the Fijian Attorney General and Solicitor General and Fijian IP legal specialists have all combined to do a wonderful job over the last 20 years in particular to try and make the old Fijian Act work in the twenty-first century. However, the new Act will make these tasks so much easier."
While some of the specific changes will only be revealed when the full law is published, notable modifications have been noted. Perhaps the most significant and welcome, says Holmes, is the introduction of the standard WIPO 45 classification classes of goods and services – therefore removing the days of 'carriages' and 'philosophical instruments' from modern applications. Other changes will "literally change everything in Fijian trademark law", he further claims, "from searching through to examination, registration, maintenance and enforcement", adding: "In a broad sense the most significant positive change should be that the new act will provide much greater certainty and reliability to Fijian trademark law."
Another positive is that the new act should vastly modernise the Fijian Intellectual Property Office (FIPO). In recent years, FIPO has "done its absolute best", says Holmes, given "the resources and limitations of its antiquated Trademarks Act" and "the limited financial resources within which it must work". With the new law in place, the registry has the potential to become a truly 21st century IP office – although to do so will require cooperation. "With support from the international organisations such as INTA, along with its neighbouring IP offices in Australia and New Zealand and from Fiji's strong and talented local IP community of lawyers and paralegals, I am optimistic that FIPO can seize these opportunities to adopt modern, streamlined and highly efficient systems," he says. "There is every reason to believe that FIPO and Fijian trademark law will jump from its current rather antiquated systems all the way to market leading trademark administration and management."
Crucially, though, some details – such as those regarding official fees and many practical and administrative requirements – will be set out in the new Fijian trademark regulations, which has not yet been publicly released. For that reason, while there is much to be positive of, some key elements remain unclear. "As such, the new Fijian Act stands like a new house which is yet to be decorated or furnished," Holmes suggests. "So while it certainly looks very nice from the outside, time will tell as to how it will be to actually live with the new Fijian Trademarks Act."
Looking ahead, then, it seems things are looking up for the IP environment in Fiji – including new patent and design legislation set to be introduced soon too (with the latter being a first for the country), as well as laws related to cybercrime, biosecurity, and medical products. "This demonstrates Fiji's commitment to intellectual property law generally and its strong desire to show itself in the 2020s not just as a country to dream about as a holiday destination, but as a major commercial hub in the South Pacific one in which companies and businesses can conduct business safely and reliably," Holmes concludes. "Under the umbrella of this new IP legislation, it has the potential to be amongst the best in the world for a country of its size."