QAnon™ – the global efforts to trademark a far-right movement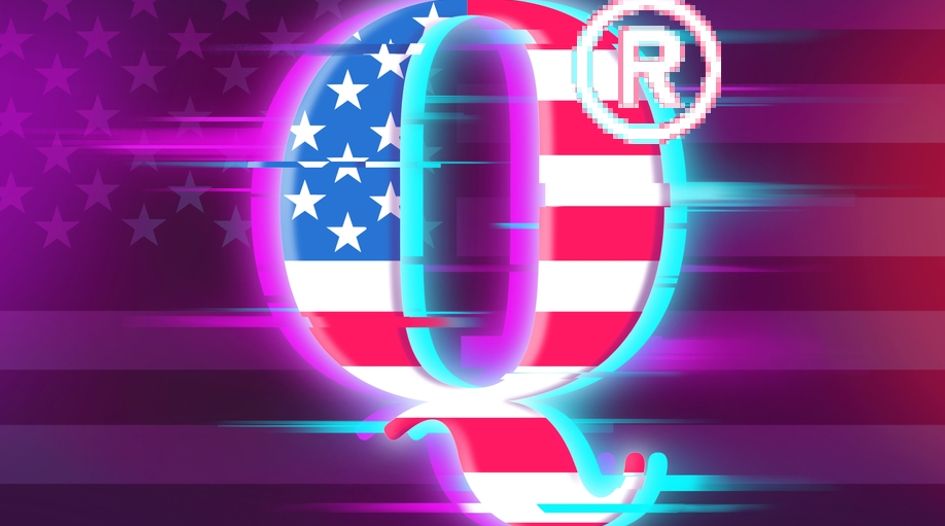 The QAnon movement has been growing rapidly around the world
Entities and individuals are seeking trademark protection related to it
Applicants describe QAnon merchandise and planned brand launches
A new investigation has found numerous trademark applications around the world for terms related to the controversial QAnon movement. Talking to WTR, applicants reveal varying sentiments towards the conspiracy theory and their motives for filing, including one ambitious plan to launch a global brand to "plant trees and save the oceans".
Research from WTR has identified dozens of trademark applications for QAnon in jurisdictions including the United States, European Union, Germany, France and Australia. The presence of such applications is unsurprising as it follows a trend of entities and individuals seeking registered IP rights for globally-recognised movements, such as Black Lives Matter, Je Suis Charlie, and Extinction Rebellion. However, the extreme views of QAnon – which is rooted in a conspiracy theory related to Satanism and child abuse – makes these filings particularly unique.
The QAnon movement originated on the 4chan message board in October 2017, with an anonymous poster called 'Q' claiming to have access to classified information involving the Trump administration. That information, it was claimed, involves "a cabal of Satan-worshipping paedophiles running a global child sex-trafficking ring plotting against US president Donald Trump" – with a prediction of an impending 'Great Awakening' or 'Storm' involving the arrest of various celebrities and politicians.
The exact number of QAnon followers is unclear. A recent Facebook analysis discovered "millions of followers across thousands of groups and pages" – with social media being key to its growing presence. In fact, the frequent use of hashtags by followers has helped its spread, including repeated use of a #SaveTheChildren hashtag, which is also the protected name for the child welfare charity Save The Children (leading to a statement from the non-profit on unauthorised use of its name). Further concern occurred in May 2019, when the FBI determined that QAnon is a "potential source of domestic terrorism".
While the QAnon conspiracy theory is primarily focused on US domestic affairs, it has been spreading rapidly across the world – with communities found in at least 15 countries (including Australia, Germany, Italy, Poland, and the UK). For that reason, terms related to the movement – including Q, QAnon, QArmy, The Great Awakening, and WWG1WGA (or 'Where We Go One, We Go All', the QAnon motto) – have become a common sight on social media, at protests, political rallies, and, as WTR can reveal, on trademark registers.
Q trademark activity
Trademark applications related to QAnon have been filed since at least 2018, with a rise in filing activity seen in the past few months. In the United States, at least four applications have been filed. The first was lodged in October 2018 for the term QANON by Texas resident Jason Stringo, which was ultimately refused by the examining attorney for "failure to function as a trademark". The second, for the term WALK WITH Q, was filed in November 2019 by a Utah entity, WWQ Inc, and was also refused (due to its specimen of use). A further application was filed in July 2020 for the term WWG1WGA by Texas resident Jessica Bloom for various clothing goods, which is currently awaiting the next stage of examination.
The latest is an application for the term QANON, which was filed at the USPTO on 21 August. In this case, the applicant (and representative) is Napoleon Law Firm located in Memphis, Tennessee. Following an email from WTR, the firm's attorney-at-law Napoleon Yancey confirmed that the application was filed "on behalf" of a client who "does not wish to reveal their identity at this time". On the reason for the application, he said: "My client's ideals do not align with that of QAnon; however, they have identified a potentially valuable asset and would like to obtain the property rights. The client intends to meet all requirements necessary by the trademark office to secure the mark."
While that suggests at least one application filed by a non-supporter of the QAnon movement, things appear to be different across the Atlantic. For example, in Germany, one advocate holds three registered trademarks related to Q. Filed over different months in 2018, Hannover resident René Reimann is the applicant of trademarks for the terms QAnon, QArmy, and WWG1WGA. All three reached registration without opposition at the end of 2018. On Twitter, Reimann is vocal in his support for the QAnon movement, including a profile featuring related hashtags and a link to a 'QArmy Deutschland' Facebook page.
Talking to WTR (via Google Translate), 48-year-old Reimann went into detail about his turbulent upbringing in East Germany and how he became aligned with the QAnon movement. "I've been a digital 'truther' since 9/11, right up to the Satanists and Nazis Operation Paperclip; I was deep into the rabbit hole!" he explained. "I have got to know socialism and cartel rule and, I think, I am a little informed. That is why I came very early to the first breadcrumbs of Q, the world's largest military intelligence operation in history, a political cult where the 'leader' encourages his followers to think for themselves and do their own research."
When it comes to the reasons for the trademark applications, Reimann – who is founder and owner of a children's event company called Gokart Team (and award-nominated inventor of the 'windboard') – confirmed he has sold QAnon merchandise on an online store (@Qanonshop on Twitter). However, he adds, the store can only operate "to a very limited extent" due to "the cartel payment service providers" (presumably linked to companies like PayPal and Stripe banning certain far-right accounts). "Out of my political 'commitment', my entrepreneurial desire grew for my own cool label for textiles," he says. "With the income from a label, you could do a lot of good with the Q-Story, [which is] soon to rock commercially! And it will!"
There are more applications across the world too. In Australia, Queensland resident Kane Oliver is the owner of a registered trademark for QANON, held since July 2018. Another trademark for QANON was filed earlier this year in France by Balma resident Stéphane Baussant, and is currently in the publication phase of the examination process.
Finally, there are three applications at the EU Intellectual Property Office that are, perhaps, the most audacious attempt to seek ownership of QAnon-related terms. Earlier this month, two applications were filed for the terms QANON and Q covering a wide variety of goods and services (including advertising, marketing, legal and political services). These were filed by two German residents, Ira Yasmin Lehmann and Philip Perez, who four months earlier also filed an EUIPO mark for the term THE GREAT AWAKENING (which reached registration in August 2020). But while trademarks related to QAnon are typically by either followers or non-supporters, these appear to be somewhere in the middle.
Talking to WTR, Perez explained how he uses social media analysing software to identify the rising use of hashtags for possible brand licensing opportunities – and that's how QAnon appeared on his radar. "Due to our profound experience in the social media sector we noticed that QAnon is a trend term," he said. "Our research has shown that this term is currently quite controversial. [...] How much truth is there in the QAnon movement and who can judge this 100%? Our honest answer is that only the past will confirm the future."
Due to the sensitive nature of QAnon, Perez confirmed that he is primarily focusing on The Great Awakening trademark – and has big ambitions. "Here our analyses have shown that it is a trend term which covers all those actions which are supposed to improve our planet and our common living together in a sustainable way," he said. "For this reason, we are currently working on a proposal to invest part of the license income in charitable projects to promote something positive on Earth. The online reach is already estimated in the millions, which is why The Great Awakening has great potential to become a global brand."
The plans are helped through Perez having "good contacts within worldwide licensing networks", and he expanded: "My vision is to take this trademark in all classes and go to companies and say 'hey, we have a licensing business, and with this money I want to do good for senior citizens, for planting trees, for saving the oceans from plastic'. I already have some brand ideas for The Great Awakening linked to different kinds of products. For example, it could work with a medicine for those with bad sleep (who need a 'great awakening') or for coffee too. Ultimately, I am not really into these kinds of movements, like QAnon, although I've read about it and know in general what it is about. I want to use this brand for good, beyond all political discussion. I am looking at it from a business perspective to try and do something positive in the world."
However, he admits that the link to QAnon could work to his advantage in the future. "From an objective brand and licensing viewpoint, it's all about the image. Right now, QAnon is a quite controversial topic and I don't know if I'll start a business with that term right now – I plan to hold onto the trademark and observe what goes on. Who am I to say that these people are talking complete bullshit? I say that, yes, they have their opinion and I don't personally know what is true or not about what they're saying. There's still a small backbone that tells me that it could be true – and if it is right, it could lead to people saying that we were ruled by paedophiles and everyone was fooled by all these leaders, and then they'd say they had a 'great awakening', which could lead this brand to be huge and have the power to do something significant."
Like any movement that catches the attention of a large audience, individuals often see a commercial opportunity – and the trademark applicants we spoke with are no different. However, with ongoing concerns over the QAnon movement being a "full-blown cult" and "the world's most powerful, dangerous and fastest-spreading conspiracy theory", some IP offices may need to consider whether such terms should be trademark protected.