Puma settles 'Roar' logo dispute; UKIPO warns about priority filings; ECTA creates SME task force – news digest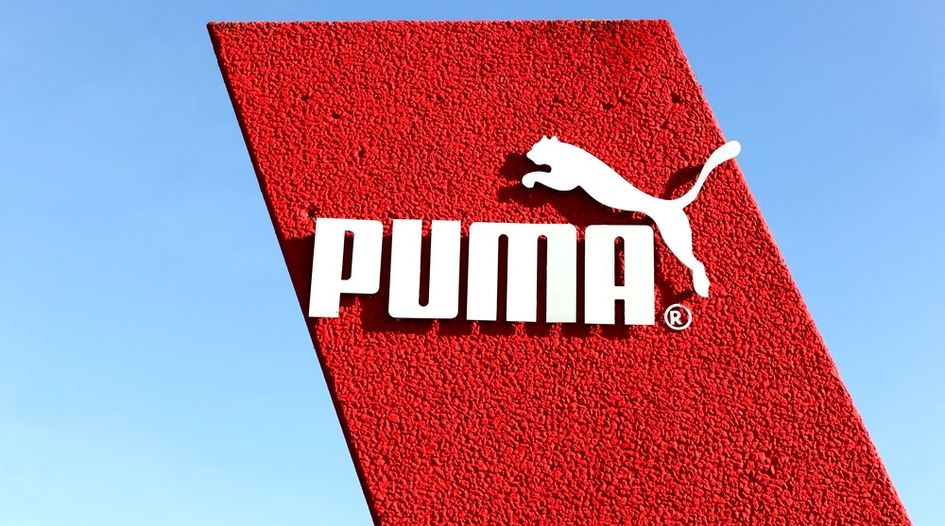 Every Tuesday and Friday, WTR presents a round-up of news, developments and insights from across the trademark sphere. In our latest round-up, we look at Philadelphia customs officials seizing counterfeit auto parts, a US Senator introducing a resolution commemorating increased anti-counterfeiting efforts, the Georgian IP office prioritising the introduction of mediation, and much more. Coverage this time from Victoria Arnold (VA), Tim Lince (TJL) and Trevor Little (TL).
Market radar:
ECTA creates SME task force – At a time when SME support is high on the agenda for European institutions (including the EUIPO, WIPO and the European Commission), ECTA has announced the creation of an ad hoc task force to follow developments in this regard. The task force is chaired by past ECTA president Sozos-Christos Theodoulou and composed of other members of the ECTA Advisory Board, Supervisory Board and Professional Affairs Committee. ECTA expands: "The task force, already involved in the ECP6 Working Group 'Supporting SMEs' and EUIPO Expert Group on 'SMEs', will also deal with other SME-related projects and initiatives to empower SMEs across and beyond the EU to protect and enforce their competitive advantage through IP rights." (TL)
Philadelphia CBP seizes counterfeit auto parts – US Customs and Border Protection officers in Philadelphia have seized a counterfeit Chinese cache of vehicle parts worth around $300,000. The shipment consisted of 5,657 pieces, including vehicle door locks, hinges, powered mirrors, steering wheel switches, headlights and taillights, grills, rear bumpers and paint kits. CBP officers suspected the auto parts to be counterfeit and detained them. Subsequent consultation with automotive experts at the agency's Centers of Excellence and Expertise and the trademark owners confirmed that the automotive parts were fake. The manufacturer's suggested retail price of the items seized was $295,052. "Unscrupulous repair shops and greedy internet vendors that value profits over safety place motorists in severe peril," said Keith Fleming, CBP's acting director of field operations in Baltimore. "Customs and Border Protection officers will continue to intercept counterfeit or pirated goods because we want consumers to be confident in knowing that the products that they purchase are safe for themselves and their families." (TL)
Buy Safe America Coalition welcomes legislative move, renews call for passage of INFORM Consumers Act – The Buy Safe America Coalition has issued a statement reacting to the ongoing problem of organised retail crime in California following a roundtable and press conference on the issue held by Governor Gavin Newsom. The organisation applauded Newsom for signing AB 331, which re-enacts the crime of organised retail theft and the operation of the state's property crimes task force. "Law enforcement is critical in the fight against criminal rings targeting local retailers, and the task force is an important component in coordinating efforts between retailers and local law enforcement," said Jason Brewer, Buy Safe America Coalition spokesperson. He went on to renew calls for more to be done to prevent the sale of stolen and fake goods on e-commerce platforms, declaring: "We need to address the root cause of this recent spike in criminal activity targeting local retailers, and that is the ease with which criminals can hide behind screen names and fake business accounts to sell stolen goods on platforms like Amazon, Etsy, eBay and Facebook Marketplace… Until transparency and accountability safeguards on e-commerce platforms are established, we can only expect to see retail theft rates continue to rise, and for these crimes to become more brazen and more violent." To that end, the coalition is urging Congress to pass the INFORM Consumers Act. (TL)
Senator introduces resolution commemorating increased anti-counterfeiting efforts – US Senator Chuck Grassley (R-Iowa) has introduced a bipartisan resolution designating July as National Anti-counterfeiting Consumer Education and Awareness Month. Timed to coincide with the 75th anniversary of the signing of the Lanham Act, the resolution recognises and reaffirms the commitment of the United States to combat counterfeiting by promoting awareness about the actual and potential harm of counterfeiting to consumers and brand owners and by promoting new educational programmes and campaigns designed to reduce the supply of, and demand for, counterfeit products. "Knockoffs not only violate intellectual property rights; they also threaten the economy, consumers and innovation," Grassley said. "I'm glad to introduce this bipartisan resolution. Increased education and awareness efforts are critical to helping to put a stop to counterfeit activity and protect American business and ingenuity." The resolution is cosponsored by Senators Chris Coons (D-Del), Thom Tillis (R-NC), Dick Durbin (D-Ill) and Patrick Leahy (D-Vt). (TL)
Brand radar:
Nokia brand licensee to launch US smart lighting line – Smart lighting and electrical control specialist Smartlabs has announced the launch of Nokia Smart Lighting, a suite of IoT-powered lighting and electrical control products. The first-ever Nokia Smart Lighting products, the offering is designed to make smart lighting straightforward to buy, easy to install and intuitive to use. "One of our focus areas in brand licensing is smart home connected devices, and we are excited to bring the first Nokia Smart Lighting products to market with Smartlabs, a technology leader in smart lighting control. This complete line of innovative, versatile and easy-to-use smart lighting devices reflects Nokia's commitment to using technology to positively impact people's everyday experience, including enabling effective energy management," said Vipul Mehrotra, vice president, Nokia Brand Partnerships. (TL)
Legal radar:
Puma settles 'Roar' logo infringement claim – Puma has settled a dispute with Brooklyn-based artist Christophe Roberts over claims that the company infringed his 'Roar' logo by using the design on its clothing, reports Reuters. Roberts, who has collaborated with brands such as Nike in the past, claimed that Puma copied his signature 'Roar' design on items such as jackets and t-shirts after a member of the company saw his work at an art installation and hired several people working there. In May the US District Court for the Southern District of New York rejected Roberts' request for a preliminary injunction to block Puma from using the design on the grounds that Roberts had failed to establish "sufficiently serious questions going to the merits to make them a fair ground of litigation, let alone a likelihood of success" while there was no evidence of actual confusion or bad faith. In response, Puma requested that the court invalidate Roberts' federal trademark based on non-use, abandonment and fraud. This week, a joint filing at the court confirms that the parties have agreed to dismiss both Roberts' trademark infringement claims and Puma's counterclaims. Details of the settlement are undisclosed. (VA)
Office radar:
(For the latest coronavirus-related updates from national IP offices, please read our dedicated article, which is being continuously updated.)
EUIPO and EURADA sign collaboration agreement – The EUIPO and the European Association of Development Agencies (EURADA) have signed a collaboration agreement to encourage activities and promote services that support small businesses. The agreement covers activities such as training in intellectual property, knowledge sharing, participation in events and awareness raising. The collaboration is part of the EUIPO's push to support EU businesses in developing their IP strategies and protecting their IP rights in the context of the Ideas Powered for Business initiative. This initiative, which is hosted in the EUIPO site, provides tailored guidance to companies and vouchers for IP registration, as well as dispute resolution services. (TL)
UKIPO warns about priority filings – The UKIPO is warning that users have less than 10 weeks until the filing deadline for UK priority applications based on pending rights at the UKIPO. In a blog post from the UK's Chartered Institute of Trademark Attorneys (CITMA), they warn that "if too many design and trademark rights holders leave it until the end of September to file, they will experience delays in receiving examination reports". The deadline for the applications is 30 September 2021. "The UKIPO is urging holders of such rights to file these applications as soon as possible," CITMA states. "This will allow the office to examine cases in a timely manner and will help effectively manage the workload." (TJL)
Georgian IPO priorities mediation introduction – The deputy chairman of the Georgian IP Office (Sakpatenti), Nino Chikovani, has revealed the agency is "actively working" to introduce alternative dispute resolution mechanisms. "Introducing a flexible mediation mechanism for the right holders is one of the priorities of the agency, as it will help the owners of intellectual property rights in resolving disputes quickly and effectively, and will also allow them to maintain confidentiality," Chikovani said at a recent event. "At the same time, it is important to end the dispute amicably, because after that, the business relationship between the parties continues, develops and even strengthens."
In-house vacancies radar:
Amazon – Amazon is seeking an experienced trademark paralegal to join its team in Seattle and manage all matters relating to coordination and maintenance of its trademark portfolio and implementation of its global IP strategy. Responsibilities will include: conducting and analysing trademark searches; advising on the naming process and clearing trademarks worldwide; active management of trademark opposition, cancellation and other conflict matters, and; reviewing social media accounts for trademark infringing activity; preparing and submitting take-down requests. Full details are available here. (TL)
Netflix – Netflix is seeking a manager/counsel, intellectual property – Japan and an EMEA contract IP counsel. The former, based in Tokyo, would handle a wide range of legal issues that arise from the creation, streaming, and marketing of its original and licensed content. The candidate will advise on copyright issues, chain-of-title clearances, content production clearance, rights enforcement, claims handling, moral rights issues, and defamation claims (full details here). Meanwhile, the EMEA  contract IP counsel would advise film and TV productions and executives on all matters related to IP issues across the region, closely collaborating with the creative, business and legal teams that create Netflix's content. Full details are available here. (TL)
And finally...
New WTR events announced for Europe and the United States – WTR is pleased to announce that it will be hosting a series of one-day events in London, San Francisco, Chicago and New York this December. WTR Live: The Future of Trademark Management and Brand Protection will facilitate discussion, benchmarking and the sharing of best practice around key topic areas and challenges facing brand leaders. Crucially, it will offer a glimpse into what industry leaders expect the future of trademark practice to look like. Registration is free to in-house brand professionals. Spaces are limited and should we be unable to host the event, registration fees will be fully refundable. While on site, we will be adopting the All Secure Standard to ensure that all attendees can continue to do business effectively and network with their peers safely. For full details, and to reserve a place at one of the events, click here.