Prince estate hits out at Trump, warning for IP event vendors, and Riot dispute: news digest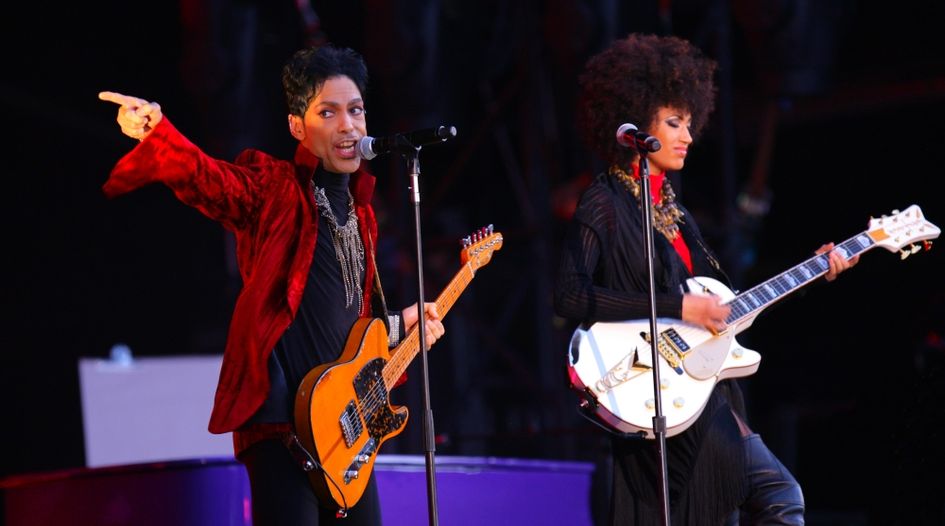 Every Tuesday and Friday, WTR presents a round-up of news, developments and insights from across the trademark sphere. In our latest edition, we look at Elon Musk's IP pledge, a boost for Nickelback following Trump enforcement,  the UKIPO unveiling a new campaign, Duke's Mayonnaise claiming infringement, the origin of pharma names, and much more. Coverage this time from Trevor Little (TL), Bridget Diakun (BD), Jonathan Walfisz (JW)  and Tim Lince (TJL).
Market radar:
Warning for vendors at IP events – Trademark docketing software company AltLegal has issued a strong warning to vendors at IP events over a new sales tax issue in the United States. The warning is due to a Supreme Court decision last year, South Dakota v Wayfair Inc, which changed the long-standing requirement of physical nexus and authorised states to instead create sales tax liability based on economic nexus. As well as that, some US states have also taken a position that sales tax should apply not just to physical goods, but also to digital goods – that can include IP software and other software-as-a-service offerings. It is understood that at least 18 US states have imposed sales tax on such software products, including New York and Texas. According to AltLegal CEO Nehal Madhani, these developments could have a significant impact on vendors at IP events in the US. "The passage of economic nexus laws and taxability of digital goods could subject INTA vendors to obligations that, depending on the location of the INTA conference where the vendor is exhibiting, require them to collect sales tax," he explained to WTR. He gave one example of Massachusetts (the location for this year's Annual Meeting), vendors are subject to two requirements: (1) out-of-state sellers that sell tangible personal property (including digital goods) at trade shows must collect sales tax; (2) out-of-state sellers that solicit orders in Massachusetts for more than three days in a single year must also register to collect sales tax and must continue to collect it until they can show that they no longer have economic nexus with the state. "In other words, if a company exhibits at a 2-day trade show in Boston in January and another one in Salem in December, the company would need to register to collect Massachusetts taxes until at least the following December," Madhani adds. A similar situation will occur in Texas, the location for the upcoming INTA Leadership Meeting. "If an employee promotes, takes orders, delivers, or sells during a trade show or conference, the company is required to register to collect sales tax – this would likely also require the vendor to collect sales tax going forward until they no longer have economic nexus there," he concludes. "All vendors should look into these changes as vendors unaware of the new requirements may be hit with large bills as they would have to pay back taxes along with hefty penalties." (TJL)
Boost for Nickelback following Trump tweet takedown – Last week we reported that US President Donald Trump had had a video removed from Twitter following a report of copyright infringement. The video, which featured rock band Nickelback, was taken down within 12 hours of being posted and is the second such removal so far this year. We argued that the move is a reminder that brand misuse could increase significantly during the 2020 US presidential election, and rights holders should be prepared. Now, though, there is another lesson: enforcement can have a direct and immediate financial payoff. This week youredm reported that streams of Nickelback's music have soared since the takedown. It notes that, according to Billboard, with data collected from Nielsen, the song 'Photograph' saw a 38% gain in streams over 2-3 October, amounting to 772,000 plays. In addition, digital sales of Photograph spiked 569% over the same two days. (TL)
Prince estate and Queen seek to block Trump using their songs – In more news on Trump's use of music, more musical acts have criticised the US president for using their songs without permission. Yesterday, The Independent reported that Queen is "seeking to block Trump from using 'We Will Rock You' in a campaign ad". Earlier in the week, Trump had shared a video which used the Queen song in its entirety alongside photos from past campaign rallies. "Queen did not agree to the use of the song," a band representative commented, adding that "the band's music publishers are removing it". The following day, the estate for Prince blasted Trump for playing the song 'Purple Rain' during a rally in Minneapolis on Thursday (October 10). "President Trump played Prince's 'Purple Rain' tonight at a campaign event in Minneapolis despite confirming a year ago that the campaign would not use Prince's music," the Prince Estate wrote on Twitter (including a screenshot of a letter from Jones Day on behalf of Trump's campaign). "The Prince Estate will never give permission to President Trump to use Prince's songs." Of course, this is not the first time that Trump has been urged by major music acts not to use their songs. The Rolling Stones have sent numerous letters asking for their music to not be played at Trump events, yet their song 'You Can't Always Get What You Want' remains on the track-list at the end of nearly all Trump campaign speeches. Furthermore, Steven Tyler, the frontman of Aerosmith, sent a cease-and-desist letter to Trump demanding that he stop using the rock band's songs at his political rallies (claiming use of the music "falsely implies that Tyler endorses his campaign and/or his presidency"). It appears that, to date, such enforcement letters or social media messages do little to stop Trump's use of songs at campaign rallies. If he has a change of heart, though, Trump presumably has the option to use the 'Ode to Trump' song that featured in the 2016 campaign. (TJL)
Another food company expands into health-conscious brands – Hometown Foods, a Chicago-based which owns the famous Pillsbury brand, has added two organic baking brands to its portfolio. It has acquired Arrowhead Mills and SunSpire for $15 million from Hain Celestial Group. The purchase was motivated by a desire to capitalise on healthy living trends and further diversify the company's portfolio. (BD)
Elon Musk assures NASA that SpaceX IP is free of charge – During a meeting between SpaceX CEO, Elon Musk, and NASA administrator Jim Bridenstine at SpaceX's HQ, Musk reiterated that NASA was free to share the IP developed between the two. "I want to be clear: NASA can share all of our IP with anyone that NASA wants," Musk said. The enigmatic CEO claimed that the IP was to distributed as NASA saw fit, with Bridenstine noting that in the interest of the nation, NASA would still be conscious of limits to how the IP is shared. (JW)
Legal radar:
Riot Games faces off against Riot Squad – Popular videogame developer Riot Games has filed a lawsuit against esports organisation Riot Squad. Riot Games is the developer of League of Legends, one of the most played esports games in the world. According to Polygon, Riot Games alleges that the management of Riot Squad "hopes and intends that by its use of the Riot brand name, consumers will mistakenly believe that its esports organisation is in some manner associated with, sponsored or endorsed by, or otherwise affiliated with Riot and its hugely popular products and services". One specific example of ire in the lawsuit is Riot Squad's prominent use of the term 'Riot' on the team's marketing and merchandise. It is worth noting, though, that Riot Squad does not own a League of Legends team. (TJL)
Bookmaker faces invalidation in Russia – A Russian bookmaker is reportedly facing a fight with the Russian IP Office (Rospatent) to retain its registered trademark rights. According to local media,  Darina Denisova, president of the Bookmakers Self-Regulatory Organization (SRO), had filed a legal challenge to a Rospatent ruling that invalidated the OLIMP trademark registration of Russian-licensed bookmaker Olympus. The invaliation was requested by the Russian Olympic Committee (ROC), which argued that the OLIMP trademark infringed on the International Olympic Committee's IP. (TJL)
Clash of the condiments: Duke's Mayonnaise claims infringement – Duke's mayonnaise owners, Sauer Brands Inc, has filed a federal lawsuit accusing Duke Food of trademark infringement. The problem stems back to the origin of the Duke's brand. Eugenia Duke created the condiment from her sandwich shop in South Carolina in 1917. In the 20s, she sold both the mayonnaise business to the Sauer family and the sandwich shop to another buyer. Since then, the complaint argues that Duke Foods has maintained the small sandwich business in South Carolina. Now that the sandwich company is expanding into condiments available regionally and nationally with a new logo, Duke's has chosen to act. Duke Food claims that they began these activities in 2006 and that it is only now a problem due to the C.F. Sauer Company being sold off to private equity firm Falfurrias Capital Partners. (JW)
Office radar:
IPOS unveils award winners –Three students from the pioneer cohort of Singapore University of Social Sciences (SUSS) Master of Intellectual Property and Innovation Management (MIPIM) programme have been conferred the inaugural IPOS Awards, sponsored by the Intellectual Property Office of Singapore (IPOS) today. The awards aim to encourage professionals to take up the MIPIM to meet market demands and advance their careers in today's innovation-driven economy. The three recipients were Wendy Sim, an IP management consultant at Synergy IP, Dr Leck Kwong Joo, a senior patent examiner at IPOS, and Claire Mak, a senior manager at a local university. IPOS notes that, globally, the demand for specialised post graduate programmes is on the rise. This is reflected in the uptake in enrolment for MIPIM. For the third intake, in 2019, there was a more than two-fold increase to 29 as compared to 2017. (TL)
UKIPO launches 'Cracking Ideas' competition alongside animation studio – Wallace & Gromit creators, Aardman, has teamed up with the UK Intellectual Property Office (UKIPO) to launch the Wallace & Gromit 'Cracking Ideas' competition. Budding inventors aged 5-11 can submit their designs in a bid to learn more about how IP can protect their creativity. The competition winner will have their invention feature in a brand-new Wallace & Gromit digital project in 2020 as well as an Aardman model-making workshop for their school or group. The competition closes on Friday 24 April 2020. (JW)
Media watch:
What's in a pharma name? – Over on Twitter, law professor Alexandra J Roberts highlighted a particularly interesting thread on the origin of drug brand names (it will be appreciated "by the trademark nerds and the linguists and the health law folks,'' she notes). For example, it includes information on Ambien, which got its name "from a little bit of crappy Spanish", that: "after your night's sleep, you should have an AM that is bien". There is also the origin of the name of the 'selegiline patch', known as 'Emsam', which is named after the product inventor's two children, Emily and Sam. The thread includes numerous examples that will be a reminder of the sometimes creative, sometimes totally random ways that brand names are dreamt up. (TJL)
Domain radar:
Nominet wants your views on phishing and enforcement policies – Nominet, which runs the '.uk' namespace, has announced a new policy consultation. The consultation is seeking feedback on three issues: Reducing the use of '.uk' domain names for phishing attacks; implementing law enforcement landing pages following suspensions for criminal activity, and; implementing a '.uk' drop list to provide a transparent process for the re-registration of expired domains. Eleanor Bradley, MD of registry solutions and public benefit at the organisation, says: "This consultation sets out ambitious ideas to ensure '.uk' maintains its position as a vibrant and trusted namespace and provides an important opportunity for the UK internet community to provide input. We believe open consultation creates better policy so I encourage all interested parties to engage and look forward to hearing from you." The consultation period runs until 16 December 2019, with full details available here. (TL)
On the move:
Dentons expands Vancouver practice – Richard Johnson has been appointed to partner within Dentons' IP group based in Vancouver, according to a press release on the firm's website. Johnson handles all things IP including patents, trademarks, designs, copyrights and trade secrets. He has particular expertise within mechanical, electrical, electronic, optical and computer-related inventions. Johnson is a registered patent and trademark agent in the US and Canada. (BD)
McDonnel Boehnen Hulbert & Berghoff open Austin office – IP boutique firm, McDonnel Boehnen Hulbert & Berghoff has expanded from its Chicago base, opening an office in Austin, Texas. The firm has brought in Jeffrey Toler of Toler Law Group, along with five other lawyers from the firm. Toler has 25 years' experience in technology and IP matters and now sits as chairman of the firm's transactions and high-tech litigation strategy practice group. Benjamin Johnson, Kenton Mullins, Melissa Vanessah Pace, and Christopher Scurry will join Toler in the Austin office. The Chicago office has also welcomed James Gauger. After the six departures, Toler Law Group's seven remaining lawyers have apparently formed a firm under the leadership of Jason Moore. (JW)
And finally...
Managing Trademark Assets returns to London – WTR is pleased to announce that, following the success of this year's event, Managing Trademark Assets Europe will be returning to London on 28 January 2020. The event provides an opportunity for attendees to hear best practice and insight from leading in-house counsel from the world's biggest brands as they discuss their approaches to critical areas, as well as share their own insights with peers and colleagues. For the upcoming event we are also increasing the interactive nature of the programme, introducing informal, small-group discussions on dispute resolution scenarios - allowing participants to workshop possible responses with their peers and colleagues. Among the other areas to be explored are budget management, dispute negotiation tactics, best practices around diversity and team building, and how to fight counterfeits on a finite budget. The current registration rate for the event is £395 (excluding VAT). To sign up to attend Managing Trademark Assets Europe, click here. (TL)