Kicking out counterfeits from the Premier League: takeaways from Football Against Fakes 2019 – exclusive guest post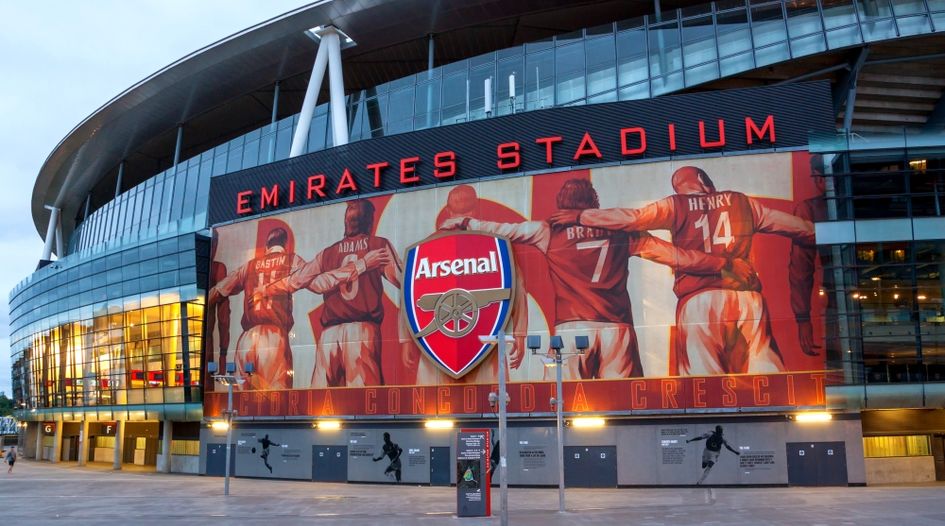 This week, law enforcement professionals, brands and sports teams gathered at the Emirates Stadium in London for Football Against Fakes 2019, an annual event dedicated to discussing strategies and outcomes of anti-counterfeiting work in the sports industry. In an exclusive guest post, Pointer Brand Protection consultant Stephen Connolly reveals insights from the event and takeaways for brand owners.
Guest analysis
Since 2014, the Premier League has been running the annual Football Against Fakes event as part of its anti-counterfeiting programme. Each year representatives from Trading Standards, UK Border Force, the Police, and other global agencies come together for a day of presentations and panels which focus on the key trends and challenges for the overlapping worlds of football (and sport more broadly) and IP protection.
As with previous editions of the conference, 2019's agenda included an update on the Premier League's anti-counterfeiting programme along with a number of speeches from both IP professionals and enforcement colleagues.
Firstly, with the new UK football season now underway, Premier League presenter Kelly Somers reflected on last year's global seizures of 160,000 counterfeit items. For keen observers of counterfeiting in the sports market, one interesting aspect of these figures is the number of countries that now report regular seizures. Previous visitors to Football Against Fakes will have noticed that over recent years, as the number of seized items has grown, so too has the international nature of the programme itself.
IP specialist Ben Houston of Back Four Brand Protection, who was an event speaker, remarked afterwards that this worldwide focus is indicative of how the brand protection industry should now be considered. "One of the exciting things about Football Against Fakes is that it's a microcosm of what's going on with the brand protection industry as a whole," he said. "Although it is sport specific, the range of brands and enforcement who attend make the insights discussed here applicable to many other brands and sectors."
In relation to the Premier League's own increase in seizures, Houston added: "In the UK, we know that the legacy of budget cuts to enforcement agencies continues to impact on domestic IP actions. So, when we do see increases in numbers, what that suggests is that the people doing brand protection most effectively are often reaching out to international partners as well as those at home. When you couple that with more strategic trademark registrations in international markets, and online and on-the-ground investigations, that's when you get results."
Houston's own presentation focused on trends for counterfeit replica kits, a trade now spread across marketplaces, social media, and websites. With the demand for football kits at an all-time high, this is a market that counterfeiters are exploiting through a range of importation methods, ranging from individual package drop-shipping to routing transshipments through the borders of 'weaker' countries. It was noted that this trade is not just damaging to brands, but consumers too. Research undertaken by Back Four, and raised during the presentation, highlighted a spike in fan complaints about fraud and poor quality goods.
Continuing on an international note, the national program manager for the US Homeland Security's National Intellectual Property Rights Coordination Center (NIPRCC), Bill Hardy, outlined a view from across the Atlantic. As one of the most watched events in the world, the NFL Super Bowl generates huge interest and a commensurate amount of IP infringement. Hardy outlined the investigative tactics deployed by those in charge of its protection, particularly local police departments and lead IP authorities. In order to cover the event with as much protection as possible, he revealed that US authorities create a sustained period of activity, which includes criminal arrests, seizures, civil litigation, and intelligence led co-operation with local Customs units.
Fighting fakes on the digital pitch
Later in the day, the panel discussion concerning online counterfeiting highlighted both the importance and the complexity of e-commerce for all brands and sports teams. The Premier League's online removals now total more than 270,000 marketplace listings – worth over £740,000 – but the market is an ever-changing one and requires consistent monitoring.
This is a point picked up by panelist and online brand protection expert, Pointer Brand Protection's Simone Dormio: "We identify large numbers of infringements through parameters that are scraped by software but still vetted by trained analysts. This is important because effective brand protection must be a marriage of technology with a human eye. Counterfeiters have become more sophisticated in recent times and there are no single indicators – often there aren't even any clear-cut infringements. Making large-scale online reductions ends up involving a wide set of indicators including images, origin point, seller details, prices, reviews, and more. To be effective, your plan has to be robust enough to include all that."
There were further comments from Mat Robinson from Watford Football Club, who spoke about how his organisation has improved their efforts to beat counterfeits. Robinson's focus was on Watford FC's status as a growing brand, outlining the need for SME's in particular to foster effective relationships between enforcement and industry – a theme also considered by two of the enforcement presentations in the afternoon.
Also talking at the event was David Gilmore, IP lead for An Garda Síochána, the police service of the Republic of Ireland. He discussed the current situation with counterfeiting in the country, and suggested that in the context of the EU's IP Crime Threat Assessment, revisions to the scale of the Irish problem may be necessary. However, for enforcement to act comprehensively it requires increased resources and cooperation with businesses.
Fittingly, the last presentation of the event, from Martin Harland of Camden Trading Standards, concerned London's most unique and challenging neighbourhood for IP protection. Against a background of sustained budget cuts, Harland revealed how IP protection has once again been increasing in his authority throughout 2019. It was a good reminder for the assembled that the protection of trademark regimes throughout the world fundamentally relies on the work done on the ground by a wide range of people and agencies. Indeed, it is at events like Football Against Fakes that these relationships are often made or refreshed on a regular basis.
After the event's presentations were over, a veteran of the UK's brand protection industry, Mike Roylance of adidas, echoed that sentiment: "It's only by working together we are going to ever get on top of this problem because there's no way that one brand or one club are going to be able to cope with it. Meeting and training enforcement makes a huge difference, and after one of these events we see a spike in the amount of goods that are seized."