Plague of misinformation: health and media organisations face brand protection challenge during coronavirus pandemic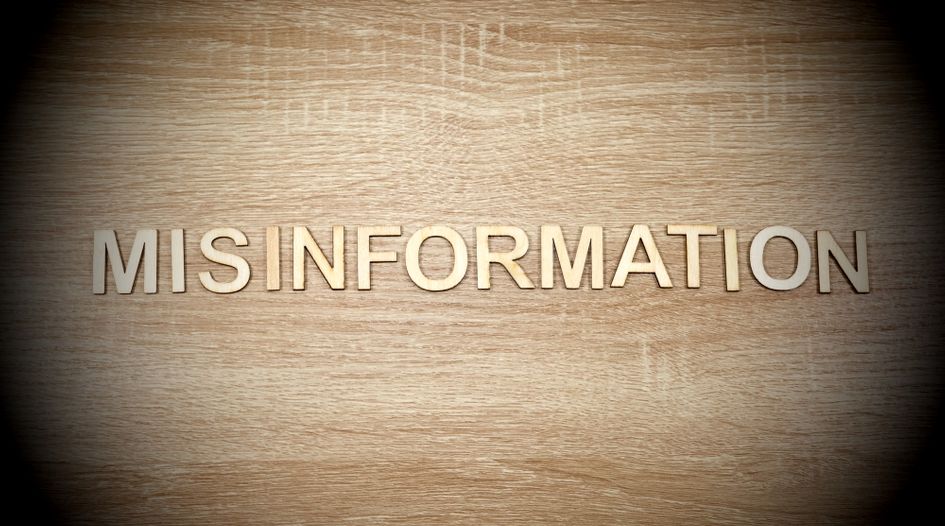 Misinformation about the coronavirus spreads online, often using major brand assets
Organisations including UNICEF and WHO, tackle fake information
Representatives reveal deals struck with Facebook and Google to combat issue
Global interest in the novel coronavirus crisis has spurred the mass creation and sharing of misinformation, with fake alerts claiming to be from major health organisations being shared widely online. WTR takes a look at what brand protection activities are being conducted and the role that social media platforms play in stopping the spread of false health claims.
The issue of misinformation related to the outbreak of coronavirus (COVID-19) has been prevalent since the first diagnosis emerged, with conspiracy theories and falsities being shared online regarding the origin, scale and various other aspects of the disease. Some of the most common claims include that the coronavirus is a biological weapon and that the outbreak arose from the consumption of bats.
In many cases, such misinformation is posted on websites that pose as major media outlets. For example, one such article was hosted on a website that mimicked the branding of the Associated Post and stated that there were coronavirus cases in Wellington, New Zealand – a claim subsequently denied by the New Zealand government. In a similar incident, a screenshot of an article from the Khaleej Times was manipulated to claim that schools were closed in the United Arab Emirates due to the emergency – again, a denial needed to be issued after the screenshot went viral on social media.
However, perhaps even more dangerous are widely shared misinformation images that use the branding of health organisations and non-profits. For example, fact-checking platform FullFact reported this week that a number of graphics purporting to be from UNICEF (including the use of its logo and brand colours) are "spreading on WhatsApp" and were even featured in news articles claiming to be legitimate. Days later, UNICEF confirmed that the graphics are unauthorised and contain false information: "UNICEF does not issue coronavirus advisories on chat apps. We post updates and safety tips only on official verified UNICEF accounts and on our official website."
Shortly afterwards, UNICEF published a longer press release that urged the public to be mindful about the spread of misinformation. Explaining the challenges being faced by the organisation, Charlotte Petri Gornitzka, UNICEF's deputy executive director for partnerships, said: "A recent erroneous online message circulating in several languages around the world and purporting to be a UNICEF communication appears to indicate, among other things, that avoiding ice cream and other cold foods can help prevent the onset of the disease. This is, of course, wholly untrue. To the creators of such falsehoods, we offer a simple message: STOP. Sharing inaccurate information and attempting to imbue it with authority by misappropriating the names of those in a position of trust is dangerous and wrong."
Beyond asking perpetrators to stop, other measures are also being taken. A representative from the World Health Organisation (WHO) explained to CNN recently that the organisation has taken significant steps to stop the spread of misinformation – especially around false claims of cures or treatments. One of the key strategies that it has taken is to work with technology companies including Facebook and Google to develop AI solutions to detect instances of possible misinformation. If such misinformation is found, the team at WHO can flag it for near-immediate removal. Such an alliance between WHO and Facebook also spurred a statement by Facebook CEO Mark Zuckberg pledging to "take extra measures to remove fake claims and conspiracy theories".
A similar approach is being taken by the UK National Health Service (NHS), which this week unveiled measures to tackle "coronavirus fake news". One of those measures is an agreement with Google to provide "easy access to verified NHS guidance when someone searches for coronavirus" – ensuring that the spread of misinformation on search engines is minimised (for common search terms). On top of that, a pop-up box of verified information will be introduced on the Google search app, while searches for 'coronavirus' on Twitter and Facebook will direct users to the NHS website. Further, it also confirmed that it recently worked with Twitter to "suspend a false account posing as a hospital and putting out inaccurate information about the number of coronavirus cases". Finally, the NHS worked with Twitter, Instagram and Facebook to verify (with a blue tick) more than 800 accounts belong to NHS organisations, to ensure that the public can quickly identify legitimate sources of information.
The chief executive of the NHS, Simon Stevens, said in a statement that such collaborations with technology companies are crucial to get a grip on the spread of misinformation. "The NHS has already been battling coronavirus fake news, from working to take down false Twitter accounts to speaking out against misleading treatments being promoted by homeopaths online," he explained. "It's right that social media platforms and search engines take any action so they can help ensure the public are directed to NHS advice first."
What is clear from the public response to misinformation from the NHS, UNICEF and WHO is that collaboration with technology companies is key to success. Ultimately, the sheer rate of misinformation is overwhelming, and the use of automation and AI is required to have any hope of quelling the influx of dangerous branded false information. So too is the ability for these organisations to take down false information before it goes viral. Nonetheless, according to Jevin West, director of the Center for an Informed Public at the University of Washington, it may not be enough. Due to the sheer global scale of the coronavirus pandemic and resulting misinformation, he states: "I don't think we've ever seen the social media world come together on an issue like this – and yet still it's falling short."
When we first looked at hoax news articles in 2015, legal experts suggested that domain takedowns and typical trademark infringement takedowns are effective. However, things have changed a lot since then. In the midst of a global pandemic, the sheer amount of false information is overwhelming and it needs to be removed immediately. For that reason, partnerships with technology companies will hopefully continue after the coronavirus crisis ends.