PepsiCo sells Tropicana brand; Oatly loses infringement suit; Banjul Protocol effective in The Gambia – news digest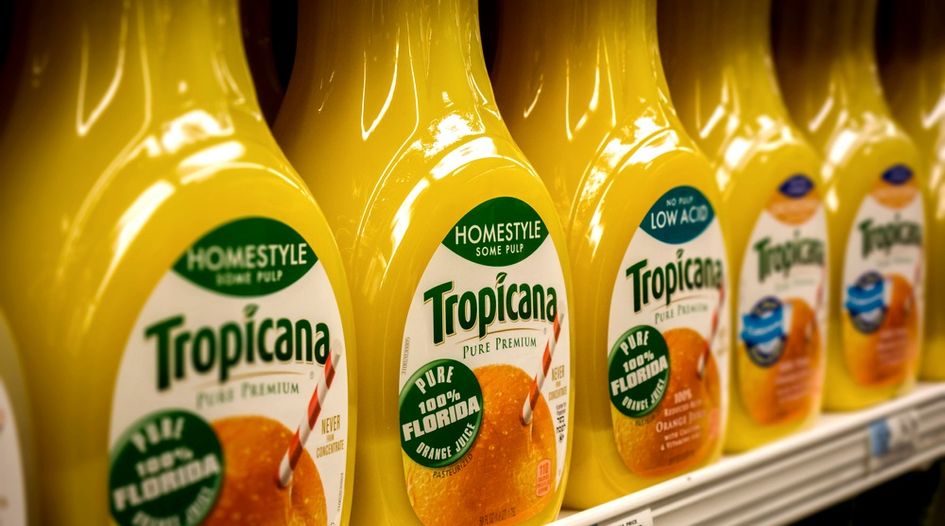 Every Tuesday and Friday, WTR presents a round-up of news, developments and insights from across the trademark sphere. In our latest round-up, we look at OpSec Security launching an analytics tool to neutralise bad actor networks, the American Intellectual Property Law Association filing an amicus brief in a functionality case, a Scottish knitwear company winning an EUIPO appeal, and much more. Coverage this time from Victoria Arnold (VA), Bridget Diakun (BD), Tim Lince (TJL) and Trevor Little (TL).
Market radar:
Japan's Z Holdings selects Anaqua's AQX Platform – Anaqua has announced that Z Holdings Corporation, a holding company of Yahoo Japan Corporation, LINE Corporation and various other Japanese internet service business groups, will move its IP management, budgeting and licensing processes to Anaqua's AQX platform. The platform will support Z Holdings in trademark and patent management processes globally, providing IP data analytics and forecasting, and helping to identify licensing and other monetisation opportunities. "Z Holdings is at the cutting edge of internet services in Japan, playing a significant role in supporting the daily activities of consumer businesses," said Bob Romeo, CEO of Anaqua. "We are honoured to have been selected by such an innovative and influential group to help manage, protect and maximize the value of its IP assets; and we are delighted to add yet another leading Japanese company to our global client community." (TL)
European Union grants PGI to US Willamette Valley wine region – The European Union has granted Oregon's Willamette Valley protected geographical indication (PGI) status, reports Forbes, making it the second US wine region to attain PGI status after Napa Valley. The designation comes after an almost 20-year effort by the Willamette Valley Wineries Association and other state-wide organisations, under the leadership of local wine producer Harry Peterson-Nedry. Peterson-Nedry stated that PGI designation "offered recognition for the pioneers' priorities and principles, and for the ongoing desire to do the right thing for consumers". "The reality is that some wine producers could unfairly appropriate the hard, historical work put in by others, by using their wine region names and cheating long-term both the wine industry and consumers," he continued. "For the EU consumer, the PGI is the guarantee of authenticity: that every bottle meets the quality standard set by the Willamette producers," said EU Ambassador to the United States Stavros Lambrinidis, adding: "Producers of GIs attract higher prices and secure rights against counterfeits." As a relatively young wine region (the first vines were planted in Willamette Valley in 1965), it begs the question of whether attitudes could be changing towards GIs in the United States, which has traditionally been sceptical of EU GI designations. (VA)
OpSec Security launches analytics tool to neutralise bad actor networks – Online authentication and brand protection company OpSec Security has launched OpSec Network Intelligence, a patent-pending advanced analytics tool that automatically identifies and reveals bad actor networks across multiple online channels. The offering monitors online content for connections between brand infringements, identifying and taking down new and emerging threats and providing data-backed evidence to support the litigation process, the company states. "This is a real step forward in brand protection technology. Network Intelligence empowers brands to quickly neutralize vast networks of bad actors, and can be implemented simply and easily into a brand's protection strategy," said Tim Elton, director of brand product management at OpSec Security. "Some of the biggest frustrations with traditional brand protection strategy include repeated brand abuse by the same offenders, not being able to easily connect online infringers to real-world identities, and the inability to really see the big picture – or the full scope of the problem. OpSec Network Intelligence was created to not only address and solve these frustrations, but to enable both preventative and proactive strategies." (TL)
Hong Kong customs operation uncovers HK$3.2 million US-destined counterfeit goods – Hong Kong Customs has seized around 60,000 counterfeit products estimated to be worth HK$3.2 million (over US$400,000) in street value destined for the United States. The items included counterfeit mobile phones, watches, handbags, shoes and clothing. Customs undertook a targeted enforcement operation to combat cross-boundary counterfeiting activities throughout July, which included increasing inspections of suspicious air consignments destined for the United States. A customs spokesperson said that it will continue to work closely with overseas regulatory authorities to target cross-boundary counterfeiting activities through intelligence exchanges and joint enforcement actions. (VA)
Brand radar:
PepsiCo offloads juice brands for $3.3 billion – PepsiCo has agreed to sell Tropicana, Naked and a number of other juice brands to French private equity firm PAI Partners for about $3.3 billion, reports Bloomberg. The US company will keep a 39% non-controlling interest in a new holding company for the brands and will allow PAI to buy certain juice businesses in Europe. The transaction will help to strengthen PepsiCo's balance sheet and allow it to invest more in healthier snacks and zero-calorie drinks. The joint venture between PAI and PepsiCo is similar to that which PAI entered into with Nestlé, whereby it merged its R&R ice-cream business with large parts of the Swiss company's ice-cream division to create Froneri. "This joint venture with PAI enables us to realise significant upfront value, whilst providing the focus and resources necessary to drive additional long-term growth for these beloved brands," PepsiCo chair and CEO Ramon Laguarta said. "PAI has a track record of investing in well-known but under-invested brands, sort of corporate orphans, and giving them the right management and retelling their stories that may be a little sleepy," said Maud Brown, head of PAI's US office. Tropicana is the firm's first standalone US transaction. (BD) 
Molson Coors drops 11 'economy' brands – Molson Coors is eliminating 11 'economy' brands as part of efforts to streamline its US holdings and focus on higher-end brands, reports MarketWatch. The company will drop Milwaukee's Best Premium, Henry Weinhard's Private Reserve, Keystone Ice, Hamm's Special Light, Keylightful, Icehouse Edge, Magnum, Mickey's Ice, High Life Light, Steel Reserve 211 and Olde English HG 8000. "We're going to invest bigger behind our fast-growing global hard seltzer portfolio. And we're going to permanently streamline our smaller portfolio of legacy brands," said Molson Coors CEO Gavin Hattersley. It is not clear whether these brands will be simply discontinued or divested. (BD)
PVH Corp closes deal with Authentic Brands Group – PVH Corp, the owner of Calvin Klein and Tommy Hilfiger, has completed the sale of its Heritage Brands business to Authentic Brands Group (ABG). The deal includes the IZOD, VAN HEUSEN, ARROW and GEOFFREY BEENE trademarks and certain related inventories and other assets. The cash purchase price for the transaction was $223 million, subject to adjustment. PVH will continue to own the intimates and underwear businesses, led by Warner's, as well as to operate its dress shirt and neckwear business, including under the brands being sold, through a licence from ABG. This is just the latest in a long line of deals for the brand management and licensing company, which has acquired more than 30 brands over the past decade, inheriting a portfolio of over 17,000 trademarks in the process. (BD)
Sweaty Betty scooped up for $410 million – Wolverine Worldwide Inc, the maker of Wolverine boots and Keds sneakers, has acquired women's activewear brand Sweaty Betty for about $410 million in cash, reports the Wall Street Journal. The company is hedging its bets on the athletic wear segment, which has grown in popularity throughout the covid-19 pandemic. Wolverine has bought the brand from shareholders including L Catterton, the private equity firm co-owned by LVMH's Bernard Arnault. Sweaty Betty is Wolverine's first non-footwear-focused brand. There is the potential for collaborations with existing Wolverine brands (including Sperry and Saucony) and the activewear brand. (BD)
Legal radar:
AIPLA files amicus brief in functionality case – Earlier this week we reported that INTA had filed an amicus brief in Ezaki Glico Co v Lotte International America Corp, a case concerning the protection of product features as trademarks and the extent to which such protection is available based on the concept of functionality. The focus of the filing is the Third Circuit's holding that the appropriate test for assessing the functionality of a product feature is determining whether the feature is 'useful' (if it is, trademark protection is unavailable and the availability of alternative designs for the feature irrelevant). INTA has asked the Supreme Court to "correct the error of law made by the Third Circuit". The American Intellectual Property Law Association (AIPLA) has now also filed an amicus brief, which maintains that the Third Circuit's "sweeping" conclusion that product design trade dress is functional if it is 'useful' sidesteps the "traditional rule" applied to assess whether product design trade dress is functional. "The decision paints with too broad a brush. It makes all product design trade dress more vulnerable to invalidation because all product design trade dress is 'useful' in some way or form," AIPLA adds. (TL)
Oatly loses infringement suit against UK farm – London's High Court has dismissed an infringement case brought by Swedish dairy-alternatives food company Oatly against family-run UK oat drinks manufacturer Glebe Farm Foods, ruling that there is no evidence of actual confusion between their respective Oatly and PureOaty brands. Despite Oatly's passing-off claims that Glebe Farm rebranded its Oat Drink product as PureOaty last year in order "to bring Oatly's products to mind", the court stated that it did not see "any risk of injury to the distinctive character" of the Oatly brand. It held that while there were similarities between the use of the colour blue and an irregular font for the product name on both brands' products, these were "at a very general level". "You only need to look at the two products and packaging side by side to appreciate how different these brands are, and how unnecessary this legal action was… It is enormously gratifying... to see that smaller independent companies can fight back and win," said Glebe Farm owner Philip Rayner in response to the ruling. Oatly has confirmed that it will not be appealing the decision. "For us, this case has always been about protecting our trademark and how the single letter Y creates too much of a similarity between Oaty and Oatly," a spokesperson for the company said, before wishing Glebe Farm Foods "total success... moving forward", adding: "We just think they should do so in their own unique voice, just like we do." (VA)
Scottish knitwear company wins EUIPO Asda appeal – Scottish knitwear company McGeorge has successfully overturned an EUIPO decision that its application for MCGEORGE OF DUMFRIES was too similar to the George clothing brand of UK supermarket chain Asda, reports The Times. Lorenzo Borre, owner of McGeorge, whose cashmere jumpers have been worn by the likes of Steve McQueen and Grace Kelly, argued: "Aside from the obvious differences between the opponent's marks and the application, it should be abundantly clear that the consumers of my company's products are not going to mistake one for the other. Nor will they be confused into believing there was any connection between the businesses, not least because of who the customer is, the price tag and the route to market." Despite Asda's claims that MCGEORGE OF DUMFRIES was extremely similar to its own, well-known and widely used GEORGE mark, the EUIPO Board of Appeal held that the George brand did not enjoy enhanced distinctiveness in the European Union and there would be no likelihood of confusion between the two. "The fact that the marks coincide in the verbally identical component 'GEORGE', is not sufficient to render a likelihood of confusion between the signs," the board stated. It is not uncommon for brand names incorporating similar elements to co-exist within the fashion industry. The case is therefore a reminder to fashion brand owners that consumers are used to differentiating between marks that have minimal differences, and the EUIPO will take this into account when it comes to assessing the likelihood of confusion among such marks. (VA)
Office radar:
(For the latest coronavirus-related updates from national IP offices, please read our dedicated article, which is being continuously updated.)
Banjul Protocol now effective in The Gambia – Starting from 3 August 2021, the Banjul Protocol has now taken effect in The Gambia. As a result, the country can now be designated in any African Regional Intellectual Property Organisation trademark application, making it the 12th contracting state of the protocol. (TJL)
Domain Radar:
GNSO seeks registration data accuracy team chair – ICANN's Generic Names Supporting Organisation (GNSO) Council is seeking expressions of interest (EOI) to chair the Registration Data Accuracy Scoping Team. The team will be tasked with considering the current enforcement, reporting, measurement and overall effectiveness of gTLD registration data accuracy-related efforts. These considerations are expected to help inform its deliberations and the development of recommendations to the GNSO Council on whether any changes are recommended to improve accuracy levels, and, if so, how and by whom these changes would need to be developed. The deadline to submit an EOI is 25 August 2021. (TL)
Com Laude announces two appointments – Com Laude Group has announced that Martin Sutton has joined to lead the group's dotBrand Services along with Christa Taylor, who will drive all its marketing initiatives for the next round. Taylor has been launching and driving TLD registry businesses since 2014 and supported more than 50 new gTLD applicants in the 2012 round. Sutton is a former risk manager at HSBC, where he led the company's new gTLD programme and '.brand' application. He was also a co-founder and president of the Brand Registry Group. Nick Wood, executive chair of Com Laude Group, said: "Martin and Christa bring extensive knowledge and experience in the world of new gTLDs, having been involved with applicants in the last round and actively engaged in the domain industry, including the global policy-making body, ICANN, for many years. Both were part of the leadership team developing policy and process improvements for future rounds of new gTLDs." (TL)
In-house vacancies radar:
Ford Motor Company – Ford's office of the general counsel is seeking a lawyer to join the company's IP team. The successful candidate will have a passion for new technology and the ability to work both independently and collaboratively with business teams, legal colleagues and outside counsel in the emerging technology and new business space. The candidate will also have a broad base of IP experience and the ability to align with the long-term goals of the business and legal office while managing tactical and day-to-day requirements of client teams in time-sensitive situations and fast-paced environments. Full details of the position are available on LinkedIn. (TL)
And finally...
New WTR events announced for Europe and the United States – WTR is pleased to announce that it will be hosting a series of one-day events in London, San Francisco, Chicago and New York this December. WTR Live: The Future of Trademark Management and Brand Protection will facilitate discussion, benchmarking and the sharing of best practice around key topic areas and challenges facing brand leaders. Crucially, it will offer a glimpse into what industry leaders expect the future of trademark practice to look like. Registration is free to in-house brand professionals. Spaces are limited and should we be unable to host the event, registration fees will be fully refundable. While on site, we will be adopting the All Secure Standard to ensure that all attendees can continue to do business effectively and network with their peers safely. For full details, and to reserve a place at one of the events, click here.