PEPPA PIG declared famous; AI risks and opportunities; trademark budget challenges – takeaways from WTR Connect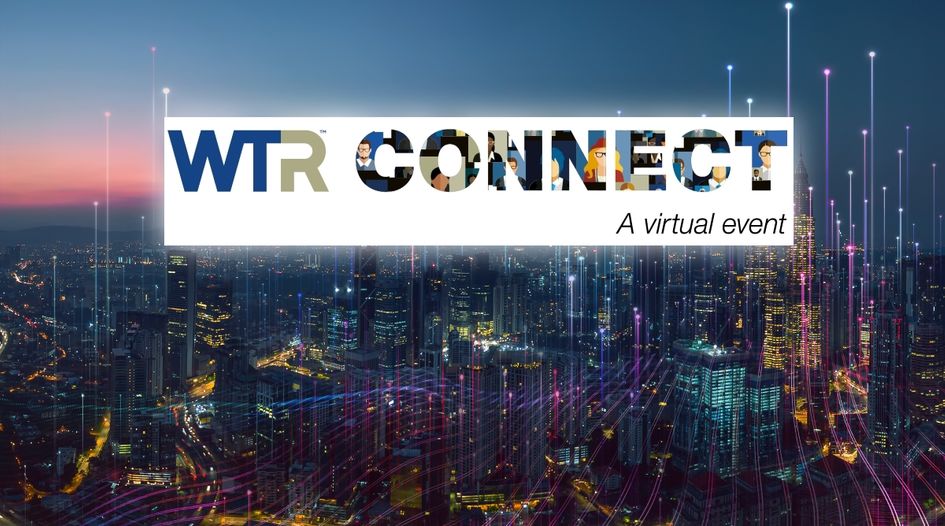 The second WTR Connect virtual series of events is taking place this week, bringing together the trademark community for a range of interactive open discussion forums, masterclass explorations and solution rooms. 
The event kicked off with a fireside chat with Daren Tang, director general of WIPO (coverage here). Below are some of the highlights and learnings from the first two days, including insight into the unintended (and challenging) consequences of the US Trademark Modernisation Act, discussion of the pros and cons of transitioning to online work platforms, and the breaking news that PEPPA PIG has been declared a famous mark in China.  Coverage  from Victoria Arnold (VA), Bridget Diakun (BD) and Trevor Little (TL).
If seeking to make a difference, consider a career at WIPO – WTR Connect officially got underway with a fireside chat with Daren Tang, director general of WIPO. One of the questions he was asked was about cultural change at the agency. When he took office, Tang pledged to sustain WIPO as a "dynamic, open and transparent organisation with a diverse staff membership that better reflects a fair gender and geographical balance". This week he reflects: "If we look at our work in the broadest context, it is all about supporting creativity and innovation, and if saying that we will support creativity and innovation, we ourselves have to be an organisation that has the right culture. It all starts from that – we have to be forward-looking and dynamic. As I started to get to know my colleagues at WIPO there was also a lot of feedback that they are looking for meaningful change." The nature of Tang's appointment itself plays into this notion of change. He explains: "This is the first time that WIPO has had a director general come from the outside. That is quite unusual – at other UN agencies the heads tend to come from outside and that brings a freshness every few years. He or she brings an 'offsite' perspective and combines it with internal expertise, so the organisation has the best of both worlds. But WIPO has had director generals coming from inside." Tang's appointment is a departure from the WIPO norm and that brings a new perspective: "Part of that is about diversity. I come from Singapore and it is one of the most diverse countries in the world. I wanted to bring that into WIPO itself. If WIPO is going to serve the world, the world has to come to WIPO." That means focusing on diverse talent and Tang is keen to bring in individuals who can help in the evolving mission. He states: "We are looking for good young professionals, who really want to make a difference, to join us. I would invite members of the WTR community – if interested in making a difference to the world at a global level, and having IP expertise – to think about WIPO as a possible career choice." (TL)
Transition to online work platforms brings both positives and negatives – Trademark teams around the world have gone digital in response to the pandemic and, according to the panellists in a discussion on the future of trademarks, the lack of face-to-face meetings has both upsides and downsides. Colette Durst, assistant chief IP counsel and chief trademark counsel at 3M, says that the use of online platforms such as Microsoft Teams has helped to bring people on different continents closer together. She explains that those who are located abroad had a tendency to feel left out of meetings given that they were not in the same room as everyone else, but the switch to videoconferencing has levelled the playing field and removed silos to bring team members closer together. While this is a positive, Gilead Sciences' senior associate general counsel, intellectual property Gretchen Stroud points out that some connections are being lost across the wider team. It is far more difficult to maintain relationships with people from, say, the broader legal department, if your only interaction is in very large meetings where many people do not contribute. These types of relationships are more easily maintained when everyone is in the same building and there is an opportunity to randomly bump into someone. It appears that, going forward, companies should shift their working approach to integrate office life with some of the tools successfully tested in the pandemic. (BD)
AI helps companies pick their battles, but data bias is prime risk – No company, no matter how small, says that protecting its brand is not important. But when budgets are tight, the issue is prioritising where to take action. AI solutions help IP owners tailor a scalable approach to detection and enforcement that puts risk management front and centre, says Brian Scarpelli, senior counsel, global policy at ACT | The App Association. Oracle vice president, trademark and copyright Tiki Dare agrees; an AI solution may have the capacity to catch the top 1,000 infringements, she says, but it can then filter these down to the top three depending on the brand owner's criteria. At Microsoft, this criteria is based on two considerations, explains program manager, trademark enforcement Sarah Staff: the brands themselves (eg, those with the highest revenue or recognition among consumers) and the scale of infringement (eg, those that are most likely to cause harm). The technology then maps the data in a way that enables the trademark team to act strategically. Being able to see the connections between multiple scam sites posing as Microsoft tech support means that Staff can target those at the centre. Yet despite these benefits, the risks of AI cannot be underestimated. "AI systems should be informed by real-world workflows and human-centred design," says Scarpelli, but "we have to acknowledge that bias is inherent in all data". As such, any responsible use of AI must include bias mitigation and disclosure in order to promote fairness, diversity, inclusion and transparency. By addressing these issues up front, the time and cost savings of an AI-informed IP strategy could be phenomenal, helping small business owners focus their resources in the most effective areas, while in-house teams turn work around significantly faster, thereby proving the value of their service to the wider business. (VA)
True brand protection is an investment rather than a cost, but that needs to be communicated –  Opening the second day, which commenced with sessions timed for an audience in the Asia-Pacific region, Michael Ding, head of IP operations, Asia, Middle East and Africa at ABB, and chair of the QBPC, reminded attendees that brand protection should be seen as an investment rather than a cost. This is something that IP professionals know well, but as Ding notes: "In-house we are struggling with limited budgets." The challenge is not the concept, but getting business colleagues to hear the message. "The logic that, after you spend and crack down on counterfeits, business revenues will go up or market share will be maintained, is easy to understand. However, it isn't always easy to message to business management." Thus, among other strategies, Ding recommends that efforts are made to consistently ensure that peers and colleagues know how brand protection works. "Also, find a way to let them know you are going to support them," he adds. "If business colleagues encounter counterfeits in the market, or manufacturers receive goods for repair and find that they are fake and report them to legal, they need your support." Part of that communication is to accentuate the positive: "Highlight successes. Colleagues like to hear feedback and about successful cases." (TL)
Trademark Modernisation Act could create a resources challenge for rights holders – Earlier this month we presented analysis of the US Trademark Modernisation Act which warned that new reexamination and expungement proceedings could pose challenges to foreign rights holders. On the second day of WTR Connect, Monique Joe, senior vice president and head, brands, content and intellectual property at NBC Universal, welcomed efforts to tackle skyrocketing application levels but warned that the picture is not all positive – for foreign or US brands. "From our perspective it will lead to unexpected deadlines and filing fees. A lot of latitude has been given to the office. Being in-house, what I spend a lot of time on is forecasting monthly expenses for my entire portfolio. And when you have uncertainty over the fees and timings it makes that difficult." The rules also provide a new tool for those that wish to be aggressive through expungement actions, she adds. "We expect a significant increase in legal fees related to responding to meritless actions." Laurence Rickles, chief trademark counsel at Teva Pharmaceuticals, notes that in the pharmaceutical industry, "we tend to file multiple names as you need backups because many get rejected for regulatory reasons. In pharma you also have a long lead time and you file three of four years in advance. If those marks start to get attacked, your options become limited. The pharmaceutical world is collegial but now that people have that extra weapon it may not be as collegial as it has always been". Niall Trainor, senior director, brand protection at Entertainment One, adds: "If we constantly have to prove use of our marks, and have a large portfolio but limited budget, that will be a challenge." The implementation detail will be all-important. Rickles concludes: "We all support the noble goal of getting rid of deadwood on the register but you have to be careful." (TL)
PEPPA PIG is (officially) famous in China – In China, trademark fame is an important legal tool for those brands able to attain it. Doing so is not easy but during a discussion on the China landscape, Niall Trainor, senior director, brand protection at Entertainment One, revealed that PEPPA PIG has just been declared a famous mark in the country. He reflects: "We are very pleased that the Shanghai IP Court has now declared that PEPPA PIG is recognised as a well-known trademark in China. It is a major success to receive this recognition on the IP front as eOne only launched the brand in China a few years ago. It is particularly notable given that comparatively few foreign-owned content brands ever manage to attain well-known recognition in China." (TL)
Senior management have a responsibility to open the door – juniors just have to walk through it – "I didn't find trademarks, they found me," says Deborah Hampton, senior program manager, trademark and copyright at The Chemours Company. And it seems to be a sentiment that many in the industry can appreciate. "The common story for a lot of us is that we've all just stumbled across this opportunity," agrees Facebook's director and associate general counsel, head, brands and marketing legal, Mike Yaghmai. But if the profession is going to attract – and retain – the next generation of top talent, something needs to change. "When recruiting people into the profession it has to be active," says Scott Piering, vice president, chief IP counsel at Spectrum Brands. The earlier this starts, the better. "If we can get them in high school, we can start them on a path before they even get to law school," suggests Hampton. And why would young people not want to make a career out of brands? As FIFA head, intellectual property Daniel Zohny states: "It's very accessible to people – because it's cool!" But recruitment responsibility does not end with planting the idea of a career in trademarks. More and more companies are demanding diversity from decision making and hiring practices, including from their outside counsel. Whatever the role, whether in-house or in private practice, finding the best talent means helping people from all backgrounds get a leg up. "I make choices on the outside counsel who I'm hiring based on the team they can put together," says Allison Leader, director, legal counsel at American Red Cross. What is more, corporates and law firms are teaming up on summer internships, training programmes and mentoring opportunities free of charge. Those hiring can even give back to the industry by suggesting alternative routes for candidates that do not happen to be the right fit for their business. All of this creates a proactive response to nurturing the next generation of trademark professionals. But it is a two-way street. As well as senior personnel taking the time to mark-up work, bring people to meetings, provide networking experience and pay it forward over a coffee, junior staffers have to put themselves out there too. "Younger staff members have to be confident coming into my office to ask questions," says Piering. "I'm always going to be busy… but I made a commitment to my team that I will lead them and I will mentor them, so if they have a question, they need to walk into my office." (VA)
WTR Connect runs until Friday 19 March. Click here to sign up for the remaining days.
Do you have a few minutes to share your trademark practice insights? The survey form is available here, or - for desktop users - it can be filled out below.