Peppa Pig blow; brand management at A+E Networks; mental health roadblocks; and much more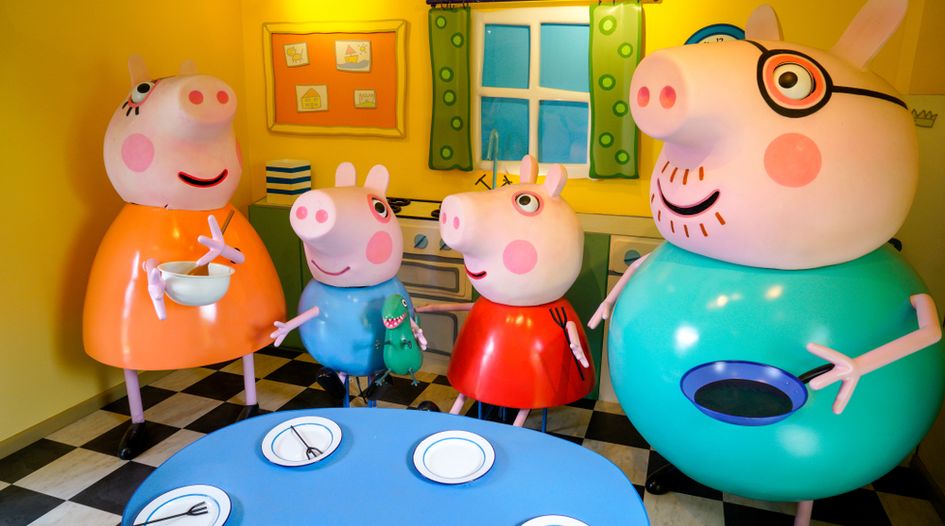 Everything we covered on WTR over the past seven days – and all you need to know from the world of trademarks to set yourself up for the start of another busy week.
The Long Read
Endorsements by well-known personalities are being embraced as a canny route to brand growth, but careful contracting is key to protecting both sides in such relationships.
Monday 14 March
Peppa Pig hits the headlines as a Russian court links its IP dispute decision to recent sanctions.
We take a closer look at the company culture that has enabled IP counsel to get hands-on in the ideation and IP creation phase at A+E Networks.
Plus:
Tuesday 15 March
Microsoft is urged to suspend Russian operations, WIPO launches a Madrid survey, social media data reveals the most tattooed brands, and much more.
The EUIPO expands on its educational, professional development and knowledge-sharing efforts, including efforts to enhance its virtual and physical campus.
Alternative domains, DNS abuse and Ukraine scams are among the key takeaways from ICANN 73.
Plus:
Wednesday 16 March
A local expert outlines the online marketplaces in Saudi Arabia that should be on counterfeit enforcement radars.
An interview with Finnegan's new chief diversity and inclusion officer uncovers eight ways to nurture talent in a profession under increasing pressure.
Plus:
Thursday 17 March
A Ukrainian border guard who faced up to a Russian warship is seeking an EU trademark for the phrase that went viral during their stand-off.
The Slovenia IP Office has announced it is transitioning to "normal business" after a period of special covid-19 measures.
Plus:
Friday 18 March
The USPTO's latest economic report identifies the industries that rely most heavily on IP, with trademark-intensive industries accounting for nearly $7 trillion of GDP.
Major research into dangerous counterfeits, Lusheng celebrates China IP wins, Cape Verde prepares to become the latest ARIPO member state, and much more.
Plus:
Saturday 19 March
The biggest roadblock to improving mental health in the legal profession is the failure to recognise that a lawyer's worth cannot be measured in billable hours, argues our Saturday opinion.
WTR Special Report: Next-generation innovation at IP offices
WTR's latest Special Report explores how IP offices around the world are embracing innovation and why it matters to all trademark professionals.