"Panic buying is good for counterfeiters" – warning to food industry over heightened threat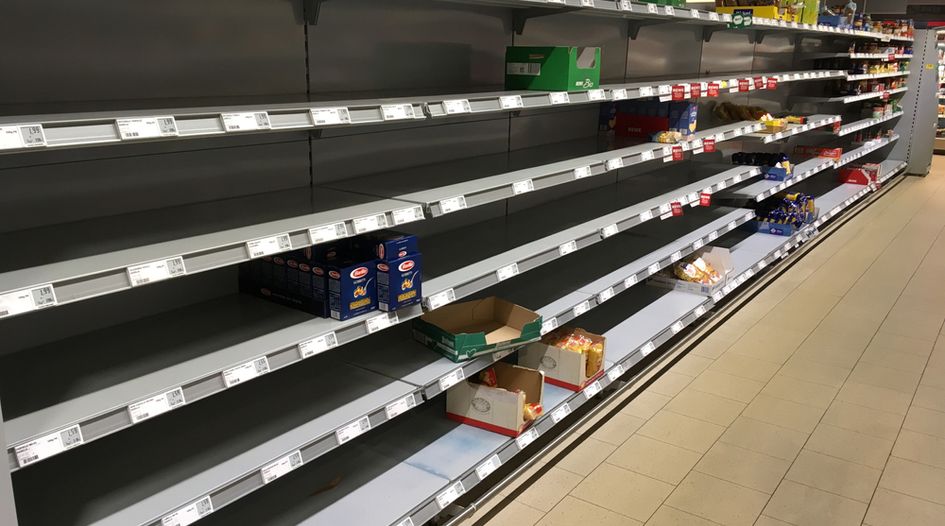 Consumers may be more easily duped by counterfeit products due to panic buying
Customs could deprioritise from dwindling resources counterfeit goods in the crisis
Supply chains should be reassessed for illegitimate actors at all distribution stages
It is perhaps unsurprising that the COVID-19 pandemic wreaking havoc across healthcare systems and economies worldwide is creating opportunities for counterfeiters. Last week, US border patrol confiscated a package containing fake COVID-19 test kits, and on Friday in the United Kingdom a man was charged with making and distributing counterfeit coronavirus treatment kits. One expert warns that rights holders in the food and beverage industry should be alert to counterfeiters capitalising on the heightened demand for food and household products.
 Although not as high profile as pharmaceuticals in the anti-counterfeiting conversation, "there has always been an in issue with counterfeit food products," says Jeremy Blum, a partner at Bristows. "Given shortages are a concern, counterfeiters could seize that opportunity to try to place goods on the market that they would not normally place or be bolder with where they place them." Potentially compounding the challenge, Blum also considers that "customers might be less discerning when they make a purchase because they are just relieved that the goods are available".
European governments have attempted to reassure the public that there are no food shortages, with the system capable of coping with current demand. However, this has not stopped a surge of panic buying across the continent. While the supply system may be intact, shoppers have created the illusion of a food shortage, which could lead to consumers purchasing counterfeit options as Blum suggests.
"Don't imagine that counterfeiting is restricted to the highest value products," adds Vince Shiers, managing director at RQA Group, a consultancy firm specialising in product recall, crisis management and business continuity. "For the criminal, if a low-value product is in high demand, it can be profitable. 'Panic buying' is good for the counterfeiters as people will purchase products at higher than usual prices from non-standard retail outlets (including online), and people may be less focused on quality."
The ways in which counterfeiters could infiltrate the markets will depend on the extent and duration of the crisis. On a shorter time frame, it is less likely that supermarkets will fall victim, believes Blum. "More likely, customers might purchase foodstuffs online or from less reputable stores and if there is more counterfeit stock available, it raises the prospects of a customer purchasing counterfeits given that it is already difficult to spot a fake online."
Whether counterfeiters latch on to this opportunity is not yet apparent. When asked if he had seen an uptick in counterfeit food products in the market, Tim Santoni, president and CEO of investigation firm Santoni, answered: "We have not yet, but I think we will very soon." However, the longer the pandemic lasts, the more strain the supply chains and distribution channels will undergo. "My guess is that there will be more diverted/grey market goods entering different regions," Santoni says.
Noting that Asia's manufacturing capabilities are returning to normal, he posits that the chance to capitalise may be registered by counterfeiters: "There are a few things that could happen. Product quality could decrease. There is an opportunity to run extra shifts and make genuine product and then sell it out the back door."
Producing fake products and introducing them to the marketplace will always be a greater challenge for counterfeiters than substituting fake ingredients in the supply chain. In either case, health and safety issues will be of primary concern to brand owners. Further issues will be faced by enforcement authorities, which are likely to be understaffed and overworked under the constraints of the pandemic, explains Shiers: "Enforcement authorities will be more stretched and may not have the resources to investigate or take action."
The key vulnerabilities of the supply chain, according to Shiers, include:
food companies needing to change suppliers may not do due diligence on new suppliers;
suppliers having to potentially rely on non-vetted third parties without notifying customers;
food safety audits being limited due to travel bans and isolation requirements, leading to risks in lack of oversight; and
counterfeiters exploiting the market more directly through independent and online markets.
Reflecting on this, Shiers remarks that "companies should ensure that they reassess their supply chains as soon as possible given the new global situation". Additionally, Blum notes that with border force numbers being cut and workloads increased, "there is a risk that an overstretched customs agency fails to stop counterfeits at the border".
With potentially overburdened customs officers, Santoni recommends that brands ensure their trademarks are registered with the relevant authorities – for example, in the United States, with the Immigration and Customs Enforcement (ICE) agency.
He also recommends online monitoring tools: "Setting up web pages where customers can self-report potential counterfeits and communicating with distributors and retailers will be key. Brands need to get in front of the issues before they become front-page news."