OK BOOMER trademark refusal; WIPO leadership battle intensifies; EUIPO green stats – news digest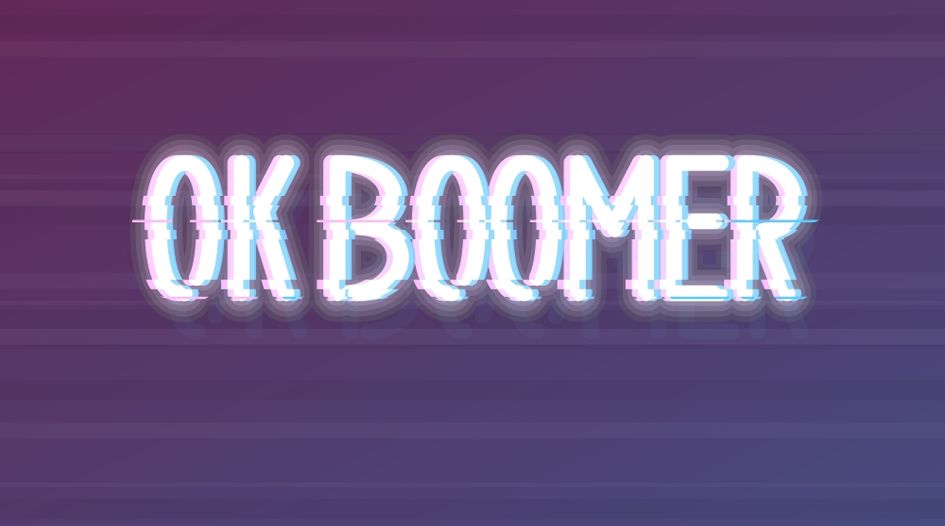 Every Tuesday and Friday, WTR presents a round-up of news, developments and insights from across the trademark sphere. In our latest edition, we look at the debate over the Washington Redskins name being reignited, a wooden box that could 'solve the counterfeit sneaker crisis', a new version of DesignView being launched, L'Oreal giving up on another four new gTLDs, and much more. Coverage this time from Trevor Little (TL), Bridget Diakun (BD), Jonathan Walfisz (JW) and Tim Lince (TJL).
Market radar:
US v China battle over WIPO leadership intensifies – This week on WTR, we reported on the competition to succeed Francis Gurry as WIPO director general. This week a second candidate for the role dropped out of the race, leaving eight individuals in the frame. However, the election has become mired in backroom manoeuvring and lobbying, with the US rallying support against Wang Binying of China. In our piece we spoke to Tove Graulund, former MARQUES chair and previously an external consultant (Madrid Protocol) for WIPO. In that interview, she lamented the way that the election process has become a political battleground: "It's so politicised but from a user perspective the most important thing is not politics. It's about running a good machine, doing efficient work at reasonable expense, and being responsible about the systems. It's about Madrid, the PCT, Hague. That is what we would like to see the media talk about rather than all this BS." As reported on IAM, however, this week USPTO Director Andrei Iancu added his voice to the debate about who should be elected as the next director general, telling an event in Washington DC that the head of the global body must come from a country with a strong record in IP. Richard Lloyd and Joff Wild write: "Iancu was not naming names but it has become increasingly clear that Wang Binying would not be an acceptable head of WIPO for the US." His comments were likely carefully timed to serve as a shot across the bows of WIPO, which WTR understands was holding initial interviews with the candidates the day after Iancu's comments. (TL)
New study reignites debate over Washington Redskins name – While the debate around the Washington Redskins name has largely been absent from the media since the US Court of Appeals for the Fourth Circuit vacated decisions that had cancelled the Washington team's US trademark registrations, concern over the name remains. This week a new study from UC Berkeley study found that at least half of more than 1,000 Native Americans surveyed are offended by the football team's 87-year-old moniker and Native mascots in general. The study contradicts other polls, with study co-lead Arianne Eason, a UC Berkeley assistant professor of psychology, stating: "We keep seeing clear examples of Native people speaking up and protesting these problematic team names and mascots. Yet, public opinion polls, with little methodological transparency, say that Native people are not offended. Things just don't add up." The study comes at a time when the new Super Bowl champions, the Kansas City Chiefs, is the subject of scrutiny over the imagery surrounding the team, as well as the costumes worn by fans and the crowd's 'Arrowhead chop'. The controversy and debate around cultural appropriation and stereotypes is one that is very much alive. (TL)
Wooden box 'could solve the counterfeit sneaker crisis' – A new product from brand protection startup Entrupy could "solve" the growing problem of counterfeit footwear, according to an article in GQ Magazine. The company this week announced a product called 'Legit Check Tech' that ostensibly looks like a wooden box, but is actually a sophisticated piece of technology for analysing fake goods. It appears to work through photography equipment in the box that is programmed to compare a legitimate product with a suspicious product, with the answer of whether it's fake being sent to a dedicated phone app. "It takes photos of every part of [the sneaker] that we think is important, depending on the brand or shoe or the style," said an Entrupy representative. The box is due to be released in "a few months", the representative added.  (TJL)
Stilton village in UK makes argument for right to make Stilton cheese – The village of Stilton, Cambridgeshire in the UK is demanding the right to make stilton cheese in the wake of Britain's exit from the EU, reports the BBC. Currently, stilton cheese is a protected geographical indication (PGI) and can only be produced in the counties of Derbyshire, Nottinghamshire or Leicestershire. However, conservative member of parliament (MP) Shailesh Vara has called for the cheese to be made in the Cambridgeshire village following a local historian finding the cheese was produced there historically. Vara blamed "EU bureaucracy" for the village's legal inability to produce the cheese. While the legislation protecting stilton's production locations is from the EU Protected Food Name Scheme, the protection actually stems from English law and a High Court decision in 1996. Matthew O'Callaghan, chair of UK Protected Food Names Association, notes that undoing the protected status to include the Cambridgeshire village could "undermine a $6 billion industry." (JW)
Legal radar:
OK BOOMER trademark refused at USPTO – A trademark application for the term OK BOOMER, filed by Fox Media, has been refused at the US Patent and Trademark Office (USPTO). As a reminder, the phrase "ok boomer" went viral last November after 25-year-old New Zealand lawmaker Chlöe Swarbrick dismissed an older member of parliament for heckling her. The refusal was first revealed by Gerben Law Firm founder Josh Gerben, with the USPTO examining attorney issuing the refusal because the term "is a commonplace term, message, or expression widely used by a variety of sources that merely conveys an ordinary, familiar, well-recognised concept or sentiment". In other words, says Gerben, "it is a 'meme' or phrase that has gone viral". The development suggests, adds Gerben, that "it is simply not possible to protect viral phrases and anyone (including Fox) that files trademarks on this type of phrase is just flushing money down the drain". (TJL)
Office radar:
EUIPO shares impressive green stats – The EU Intellectual Property Office's executive director, Christian Archambeau, has published a LinkedIn post revealing data on the registry's 'go green' environmental initiatives. The data compares various metrics from 2015 to 2019, and reveals a "pronounced downward trend in the use of energy, water, business travel, and consumption of printing paper and toner per onsite worker," Archambeau says. For example, it reveals that paper use at the registry has been reduced by 73% over the timeframe, waste produced has been reduced by 65%, water use reduced by 38%, and electricity use reduced by 32%. On top of that, use of renewable energy has risen 30% per onsite worker. "This shows that if everyone does a little bit, it can add up to quite a lot," Archambeau concluded. "I am happy to say that the EUIPO, over the past four years, has been even more successful that I had initially hoped in reducing its environmental impact. What has been particularly heart-warming is the way that our staff have got behind these efforts and the enthusiasm of the team behind this programme. Now we have set ourselves new challenges and new targets – among them trying to reduce single use plastic." While a single IP office is a relative drop in the ocean when it comes to the scale of climate change, this effort by the EUIPO demonstrates the significant strides that organisations can make over a relatively short timeframe. With that in mind, the hope is that other IP offices make similar efforts. (TJL)
Refined DesignView released in beta – Also at the EUIPO, the registry has announced the release of a beta version of its DesignView tool. The new version features "a completely redesigned interface", claims the office in a blog post, including a wide set of search criteria that can be personalised and fine-tuned. Furthermore, it allows two or more designs to be selected and placed side-by-side for comparison purposes. Of course, as it is in beta, users are invited to send their feedback on bugs or possible improvements through the 'Your feedback' link at the bottom of the platform page. (TJL)
Domain Radar:
L'Oreal gives up another four new gTLDs – Over on Domain Incite. Kevin Murphy reports that XYZ.com has acquired four new gTLDs from L'Oreal. The transaction centres on four strings – '.makeup', '.beauty', '.hair' and '.skin' – and, as Murphy writes, marks the end of L'Oreal's foray into the new gTLD space: "The company applied for 14 strings back in 2012, a mixture of generic dictionary words and brands. Now, none remain. A bunch of its dot-brand applications were dumped prior to contract signing. The others were turned off, unused, after L'Oreal asked ICANN to terminate its contracts." (TL)
Media Watch:
FBI director reiterates anti-China IP sentiment – Christopher Wray, FBI director, has warned US executives that partnerships with Chinese businesses risked IP theft, reports the Washington Times. "A decision to enter a joint venture or contract with a particular vendor might look good in the near term, might make a lot of money, might sound great on the next earnings call, but it might not look so hot down the road when [US companies] find themselves bleeding intellectual property or haemorrhaging their most sensitive data," he said at the Centre for Strategic and International Studies in Washington. He added that the FBI has nearly 1,000 open investigations into economic espionage and IP theft from China. (JW)
On the move:
df-mp bolsters trademark team – Munich-based df-mp (Dörries Frank-Molnia & Pohlman) has announced that Angela Wenninger-Lenz has joined as a partner. As we reported previously, last June Ortrun Günzel, formerly partner with Hoffmann Eitle and Taylor Wessing, was appointed first trademark partner in the history of the firm.  She is now joined by Wenninger-Lenz, who advises German and international clients on the protection, enforcement and exploitation of trademarks and designs as well as on unfair competition and domain issues. (TL)
DLA Piper grows patent litigation practice – DLA Piper has announced that Ellen Scordino, Susan Krumplitsch and April Abele Isaacson have joined the firm's patent litigation practice and life sciences sector. Scordino has been appointed to partner and is based in the Boston office. She focuses on patent litigation and counsels clients in a range of areas including pharmaceuticals, biologics, diagnostics and medical devices. Krumplitsch focuses her practice on IP disputes and providing strategic advice to life sciences companies. She joined the firm as a partner in the Silicon Valley office. Isaacson represents clients in biologic and drug patent litigation. She is based in San Francisco and holds the title of of counsel. (BD)
Manatt, Phelps & Phillips strengthens litigation bench – Manatt has hired trial lawyer Amar Thakur and patent litigator Bruce Zisser. The pair have been appointed to partner within the technology and IP litigation practice. Thakur is based in the firm's San Francisco and Orange County office, while Zisser is working out of the Los Angeles arm. (BD)
Former Husch Blackwell attorney joins Dykema – Denise L Mayfield has left Husch Blackwell to join Dykema's Austin IP team as a member. Mayfield's advises domestic and international clients on patent matters, ranging from prosecution to litigation. (BD)
Foley announces 18 new partners, two in IP ­– Foley LLP has announced the appointment of 18 new partners across its US offices. Of the 18, in the Washington office, Chase J. Brill and Katherine P. Califa are new Intellectual Property partners. Brill is a patent attorney while Califa is a member of the IP and Trademark, Copyright & Advertising practice. (JW)
Red Points appoints first CRO – Brand intelligence platform Red Points has announced the appointment of Javier Moreira Moreno as its first ever chief revenue officer (CRO). Prior to this role, he worked as vice president of international sales at SaaS entity Workday. In this role, Moreno will be responsible for all revenue generation processes at Red Points, and will be charged with building an integrated new sales organisation following the company's acquisition of Adaptive Insights. "This is a significant turning point for us and marks a pivotal moment in our business as we continue to experience rapid growth," says Red Points CEO Laura Urquizu. "Javier's leadership expertise combined with his impressive experience in driving sales and scaling revenue are sure to be key as our company continues to expand in 2020 and beyond." (TJL)
And finally...
WTR returns to Chicago in March for Managing Trademark Assets and Brand Protection Online – WTR is bringing Managing Trademark Assets USA and Brand Protection Online USA to the windy city. The back-to-back events on 3 and 4 March 2020 will provide an opportunity for attendees to hear best practice and insight from leading in-house counsel from the world's biggest brands as they discuss their approaches to critical areas, as well as share their own insights with peers and colleagues. The sell-out events' return to Chicago is not one to be missed. To sign up to attend Managing Trademark Assets USA, click here, and to sign up to attend Brand Protection Online USA, click here. (JW)