Not blocked – Meghan, Harry and a tale of trademark misreporting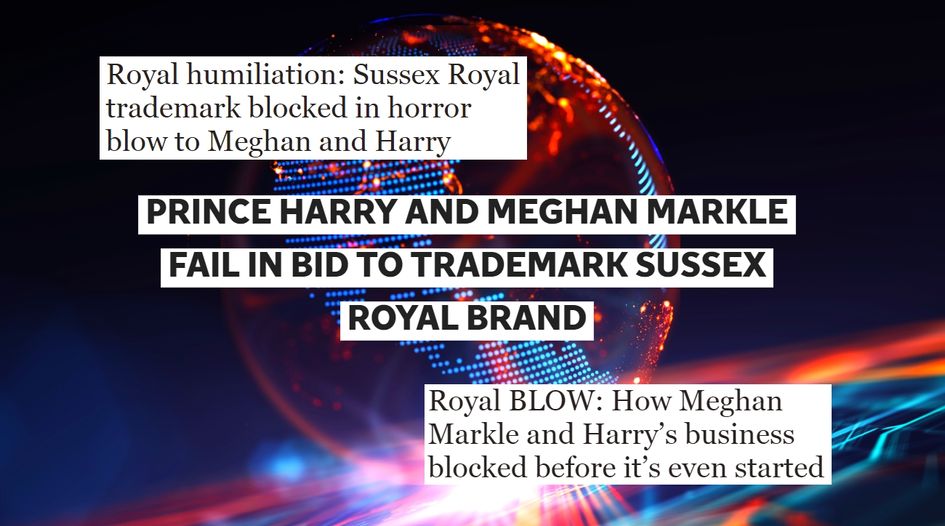 Coverage of Prince Harry and Meghan Markle's trademark application goes global
Story continues to develop; original notice is withdrawn, while four more are filed
Mass media coverage has falsely claimed the trademark is 'blocked' or 'failed'
Much has been written in the past 24 hours about the trademark activity of Prince Harry and Meghan Markle. While unsurprising due to the high profile of the Duke and Duchess of Sussex, what has been notable are the significant inaccuracies in much of the coverage – a reminder of the challenge facing the trademark community in ensuring that the wider public are exposed to the reality of brand creation, building and protection.
As we reported yesterday, a UK trademark application filed by The Foundation of the Duke and Duchess of Sussex for the brand name Sussex Royal has received a notice of threatened opposition. In trademark law terms, the move is relatively minor – a notice of threatened opposition (form TM7A) automatically extends a trademark application's opposition period by one month, and indicates that a third-party is preparing a formal opposition. However, the notice filer has no obligation to lodge a formal opposition.
Within 12 hours of our article being published, it was picked up by media outlets around the world (including direct quotes we received from one of our industry contacts). However, instead of being portrayed as the relatively minor legal headache it is, it became a 'major blow' to the couple's brand plans. Few of the articles added any new detail, with all centred on the identity of the individual who had threatened an opposition. As the story grew (and was picked up by outlets across the globe), the potential impact of the threatened opposition took on disastrous dimensions.
Like a schoolground game of whispers, the story of a possible formal opposition quickly became something else entirely. According to recent coverage: it was a 'royal humiliation' for Meghan and Harry; a 'royal blow' for the couple; they had been 'blocked' (or 'temporarily blocked') by an 'Australian doctor'; and they had 'failed' in their bid to secure the mark. In short, a story about a routine trademark application proceeding had been painted as something wildly out of the ordinary, and as a mortal blow to the couple's efforts to secure protection for the Sussex Royal brand.
For those in the know, of course, any suggestion that the application has been 'blocked' is false. If a formal opposition does get lodged, it will create some delay and additional costs. It could lead to a rejection, yes, but that decision is some way off – and that's assuming a formal opposition is submitted at all.
Speaking to WTR today, Lee Curtis, chartered trademark attorney and partner at HGF, reflected: "As made clear in the original article, all that has been filed is a notice of threatened opposition, not a formal notice of opposition. At present the application is not blocked, but it's progress is simply delayed for a month. A formal notice of opposition from one or more parties might be forthcoming in time, but none may ultimately be forthcoming. It is simply a matter of waiting now and seeing whether and on what grounds, if any, the application is formally opposed."
Of course, the story is continuing to develop – shaped, perhaps, by the mass media coverage it has received. For example, four more notices of threatened opposition have been filed against the SUSSEX ROYAL application today alone. On top of that, the UK Intellectual Property Office is telling media outlets (including WTR) that the first notice of threatened opposition has been withdrawn. "The IPO has been advised by an individual that their personal details have been used without their permission to submit a 'notice of threatened opposition' to the Sussex Royal trademark," a UKIPO spokesperson has said. "While we are unable to discuss the specifics of trademark applications, we are able to say that we are in the process of rescinding this notice."
It is worth noting that WTR has a record of a conversation with Dr Benjamin Worcester to confirm that he filed the notice of threatened opposition. However, shortly after the notice was reported by mainstream media outlets, he deleted his social network account. He also subsequently confirmed it to The Sun, where he claimed to have a "personal" reason to lodge the notice. 
A serious challenge for the industry
So after all of this media coverage, what's the key message to take away? For WTR's readers, when reading the hysterical misreporting of the threatened opposition, the likely reaction is a shake of the head and wry amusement at the rabbit hole many journalists have gone down. However, this very misreporting highlights a more serious challenge for the industry.
We have previously written about the misreporting that has taken place around trademark stories – from Taylor Swift's efforts to 'patent her lyrics' to the misinformation that surrounded the furore over the Washington Redskins' trademarks. Back in 2016, sparked by a perceived decline in the standard of media reporting of trademarks, a number of industry organisations pledged to collaborate on research and education efforts. Four years on, the problem persists.
Reacting to today's media fallout, Susan Hall, partner at Clarke Willmott, observes: "Considering intellectual property rights are fundamental to mainstream media, the understanding of IP rights by journalists is shockingly patchy. Trademark and copyright are frequently confused (with plenty of references to businesses "copyrighting" their work, though these rights arise automatically under law) and, as the Sussex Royal reporting shows, this confusion leads to serious misconceptions about the nature of IP disputes and how easy it is to pursue them. Filing a notice of intention to oppose requires a spare ten minutes and the ability to fill out an online form. It's simply an example of someone indicating that since they may want to oppose in future and implies nothing about whether any opposition which they filed would have any grounds of success. Excitable headlines aside, what's happened with respect to the Sussex Royal trademark application to date is nothing more than a minor blip."
As we noted previously, in today's pressured newsroom environment, where journalists are required to produce copy on a range of topics to increasingly tight deadlines, it is perhaps understandable that the nuances of trademark law are not always reflected. Similarly, where many outlets are reporting the story, the more attention-grabbing a headline (and after all, doom and gloom sells), the more likely you are to get that all important 'click'. However, the result is that the general reader may be given a false picture of how intellectual property works, making it harder to tackle anti-IP sentiment.
What is clear from the past 24 hours is that there is a significant job for the industry in fostering an understanding of trademark law amongst busy journalists. Without that, confusion and misinformation about intellectual property will continue to spread.