North Korea counterfeit crackdown; Banksy trademarks criticised; MARQUES annual meeting update – news digest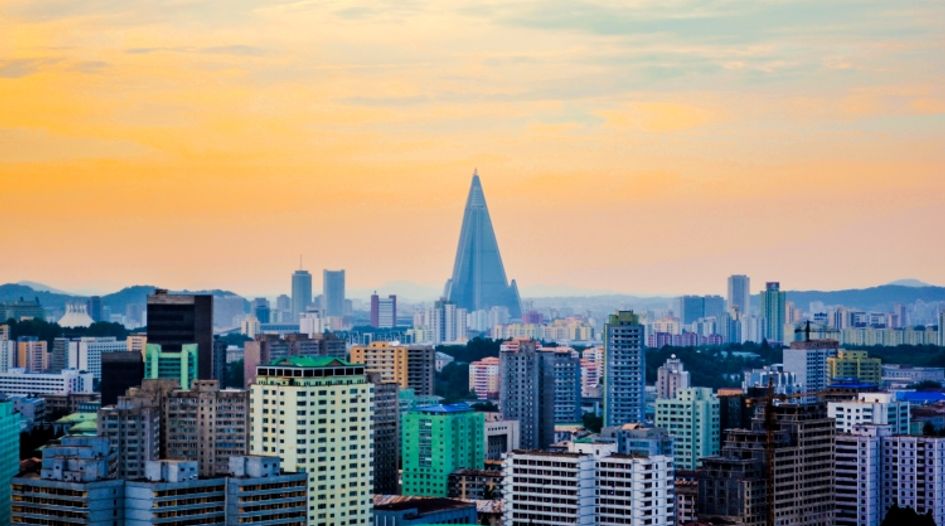 Every Tuesday and Friday, WTR presents a round-up of news, developments and insights from across the trademark sphere. In our latest round-up, we look at a court ordering Lotus Health Group to sell trademarks, the Georgian IP office establishing a GI commission, Invest Europe and EUIPO teaming up to support SMEs, and much more. Coverage this time from Bridget Diakun (BD), Tim Lince (TJL) and Trevor Little (TL).
Market radar:
New report identifies design challenges and opportunities in sustainable vehicle industry – Clarivate has released a new report, "The road ahead: sustainable vehicles today and in the future", that reveals the state of innovation in electric vehicles (EVs), the changing competitive landscape and geographic trends. Despite impressive strides in innovation in the last two decades, it notes that vehicle charge time and battery capacity are unsolved, meaning that critical design issues and overcoming them is vital to unlocking the market potential for electric vehicles. In terms of branding, trademark data analysis reinforces the unsolved state of charging technology – trademark applications at the major IP offices, including USPTO and EUIPO, showing that applications covering chargers and charging station services for EVs lag other EV applications, and only started to increase substantially since 2017. Gordon Samson, president of Clarivate's IP group, said: "Since the launch of the world's first mass production hybrid electric vehicle ushered in a new era in the automotive industry, we've witnessed impressive technological advancement of electric vehicles. However, its full market potential is yet to be realized. As our report shows, key design issues must be overcome to unlock the sector's full potential. We believe human ingenuity can change the world and EV innovation will accelerate societal progress in building a better and more sustainable future." (TL)
MARQUES provides annual meeting update – MARQUES has announced that physical registrations for its 2021 Annual Conference have sold out, as the capacity limits (due to social-distancing requirements at venue) have been reached. However, as the conference is taking place virtually (13-24 September), as well as in The Hague (14-16 September), virtual registrations remain open – and virtual registrants can join the waiting list for physical registration, should additional places become available. (TL)
INNGOT closes funding round – Inngot, an online platform for IP identification and valuation, has announced that it has successfully completed a £1m debt and equity funding round to build and launch its latest systems. The round enables Inngot to complete and launch its new platform to enable IP's insurable value to be identified and underwritten internationally. Taking security over business assets is a well-established practice in finance. However, the traditional model is focused on physical assets – for brand and knowledge-based companies the intangibles that underpin their business  have proved harder to utilise in finance due to absence of capital relief and uncertainty over their recoverable value. Inngot is seeking to address that, with CEO Martin Brassell stating: "Financiers have difficulties utilising IP as security because it is not usually traded in a transparent manner. However, the reason for this is not because there is no value or no appetite… The fundamental importance of IP for business growth makes it highly suitable for use as security, provided that measures can be put in place to ensure residual value can be recovered if needed. Our new platform is the 'missing link' that can establish what that value is and where it lies, and do it consistently and at scale." (TL)
North Korea counterfeit crackdown – The North Korean government has labelled counterfeiters "traitors who are aligned with external enemies" as it looks to tackle an increase in fake currency. According to Radio Free Asia, North Korean consumers have faced skyrocketing food prices and a falling exchange rate. In response, the North Korean government has "ordered law enforcement agencies to regard making counterfeit bills as an anti-socialist crime against the government system and says strong measures should be taken against such crimes". At present, the government actions are in relation to counterfeit currency. However, past reports on North Korea indicate that the purchasing of fake fashion products is common. In fact, the government has also reportedly unstructured some North Korean factories to "to closely study shoes from all over the world and learn from their example" – leading to "local producers taking influence from those foreign labels and filling the gap themselves, cranking out look-a-likes of Air Jordans and other styles". So while the North Korean government is focusing on stopping fake currency, it appears it has less quibbles about some forms of counterfeiting and IP imitation. (TJL)
Brand radar:
Mattel enters global licensing agreement for 'PAW Patrol: The Movie' – Mattel has closed a deal with ViacomCBS Consumer Products whereby it receives a global license to develop a selection of products for 'PAW Patrol: The Movie," reports License Global. Mattel will be able to develop toys under its Mega Bloks and UNO brands. The line will launch in autumn of this year. (BD)
Court orders Lotus Health Group to sell trademarks – A court in the central Hunan province of China has ordered Lotus Health Group, a producer of the food additive MSG, to sell its trademarks due to debt and low sales, reports Sixth Tone. The company was listed on Alibaba's Taobao marketplace on the judicial auction platform after having been ordered to clear its debts. A total of 24 of the company's trademarks are up for bid, including the main Lotus Flower MSG brand, with prices ranging between 822,900 and 6.58 million yuan (equivalent to about $127,000 and $1 million). The online auction is due to take place on 4 August. (BD)
Legal radar:
Banksy trademarks 'trying to backdoor copyright' – Over the past couple of years, street artist Banksy has been in a bitter legal battle with UK-based greeting card company Full Colour Black Limited. In recent months, Banksy has been hit by various legal setbacks, including a recent decision by the EUIPO Cancellation Division that declared his 'monkey sign' trademark invalid. That decision repeatedly referenced a cancellation of an earlier EU trademark owned by Banksy (for his 'flower bomber' artwork) in September 2020. However, it isn't just in the EU where Banksy trademarks have been causing debate. In Australia, Full Colour Black Limited is challenging two Banksy trademarks, claiming the street artist is "trying to backdoor" the country's copyright laws. The legal battle has been getting mainstream media coverage Down Under, with the Sydney Morning Herald speaking with one local lawyer, By George Legal's Joel Masterson, about the case. He claims "the legal stoush could end up being taught in law schools around Australia as a precedent that shows street artists can't protect their work from being copied if they don't want to reveal their identity – or perhaps, even if they do". The dispute is looking set to be as bitter as those in the EU – and is one to keep an eye on. (TJL)
Office radar:
(For the latest coronavirus-related updates from national IP offices, please read our dedicated article, which is being continuously updated.)
Invest Europe and EUIPO team up to support SMEs – The EUIPO and Invest Europe, the world's largest association of private capital providers, have signed a collaboration agreement to promote and encourage activities and services that support SMEs. Undertaken as part of the EUIPO's plan to create a network under the 'Ideas Powered for business' brand and to develop synergies among organisations in close contact with SMEs, the collaboration includes the promotion of joint events for investors and SMEs to facilitate investment opportunities and highlight how IP can boost business growth. (TL)
Georgian IPO to establish GI commission – The National IP Center of Georgia (Sakpatenti) is to establish a National Commission for Geographical Indications (GIs) as part of the country's efforts to build an effective GI regime. The new commission will be responsible for registering new GIs and designations of origin in Georgia, and will subsequently determine compliance with the requirements of the legislation. Earlier this week, Sakpatenti held a working meeting to develop the system of GIs and prepare for the future activities of the new commission. The meeting was also attended by representatives of Georgia's Ministry of Environment and Agriculture, the National Food Agency, and the National Wine Agency. As well as operating the GIs in Georgia, Sakpatenti also announced that the new commission will train government agencies (and "other persons" relevant to the industry) on the proper functioning of the GI system. Furthermore, a Sakpatenti representative added: "The project also envisages increasing the role of producers' associations and unions in the development of the geographical indication system." (TJL)
Domain Radar:
ICANN unveils fellowship programme candidates – ICANN has announced that 34 people from 27 countries have been selected to participate in the ICANN fellowship programme at ICANN72. The programme supports individuals who are interested or already engaged in the various aspects of ICANN's work, such as policy building, the operation of the Domain Name System, and the security and stability of the Internet. It notes: "The goal of the ICANN fellowship programme is to strengthen the diversity of the multi-stakeholder model by creating opportunities for individuals from under-served and under-represented communities to become active participants in the ICANN community." There were 202 applications in total and the organisation states that the successful candidates represent all sectors of society including civil, government, country code top-level domain operations, academia, business, technical, security, and end-user groups. The list of selected candidates is available here. The ICANN fellowship programme selection committee has also awarded the Tarek Kamel Fellowship Recognition to Isaac Maposa from Zimbabwe, who is one of the 34 selected. (TL)
Law firm radar:
Crowell & Moring launches IP self-check app – Crowell & Moring has launched a new app that helps companies spot the risks involved in how they deal with their IP. The firm states that the automated self-check app helps business leaders and their lawyers think critically about their IP portfolio. The offering gauges the company's industry, its key competitors, how the company markets its products, and whether or not the company possesses sensitive information that should not be shared publicly. Based on the respondent's answers, the app produces an automated initial assessment of the IP risks the company is running. "Globalisation and digitalisation mean there are more and more competitors out there. We want to make it as easy as possible for companies to think about their IP and how they can protect it, or better protect it, or even exploit it financially," said Jan-Diederik Lindemans, partner at Crowell & Moring. The free self-check app is accessible online. (TL)
Buchalter welcomes intellectual property shareholder in San Francisco – Buchalter has welcomed Marlene Williams as shareholder in San Francisco and newest member of its IP practice group. Williams's practice involves the entire life cycle of a brand, including selection, worldwide protection, and enforcement. She works with both established and emerging companies in a wide-range of industries including the entertainment and performing arts, high tech, wine and alcoholic beverage, apparel, and food sectors. "We are so thrilled to welcome Marlene to the Firm," said Adam Bass, Buchalter president and chief executive officer. "With her impressive background and significant intellectual property expertise, she will be a perfect fit for our San Francisco office." (TL)
Withers promotes seven to partner – Withers has promoted seven lawyers to partner from across its Asia, Europe and US west coast offices. The new partner appointees include Jacopo Ligouri who heads the IP and technology team in Italy and advises clients on privacy, data protection, and IP registration and defense issues. His clients include leading fashion, financial, food, entertainment, technology and life sciences companies. (TL)
Baker McKenzie announces partner promotions – Global law firm Baker McKenzie has added 95 partners through promotions and new lateral hires. The new partners within the IP tech team are: Kritiyanee Buranatrevedhya (Bangkok), Sean Shih (Taipei), Monica Chao (Taipei), Alexander Ritter (Munich), Jason Raeburn (London), Rachel Wilkinson-Duffy (London), Vas Vedantam (Dallas), Paul Glass (London), Flavia C Amaral (Sao Paulo), and Stephen Reynolds (Chicago). (BD)
Gowling strengthens IP practice – Gowling WLG has welcomed Tamara El-Shibib to its Dubai intellectual property team. A specialist in patent law, technology market analysis, technology transfer and IP commercialization, she previously worked at the Qatar Foundation and helped to establish its IP & technology transfer office. Jon Parker, head of intellectual property (Dubai) said "Tamara is a key addition to our UAE based team, as well as welcoming her to the global patent team at Gowling WLG. She provides us with on the ground patent and technology transfer expertise. She, and our local clients, will be supported by an unrivalled global patent team, which has technical expertise across all areas of innovation." (TL)
Service provider radar:
Clarivate announces changes to executive leadership team – Clarivate has announced a range of changes to its leadership team. In addition to Steen Lomholt-Thomsen joining on 2 August in the newly created position of chief revenue officer, Jaspal (Jas) Chahal has joined as chief legal officer and general counsel. Gordon Samson, currently Clarivate head of APAC, has stepped into the role of president of the IP Group and will accelerate the integration of CPA Global and align the IP products and services into a connected, end-to-end proposition. Steve Hartman, General Counsel and Head of Corporate Development, and Jeff Roy, president, IP Group have stepped down to pursue opportunities outside Clarivate. Jerre Stead, chairman and CEO of Clarivate, stated. "This is a transformative time for Clarivate as we integrate our recent acquisitions and build on our combined industry-leading technology and globally recognised brands… The addition of these executives further strengthens our ability to innovate for customers and capitalize on attractive growth opportunities as we create new products and services for our customers, a great place to work for our colleagues and incremental value for our shareholders." (TL)
And finally...
Latest edition of the WTR 300 now available – WTR is pleased to announce the publication of the fifth edition of WTR 300: The World's Leading Corporate Trademark Professionals. The publication identifies the individuals deemed to be the leading lights of the corporate trademark world. The full methodology for the publication is available here but, in summary, we ran a three-month campaign to elicit nominations from the trademark community. Individuals who received multiple nominations from outside their own organisation were long-listed and the editorial team then engaged in additional research and outreach before deciding on the final list. The full list is now available to view here.