Nine takeaways from Brand Strategy China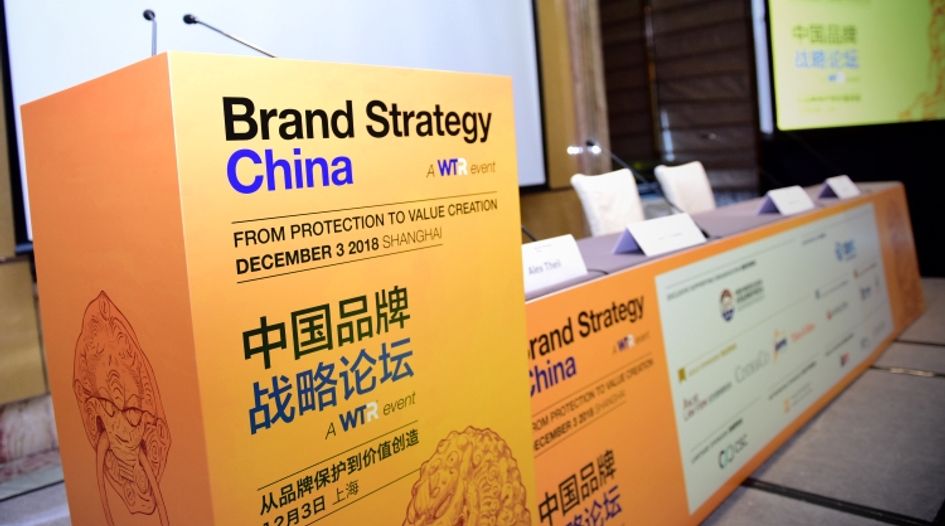 This week, WTR hosted the third annual Brand Strategy China in Shanghai. As would be expected when you convene senior brand protection experts from the corporate and legal worlds to share strategic best practice, the day resulted in a constant stream of takeaways. Here we present a selection.
Get to truly know your business
The first session of the day focused on 'building the brand of brand protection' – how to encourage cross-company support of the work undertaken to safeguard the brand asset. For Jerry Xia, former deputy general counsel and chief IP counsel Asia-Pacific at Honeywell, the starting point is to truly know the ins and outs of the business – and every conversation can be used to build this knowledge. He reflected: "You really need to learn about new products the company is developing. So when I come across a colleague in the elevator I ask they what they do and what products they work on. Then I go and see if they have a trademark and sometimes they don't." For Xia the aim is simple: "We need to create opportunities for us all to work together so we can nip problems in the bud."
Publicise your wins
As well identifying such problems through conversations with colleagues, there is a need to ensure they understand the value of the work undertaken – and how it plays into overall corporate strategy. At previous Brand Strategy China events, there has been discussion of the benefits of publicising litigation and enforcement successes, specifically that communicating wins to the wider market sends a message to infringers that the company will not sit idly by as the goodwill they have built up is exploited. But in addition to this deterrent effect, Xia notes that there is an equally important benefit of communication – to ensure that the wider business also understands the value, and work, of the brand protection function.

 
Awards season can pay dividends
Alongside such publicity, other creative tools can be utilised to get other departments to embrace brand protection. During one of the networking breaks, I spoke to a corporate delegate who reflected on the seemingly endless task of ensuring that marketing colleagues are informed about, and buy into, the IP function's work (the task complicated by the more transient nature of some marketing roles, with new team members regularly coming on-board). One tactic that has worked for his team are internal awards – recognising colleagues that have engaged with and helped the brand protection team (and by extension, their company). One activity that can be acknowledged in such awards schemes are intelligence tips, Xia noting: "We need to share cases and leads – when they detect anything fishy going on in the market the business should let us know as soon as possible."
Go above and beyond and the business will buy in – and the results can be powerful
Striving for business buy-in is not only about securing the budget needed to do the job, it is also part of the brand protection professional's remit – ie, to further the commercial success of the business. As such, argued Jun Ozawa, director, IP and legal, China at Canon, brand protection activities need to be focused internally as well as externally – the function cannot operate in a silo, looking only outward. As another participant noted: "IP enforcement and brand strategy are closely aligned and we need to support each other for business growth." Crucially, brand protection professionals must be willing to leave their comfort zone in a bid to add business value - Karen Wang, director and senior legal counsel, trademark and brand protection at Western Digital, argued: "You can't say 'this is my job and this isn't'. Companies want us to maximise our assistance to the business. We are paid by the business people so if you can provide assistance to them, this is something you should do." Become that productive business stakeholder, however, and senior management will be become supportive partners. As an example, Steven Wang, senior IP counsel at Philips, reflected: "This morning at 8:30am a senior business head came to my hotel to talk to me about an important lead. He made the visit despite me being at this meeting – and that shows the importance of IP to senior management. That he came to our location shows we are important."

 
Manage expectations
However collaborative the relationship with senior management is, it is crucial to manage expectations – particularly when it comes to the scale of the challenge of protecting brands in the online world. As Ozawa noted: "Online infringement is endless – the scale really is tremendous." However, the business expects their teams to eradicate fakes online – one delegate lamenting: "For overseas HQ colleagues the most direct way to measure effectiveness is to look at the number of counterfeit links on Alibaba and Taobao. You just can't take them all down but sometimes we receive letters of complaint from the business – it can escalate to the highest levels of management". To head this off, one speaker noted that her team constantly communicates its activities and, crucially, how far current resources spread: "We delete more than 4,000 links every month and keep the business updated so they know about our actions. We also let them know the budget and how it corresponds – if you want more you have to pay for it. And, crucially, you have to focus on the source." Xia concurred, adding: "You do have to manage expectations, and not only focus on one thing. You take down online but also focus on other activities. I always say to the business – we will do it [take down links] but it is endless. I tend to use online clues to track down infringers offline, with the help of the authorities. Make it clear to business that you have to focus on the big fish and offline sources. Online takedowns alone will not solve the problem. You have to move offline."
Do your homework…
Turning to real world enforcement, then, the clear message from participants was that – in China – pre-litigation strategising is key. Failure to do so could result in cases being lost causes before they even get underway. Michael Yu, head of brand protection, North Asia, at Schneider Electric, explained: "The presiding judge needs to be well studied – we always examine the record of the judge and also the law firm, to see if they have had previous interaction with the court involved. That will have an impact on the actual movement of the case." He additionally noted that "the choice of defendant is also important in order to maximise damages". And – crucially – do not be afraid to change tact if the odds do not seem in your favour: "Often you need to make hard decisions. For instance, sometimes it is in your interest to withdraw the case and you then have to have discussions with the business."  Xia added: "Sometimes you need also need to decide when to let a small fish go in order to catch a big one."
… choose your venue carefully…
Where litigation is the right move, forum selection then becomes critically important. Xi Chen, senior trademark counsel at Siemens, explained: "The choice of court, before initiating litigation, can mean the success or failure of the case, and the amount of damages you can collect. In terms of territorial jurisdiction we may choose to move the case to one where we have a better chance of winning. Some courts barely try these kinds of cases so we wouldn't bring our cases to those." An alternative tactic could be to play the long game and litigate in one jurisdiction in order to secure a favourable judgement in another. Peter Yang, IP Attorney, APAC, at Eaton, reflected: "Some local courts are not friendly. Based on my experience it is then better to bring the case to another court and obtain an effective judgement, before going back to the original court. If we can do that a less friendly court will have a change of mind - it can force the court to take action."

 
… and get your timings right
With outcomes in mind, Yang added that the groundwork needs to be laid early. For example, "you have to think about enforcement when you are still in the process of litigation. Track down assets early on". Timing is also important if your aim is to negotiate damages early in the process: "In some instances, the best timing [to request damages] is immediately before the police have established their case. At that time you can ask the police to join you in negotiations with the perpetrators. You you can use that as a lever." Of course, not all infringers will cease and settle. At that point, the dispute can be formally escalated, Yang concluding: "After find the infringer you may find he wont budge – but once you secure a criminal sentence he will change his mind."
WeChat and QQ are the battlegrounds for fake medicines
Returning to the online world, the session titled 'Your online offensive and defensive playbook' provided an array of insights, with the panel noting that cross-platform counterfeits are the new headache.  Infringers no longer use a single platform to market and sell goods. Now, in a bid to evade detection, promotion takes place on one platform, interaction with sellers then moves to another and the sale is transacted elsewhere. As one brand professional noted: "Alibaba and Taobao have become not where transactions take place but where leads are sourced", while social media is increasingly being utilised. Providing a pharmaceuticals perspective, Victor Shao, head of product security, China, at Sanofi, observed that "most of the distribution of counterfeit medicine products in China takes place via WeChat and QQ" The answer is to fully enlist the various platforms, and logistics companies, to the cause but progress will not be achieved overnight. For now, brand protection professionals are faced with an evolving and ever-more complicated online threat.
Brand Strategy China will return to Shanghai on Tuesday 3 December 2019. Full details will be released next year here.