NFT giveaway; James Bond party; Colin the Caterpillar takes centre stage – INTA 2022 day three report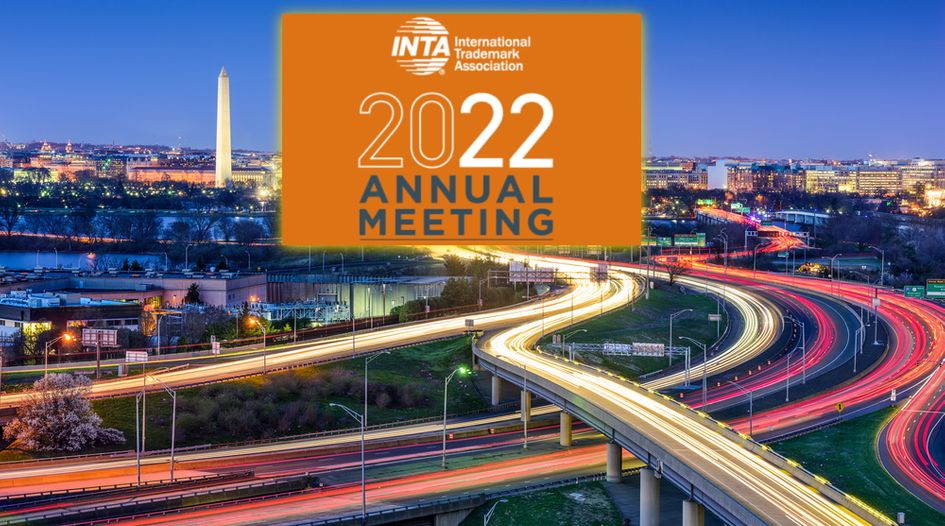 We're over the halfway mark of the INTA Annual Meeting, and the WTR editorial team of Trevor Little (TL), Tim Lince (TJL), Victoria Arnold-Rees (VAR) and William New (WN) have been running between sessions, the exhibition hall, meetings and receptions – with a few stops along the way for coffee – to bring you the latest stories and insights from Tuesday's proceedings.
In case you missed our previous dispatches, you can read our highlights from Sunday and Monday here and here. Don't forget you can meet the WTR team at stand 206 in the exhibition hall.
Why QBPC made the journey from China – While INTA delegates are celebrating a return to in-person meetings, drinks and dinners, there are many who remain on the outside looking in, unable to travel due to the covid-19 situation in their country. Many Chinese brand professionals, for example, have been unable to join their friends and colleagues in DC due to local lockdowns and complicated travel rules. However, the journey was one that some were determined to make, and one organisation that has sent a delegation from the country is the Quality Brands Protection Committee of China Association (QBPC). The association – which has a booth in the Brand Marketplace – represents global companies that have presence and do business in China. Among other things, it hosts seminars, forums and training workshops in the country, provides opinions and suggestions regarding amendments to IP laws and regulations, promotes public education on IP rights and builds a communication platform between China and the international community. It is the latter that Michael Ding, chair of QBPC and ABB's head of IP affairs, tells WTR was a driving motivation to attend this year's Annual Meeting. He reflects: "When we learnt that INTA was to be held in DC, we had to balance the difficulties against the return – and we thought the returns to QBPC are much higher than the risk. That is why we are here. And it has been better than our expectations." He provides two examples of why. First, he explains that he learned about new mindsets and approaches to brand management through even just the opening ceremonies (eg, INTA president Zeeger Vink's emphasis on new approaches to IP valuation). Second, it has allowed the association to set up meetings with leaders from the parent companies of its China-based members. "It has given us a chance to go one to one, or have behind closed door meetings, with our members' headquarters-based leaders," Ding says. "To have face-to-face and direct communication has helped them better understand what QBPC is doing and how it brings value to their brands and company. Meanwhile it is an opportunity for us to better know their concerns and priorities. This is very important for QPBC – to have visibility for our position as a 'China depth, global width' association." (TL)
Even videoconference companies are welcoming the return to a physical INTA meeting – Certain products and services embedded themselves in our everyday lives like never before during the pandemic. One such category is video communications. The increased use of products such as Teams and Zoom is here to stay and has transformed the way that businesses communicate, both internally and externally. However, there is clearly nothing quite like connecting in person. With that in mind, one INTA delegate noticed a LinkedIn post from Zoom's senior counsel, who noted how great it is to be back at an in-person INTA Annual Meeting. As the attendee succinctly summed up: "INTA – where even Zoom wants to meet in person." (TL)
Chadha event highlights health and safety conundrum – Before this week's INTA event, it was unclear just how organisations would approach the evening receptions. Would delegates mostly be masked? Would tests be required to enter venues? As the week has gone on, it has become clear that event organisers are  relying on INTA's badge pickup vaccine/test requirement. Monday night's Chadha & Chadha event was possibly the clearest example. The late night reception – which began at 10pm and went on into the early hours – was hosted at a multi-storey nightclub that was packed to the rafters with INTA-badged delegates, with barely enough room to dance, long waits to buy a drink and daunting queues for the restroom. If delegates thought that the Chadha reception may be toned down this year due to health and safety measures, then they were mistaken – it was just as raucous as before. With covid cases on the rise in DC, there is clearly a balancing act to be navigated. WTR is aware of at least one reception dinner where the organiser had to warn attendees that someone tested positive for covid-19 the following morning. Nonetheless, the message from last night's Chadha event seemed to be 'keep calm and carry on' – and as the hours ticked away into the early morning, delegates certainly did just that. (TJL)
NFT prize tops controversial items raffle at Meet the Bloggers gathering – Across town, the always-popular Meet the Bloggers event was also taking place on Monday night. The illustrious affair saw the biggest names in trademark commentary come together for an evening of food, drink, bowling and arcade games. The highlight of the evening had to be the Raffle of Infringing and Unauthorised Products. Items up for grabs included a 'Lawn and Order' landscaping t-shirt, a Bad Spaniel's dog toy, and Charbucks coffee. One member of the WTR team struck the jackpot (and made a number of new friends) when their name was pulled for the penultimate prize, a multi-pack of Pocky sticks – chocolate-dipped, stick-shaped cookies that have been found to be functional and therefore ineligible for trade dress protection in the US. But the top prize was also the most topical – an NFT of an Andy Warhol cookbook image by professor of law and conceptual artist Brian Frye. NFTs have been the hot topic of the INTA Annual Meeting this year. Monday's session offering a 'Blockchain, Cryptocurrency and NFT Breakdown' saw so many delegates turn up to learn more about NFTs that they could well have been turning people away at the door. It was only appropriate, then, that an NFT was the number one prize in Monday's raffle. The tongue-in-cheek lottery embodied the humour and creativity with which so many in the room that evening approach their profession. WTR journos will be tripping over themselves to see what is up for grabs next year. (VAR)
Eversheds Sutherland reception: spies, tuxedos and "IP-tinis" – At the Eversheds Sutherland reception Monday night, INTA members flaunted their James Bond tuxedo-and-cocktail chic while sipping "IP-tinis" and Vesper martinis at the International Spy Museum (photo). The firm's co-head of global IP, Pete Pappas, his wife, Lucretia Pappas, managing partner and CEO Mark Wasserman and senior business development manager, intellectual property Teri Cloud greeted participants overlooking Washington DC's famous Mall (photo). One of the "tuxedos" at the event was David Wilkinson, who introduced himself jokingly as "Bond, Jeremy Bond" (photo). Eversheds even registered a trademark for the "IP-tini" – a lemon drop (say not too sweet) with a sugar rim, after proving use at a firm gathering in Atlanta, and introducing it at the 2019 INTA Annual Meeting in Boston. Shaken not stirred might be an apt description of the state of INTA members attending their first gathering after two years amid global distractions. (WN)
Caterpillar slide baffles and delights – In Tuesday's session entitled 'Colin v. Cuthbert and a Look at How to Best Protect Cutting Edge Marks Inside and Outside the Trademark Arena', virtual delegates were given a deep-dive into the unusual legal fight between two supermarket chains over chocolate caterpillars. In the United Kingdom, for reasons that make little sense, a 'chocolate caterpillar cake' is hugely popular on birthdays for all ages, and most supermarkets have their own version of the iconic chocolate roll. In the session, speaker Michael Silverleaf, QC at 11 South Square, explained the details of the Colin v Cuthbert legal fight between Marks & Spencer and Aldi (previous WTR coverage), where the former sued the latter for alleged trademark infringement of the name and packaging of its chocolate caterpillar. However, as Silverleaf noted (on what has to be one of the most baffling and delightful slides at this year's meeting), "there were several other caterpillar cakes sold at other supermarkets, all of which are very similar to Colin" – including, he added, "Morris from Morrisons, Wiggles from Sainsburys, Cecil from Waitrose, Curious from Co-Op, Curly from Tesco, and Clyde from Asda". All of these have all been sold for a considerable amount of time. But it is believed that Marks & Spencer went after Aldi because its Cuthbert caterpillar more closely resembled the M&S Colin caterpillar. The two sides eventually called a truce, reaching a confidential agreement out of court in November 2021, but the dispute provides a fascinating and oh-so-British example of trademark infringement. As Silverleaf concluded, it remains unclear whether Aldi's Cuthbert cake will still resemble Colin so closely when it goes back on sale later this year. (TJL)
Stay tuned – Don't forget you can keep up to date with the latest INTA Annual Meeting news and insights on our Twitter feed.