New editions of WTR and Pharmaceutical Trademarks: A Global Guide now available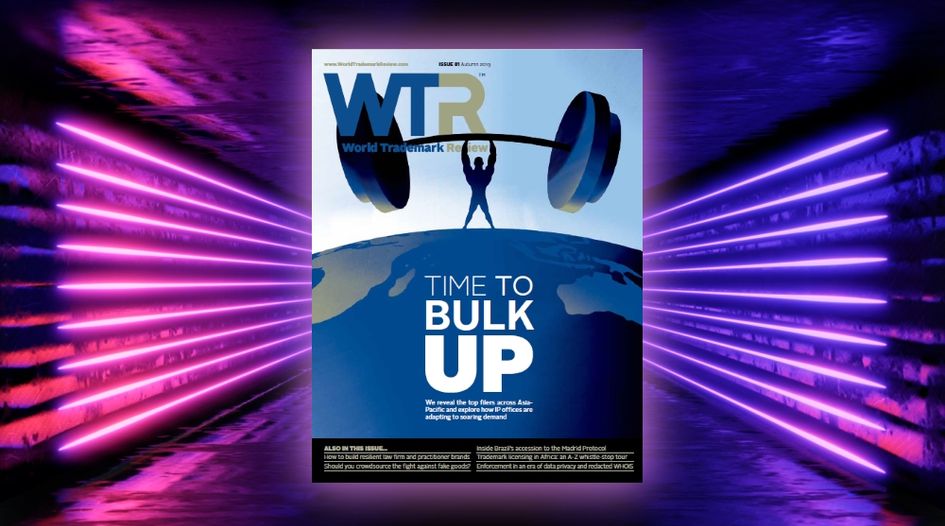 The autumn 2019 edition of WTR is now available online to subscribers, revealing the top filers at key registries across Asia and exploring brand management strategies for law firms and trademark practitioners. We have also published the eighth edition of Pharmaceutical Trademarks: A Global Guide, which is free to view now. 
The Asia Pacific region is home to a number of high-growth markets, creating a wealth of opportunities for both foreign and local businesses. In a bid to identify those seeking to capitalise on this – and which advisers they turn to when seeking trademark protection – this issue's cover story reveals the leading corporate and law-firm filers in China, Australia, South Korea, India and Japan over the past two years. We further spoke with local practitioners from each jurisdiction to get a deeper understanding of these rapidly changing landscapes, explore how IP offices are adapting to cope with demand and predict what the future holds.
Turning our attention to the world of trademark practice management, we explore brand management strategies for law firms and trademark practitioners. Arguably, of all legal practitioners, those in the trademark space should demonstrate a canny awareness of their own brand. We spoke to an array of lawyers and brand consultants in a bid to identify the ways that firms and individual lawyers can promote their practices and attract new clients. The edition also contains a roundtable discussion offering insight and practical guidance on how to ensure that enforcement efforts are not adversely affected by reduced access to data; and an inside look at Brazil's accession to the Madrid Protocol (and the lessons that can be learned from it).
Alongside the Autumn edition of the magazine, we have published our latest industry supplement, focused on the pharmaceutical industry.
Strong brands are a key business asset in all industry sectors. However, in the pharmaceutical world they are particularly critical for long-term success, offering protection and competitive edge long after the lifecycle of patent protection comes to an end. However, practitioners tasked with the registration, protection, commercial exploitation and marketing of pharmaceutical brands are faced with a complex web of legal and regulatory requirements. With local know-how paramount, Pharmaceutical Trademarks: A Global Guide has established itself as the 'go to' resource for brand professionals.
Written by experts from leading firms around the globe, the guide is designed to be a simple, user-friendly digest of the main issues faced by those charged with developing and safeguarding these key assets, providing an easily accessible international comparison of the respective practices and procedures governing pharmaceutical marks. To that end, this latest edition provides in-depth guidance on the legal regime in 13 key jurisdictions.
Subscribers will receive their hard copy issues shortly. In the meantime, the autumn issue of WTR is available online here, while the new edition of Pharmaceutical Trademarks: A Global Guide is available here.